Winter League wrap-up: Could Rainer Núñez win the LIDOM MVP? Bowden Francis continues to dominate, and more!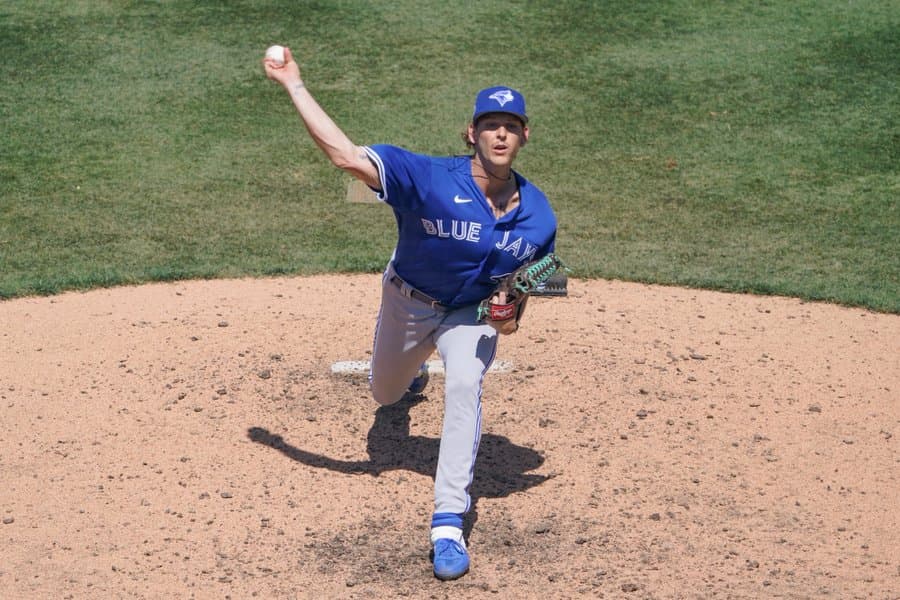 Photo credit:@BlueJays
At the end of November, we looked at how each Jays prospect was doing in their respective winter leagues. Today, we'll do the same.
I don't think it's a hot take to say that a Blue Jay prospect could be a Most Valuable Player candidate in the Dominican Winter League (LIDOM). Let's start there.
Rainer Núñez MVP-calibre campaign:
When Estrellas de Oriente drafted Rainer Núñez in the fourth round of the 2022 LIDOM draft, one has to imagine what they were expecting from the young first baseman.
I wouldn't assume they expected an MVP calibre season for the rookie, but that's what they've gotten so far.
Núñez, who recently turned 22 years old, is slashing .270/.314/.487 in 118 plate appearances with Estrellas. While that's impressive in its own right, he currently leads the league with seven homers, again, as a 21/22-year-old.
His seven home runs are tied for the most since the 2019 season. Furthermore, the last time someone his age led the league in homers was back in the 2012-13 season. That season saw Marcell Ozuna (also a rookie) hit nine homers as a 22-year-old, which is a LIDOM record for rookies.
A comparable MVP season came from Peter O'Brien in the 2019-2020 season. He slashed .243/.386/.479 with nine homers in 210 plate appearances. While O'Brien was older, he did also have a higher on-base percentage. 
Núñez could very well be in contention for the MVP award this season, and with less than two weeks remaining in the regular season, it'll come down to the wire. The Dominican Winter League is free to watch on MLB . tv, so definitely tune in! Estrellas are currently fourth in the LIDOM standings, so they'd be in the playoffs if it were to start today!
Vinny Capra:
Next up, we'll look at Vinny Capra, who also plays for Estrellas.
It's been a little bit of a slow start for the 26-year-old utility man. In only 21 plate appearances, he's slashing .150/.191/.150 with seven strikeouts and one walk.
Hopefully, he'll be able to pick it up before the playoffs start!
Otto López:
Who would have guessed that Otto "Matic" López would be hitting for average? With Leones del Escogido, López is slashing .289/.327/.365 with four doubles and three walks. What's more is that he just doesn't strike out, as he has a 7 BB% in 57 plate appearances.
You have to assume that the 24-year-old is ready for some MLB at bats, which may make a Cavan Biggio or Santiago Espinal expendable for trade.
Naswell Paulino:
Now moving on to pitchers, we'll look at pitchers currently in Puerto Rico first.
The 22-year-old lefty appeared in his fourth game on Thursday night, going 1.1 innings, allowing 3 runs (sort of), walking a batter, and striking out two.
Results are less important than the development of a player, and despite allowing his first earned runs for RA12, he had six whiffs in his appearances on Thursday. His K% currently sits at 26.9%, and he has a called strike + whiff % of 28.70%.
Furthermore, 66.09% of pitches have been for strikes, which is the third highest out of the nine pitchers that have played in Fall League or Winter League action.
Bowden Francis:
Sticking with the Puerto Rican Winter League, we have Bowden Francis, who just continues to dominate batters.
In 26 innings pitched, Francis has a 0.35 ERA with a fantastic 37.6 K% and a rather low 5.4 BB%. He also currently has a 34.93 whiff% and 34.70 called strike + whiff %, two fantastic numbers. Since the last wrap-up, Francis has pitched in two games and generated 38 whiffs on just 82 total swings. That's an insane whiff% of 46.34%.
The 26-year-old has the highest percentage of pitches for strikes out of anyone that played in the Arizona Fall League or is currently pitching in a Winter League at 70.49%.
Francis sits 93-95 mph on his fastball but has also touched 96 mph (as a starter, nonetheless). His breaking balls (slider and curveball) are both plus pitches, and the changeup has a lot of fade to it.
After a tough start to the 2022 season, it's nice to see Bowden Francis build off the end of the 2022 minor league season.
Adrián Hernández:
I didn't know whether or not I'd be writing about Hernández's season in the Mexican Winter League after the Rule 5 draft results. The 22-year-old wasn't selected in the draft, which is rather confusing, but good for the Jays.
So far with Caneros de Los Mochis, he has a 2.12 ERA in 17 innings pitched. He has a pretty darn good 38.2 K% and his BB% isn't terrible at 10.3%.
Like with every prospect playing in the Winter League, it's important to look at development, rather than numbers. While Hernández has good numbers, his curveball has become an effective pitch for generating whiffs. It's not at a changeup level yet, obviously, but all three of his pitches are at least average now.
Elsewhere:
Glenn Santiago (Mayaguez in the Puerto Rican Winter League) recorded his first base hit since the end of November. He's still only had three plate appearances.
Catching prospect Jommer Herandez had his first at bat on Wednesday evening for Tigres del Licey, striking out.
Luis De Los Santos and Rafael Lantigua both haven't had plate appearances since we last had an update.
Definitely tune in to the Dominican Winter League if you have the time, as it'll be a fun end to the baseball season!
As always, you can follow me on Twitter @Brennan_L_D.
---