Winter League wrap-up: Rainer Núñez wins the Rookie of the Year, Roque Salinas hits his first home run, and more!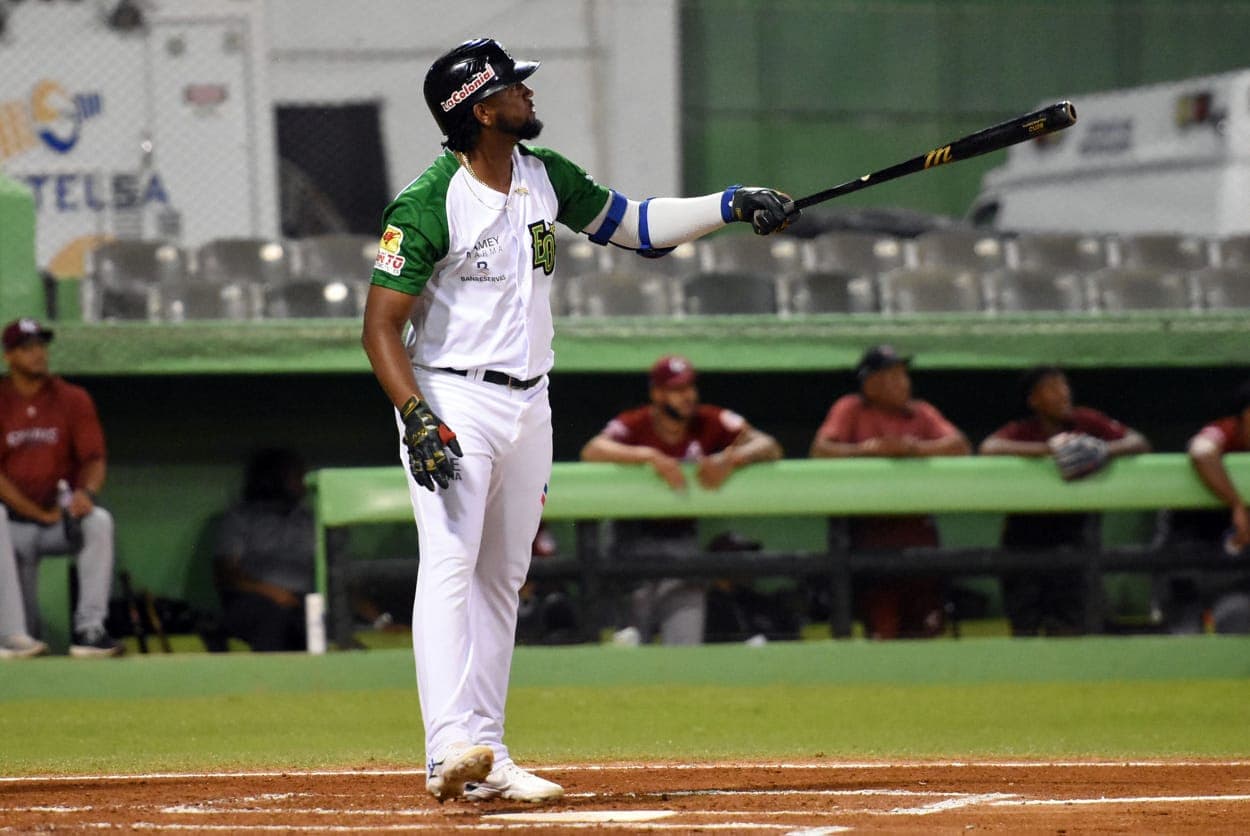 It's official, Blue Jays prospect Rainer Núñez has won the Dominican Winter League (LIDOM) Rookie of the Year award.
The 22-year-old was selected in the fourth round of the 2022 LIDOM by Estrellas de Oriente. In his rookie season, he slashed .263/.303/.445 with seven home runs in 145 plate appearances. 
His seven home runs led the league, and he was the first rookie to lead the league in that statistic since Marcell Ozuna did it back in the 2012-13 season.
In terms of his performance in affiliate ball in 2022, he slashed .304/.340/.484 with 19 homers in 500 plate appearances. Winning the Rookie of the Year for LIDOM isn't his first piece of silverware in 2022, as Núñez also won the batting title (highest average) in the Florida State League.
Furthermore, Núñez was the only prospect that played for Dunedin in 2022 with an exit velocity of over 110 mph, which he did several times. In fact, his hardest hit ball measured by Baseball Savant came in at 114.3 mph, which is definitely MLB calibre.
Estrellas is currently in the second round robin and is looking to make it to the finals.
Other notes:
Unlike previous roundups, this section will be a lot shorter.
Roque Salinas:
The 20-year-old outfielder hit his first home run in the Mexican Winter League. He's now slashing .182/.182/.455 in 11 plate appearances.
My best guess is that he starts the 2023 season with the High-A Vancouver Canadians.
Adrián Hernández:
Fellow Jays prospect and Los Mochis teammate Hernández is currently rocking a 3.54 ERA with a 35.3 K% in 20.1 innings pitched.
It's likely that the 22-year-old righty start the season with the Triple-A Buffalo Bisons, but we could see him make his MLB-debut next season.
Robert Robertis:
The 20-year-old corner outfielder currently has some helium. First, it was the two home runs as a New Hampshire Fisher Cat as a 19-year-old. He's continued to impress, as he's slashing .385/.467/.615 with a homer in 15 plate appearances in the Venezuelan Winter League.
My guess is that he'll likely start the 2023 season with the Low-A Dunedin Blue Jays, but I believe there's a remote opportunity he'll start with the High-A Vancouver Canadians if the Jays feel like being aggressive.
He's a candidate for having a Gabriel Martinez-Esque breakout in 2023.
Estiven Machado:
According to his Instagram page, the 20-year-old shortstop has signed with the Leones de Caracas in the Venezuelan Winter League.
With the season winding down, I have no idea if he'll appear in a game for the league's best team, but it's worth noting!
Last season was Machado's first real season professionally, as he missed all but one plate appearance in 2021. In 2022, he slashed .263/.342/.345 with a homer in 380 plate appearances. It was a rather aggressive move from the Jays, but he did well. He'll also probably stick at shortstop.
Bowden Francis:
The 26-year-old's impressive Winter League season has continued with Criollos de Caguas in the Puerto Rican Winter League. He has a 1.71 ERA in 31.2 innings pitched, along with a 33.3 K% and a 7.5 BB%.
He's definitely a pitcher to keep an eye on next season, as he touches 96 mph with his fastball while owning plus breaking stuff.
Naswell Paulino:
I made note of the 22-year-old lefty in the last round-up, but what I didn't know at the time was that it was his last game.
With RA12, he posted a 3.18 ERA in 11.1 innings pitched, which saw him register a 29.2 K% and a 12.5 BB%.
It's likely he will start the 2023 season with the Double-A New Hampshire Fisher Cats.
Chavez Young:
Playing for Mayaguez in the Puerto Rican Winter League, the 25-year-old outfielder has slashed .172/.333/.241 with two RBIs and a triple in 36 plate appearances.
Young will begin 2023 with the Triple-A Buffalo Bisons, but he has a shot of making the big league team if he performs well. He's already one of the best outfield defenders in the organization, so if the Jays need a fifth outfielder or a replacement for an injured outfielder, Chavez may be their guy.
As always, you can follow me on Twitter and Instagram @Brennan_L_D.
---