With the 20th overall pick, the Blue Jays could select… Bryce Eldridge?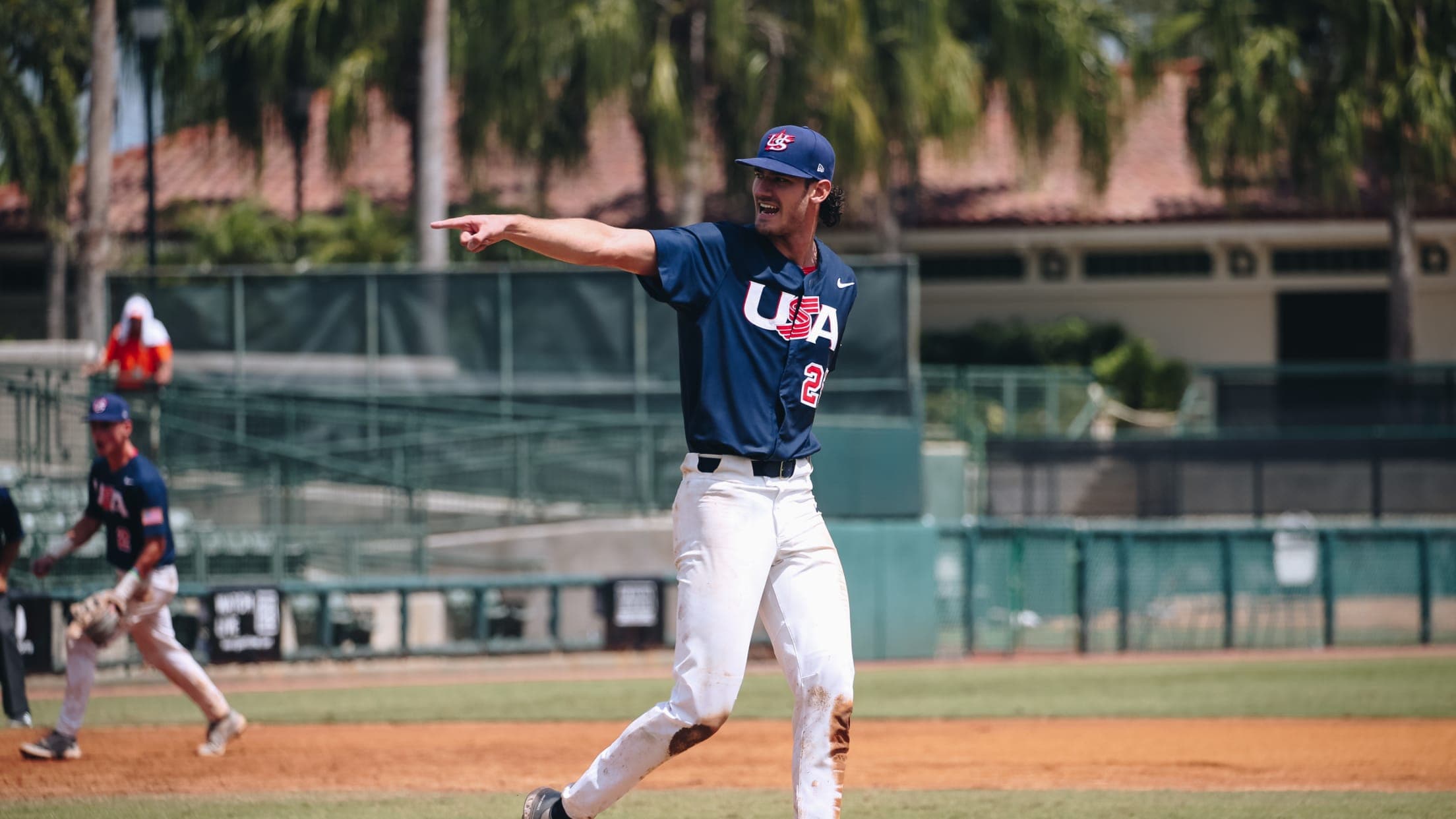 Photo credit:USABaseball.com
Everyone should be looking for the next Shohei Ohtani.
In the next two articles of this series, we'll be looking at two players that both pitch and slug. Today, we'll start with the prep player, Bryce Eldridge
Bryce Eldridge's bio:
The 18-year-old is a big lad, standing at 6'7", 223 lbs. He bats left-handed and pitches right-handed. Eldridge's home state is Virginia, and he is committed to the University of Alabama.
Unlike most two-way players, scouts are undetermined as to what position Eldrigde will end up playing, as he absolutely tore up the U-18 World Cup, winning the most valuable player award, along with the gold medal.
The last time the Blue Jays took a high school player out of Virginia was back in 2014, when they selected Nick Wells 83rd overall. They've picked plenty of college players out of the state Virginia, such as Spencer Horwitz, Mason Fluharty, and Tanner Morris.
Bryce Eldridge's stuff:
Despite being very tall, he repeats his delivery well, something that isn't that common amongst tall pitchers.
He sits in the low-90s with the fastball, but has touched as high as 96 mph. He also features a low-80s slider and a changeup that blends velocity with the slider. He also throws a curveball according to Baseball America, and Eldridge is often around the strike zone with his pitches.
Bryce Eldridge's tools:
As a hitter, Eldridge's main calling card is his insane power. Standing at 6'7", he has plenty of muscle to go yard, in fact, he has some of the best raw power in the draft class.. His approach is pretty solid as well, as he can use all field with said power. The 18-year-old does have some swing and miss in his game though. While he has enormous raw power, Eldridge has a solid hit tool as he has a short swing.
Defensively at first base, he has good hands and is athletic. In fact, some believe that he's athletic enough to play right field, especially with his strong arm.
Depending on the site, he's either a good runner (MLB Pipeline), or a bad runner (Baseball America), but we'll look at that in the hitter grades.
Bryce Eldridge's grades:
For Eldridge's grades, we'll take a look at both Baseball America and MLB Pipeline, as they both have separate grades for the 18-year-old as a pitcher and a hitter
| | | |
| --- | --- | --- |
| Tool | Baseball America Grades | MLB Pipeline Grades |
| Fastball | 55 | 55 |
| Slider | 55 | 55 |
| Changeup | 45 | 50 |
| Curveball | 45 | N/A |
| Control/Command | 50 | 50 |
| Overall | 55 | 50 |
| | | |
| --- | --- | --- |
| Tool | Baseball America Grades | MLB Pipeline Grades |
| Hit | 45 | 50 |
| Power | 60 | 50 |
| Run | 30 | 50 |
| Arm | 55 | 60 |
| Field | 50 | 50 |
| Overall | 55 | 50 |
Will the Jays select Bryce Eldridge?:
The better question is that if the Jays were to draft him, would they develop him as a two-way player? It's very difficult to both hit and pitch, and Shohei Ohtani is truly a freak of nature in this regard.
The Pirates tried to develop Bubba Chandler as a 2-way player after selecting him with the 72nd pick in 2021, but focused solely on pitching to start the 2023 season. Ironically, Chandler ranked as MLB Pipeline's 21st best draft prospect, the same as Eldridge this season.
Still, Eldridge is intriguing as both a hitter due to his raw power, and pitcher due to his size and feel for his pitches and command.
If he's the best player available when the Blue Jays step up to the podium, they very well could end up picking him. However, they may already have development plan for him that focuses on just one aspect of the game.
Previously…
---
As always, you can follow me on Twitter and Instagram @Brennan_L_D. Tomorrow, we'll look at a 2-way player who is further along in his development.
---