With the 20th overall pick, the Blue Jays could select… Colin Houck?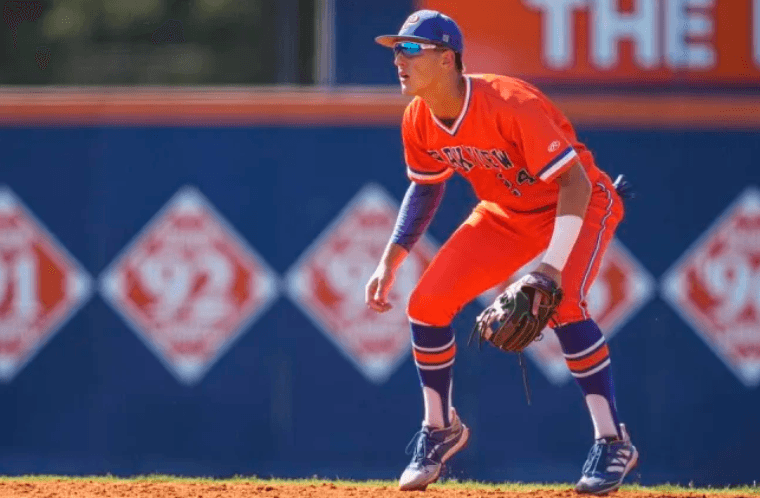 Photo credit:Dale Zanine/Gwinnett Daily Post
Back to prep position players we go!
As you may know from reading this series of articles, there are many prep middle infielders around where the Blue Jays pick.
Today's prospect, Colin Houck, could be available when the Blue Jays pick 20th overall. With that being said, let's look at his bio, tools, grades and more!
Colin Houck's bio:
The 18-year-old is a two-star athlete, also playing quarterback for Parkview High School in Liburn Georgia. He has a commitment to the University of Mississippi.
Standing at 6'2", 190 lbs, Houck is one of the highest rated prep shortstops by MLB Pipeline, who has him ranked as the 14th overall draft prospect (behind Arjun Nimmala). Baseball America is a little less high on him, as he ranks as their 21st best prospect, one spot behind the Jays pick.
There have been 22 picks from Parkview high school, with the most notable being Jeff Francoeur in 2002 and Matt Olson in 2012. If Houck is selected by the Jays, he'll be the highest Parkview draftee.
Like always, we'll also look at prospects that the Jays have drafted in similar scenarios. The last time that they picked a player out of a high school in Georgia was all the way back in 2016, when they selected Chavez Young.
Colin Houck's tools:
Houck has a great bat, as the movements in his swing are minimal with excellent bat speed. What's more is that his swing path is fluid, allowing him to drive balls in the air. While he hasn't shown a ton of over-the-fence power, more so just gap power, that'll grow as fills in his 6'2", 190 lbs frame.
There's some swing and miss in his game, as noted by MLB Pipeline. However, they believe those issues could clear up when he focuses solely on baseball.
Defensively, he has a strong arm that can play at both shortstop and third base. He's athletic, has great reflexes, and is able to move laterally well. In terms of his run speed, he has posted plus run speeds, but is considered by MLB Pipeline to be an average runner.
Colin Houck's grades:
As always, let's look at the grades that were given to him by Baseball America and MLB Pipeline.
| | | |
| --- | --- | --- |
| Tool | Baseball America grades: | MLB Pipeline grades: |
| Hit | 55 | 55 |
| Power | 55 | 55 |
| Run | 55 | 50 |
| Field | 55 | 60 |
| Arm | 55 | 50 |
| Overall | 55 | 55 |
It's funny that Baseball America has him as their 21st overall draft prospect, while MLB Pipeline has him as their 14th overall draft prospect.
Will the Blue Jays select Colin Houck?:
When looking at most mock drafts (MLB Pipeline, CBS, The Athletic, Baseball America, ESPN), it's evident that most of them believe that he'll go in the early teens. In fact, three mock drafts had him going to the Diamondbacks at 12th, with the lowest being 15th.
Although Baseball America has him as their 21st-best draft prospect, it seems unlikely that he'll fall to the Jays at 20th.
Still, if he's available he has a shot at being the best player available when the Jays pick, so if he does fall, they should definitely consider picking him.
Previously…
---
As always, you can follow me on Twitter and Instagram @Brennan_L_D. Thanks to Prospects Live's Will Hoefer for the video, he is a tremendous scout and you should definitely give him a follow!
---