With the 20th overall pick, the Blue Jays could select… Yohandy Morales?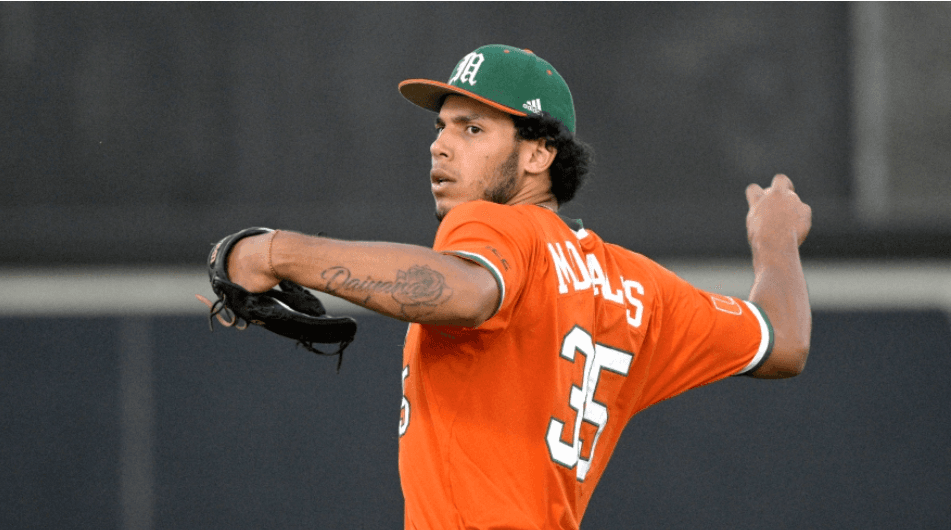 Photo credit:PHELAN M. EBENHACK/AP
We're back to college for the fourth player in the series.
With Matt Chapman likely leaving the Blue Jays at the end of the season, the Blue Jays will need a third baseman. Addison Barger or Orelvis Martinez
may
be able to fill that gap in the 2024 season, but prospects are never a sure thing.
Not only would today's prospect fit a need, but he also may be the best player available when the Blue Jays step up to the podium. Today, we'll look at Yohandy Morales.
Yohandy Morales' bio:
Morales has baseball pedigree in his blood, as his father played for the New York Yankees and Boston Red Sox for a period, as well as the Cuban National Team.
Morales was formerly a shortstop, but moved off the position as he transitioned into a large adult son, standing at 6'4", 225 lb. He has played the hot corner for the past two seasons at the University of Miami.
Like with most college players in the 2023 draft, the 21-year-old went undrafted out of high school because of the COVID-shortened season 2020 MLB draft. Still, Morales was the 131st best draft prospect in 2020 according to MLB Pipeline, and 77th overall according to Baseball America.
In Prospects Live's most recent Mock Draft in April, they had Morales heading to Toronto. The last time the Blue Jays selected a player from the University of Miami was in 2008, when they selected Mark Sobolewski with the 129th overall pick.
Yohandy Morales' statistics:
Morales instantly became a key player in Miami's lineup in 2021, as he slashed .284/.343/.531 with 11 homers in 239 plate appearances. He struck out 20.5% of the time, while only walking 7.5% of the time.
He improved in his sophomore season, slashing .329/.411/.650 with 18 homers in 280 plate appearances. The K% increased to 21.4%, but he managed to drastically raise the BB% to 12.1%.
By the time he was a junior, Morales was dominating the ACC. This season, he slashed .408/.475/.713 with 20 homers in 278 plate appearances. His BB% dropped a bit to 10.8%, while his K% also saw a minor deduction to 19.8%.
Defensively, his fielding percentage has risen every season, going from .903% in his freshman season, to .933%, to .954% this most recent season.
Yohandy Morales' tools:
Morales' greatest tool is his power, and he has a frame to add even more. He already has an average exit velocity of 94.2 mph, but keep in mind that metal bats are used in college. Still, his 6'4", 225 lbs frame is going to generate a lot of hard contact
if
he connects with the ball.
There are a few worrisome factors in his game at the moment. One of these is the fact that he has a hitch in his swing, which means that his swing is on the long side. Like most power hitters, he also likes to chase the ball, and has some issues detecting off-speed pitches.
Still, he's made improvements to shorten his swing, and even if he's not more than a .230 hitter, he has enough power to hit plenty of home runs in the minor leagues.
Defensively, he's moved off shortstop because again, he's 6'4", 225 lb. He is a solid defender with good hand and plus arm strength to play the hot corner. He may not win any gold gloves in his future, but his defence is fine, even if he may slow down in the future with added muscle.
Yohandy Morales' grades:
As always, here are Morales' grades according to Baseball America and MLB Pipeline.
| | | |
| --- | --- | --- |
| Tool | Baseball America Grades | MLB Pipeline Grades |
| Hit | 45 | 45 |
| Power | 60 | 55 |
| Run | 45 | 45 |
| Arm | 60 | 60 |
| Field | 50 | 50 |
| Overall | N/A | 45 |
Will the Blue Jays draft Yohandy Morales?:
By the time the Blue Jays step up to make their selection, it's a possibility that Morales will be the best player available to select.
If that's the case, the Jays will be getting a college first baseman who may be ready in a couple of years. Not just that, but college players have less leverage, which means that there's very little chance that Morales
wouldn't
sign with the Blue Jays if they selected him.
He sort of reminds me of Orelvis Martinez, but hey, that power is intriguing.
Previously in this series…
---
As always, you can follow me on Twitter and Instagram @Brennan_L_D. Big thanks to Tyler Jennings, Prospects Live's Director of Draft content for the video. You can follow him at @TylerJennings24
---