Ezequiel Carerra has apparently joined a brutally long list of Blue Jays players who have found themselves laid up this season. FUN ISN'T IT?
Here are the details as they first came in:
Dwight Smith Jr. joins #BlueJays. He starts in LF. Carrera not listed on roster, presumably on DL pic.twitter.com/OaHtdkTEWI

— Ben Nicholson-Smith (@bnicholsonsmith) June 14, 2017
Ezequiel Carrera using crutches in #BlueJays' clubhouse. He's on the DL

— Ben Nicholson-Smith (@bnicholsonsmith) June 14, 2017
The official word is that it's a right foot fracture, and that Dwight Smith will start in left field for the Jays. No word yet on whether there were any plans to call up Jerome Walton. HEYO!
That's about the size of it, at the moment I'm typing this…
THE THUNDER HAS BEEN QUIETED! (Perhaps by a ball he fouled off said foot last night against the Rays?)
* * *
I guess this makes Smith the Jays' emergency centre fielder? He's only played in centre eleven times since the start of 2015, but… uh… hopefully that's because he's had some good defenders as teammates. Because if it's not him it's Bautista, which I don't think any of us is prepared for — least of all José. And as much as it's likely they won't need to use anyone but Kevin Pillar out there while Carrera is on the shelf, apparently we should all know by now that the injury bug can strike this club literally at any moment.
Which I guess is always true. But it's especially true when you have a new High Performance department that clearly doesn't have players bones in the right shape! *COUGH* *PEOPLE ACTUALLY THINK THIS* *COUGH*
Presumably it's because of the backup CF issue that the Jays have been able to show some restraint with Steve Pearce, who is currently on a rehab assignment in Buffalo and is due back this weekend (which, with an off-day on Thursday, basically starts tomorrow for the Jays). I'd like to think that it's Pearce who gets the bulk of the playing time in left while Carrera is out, but I say that as someone who hasn't actually watched Steve Pearce played defence for quite some time now. And with Smith a left-handed hitter, maybe we actually see him a lot!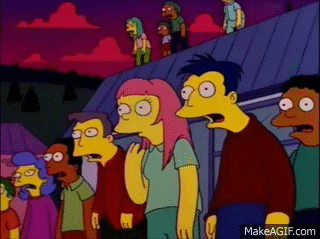 Maybe it will be fine! Smith has slashed .303/.364/.443 in Buffalo this season. We can't say he didn't get his call-up on merit. It's just… as impressive as those numbers are — and they're better than Dalton Pompey put up in 2015 and 2016 — they're not even as good as Dalton Pompey's age-21 season in Buffalo back in 2014. And Smith is older than Pompey. Not older than Pompey was then, but older than Pompey is now!
For the umpteenth time this season, you've got to feel for Pompey here. He's floundered the last couple years, unable to break into this team, and with the door wide open for him this year, he's spun his wheel with injury.
Depending on how long Carrera is out for, maybe Pompey can force his way back into the picture. Yet, as much as I hate to say it, and as much as I'd like to see him eventually deliver on all his big promise, I kiiiiiiiiiinda hope that Pearce comes back and looks at least passable in the field and hits the way he's capable, and makes this question entirely moot.
Carrera, for all the shit he (rightly) takes for some of the painfully obvious mistakes he makes in the field, has hit very, very well for the Blue Jays this season. He's going to be missed.
Ugh.