A deep dive into the changes Blue Jays' top prospect Orelvis Martinez has made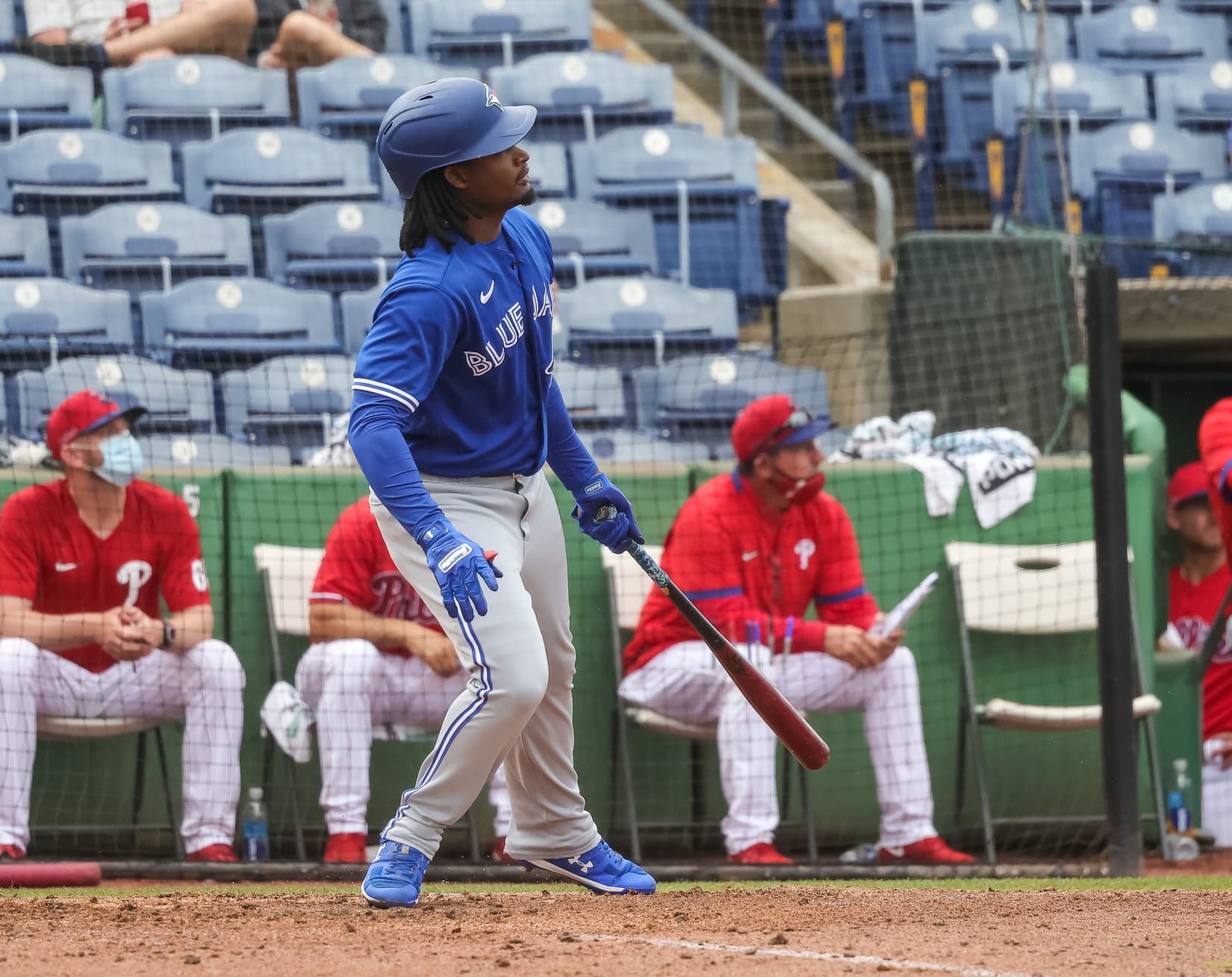 Photo credit:© Mike Watters-USA TODAY Sports
Orelvis Martinez is quite polarizing as a prospect.
It was pretty evident that the 21-year-old has always had some insane raw power, as he hit 30 homers in Double-A as a 20-year-old. While he only slashed .203/.286/.446, there were some encouraging signs to his game.
We're about two months into the 2023 season, and it's pretty evident that the third baseman has improved. But that begs the question, can he keep his current hot streak up? Well, we can look to last season for a comparison.
In April 2022, he slashed .188/.224/.516 with six homers in 67 plate appearances. While his 2022 slash line was better, he had a pretty darn high 35.8 K%. What's worse was his 1.5 BB%. He walked in first game on the 8th of April, and didn't do so again until May 4th, 2022.
In comparison, Martinez slashed .089/.159/.250 in April 2023. While his BB% (7.8%) went up and his K% (23.4%) went down relative to the year, Martinez couldn't get the ball to drop in the grass for the life of him. Well, that was until May came around.
In the month of May (and three days in June), Orelvis is slashing .250/.370/.670 with 12 homers. Moreover, his K% has dropped to 21 K%, while his BB% is at a pretty darn high 15.1%. The most impressive aspect of this stretch is the fact his swing decision has improved drastically compared to last season.
However, it may not be well known that Orelvis also had a fantastic month of May in 2022. In that month, he slashed .244/340/.561 with eight homers. After only walking once in April 2022, his BB% jumped to 9.6% for the month, while his K% also dropped to 24.5%.
May 2022 was a brief flash of what he could be capable of, but he also showed his inexperience. To finish the season, Orelvis slashed .195/.284/.397 with 16 homers in 287 plate appearances. His BB% to finish the 2022 season stayed at 9.1%, but his K% once again increased to 28.1%.
So, there are definitely similarities between the 2022 and 2023 seasons. What has changed?
For starters, Martinez looks a lot more comfortable taking pitches and fouling off tough pitches. While his power was on full display in 2022, his approach at the plate was not so great. Early in the 2023 season, it appears that he has improved in that facet.
Martinez is also a player who has suffered from some pretty awful BABIP luck. Now, his profile isn't someone who will ever have a high BABIP as he hits a lot of infield fly balls and a whole bunch of fly balls. However, when a player's BABIP (.146) is lower than his batting average (.192), you can consider them unlucky
The big question is will he get promoted to Triple-A soon? Personally, I'd like to see him continue to hit at an average level for a little while longer. As much as he'd looked ready over the past month, he's shown before that he can get hot for about a month. If he's still on a hot streak at the end of the month, it may be time to call him up.
Either way, Martinez is an intriguing prospect to keep an eye on in the near future.
As always, you can follow me on Twitter and Instagram @Brennan_L_D.
---