A deep dive on the newly-signed Julian Fernández, who has the tools to become a very good reliever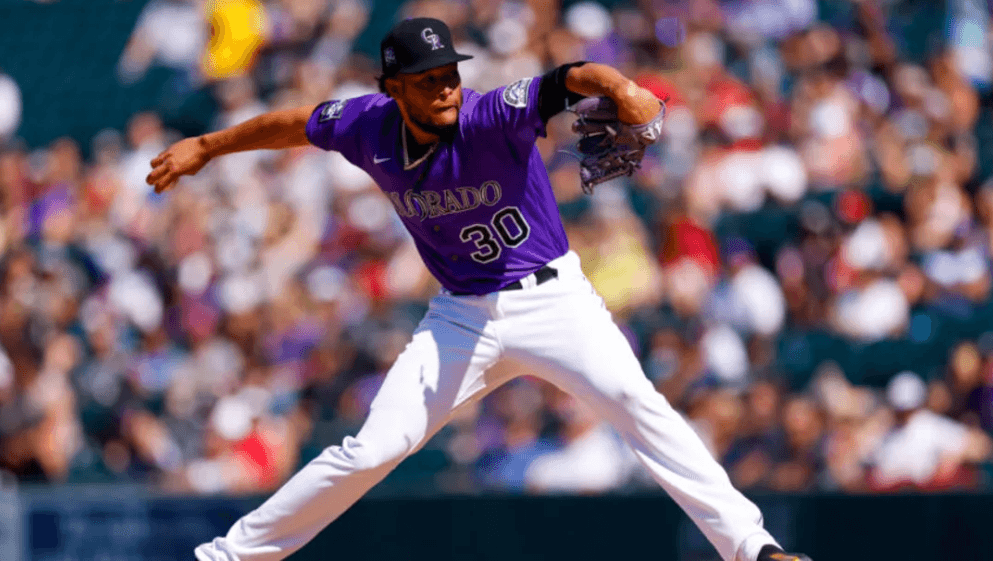 Photo credit:Justin Edmonds/Getty Images
On Thursday afternoon, it was confirmed that the Toronto Blue Jays were signing pitcher
Julián Fernández to a minor league deal.
When looking at his minor league statistics in 2022, you may be saying "why the heck did the Jays sign him and why the hell is Brennan saying he could become elite?". Taking a quick look at his Fangraphs page, the 27-year-old righty had a 6.63 ERA and 7 FIP in 57 innings pitched. While he had a solid 24.9 K%, his 12.3 BB% was on the high side, and he gave up 15 home runs for a 2.37 HR/9.
Despite that, I'm here to tell you that there's a lot of upside to Fernández, and his stuff has the potential to be elite
. Let's dive into his stats first, and what went wrong in the 2022 season.
What went wrong:
The elephant in the room is the fact that he played in Albuquerque, which has a high elevation. If you've ever heard of the "Coors effect", Walter White's hometown has the exact same issue.
His 2.37 HR/9 was high in 2022, but his next highest HR/9 with a significant amount of innings pitched came in 2021, where he had a 1.26 HR/9 in Hartford with Colorado's Double-A team.
In fact, in his first 148 innings pitched in the minor leagues from 2013-2017, he only allowed three home runs. If you're wondering what happened to his missed 2018, 2019, and 2020 seasons, elbow injuries (including Tommy John + a setback in 2019), and a global pandemic is the cause.
It may be correlation rather than causation that his home run totals skyrocketed once pitching for Colorado and Albuquerque, but it's worth noting.
Tyler Paddor of Blake Street Banter told me that while
Fernández's delivery is strong and aggressive, it is also a bit inconsistent. He has plus stuff, but his control can struggle at points, which turns the stuff into average.
Speaking of which, let's discuss his stuff.
His fastball:
If there's one thing I've learned about Blue Jays fans, it is that we love velocity. So you'll love it when I tell you that the Jays went out and signed a righty who had an average velocity of around 98 mph. In fact, he hit a maximum of 101.8 mph with the Albuquerque Isotopes and even higher in his brief stint in Colorado in 2021.
What's more, is that his fastball actually has a ton of movement, unlike a different Julian that touches 100 mph. His fastball had an average spin rate of 2405.42 RPM. Below is a chart courtesy of Top Velocity.
For the 2022 season, his fastball had a 24 whiff %, which means for every swing a batter took, they missed about a quarter of the time. What's more exciting is his chase rate on his fastball. For any pitcher that threw as many pitches (613 or more), only four pitchers had a chase rate higher than
Fernández's 38% on his fastball.
If you don't know, chase rate is essentially swings divided by total pitches which are out of the zone. There are several potential reasons for this, but my hypothesis is that his fastball has so much movement that it'll take it out of the zone and the batters don't have time to check their swings.
Overall, the fastball is a good weapon, but needs control to be effective.
Changeup:
We've heard a lot about his fastball, but did you know that his changeup is also very good?
The pitch averages 86.76 mph, so about 11 mph slower than his fastball. It has a spin rate of 1736 RPM, which is common for changeups.
Paddor called the changeup "underrated", but I believe that may be an understatement. In 2022, he had a whiff % of 41 on his changeup (which he threw 454 times). Out of pitches thrown that many times, only six pitchers had a whiff % higher on a single pitch.
It's a legitimate out pitch, and when paired with his fastball which can touch about 102 mph, his stuff is fantastic.
The biggest concern:
There could be a reason for his struggle in the home run category, but there's not sugarcoating that the walks are an issue. The stuff alone is fantastic as we just looked at, but if he can't pinpoint his pitches, walks will kill his ERA as they did in 2022.
Another concern that I haven't brought up yet is just how much torque he's putting on his arm. It's a funky arm action that is good for deception, for the health of his arm? Perhaps not.
The stuff is absolutely fantastic and potentially high-leverage material, but some changes in his delivery may need to be fixed. Moreover, it'll be impossible to hit his ceiling if he can't control and command his pitches.
Hopefully, a new organization (that being the Jays) will help him sort out some issues while helping to improve the already great stuff.
I'm excited to see
Julián Fernández pitch in the Jays organization, and who knows, he may just become the next high-leverage reliever they need.
As always, you can follow me on Twitter and Instagram @Brennan_L_D. Check out our friends Blake Street Banter @BlakeStBanter and give them a follow. Tyler Paddor can be found at @RoxDontRake, and is a great follow if you enjoy prospect content.
---