A deep dive on Trevor Richards, and why he deserves his spot on the opening day roster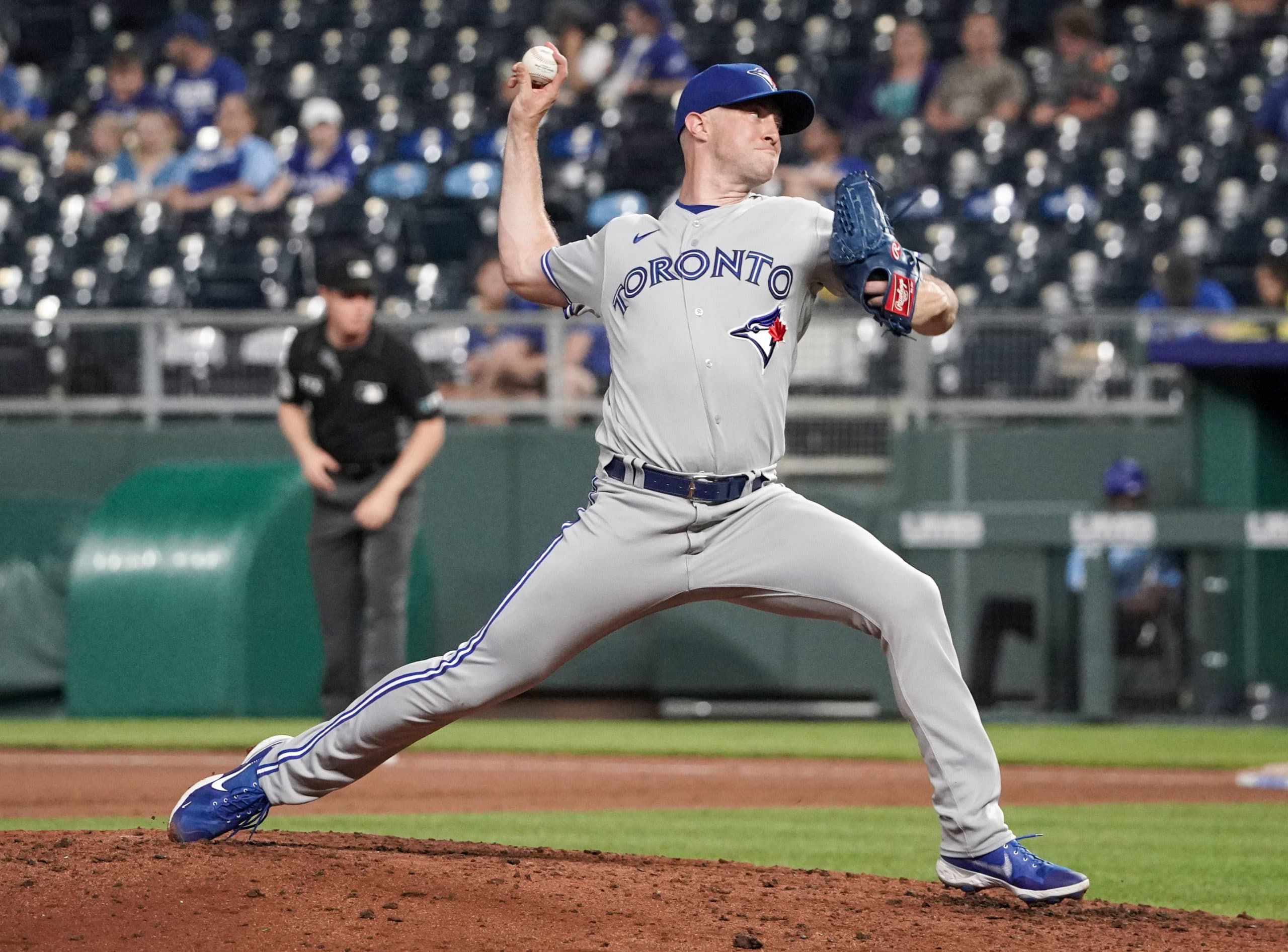 Photo credit:Denny Medley-USA TODAY Sports
An above-average changeup is better than a 100 mph fastball, change my mind.
Trevor Richards is an interesting case. Brought over to the Blue Jays with Bowden Francis (read Tyson Shushkewich's latest article for a sit down with the 26-year-old) for Rowdy Tellez in the middle of the 2021 season, the silver-haired reliever stabilized the 2021 Blue Jays bullpen, posting a 3.31 ERA and 4.61 FIP in 32.2 innings to finish the season.
The 2022 season was a different story for Richards, at least the first half. Overall, he finished with a 5.34 ERA and a 4.07 FIP in 64 innings pitched. While his 29.2 K% was the highest in the Blue Jays bullpen, he had a career-high 12.5 BB% as well.
After coming back from a neck strain, he pitched 35.1 innings and posted a 4.33 ERA and 2.69 FIP. While he maintained a 12.5 BB%, his K% increased to 32.2%, while batters only his .211 off of him. The second-half version of himself was reminiscent of his 2021 form with the Jays.
However, Richards' spot in the 2023 Blue Jays bullpen was far from secure, unlike the seven other spots. That is, until his rather impressive spring training.
Trevor Richards earned his spot in the bullpen:
For me, Richards always had the leg up for the final spot in the arm barn. He is out of option years, meaning that to be sent to the minor leagues, he'd have to pass through waivers, where he'd more than likely be picked up. Relievers like Zach Pop, Jay Jackson, Nate Pearson, and every other pitcher for that spot has an option year remaining.
At face value, his 3.72 ERA in 9.2 innings pitched doesn't stand out, but we can dive into several aspects of that. The first thing is that he had a disastrous first two outings, allowing three earned runs in just 1.2 innings pitched,  which gave him a 16.20 ERA with only seven innings remaining.
The second aspect, which is more important to the story, is how damn good his changeup was in spring. While his 3.72 ERA was fine, but not great (especially considering early in spring training), his 41.3 K% was absolutely fantastic. Overall, he finished with 19 strikeouts, which was the third most in camp. Moreover, his walk rate of 10.9 returned to somewhat normal levels (9.8 BB% for his career.)
However, we can dive even deeper into his numbers, specifically the changeup. The 29-year-old righty threw 100 changeups in spring training, generating 65 total swings, and 38 swings and misses. Whiff% is a wonderful statistic that divides swings and misses (or whiffs) by the total amount of swings. Richards had a 58.5 whiff% on his changeup, which is an absurd number.
Furthermore, swinging strike percentage is a statistic that basically does the same thing but just looks at whiffs divided by total pitches. As you can imagine, his 38 swing strike % is also elite, if not better.
To summarize:
The Jays are all about giving batters different looks in the bullpen. Jordan Romano is their prototypical power pitcher with a nasty slider, Erik Swanson is their reverse splits guy that works north-south, Zach Pop is their ground ball pitcher, Adam Cimber is a fucking submarine pitcher that tops out at like 88 mph, and so on and so forth.
Richards, in low leverage, will mess with the batters' timing due to an elite changeup. While he may not be a hard-throwing reliever, his K% will always be well above average. The 29-year-old certainly earned a chance to prove what he's got due to his good spring training, let's see if he can capitalise on it.
As always, you can follow me on Twitter and Instagram @Brennan_L_D. That trade will always be a win due to what he (and Cimber) brought to the 2021 Blue Jays. Without those two guys, they don't get a chance to play for a playoff spot on the final day of the season.
---