A gem from Kevin Gausman and a walk-off single from Daulton Varsho lead Blue Jays to their sixth win in a row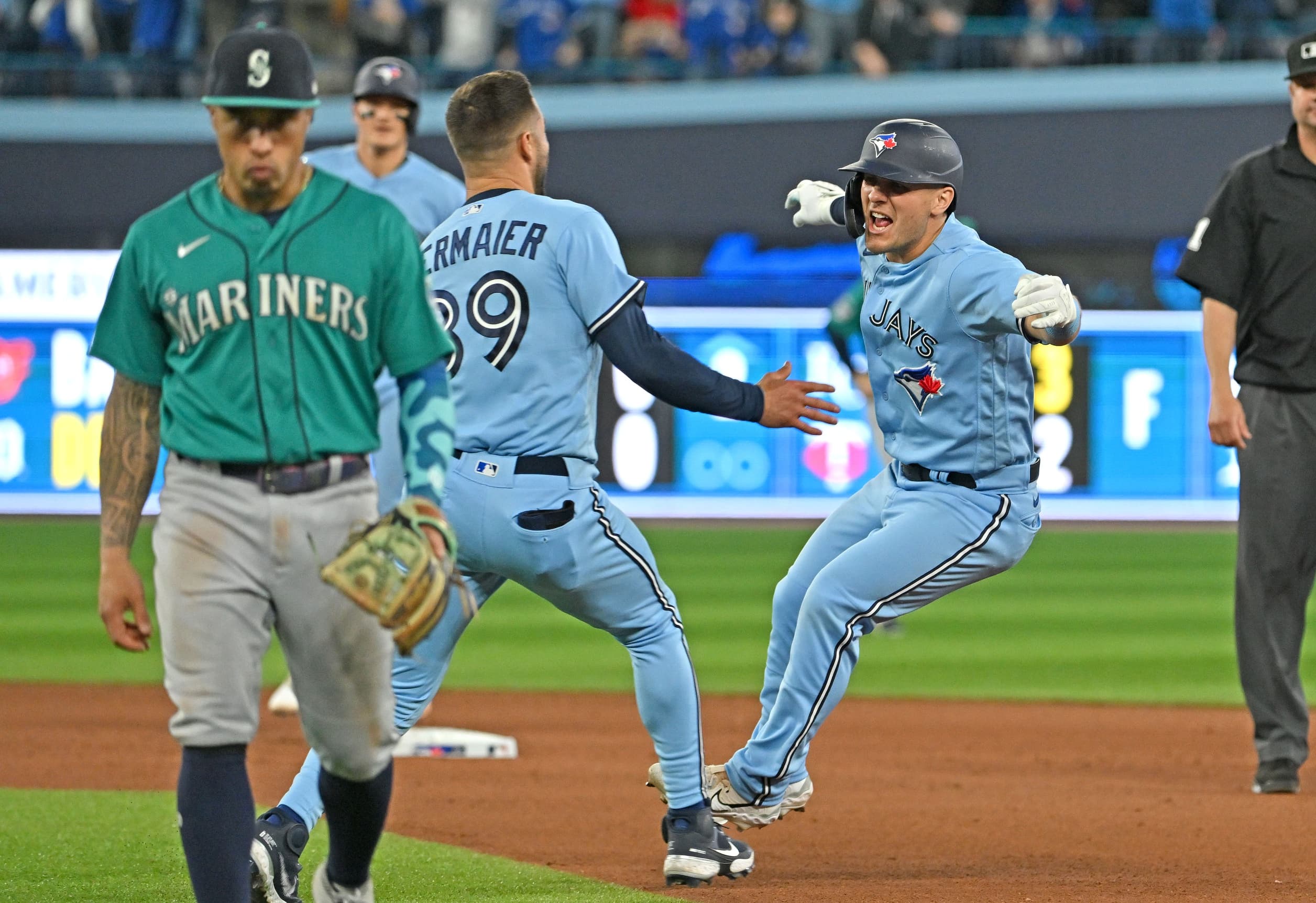 Photo credit:Dan Hamilton-USA TODAY Sports
Looking at the box score of this afternoon's game, it certainly doesn't look like Toronto had much of a chance with only three hits on the day. However, three hits was all they needed, as Daulton Varsho's walk-off single in the 10th inning broke a scoreless tie in the 10th inning, and the Blue Jays won their sixth game in a row defeating the Mariners 1-0.
The Blue Jays didn't have a hit in this game until the 7th inning, when Matt Chapman doubled off of Easton McGee. Toronto's pitching was just as good, as Kevin Gausman and the bullpen tossed another spectacular game setting the stage for Varsho's heroics.
Blue Jays Nation's Player of the Game: Kevin Gausman
This afternoon, Gausman went seven innings, allowing six hits, no runs, one walk, and a career-high 13 strikeouts. With the offence unable to provide any run support, Gausman kept the Blue Jays in the game. He was also able to execute a pickoff play in the 2nd inning, as he threw Tom Murphy out at second base during an at-bat against Julio Rodriguez.
Blue Jays fans held their breath in the sixth inning when Jarred Kelenic lined a ball off the back of Gausman's leg near his hamstring. Gausman was able to pick the ball up and throw Kelenic out at first, but there was some obvious wincing from Gausman when he was trying to walk it off. To his credit, he stayed in the game to finish the sixth inning, as well as pitch a clean seventh to round out another classic Kevin Gausman gem.
Things worth mentioning
Easton McGee: Yeah, I hadn't heard of this guy either before today. He was a relatively late add to the starting lineup, as the Mariners didn't announce his call-up from AAA until a matter of hours before today's game. Today was McGee's first career start, and only his second career outing in the majors, but he put his name on the map as a legitimate option for Seattle's rotation.
McGee did not allow a hit through six and two-thirds innings, and he did it about as effectively as he could; he entered the 7th inning having only thrown 52 pitches. Unfortunately, the Chapman double was the last at-bat for him in today's game, as he was pulled after some well-deserved praise from Mariners manager Scott Servais.
After doing a quick Baseball Reference search on McGee, I found out that he was in the Tampa Bay Rays organization for six years until being bumped around a couple of squads and eventually landing in Seattle. Of course, it would be a guy who was in Tampa's organization to have this kind of effort against the Blue Jays. Furthermore, Toronto has historically struggled against young AAA call-ups with very little MLB experience (see Ryan Merritt in the 2016 ALCS).
More zeros from the bullpen: Zach Pop, Jordan Romano and Erik Swanson threw up scoreless outings for Toronto, pitching three total innings, striking out six and only allowing one baserunner. Swanson's job was a little more significant than the others, as he pitched the top of the 10th with the ghost runner on second to start in the inning. It was more concerning that that runner was JP Crawford, who's speed could easily bring him home on a base hit. Fortunately, Swanson had to face the bottom of Seattle's order.
Swanson stranded Crawford as well as a walked batter that he surrendered, including a strikeout of AJ Pollock that got Swanson and the crowd fired up.
Varsho's time: Varsho stepped to the plate with the bases loaded, as Seattle reliever Trevor Gott allowed a Vladimir Guerrero Jr. single and an intentional walk to Matt Chapman. Gott was the losing pitcher of record in last night's affair, and it was the same way today as the first pitch he offered Varsho was launched to right field and over the head of Teoscar Hernandez.
It was certainly a big hit for Varsho not only because of the circumstance but also because of the slump he is in. That was his first hit since his home run last Sunday in New York.
Toronto now has a chance to sweep the Mariners as well as the homestand, with Chris Bassitt facing Marco Gonzales in the finale.
---