A history of Bo Bichette coming up clutch for the Blue Jays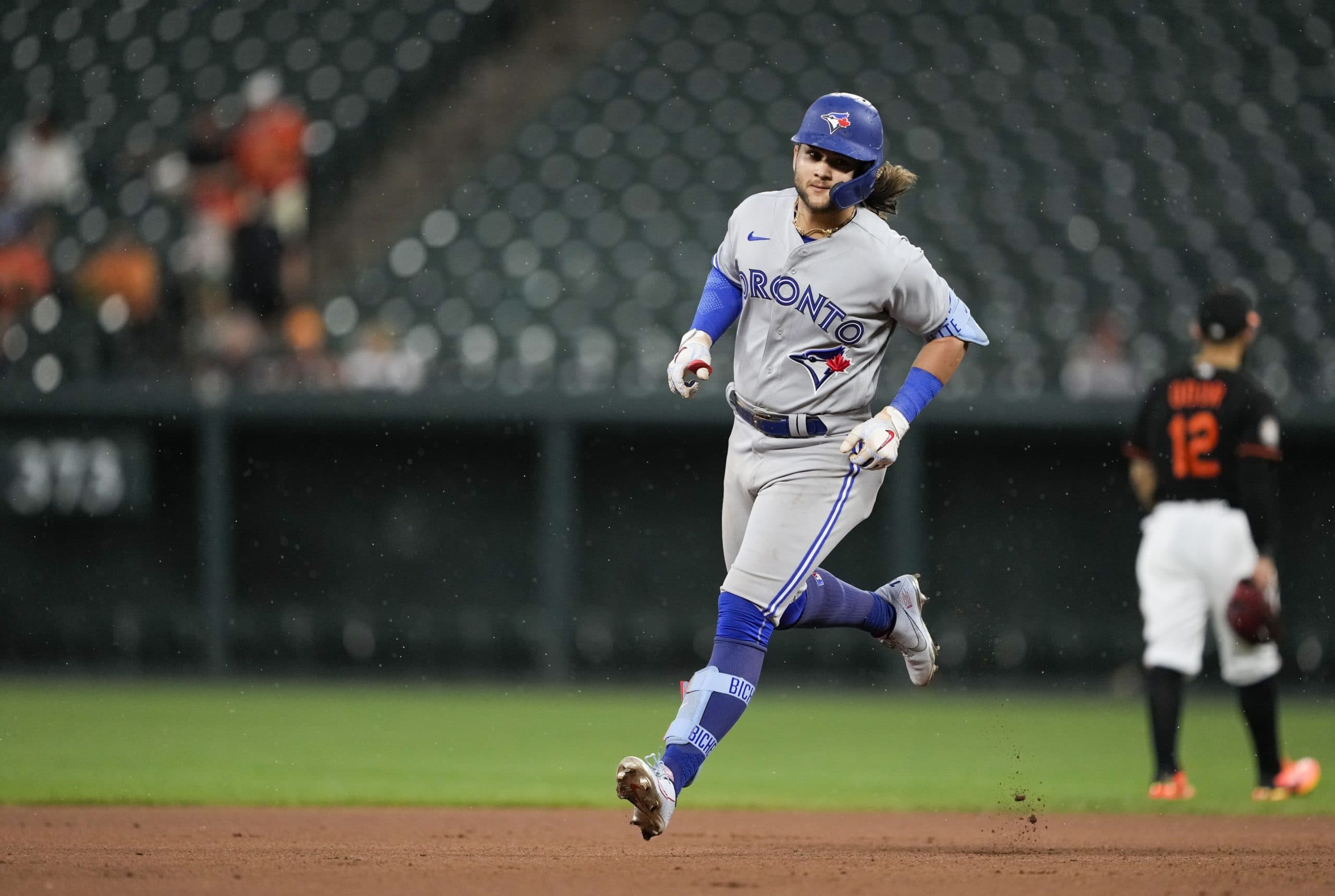 Photo credit:© Brent Skeen-USA TODAY Sports
Boy, were we ever wrong about Bo Bichette.
It was August 20th, when I was about to continue the series "what to do with", where I looked at the best option for the individual, here's Ross Stripling's article. The three options that would have been suggested for Bo Bichette were to sign him to a Julio Rodriguez/Wander Franco/Fernando Tatis Jr type deal, to let him just play, or to trade him at the end of the season.
At this point, Bichette had a .256/.295/.420 slash line with 17 homers in 511 plate appearances. His 24.7 K% was a dramatic increase from the year prior, while his 5.5 BB% meant he wasn't getting on base, all in all, he had a slightly above average wRC+ of 103 nearly five months into the season.
It's hard to say he was bad, but it was evident he was struggling in his second full season and his fourth overall. Many fans, including myself, noticed this and believed his first three seasons were a fluke to varying degrees. Then the date changed to August 21st.
It started innocently enough. On the 21st, he went 2-4 with two singles and a strikeout. Two days later, 2-5 with an extra-base hit. Over the next week, he slashed .276/.400/.379 in 35 plate appearances, with a 14.3 BB% and 20 K% for a wRC+ of 133. A solid to end the month, but he only had four doubles with no homers.
Wake me up when September begins:
I wrote about this in a recent article, highlighting how well they play in September. Last year for their push, it was Lourdes Gurriel Jr getting hot at the right time. Could you take a guess which player got hot in crunch time?
On the second of September, Bo Bichette hit a home run against the Pirates, going 3-5 with two RBIs in a win. No homers the next day, but he went 2-4 and drove in three runs. In the series finale, he went 1-4 with a walk, a solid performance. In fact, there have only been three games where he has had a single hit or less.
In the first game of a doubleheader against the Orioles, he only went 3-5 with two RBIs. However, in the second game, he went 3-5 with five RBis and hit
three home runs.
You'd expect him to cool off in the next game, right? Nope, he went 4-5 with one homer and scoring four times. In the series finale, he went hitless, the only time he's been held that way in September.
In Texas, he had six hits in 14 plate appearances, including a homer, this one extended the Jays lead from 1-0 to 3-0, all three RBIs coming from Bichette. In the getaway game, he went 1-4, the last time he had under two hits.
In the first game against the Rays, he hit an insanely clutch two run homer to give the Jays a 3-2 lead, one they wouldn't lose. Of course, he drove in all three runs going 2-4.
In Tuesday's afternoon game (It's in the middle of the two games as I write this) he had another 2-5 game, with both his hits coming towards the end of the game. One of these hits started the rally in the bottom of the 8th, which saw the Jays tack on two which helped their comeback bid.
Coming into Tuesday's game, Bo Bichette had a .511/.549/.1.128 slash line with seven home runs, 21 RBIs, a 5.9 BB%, and 13.7 K% for a wRC+ of 373 in 51 plate appearances. Overall, his season numbers have jumped to .281/.325/.479 with a 5.9 BB% and 23.4 K% in 606 plate appearances. Moreover, he has a wRC+ of 128, which is better than last season's 122.
These aren't just your regular hits:
Some say clutch hitting doesn't exist in baseball, I disagree with that big time.
Remember the Pirates game, where Bo Bichette hit a home run and drove in two? It was in the top of the 8th, and the Jays had a two run lead until he broke it open. Literally the next day, he hit a double in the 7th inning that cleared the bases. The game was tied at one before that extra base hit.
In last night's game, he hit a two run shot which essentially won the game. In his prior at bat, he had just missed getting hit with a fastball that was aimed at his fast. Instead, he worked a deep count and shot it to left centre field.
Hell, even in today's game, he had an
eleven
pitch at bat with two runners one with two outs. While he grounded out to end the game, he fouled off five pitches and laid off three tough ones for balls. This was against Pete Fairbanks, the Rays' bullpen ace.
The moral of the story:
The phrase "baseball is about ebbs and flows" has truth to it. Yes, for a large portion of the season, Bo Bichette was an average player with subpar defense. While the defense still isn't good, his bat has statistically been the best it's ever been, just by an incendiary 12 games in crunch time.
While it's true that George Springer, Alejandro Kirk, Teoscar Hernandez, Lourdes Gurriel, Matt Chapman, and especially Vladimir Guerrero Jr have cooled off over the past month, it's just that, a cold stretch.
We know what they're capable of, and hopefully they will turn it around soon. However, Bo Bichette has answered the call at crunch time and has deserved the praise for this month.
As always, you can follow me on Twitter @Brennan_L_D. I still do believe that second base is his future home solely because it'd hide his defense, but his bat is incredibly special.
---