ALCS Preview: Two of the league's best offences square off in an All-Texas showdown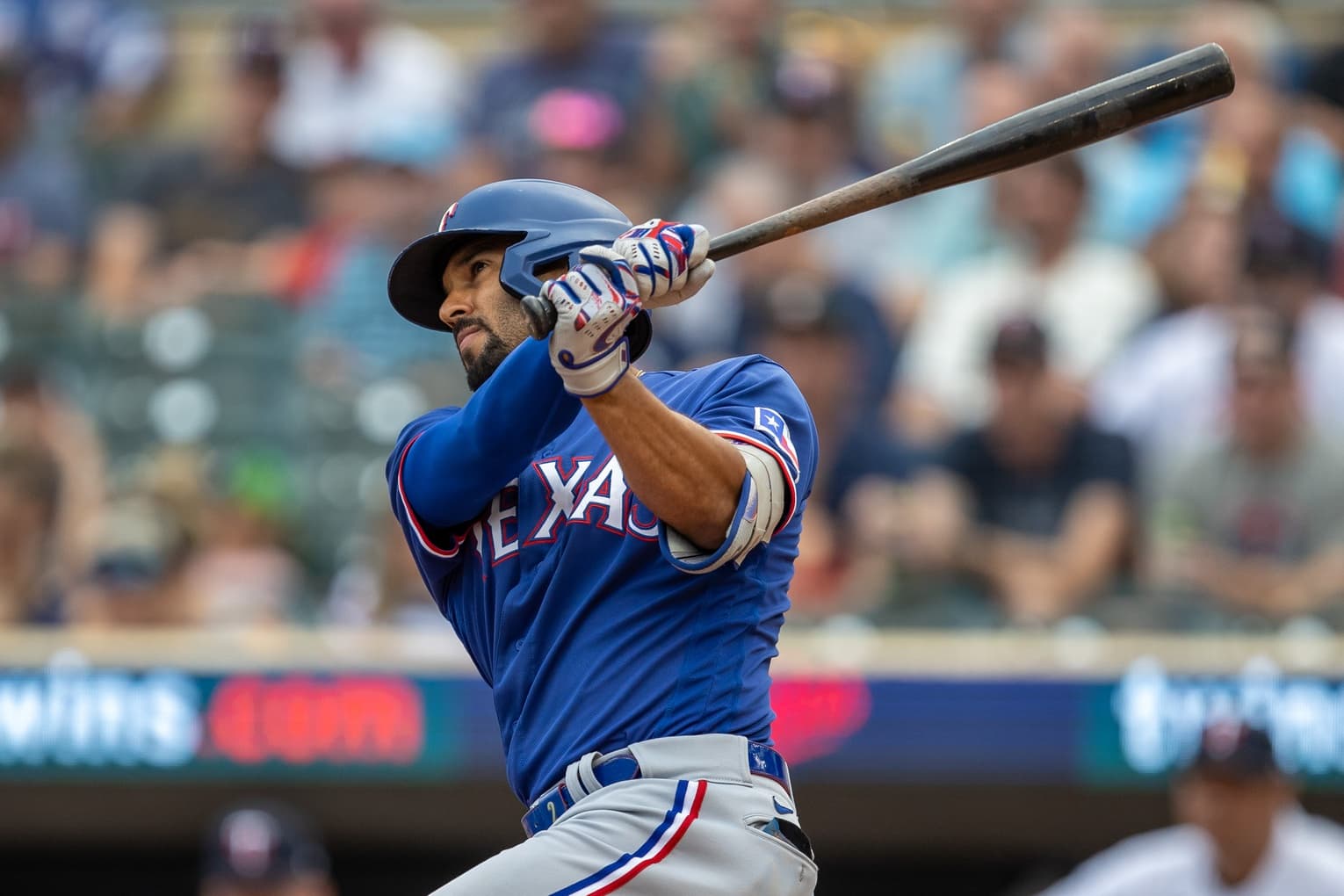 Photo credit:© Jesse Johnson-USA TODAY Sports
Several years ago, Will Ferrell once imitated former U.S. President George W. Bush on a Saturday Night Live skit saying, "Don't mess with Texas."
While that was a hilarious imitation, it's also very applicable to this year's MLB playoffs. Outside of a single Twins victory over Houston, the playoffs have been smooth sailing for both the Astros and Rangers. Now, they both find themselves one series win away from a World Series appearance.
Quick Facts
The Astros went 9-4 against the Rangers this season, outscoring them by 19 runs.
Houston is currently in their seventh consecutive ALCS, while the Rangers are in their first ALCS since 2011.
Jose Altuve only played in eight games against Texas this season, but he hit seven home runs in those games.
Kyle Tucker played in all 13 games against Texas this season, batting .400 with a 1.221 OPS.
Marcus Semien hit .431 with a 1.214 OPS, four home runs, and 12 RBIs against Texas this season, including four hits off Framber Valdez.
Houston Astros
As I mentioned above, the Astros are no stranger to this stage, and if their performance in the ALDS is any indication of how they'll play this series, then it's going to be bad news for Texas. With a 3-1 series win over the Twins, Houston was the only team that received a first-round bye to win their DS round, perhaps proving to the rest of the league that they may be OK with the current playoff format. 
In the first year of a three-year, $58.5 million contract, it was a relatively underwhelming campaign for 1B Jose Abreu. The 10-year vet slashed .237/.296/.383 during the regular season, all career-lows. However, Abreu shifted to a higher gear against the Twins in the ALDS, posting a .313 batting average with three home runs and eight RBIs.
Alongside Abreu's productive performances was DH Yordan Alvarez, who hit .438 with four home runs and six RBIs against Minnesota. Alvarez hit a home run in each of the first three games of that series, bringing his career postseason home run total to 10.
While the Astros can normally hang their hat on their offence, their pitching staff gave them a lot to like against the Twins. SP Justin Verlander (6 IP, 0 ER) did Verlander-like things in Game 1, but it was SPs Jose Urquidy and Christian Javier who gave the Astros encouraging starts in the latter two games of the ALDS. Javier allowed only one hit and zero runs despite walking five batters in Game 3, with Urquidy allowing only two runs and striking out six across 5.2 innings in Game 4. This was contrary to what Houston saw from those two in the regular season; Javier possessed a 4.56 ERA across 31 starts during the regular season, while Urquidy had a 5.29 ERA in 16 appearances (and also missed a couple of months with a shoulder injury).
Framber Valdez had a worrisome outing in Game 2, throwing only 4.1 innings and allowing seven hits, five runs, and three walks. The concerning part about this series is that Houston is facing a far more superior offence than the Twins, and Valdez and Javier specifically have not faired too well against Texas this season. Valdez had a 4.32 ERA vs. the Rangers this season in three starts, while Javier allowed nine hits and eight runs in his only start against them.
Texas Rangers
Staying with their bread and butter, Texas' offence hit on all cylinders last week during their dominant sweep of the AL-best Baltimore Orioles.
SS
Corey Seager
had an unusual stat line, but it showed how much respect he's earned from opposing pitchers. Seager only logged six official at-bats against Baltimore, but he walked
nine
times in those three games. Behind Seager, the Rangers had several guys pitch into a series they won by a combined score of 21-11. DH
Mitch Garver
went 4-for-10 with seven RBIs including a grand slam in Game 2 of the series, and RF
Adolis Garcia
went 5-for-14 with a 3-run home run in Game 3 that seemingly put that game out of reach.
Even rookie LF Evan Carter has worked his way up to the fifth spot in their lineup, ahead of other exemplary bats in C Jonah Heim and 3B Josh Jung. Am I missing anybody?
With an offence like what Texas has, their pitching simply needs to just be good enough to win games. SP Nate Eovaldi gave them exactly what they needed in a close-out game in Game 3, throwing 7 innings of one-run ball with seven strikeouts and no walks. Andrew Heaney, Dane Dunning, and rookie Cody Bradford found themselves in bulk starter/reliever roles (and succeeded in them), and could very well be relegated to the same status in this series.
Texas' biggest concern heading into the postseason has been their bullpen. The likes of
Will Smith
and
Aroldis Chapman
, despite a deep resume of high-leverage success, did not end the regular season on high notes to their standards. Smith struck out the only batter he faced in the Baltimore series, but Chapman had to navigate around allowing five base runners in his 1.2 innings of work.
The Rangers announced this morning that SPs Max Scherzer and Jon Gray would be on their ALCS roster. Scherzer missed the last several weeks with a strained teres major muscle in his right shoulder, with Gray missing a couple of weeks with lower forearm tightness. In regards to workload, it'll be interesting to see how many pitches both can throw in an outing. Regardless, Scherzer has been in this spotlight for several years, and Gray is a more-than-serviceable option that can throw multiple innings.
The Verdict
I don't need to go into any more details on how good each offence is in this series. With that being said, this series is going to come down to which pitching staff will be better.
Getting Scherzer and Gray back for this series is a big deal for Texas, and it complements the healthy starters they already had in Jordan Montgomery and Eovaldi. Houston will obviously counter with Verlander, but Valdez and Javier haven't looked as good as they did in last year's postseason. I find myself asking a couple more questions about Houston's pitching than I do Texas', and I also think Texas is more capable of out-slugging any potential bullpen problems.
My pick: Rangers in six.
ALCS MVP: Adolis Garcia
---