Alek Manoah facing critical test versus rebuilding Tigers in Blue Jays return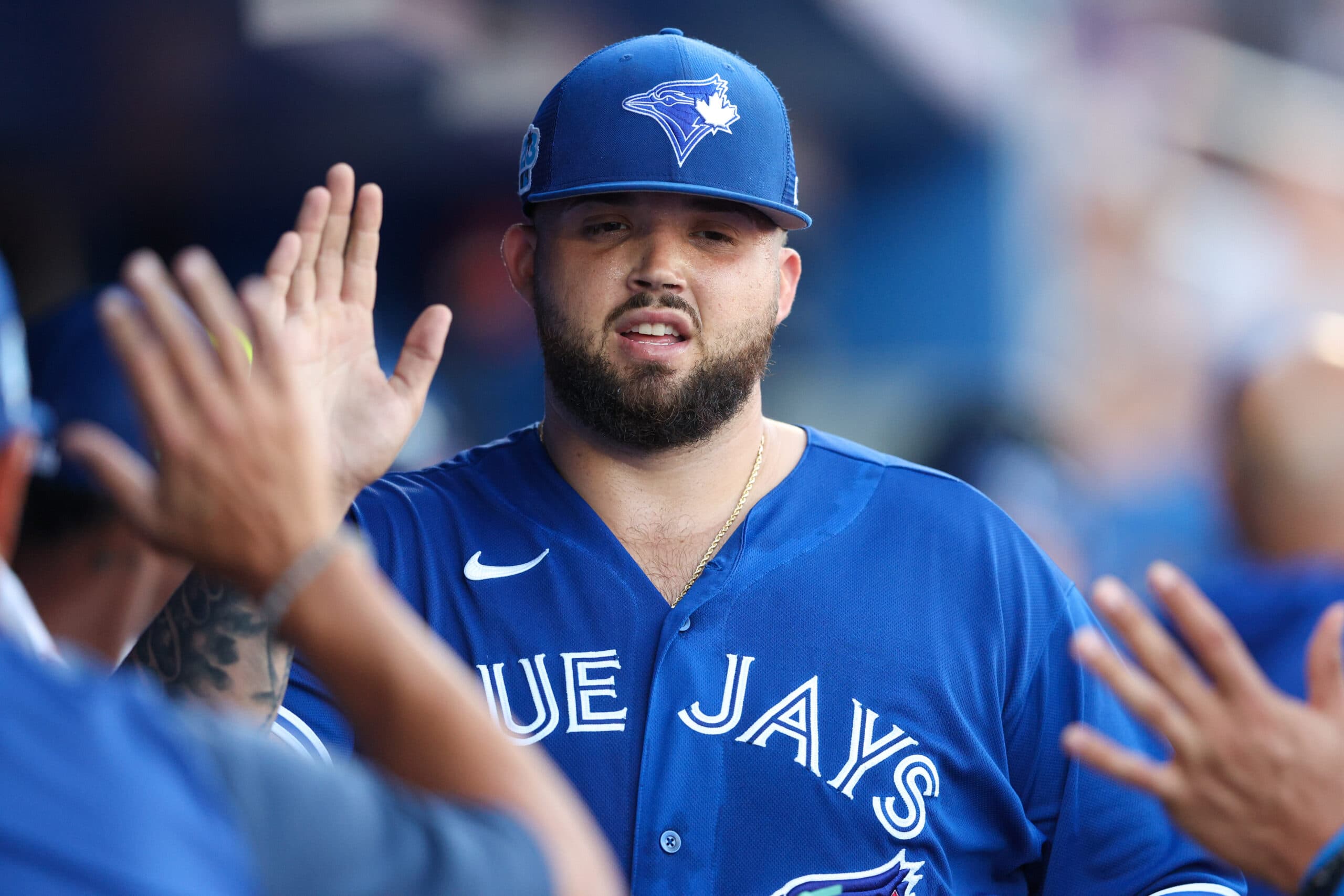 Photo credit:Nathan Ray Seebeck-USA TODAY Sports
Happy Alek Manoah Day – one of the most pivotal ones of his professional career.
The Toronto Blue Jays hurler is set to make his highly-anticipated return to the majors against the Detroit Tigers on Friday, just over a month after he was optioned to the Florida Complex League on June 6. And there will no doubt be plenty of watchful eyes observing his 14th start of the 2023 season.
Everyone hopes things go much smoother for the 25-year-old this time compared to his abysmal outing versus the Houston Astros on June 5, when he was pulled after just one-third of an inning, charged with six runs on seven hits and one walk. That, of course, was followed by a poor pitching line against the FCL Yankees a few weeks later, surrendering 11 runs on 10 hits and two walks over 2.2 innings.
Manoah was then sent to double-A New Hampshire in hopes of removing him from the gruelling Florida heat and providing him with improved competition, allowing him to refine his pitch sequencing. It was a curious move, for sure. But he seemed to check all the boxes that signalled he was on the right path, at least in the Blue Jays' eyes.
The 6-foot-6 righty showcased his improved fastball command – an area he struggled with prior to his demotion – tossing five innings of one-run ball while registering a season-high 10 strikeouts with the Fisher Cats. Above all else, he enjoyed excelling under the spotlight again.
"I think being able to compete again, for me, that's the biggest thing," Manoah told 
The Toronto Star's Mike Wilner
following a 10-strikeout performance versus the Portland Sea Dogs. "You know, being able to be in a game, being able to be surrounded by a team. A lot of these guys I played with in Vancouver (in 2021), so it was great seeing them again."
Manoah, leading the majors in walk rate (14.9 per cent) before being sent down, made a few mechanical adjustments to address flaws with his delivery identified while pitching in the Blue Jays' pitching lab in Dunedin, Fla. He has also been working on his drive toward home plate, as well, making sure he's staying upright before releasing each pitch.
But he has also focused on the mental side of the game, which seemed to elude him over the first two-plus months of his third big-league campaign.
"Just trying to be aggressive," Manoah said. "Staying tall and driving down the mound. Earlier on in the year, I was kind of getting under the ball, pushing it, kind of just trying to place the ball. Now I'm really comfortable with where the mechanics are at, I'm really comfortable with the mindset and the competitiveness and the aggression and learning (that) you've just got to throw the ball and once it leaves my hand, you can't control ball or strike … Just try to make my next pitch the best one."
The Blue Jays need Manoah to attack the strike zone more aggressively, not worrying about being overly fine or perfect with his location. Pin-point command has never been his strong suit, and nor should it be.
At 6-foot-6, 285-pounds, the 11th overall selection from 2019 has always tried to blow his best stuff by hitters, even if they know what's coming. But that mindset slipped away from him earlier this season, particularly when falling behind in counts or issuing a free pass.
Now, however, he is more aware of knowing when to make in-game adjustments rather than doing so when it's too late. If something doesn't feel right, he isn't waiting until the game gets out of hand before addressing it.
"This year, it would take three, four, five at-bats, sometimes two, three, four innings," Manoah said. "Sometimes it would take two or three games before I would make an adjustment. Right now, I'm feeling the bad pitches, knowing that was wrong and making the adjustment quick, feeling loose out there and able to get into a rhythm."
If Manoah continues the progress he has made over the last month, he could be set up for a thrilling return at Comerica Park when he faces a righty-dominant Tigers lineup, which will have huge implications on the Blue Jays' trade deadline plans – good or bad.
---