Blue Jays' Alek Manoah needs a break following latest clunker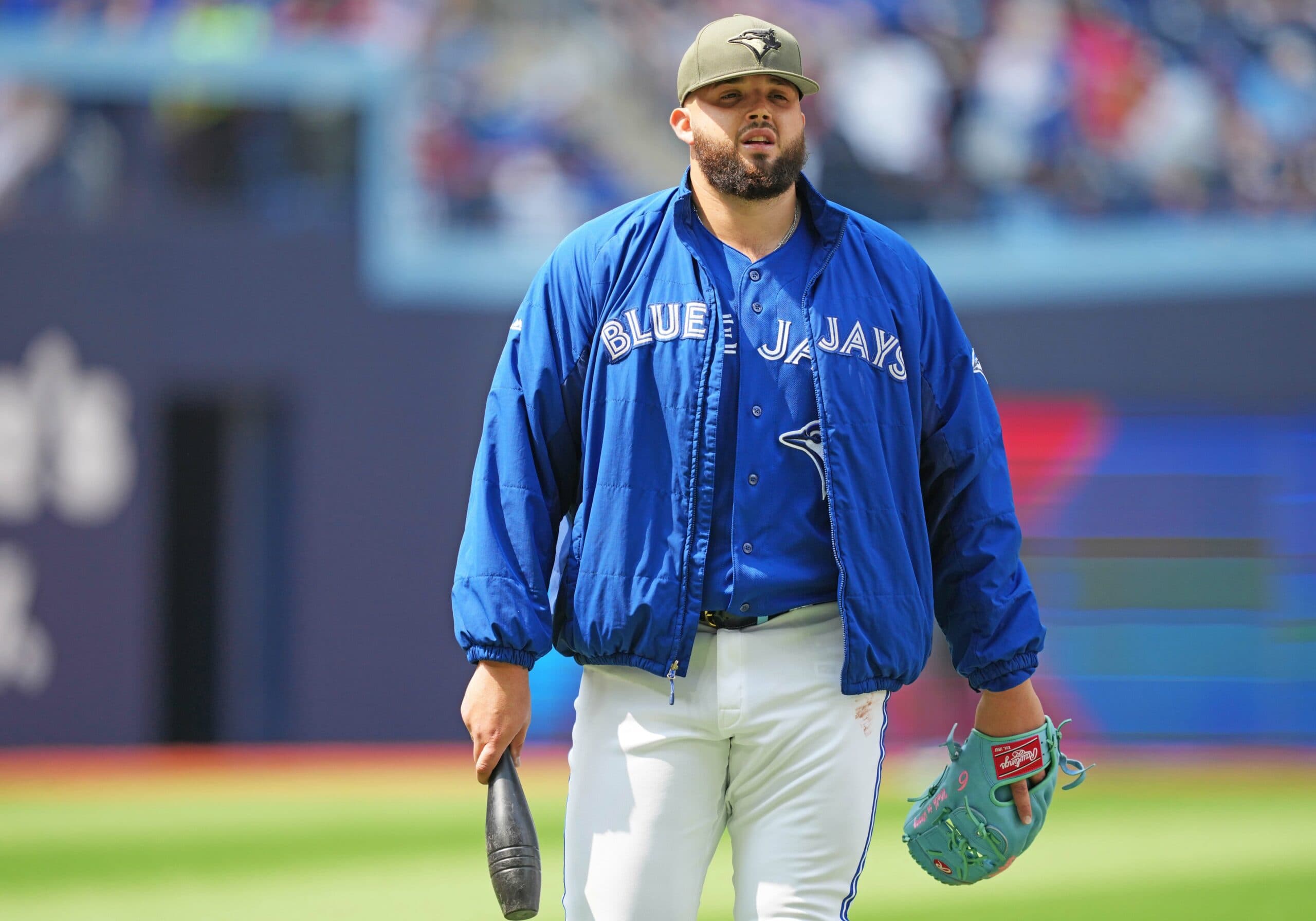 Photo credit:Nick Turchiaro-USA TODAY Sports
Enough is enough. It's time for the Toronto Blue Jays to take action with right-hander Alek Manoah, who hit rock bottom Monday night while being chased from the shortest outing of his career.
Things turned ugly in a flash as Manoah was pulled from the game after surrendering six runs on seven hits – including Corey Julks' first career grand slam – and one walk across just one-third of an inning against the Houston Astros. The 25-year-old threw 38 pitches and faced all nine Astros hitters but recorded just one of 27 outs before departing for the night.
It was the latest clunker amidst the 2022 All-Star's disastrous two-month span, whose 6.36 ERA now sits
eighth highest in the majors
among 94 qualified starters (min. 50 innings pitched). Adding to his issues, he ranks 94th in FIP (6.52), strikeout-to-walk-rate difference (2.1 per cent) and fWAR (-0.6) – a massive fall from grace for a pitcher who finished third in AL Cy Young voting last season.
Manoah, notorious for pitching deep into games a season ago, has failed to complete at least five innings in eight of his 13 starts in 2023 – a feat he accomplished in all 31 outings in '22. But as everyone was reminded on Monday in Toronto, this version of Alek Manoah is unequivocally different from the one that emerged as the club's ace during his sophomore campaign.
The 6-foot-6 hurler has suddenly become the weak link in a rotation that was supposed to be among the Blue Jays' biggest strengths this season. While three-fifths of the group (Kevin Gausman, Chris Bassitt, José Berríos) has done its job and then some, the remaining duo (Manoah, Yusei Kikuchi) has repeatedly put this team at a disadvantage, overstraining the bullpen.
With no end in sight to Manoah's season-long woes, we've likely reached a breaking point where the franchise – which is 4-9 in his starts this season – must seriously consider removing the struggling righty from its pitching staff. Or, at least, provide him with some time off.
That reportedly hadn't been a conversation topic amongst the Blue Jays organization heading into Monday's series opener against the Astros. But there's no denying it probably is now.
"We'll see. I mean, we haven't brought it up," Schneider said pre-game on Monday, per
The Athletic's Kaitlyn McGrath
. "Again, we're talking about a really good pitcher who's going through a little bit of a tough time.
"The cool thing about, I think, this team and organization is we're willing to do anything that we feel like we need to do to help you, and players understand that, too. So, but as of now, no."
Jun 5, 2023; Toronto, Ontario, CAN; Toronto Blue Jays starting pitcher Alek Manoah (6) in the dugout after getting pulled from the game during the first inning against the Houston Astros at Rogers Centre. Mandatory Credit: John E. Sokolowski-USA TODAY Sports
Schneider was again asked about Manoah's status following Monday's 11-4 blowout loss but used a kick-the-can-down-the-road approach, stating he expects the youngster to make his next scheduled start on Saturday versus the Minnesota Twins. He added, however, that "everything is on the table" regarding what comes next.
The Blue Jays skipper wants to do what's best for Manoah, echoing that sentiment numerous times during his post-game media availability, and rightly so. No one should expect anything less. But what the 11th overall selection from 2019 likely needs now more than ever is a reset, both mentally and physically.
Manoah wears his heart on his sleeve. You can see that every time he takes the hill during a game. When things aren't going well, though, that emotion can often weigh heavily on a player's mind, which, judging by his
post-game comments on Monday
, certainly appears to be the case.
"They reminded me that they all have my back, that we're all in this together, that they love me and want me to do well," Manoah said. "It's very encouraging to hear that."
No one hates letting down his teammates more than Manoah, who desires to put his club in a winning position every fifth day. And he did exactly that over his first two big-league campaigns. But this season has been a completely different story.
So, with that in mind, the Blue Jays likely have three alternatives: option Manoah to triple-A Buffalo, create a phantom IL stint – as they did with Adam Cimber  – or reassign him to single-A Dunedin where his pitching woes can be properly diagnosed at the organization's Player Development Complex.
The only reason none of these options have been utilized yet is likely due to Toronto's inadequate starting pitching depth at the upper minor-league levels. But that isn't Manoah's fault. It is the organization's. So it wouldn't be fair to continue rolling him out every fifth day solely because there aren't better options knocking at the door.
It is on the Blue Jays for not solidifying their starting pitching depth over the off-season, creating uncertainty around the team's No. 6 starter. As a result, they are now facing a dilemma where Zach Thompson – who owns a 6.89 ERA in 11 starts with Buffalo this season – is the sole traditional minor-league starter on their 40-man roster.
Toronto is the only MLB franchise to use the same five starters all season – a streak that is destined to end at some point this month. The good news, however, is there are three off days (June 12, 22, 26) between now and the end of the month, which should prove beneficial if Manoah lands on the IL or is optioned to the minors.
With Gausman starting Tuesday, the Blue Jays would require a fresh arm for Saturday's contest against the Twins – likely Bowden Francis, who isn't on the 40-man roster and is scheduled to pitch at triple-A on Tuesday – and would also have to cover the game on Jun. 17 versus the Texas Rangers. Beyond that, they could sneak through the rest of June without calling upon another bullpen day.
Trevor Richards or Nate Pearson could be utilized as openers on June 10 and 17, followed by bulk outings from Francis, temporarily covering up the organization's mediocre pitching depth. Gausman would also have to swap places with Manoah in the rotation, creating separation between him and Kikuchi to ensure the bullpen isn't overworked.
This shuffle would force Gausman – and everyone else – to pitch on regular rest (5.93 ERA, 22.2% strikeout rate), which he hasn't been as successful in compared to working on five days rest (1.08 ERA, 43% strikeout rate) this season, though it's a gamble that is likely worth taking.
Making these changes would only be a short-term fix, of course, but it would likely buy a bit of time for the Blue Jays and Manoah. At the very least, it would afford him just under three weeks to reset his pitching mechanics while providing some much-needed relief to his mental health.
The best-case scenario is Manoah returns on July 1 (Canada Day) to a rowdy home crowd at Rogers Centre to face the Boston Red Sox. If he requires additional time, the Blue Jays could turn to a third bullpen game followed by a Gausman start and an off day, with the right-hander returning to the team during its trip to Chicago to face the White Sox.
If Manoah returned at the start of July, he'd be lined up to make a pair of starts before the midsummer All-Star break, whereas he'd only have time to make one appearance if his return occurred in Chicago at Guaranteed Rate Field. But it is probably too early to start mapping out his timeline anyway.
Before that can happen, we must first discover how Manoah responds to the first prolonged wave of adversity in his professional career. His rapid accession to the majors didn't allow for any hiccups along the way, but now he has to find a way to regain his confidence as one of baseball's top hurlers.
---