Bad times at The Trop, the Kiermaier thing, an out-of-town scoreboard update, and more!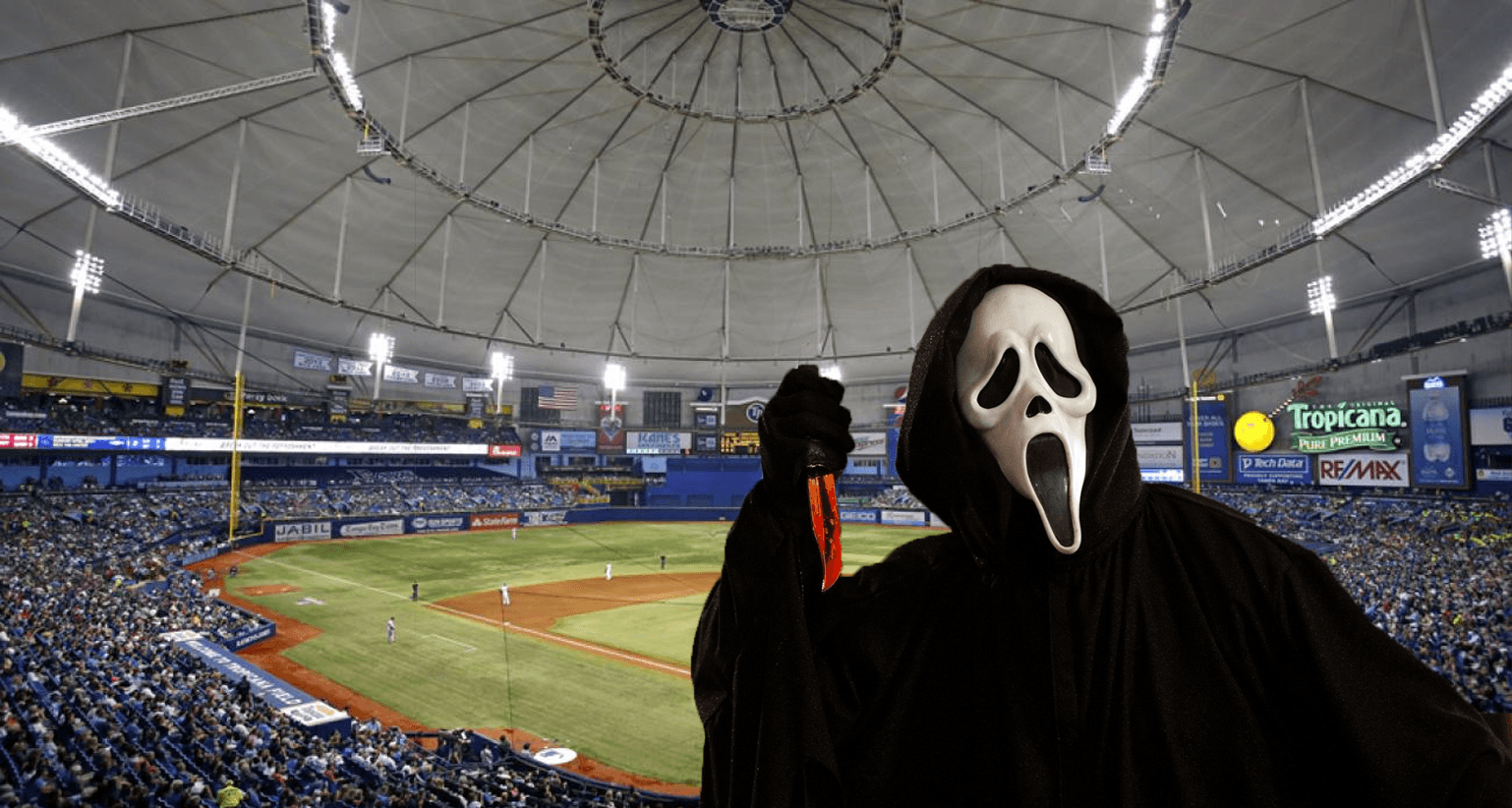 Chaos, bad times, and excitement to leave — that pretty much sums up your normal week at The Trop.
After taking two of three from the Rays last week in Toronto, the Blue Jays travelled down to Tampa Bay for a rematch with the American League East leaders. Things didn't go well at all and the Blue Jays now sit out of a playoff spot.
Robbie Ray's tough start
Robbie Ray started the first game on Monday with a legitimate opportunity to lock up the American League Cy Young award.
On Sunday, Gerrit Cole got knocked around by Cleveland, pushing his ERA for the season from 2.75 to 3.03. With a good start against Tampa, anything similar to his dominant one in last week's series finale against the Rays, and the Cy Young would have been all his.
Unfortunately, Ray wasn't able to capitalize on the opportunity. He laboured through four-and-two-thirds innings and scattered three earned runs on seven hits and two walks. It was far from a disastrous outing, but it didn't move the needle in the Cy Young race.
The truly frustrating part of this game came in the ninth inning.
The Blue Jays entered the ninth down 6-2 as Tayler Saucedo, Nate Pearson, and Ryan Borucki each gave up a run after Ray was pulled from the game. George Springer led the ninth off with a double and Marcus Semien brought the score to 6-4 with a two-run dinger.
Next up, Vladdy took a walk and it looked like the Blue Jays had a comeback brewing. From there, we proceeded to see the strike zone expand well beyond what it was for Ray earlier in the game, as Bo Bichette, Teoscar Hernandez, and Breyvic Valera had balls outside of the zone get called for strikes.
It's a bit of a loser mentality to while about balls and strikes because they generally tend to even out, but… oof. This was ugly.
The Kevin Kiermaier thing
Ahead of Wednesday's game, we learned that Kevin Kiermaier slid into home plate and grabbed Alejandro Kirk's pitching game plan card that had fallen out of his wristband.
As Arash Madani reported, the Blue Jays were apparently pissed off about this and it turned out that Kiermaier and the Rays wouldn't return the card when Toronto found out it was missing.
This is sort of a weird issue. I mean, it isn't good sportsmanship, obviously, but I wouldn't say it's full-on Houston-Astros-using-technology-to-know-what's-coming cheating. Kirk fucked up by dropping his card (and maybe he should just memorize the plan and not have it written down for somebody to possibly steal in the first place???) and Kiermaier did a thing to give his team a competitive edge.
We'd be lying if we said we'd be pissed off if a player on the Blue Jays did this exact same thing. I'm sure we'd all find it hilarious.
Anyways, the Blue Jays wound up winning the second game thanks largely to a gutsy pitching performance from Alek Manoah. The Big Man didn't have his best stuff but he navigated five hits and six walks over the course of six innings and only allowed two earned runs.
Another thing to note here is that it was really, really nice to see Manoah not get mixed up in the Kiermaier shit. Given Manoah's intensity, it seemed inevitable he would plunk Kiermaier on Tuesday, which would have likely led to an even longer suspension than the five-game one he was handed back in June when he
hit Maikel Franco of the Orioles
.
Kiermaier went 0-for-3 in the game, striking out twice and grounding into a double play in the second inning. That was massive because Manoah allowed a single, walk, single, and a walk after that double play. Things could have gotten really ugly really fast if Manoah has plunked him.
Jordan Romano also loaded the bases on walks in the ninth inning but managed to get out of it. Teoscar Hernandez's reaction after catching the final out says it all…
Ryan Borucki's retaliation 
It was a good thing the Blue Jays found their way to a win on Tuesday because Wednesday was a fucking mess.
This would have been Hyun Jin Ryu's spot in the rotation but he went on the Injured List with a phantom injury so it was Ross Stripling who got the "start" after Julian Merryweather pitched the first. Merryweather worked around a walk and a hit and tossed a scoreless frame, Stripling had a fine time in the second with the bottom of Tampa's order, and then he got absolutely shelled in the third.
Brandon Lowe singled, Randy Arozarena doubled, Ji-Man Choi walked, Yandy Diaz his a sac-fly, and then Austin Meadows hit a three-run homer. Since coming off the Injured List, Stripling has pitched six innings over three outings and has allowed nine earned runs. Not good!
The game was pretty much over after that but, in the eighth inning, Tampa's final trip up to bat, Ryan Borucki got back at Kiermaier by drilling him right in the back…
Borucki was tossed from the game, the benches cleared, and Pete Walker absolutely lost his mind. It was a fairly predictable ending to the series as we all knew somebody on the Blue Jays was going to throw at Kiermaier.
To be honest, I don't hate this because it's part of the game and it's more than likely important to the team that they feel vindicated, but we as fans also have to take a step back and remember just how hard we crapped on the Texas Rangers for waiting until the final game of a stretch in 2016 in which the teams saw each other seven times in two weeks to plunk Jose Bautista for the bat flip.
I mean, again, I'm glad Manoah didn't do anything, but, still, the Blue Jays deserve any shit they get from this.
Next up…
Anyways! Fuck The Trop!
Elsewhere, the Blue Jays got zero help on the out-of-town scoreboard. Marcus Stroman and Taijuan Walker both got smacked as the Red Sox swept their two-game series with the Mets and the Yankees breezed through a three-game sweep over the useless Rangers.
Here we are now…
The Blue Jays have a game in hand against New York and they're tied in the loss column at 67, so, if Toronto wins on Thursday night in Minnesota, they'll be tied again going into Friday. Also, the Yankees and Red Sox are playing each other this weekend, so it guarantees that one of these two teams is going to drop two games over the weekend.
Toronto absolutely needs to take care of business against the Twins. They have Steven Matz, Jose Berrios, Robbie Ray, and Alek Manoah going and they should win at least three games. They don't want to be going into next week's three-game set with the Yankees down in the standings.