Blue Jays should consider buying low on Cardinals' Tyler O'Neill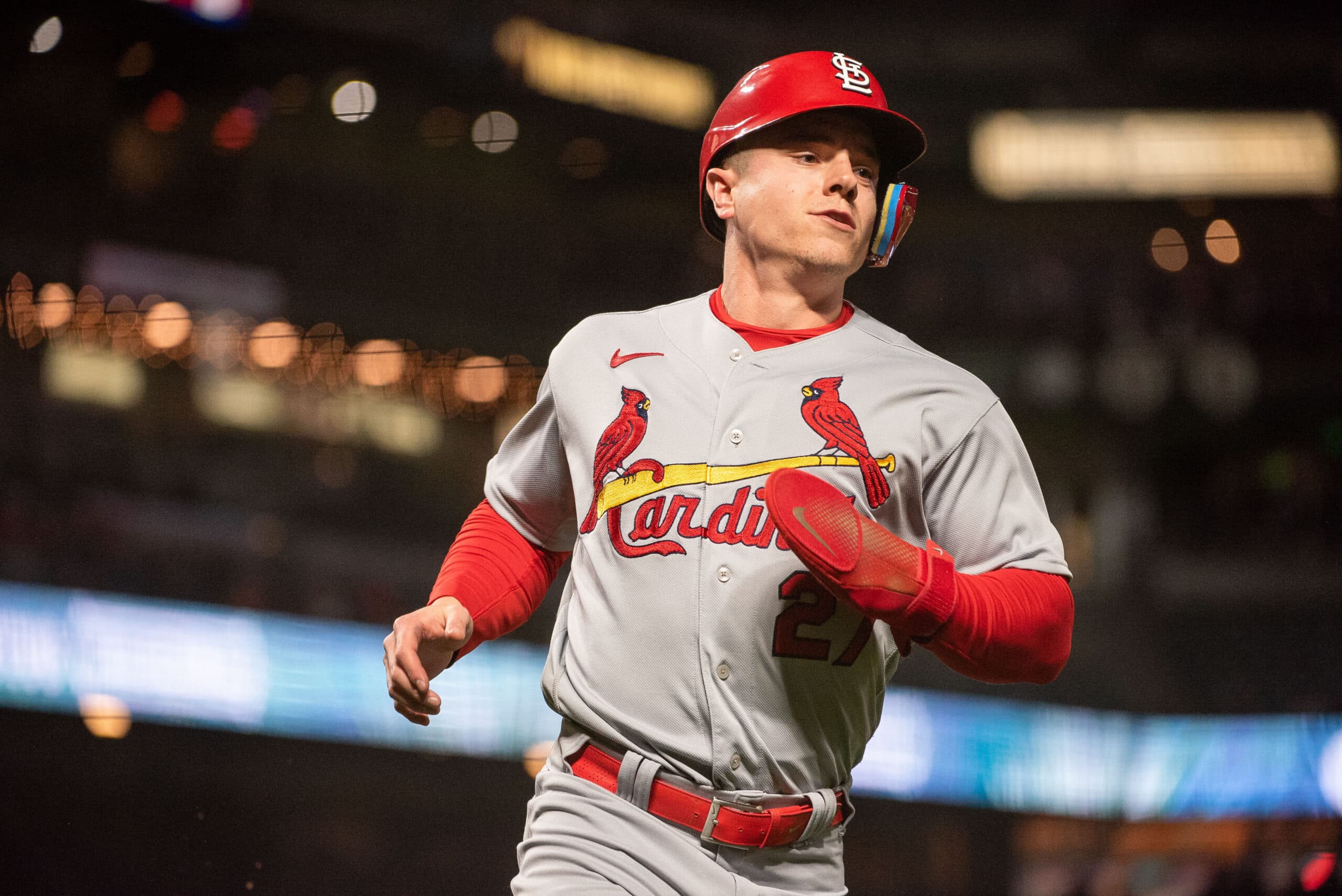 Photo credit:Ed Szczepanski-USA TODAY Sports
One week until the Aug. 1 trade deadline, could the Toronto Blue Jays and St. Louis Cardinals swing a trade centred around the Red Birds' surplus of outfielders between now and then?
Both clubs were linked to one another throughout last off-season as many wondered if they'd address each other's needs – Toronto's in the outfield and St. Louis' behind the plate. But that ultimately didn't come to pass. Even so, there might be another opportunity for these franchises to connect on a deal.
Amid a disastrous 2023 season, the Cardinals are destined to sell leading up to next week's trade deadline, which could result in at least one of their talented outfielders being moved. That should open the door to conversations involving the Blue Jays, who are desperately seeking a right-handed power bat to platoon versus left-handed pitching.
One outfielder, in particular, that would likely be of interest is Tyler O'Neill, especially considering his stock has fallen significantly over the last few seasons and could potentially be a buy-low, high-reward trade candidate.
The 28-year-old missed two months due to a nagging back injury – which sent shooting pains into his lower half and affected his daily routines outside of baseball – before returning from the 60-day IL last Thursday. But that may only increase his odds of finishing this season with another team.
Now that O'Neill is healthy again, St. Louis appears to be showcasing him in left field in hopes of boosting his trade value. And it's worked so far, as he's hit .267/.450/.400 with a 148 wRC+ in five contests since rejoining the lineup, including a three-run double against the Arizona Diamondbacks on Monday.
Despite a positive return, O'Neill – under team control through 2024 – would still likely benefit from a change of scenery in 2023, removing him from a losing environment in St. Louis in favour of joining a playoff contender. In doing so, he'd have a chance to make up for lost time, as multiple injuries prevented him from contributing in last year's post-season.
O'Neill's hamstring and shoulder ailments also cost him time during the regular season, too, limiting the right-handed slugger to just 96 contests while struggling to a .228/.308/.392 slash line and a 101 wRC+, worth 1.3 fWAR.
The 5-foot-11 outfielder hasn't always seen eye-to-eye with manager Oli Marmol, either, as the two had a public disagreement regarding his effort level as a baserunner earlier this season, leading to his removal from the game after he failed to score from second base. That saw him slip down the outfield depth chart in the ensuing contests.
As of now, though, O'Neill appears to be saying all the right things just in case he isn't traded before the Aug. 1 deadline passes.
"The Cardinals have a great thing going here and I'm very familiar with these guys — not just my teammates, but also the staff," O'Neill told reporters following Friday's 4-3 loss to the Chicago Cubs, including

MLB.com's John Denton

. "In terms of big league talking, [the Cardinals] are all I know. I love it here and we'll see what happens."
As much as O'Neill probably wishes the circumstances were different, he also understands he'll probably be playing elsewhere in the coming days. That could be with a team like the Blue Jays, allowing the Burnaby, B.C., native to suit up for his home country, just as he did in March with Team Canada during the World Baseball Classic.
There's no question the third-round selection from 2013 has underperformed and failed to stay healthy over the last two seasons, which should play in Toronto's favour, but he isn't too far removed from his breakout 2021 campaign.
The Cardinals' offence ran through three players that season: Paul Goldschmidt, Nolan Arenado and O'Neill, who blasted a career-high 34 home runs while slashing .286/.352/.560 over 138 games. He also posted career bests in ISO (.274), wOBA (.384), wRC+ (144) and fWAR (5.6).
If that weren't enough, his quality of contact metrics were among the best in the sport, placing in the
93rd percentile or higher
in hard-hit rate (52.2%), barrel rate (17.9%), average exit velocity (93 m.p.h.), xSLG (.582) and xwOBA (.392).
Most of O'Neill's success occurred against left-handed pitchers in 2021, a valuable skill he repeated the following season despite battling to stay on the field. While he's struggled in that area this season, at least in a small sample size (27 plate appearances), he is more than capable of addressing the Blue Jays' roster flaw in right-on-left matchups down the stretch.
| | | | | | | | |
| --- | --- | --- | --- | --- | --- | --- | --- |
| | HR | AVG | OBP | SLG | ISO | wOBA | wRC+ |
| 2021 | 7 | .289 | .388 | .639 | .349 | .425 | 171 |
| 2022 | 4 | .256 | .352 | .436 | .179 | .346 | 128 |
| 2023 | 0 | .208 | .296 | .292 | .083 | .268 | 69 |
There are some swing-and-miss concerns, as O'Neill's strikeout and whiff rates have ranked in the bottom-third percentile of the majors each season since 2021, including '23. But that is to be expected, at least to some degree, given his power profile. It's also worth noting he has a career-high 10.1 per cent walk rate in 2023, good for the 72nd percentile.
As a platoon hitter, Toronto can afford to sacrifice a bit of defence in the outfield if it means adding a power-hitting righty. In O'Neill's case, however, general manager Ross Atkins may not have to do either.
In addition to his offensive abilities, the veteran outfielder is a former two-time Gold Glove Award winner, capable of playing all three positions. Injuries, of course, have reduced his availability in recent years, but he was
considered an elite defender from 2020-21
, ranking third in DRS (+20) behind Kevin Kiermaier (+23) and Joey Gallo (+28). He also placed tied for 10th in OAA (+7).
This may not be all that important in 2023, but considering Kiermaier and Whit Merrifield ($18 million mutual offer) could depart via free agency next winter, O'Neill would likely become a larger piece of the puzzle in Year 2 with Toronto, especially if he produced offensively.
The Blue Jays would be betting on O'Neill's power stroke to return to its previous form, which would be risky. But they were comfortable embarking on a similar feat with Merrifield – who struggled in the first half of 2022 – at least season's trade deadline, and it's a move that has proved crucial on numerous occasions this season.
It is probably unfair to assume the Cardinals outfielder would have a similar impact, largely considering how much he has missed due to injury in 2023. Still, buying low on him could allow the organization to fill a glaring hole on the position player side without significantly subtracting from a prospect system short on highly-coveted lottery tickets.
At a minimum, O'Neill could further lengthen a Toronto lineup that, for the most part, has proven ineffective versus left-handed pitching all season. As a former everyday contributor, though, he could follow Merrfield's path and emerge into something much more than simply a platoon hitter.
---