Blue Jays Farm System Analysis: The organization loves their versatile, hit-for-average, corner infielders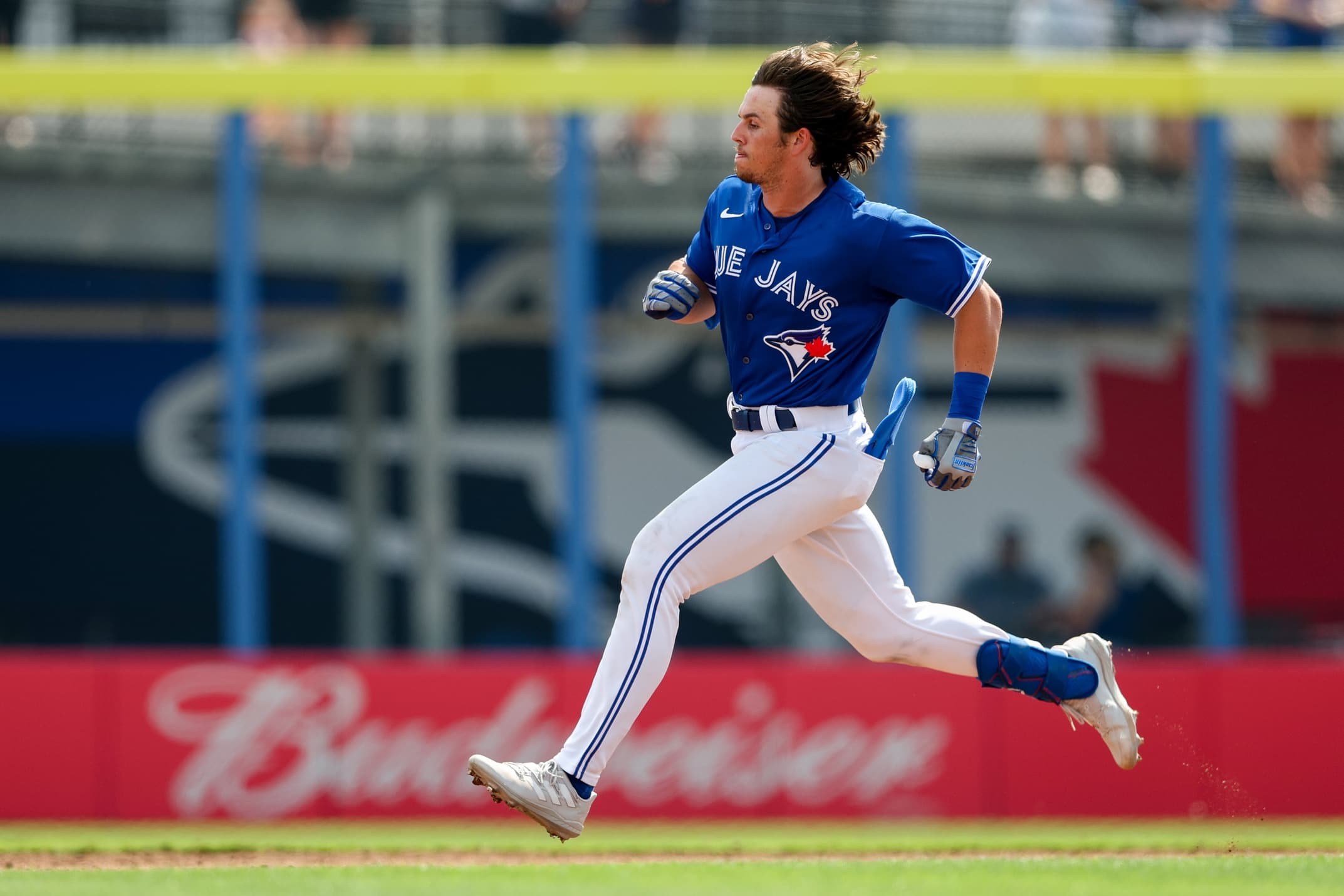 Photo credit:© Nathan Ray Seebeck-USA TODAY Sports
In this article, we'll look at third basemen and first basemen in the Blue Jays farm system!
Now, this will need some describing. The Blue Jays organization
loves
positional versatility, so a lot of these players on this list will have played all over place this season. For example, I listed Trevor Schwecke as a first baseman in this article, but he's played first base, third base, second base and the outfield.
Basically, I just sorted the players that play the infield by how many innings they've played in the corners compared to the middle.
Like in the catcher article, we'll start in Triple-A, and work our way down to the Dominican Summer League.
Buffalo Bisons' corner infield depth:
The Buffalo Bisons have five players I consider corner infielders. Starting with
Trevor Schwecke,
he's slashing .271/.370/.418 with four home runs between Double-A and Triple-A. He's played all over the place this season, with 93 innings at first base being the most.
Another player that plays all over the place is
L.J. Talley
. The 26-year-old is slashing .241/.368/.366 with two homers in 136 plate appearances, along with a 16.9 BB% and a 19.9 K% for a 92 wRC+.
Sticking with players that play all over the place,
Rafael Lantigua
plays everywhere, but has spent the most time at third base. For the season, he's slashing .292/.435/.453 with four homers in 246 plate appearances. Expect him to be mentioned more in top Blue Jays prospect publications.
Spencer Horwitz
could potentially get a call-up to the big leagues soon, and he's having a great season. The 25-year-old first baseman is slashing .300/.421/.405 with two homers in 259 plate appearances, along with a 16.2 K% and a 17.8 BB% for a 117 wRC+.
Addison Barger
struggled with the Buffalo Bisons, slashing .237/.333/.329 with a homer in 87 plate appearances. His K% jumped to 31%, but we later learned that he had an elbow injury. He's currently on a rehab assignment with the Dunedin Blue Jays.
New Hampshire Fisher Cats' corner infield depth:
By my count, the New Hampshire Fisher Cats have four corner infielders on the team.
Damiano Palmegiani
is having the best season of them all, as he's slashing .277/.390/.487 with nine homers in 228 plate appearances. He also walked 14% of the time while only striking out 21.5% of the time.
Rainer Nuñez has struggled a bit in Double-A, as he's slashing .200/.245/.289 with a homer in 49 plate appearances. However, he was great in High-A where he slashed .309/.390/.446 with three homers in 159 plate appearances. P.K. Morris has also hit the Double-A wall, as he's slashing .189/.368/.300 with one homer in 118 plate appearances. He's striking out quite a bit (32.2 K%), but has done a great job at drawing walks, as he has an incredible 22 BB%.
Riley Tirotta
is slashing .291/.394/.522 with a 13.8 BB% and a 28.8 K% in 160 plate appearances between High-A and Double-A. He's also added five home runs, and has had no issues adjusting to Double-A, as he has a 125 wRC+ in 53 plate appearances.
Vancouver Canadians' corner infield depth:
The Canadians only have three corner infielders on the team. However, Michael Turconi, who'll be covered in the next article, has been playing more first base over the past few weeks.
Sticking with first basemen,
Peyton Williams
tore up Single-A (131 wRC+, seven homers), but has struggled early in his High-A career. The 22-year-old is slashing .176/.263/.353 with two homers in 38 plate appearances in Vancouver.
Alex De Jesus
has been hot as of late, and is slashing .237/.318/.463 with seven homers in 201 plate appearances.
Cade Doughty
has also picked up his game after a tough start, and is now slashing .234/.332/.413 with six homers in 193 plate appearances for a 97 wRC+.
Dunedin Blue Jays' corner infield depth:
Out of all the Blue Jays affiliates, the Dunedin Blue Jays have the most infielders period, with five corner infielders.
Tucker Toman
is the most prolific of the five, as he was selected with the 77th overall pick in the 2022 draft. He's slashing .232/.351/.330 with a 13.9 BB% and a 30.3 K% in 231 plate appearances.
Glenn Santiago
has High-A experience, but has played the season with the Dunedin Blue Jays. He's slashing .224/.331/.322 with three homers in 169 plate appearances.
Ryan McCarty
has been hot as of late, and now has the second-best wRC+ of anyone on the Dunedin Blue Jays with a 122 wRC+. He's slashing .254/.341/.479 with six homers in 168 plate appearances.
Angel Del Rosario
is slashing .224/.318/.397 with two homers in 67 plate appearances, but has yet to use his blazing speed as he's only 6/9 in stolen base attempts (32/37 in 2022).
Jean Arnaez
is slashing just .256/.292/.279 with a double in 48 plate appearances, and could find himself in the FCL soon.
FCL Jays' corner infield depth:
The FCL Blue Jays only have three corner outfielders, but have a few catchers like Maykel Minoso and Carlos Vasquez who play first base.
Cristian Feliz
is having the best season of the three, as he's slashing .286/.375/.619 with two homers in 24 plate appearances heading into Friday's game. Standing at 6'4", 190 lbs, he has some serious raw power. In fact, he just hit his third home run in the ongoing FCL game.
Gregori Cano
is Robinson Cano's younger brother, but has yet to register a hit in his 10 plate appearances in the FCL. Last season in the DSL, he slashed .257/.410/.338 with two homers in 173 plate appearances, giving him a 118 wRC+. He spends time between first and third base with
Kendry Chirinos
, who is slashing .158/.273/.158 in 22 plate appearances this season.
DSL Jays' corner infield depth:
The DSL Blue Jays have two corner infielders, but also have a few players that play multiple positions. For example, Faruk De La Cruz (mentioned in the catcher article) is playing first base in the ongoing game, while Omar Romero is playing third base for the first time as a professional.
Daniel Pérez
has been the best player on the DSL Jays, period. The 21-year-old Cuban first baseman is slashing .333/.529/.417 with no homers, but a 22.2 BB% and a 5.6 K%. He won't be in the rookie leagues for long.
The other player is
Aneudi Escanio
, who mainly plays third base and left field. Early in the season, he's slashing .333/.444/.467 with no homers in 18 plate appearances. He has a 140 wRC+.
The state of corner infielders in the organization:
The Blue Jays have a type. They like their infielders that can hit for a high average and have position versatility.
The Jays also have quite a few intriguing first baseman. Damiano Palmegiani continues to exceed expectations of a 14th round draft pick, Rainer Nuñez may be struggling in Double-A, but he can absolutely smack a ball.
Spencer Horwitz is on a brink of a call-up, and although he doesn't hit a ton of home runs, he's shown an ability throughout his career to have a .300 average and a .400 on base percentage.
This doesn't even mention younger players like Peyton Williams and Cristian Feliz, both of whom are large adult sons with some projection remaining.
The state of the corner infield (third base and first base) is great, with quite a few candidates ready to fill third base next season if needed.
Previously in the series…
---
As always, you can follow me on Twitter and Instagram @Brennan_L_D. In the next article, we'll look at middle infielders.
---