Blue Jays must be wary of defensive identity while seeking offensive upgrades this winter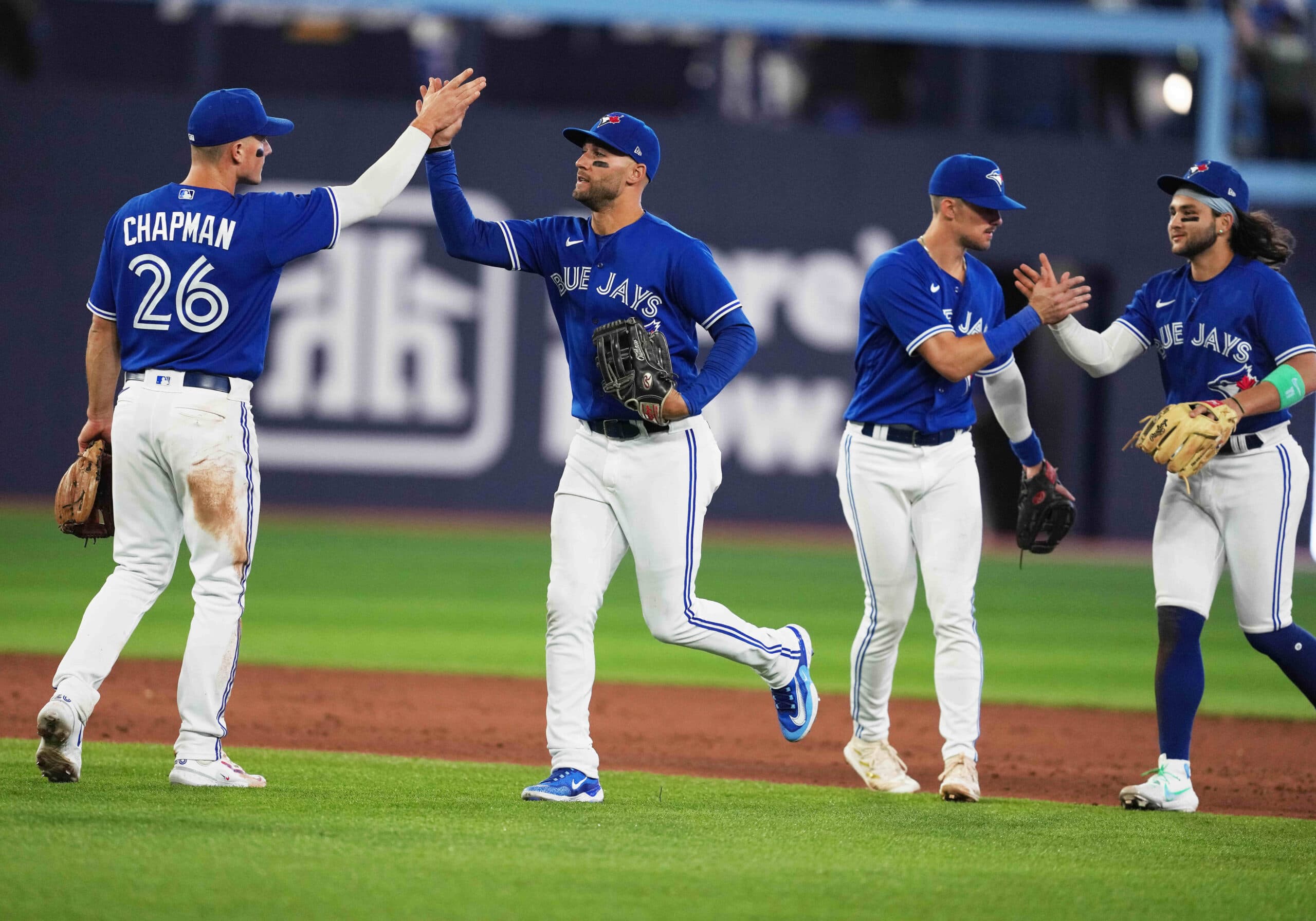 Photo credit:Nick Turchiaro-USA TODAY Sports
It's no secret the Toronto Blue Jays will be looking to beef up its lineup with a few offensive upgrades this winter. But in doing so, management must decide how much defence they're willing to sacrifice in exchange for some much-needed thump.
Toronto's front office altered the roster's identity last off-season by shipping out Teoscar Hernández and Lourdes Gurriel Jr. in separate deals, paving the way for Daulton Varsho and Kevin Kiermaier's arrivals. Those moves drastically changed the clubhouse environment and made it clear this team was determined to take a giant step forward defensively, particularly in the outfield.
And, to the Blue Jays credit, that's precisely what transpired during the 2023 season.
The objective was to shift away from the flawed makeups of the 2021 and '22 rosters that prioritized offence over defence, which they successfully did. But since several key hitters underperformed, namely George Springer, Vladimir Guerrero Jr. and Alejandro Kirk, the feeling throughout this past season was that the scale had tipped too far in the other direction.
That was especially true in the power department, as Toronto dropped from a top-10 team in home runs and slugging percentage to a middle-of-the-pack one in just one season.
Did the front office overcorrect in its pursuit of improved defence? Or were the departures of Hernández and Gurriel overdramatized because of an offence that finished well below its pre-season projections? It's fair to argue each side. But you can bet many throughout the organization hope it was the latter rather than the former.
Either way, the Blue Jays roster is set to undergo another turnover this off-season amid an impending free-agent class headlined by Matt Chapman and Kiermaier. After hearing general manager
Ross Atkins refer to both players in the past tense
during his end-of-season press conference, chances are neither will return in 2024, creating massive vacancies at their respective positions.
Third base was essentially a black hole for this organization prior to acquiring Chapman in 2022. In the two seasons before his arrival, it was a mix that mostly featured Santiago Espinal, Cavan Biggio, Joe Panik (now retired), Travis Shaw and Breyvic Valera. But don't forget about the brief appearances from Brandon Drury, Jake Lamb and Kevin Smith – a piece sent to Oakland in the blockbuster trade for the Gold Glove defender.
All that changed after Chapman shored up the hot corner, addressing a glaring need left unattended dating back to the 2018 Josh Donaldson trade with Cleveland. Over the last two years, Toronto's third-base defence instantly transformed from below average to near the top of the majors.
| | | | |
| --- | --- | --- | --- |
| | DRS (MLB Rank) | OAA (MLB Rank) | UZR (MLB Rank) |
| 2020-21 | -10 (23rd) | -2 (13th) | +4.1 (9th) |
| 2022-23 | +11 (7th) | +6 (T-7th) | +5.5 (8th) |
Chapman remained an elite defender in 2023, which may earn him a fourth career Gold Glove Award later this fall. But the 30-year-old failed to live up to his offensive expectations outside of a torrid April, struggling to a .205/.298/.361 slash line with an 84 wRC+ over the final five months of the regular season.
Despite those poor offensive results, Chapman will still become the main attraction among a weak free-agent class of third basemen – a group also expected to include Jeimer Candelario, Max Muncy ($14 million club option), Joey Wendle, Justin Turner and Evan Longoria.
The Blue Jays almost certainly won't be as strong defensively if they can't retain their All-Star third baseman. That's simply a reality of the current marketplace. But the onus will be on them to determine how far they fall in that regard next season.
Acquiring a slugger like Muncy would insert a power-hitting lefty into the mix, a reliable veteran who posted a .475 SLG with 36 home runs in 135 games with the Los Angeles Dodgers this past season. Or they could discuss a trade around Chicago's Patrick Wisdom, who's under team control through 2026 and slugged .500 while blasting 23 bombs in limited opportunities a season ago.
Either player would provide significant power to Toronto's lineup in 2024. Alternatively, both would be major question marks at third base, as they
ranked among the worst defenders
at the hot corner in 2023, per Outs Above Average.
At the other end of the scale, someone like Candelario would serve as a more reliable infielder but likely wouldn't slug as much as the other two, at least regularly. The 29-year-old switch-hitter would, however, be an effective platoon option versus right-handed pitching, which he registered a .478 SLG and 117 wRC+ against this past season.
Pursuing a trade involving Colorado's Ryan McMahon (signed through 2027, conditional opt-out after '25) would also feature similar benefits, given the left-hander's superb defence (+11 OAA in '23) and effectiveness against righties (.481 SLG in '23).
None of the players mentioned above should be considered everyday players. But that may be favourable for Toronto's roster, anyway, as it'll be vital to create opportunities for internal candidates like Biggio, Espinal – if he isn't non-tendered or traded – and Davis Schneider, as well as top prospects Addison Barger and Orelvis Martinez.
Based on the defensive versatility featured amongst that group, it wouldn't be unrealistic to envision the Blue Jays opening next season with multiple contributors at the hot corner rather than just a full-time one.
That may also be the case with the club's outfield search this winter, barring a successful pursuit of marque free agent Cody Bellinger or potential reunions with Hernández or Gurriel. The likelier scenario is they target a few of the platoon hitters that'll be littered throughout the market beyond that talented trio. And, similar to the third base debate, there'll be upsides and downsides with each potential candidate.
In that search, though, Atkins and his staff must consider how much they're willing to deviate from the elite defence Kiermaier provided this past season, which formed one of baseball's most formidable outfield units.
| | | | |
| --- | --- | --- | --- |
| | DRS (MLB Rank) | OAA (MLB Rank) | UZR (MLB Rank) |
| 2021 | +11 (T-10th) | -4 (17th) | +3.4 (10th) |
| 2022 | -6 (21st) | -2 (T-17th) | -18.6 (27th) |
| 2023 | +45 (1st) | +21 (2nd) | +19.5 (4th) |
Presuming the Blue Jays don't plan on dramatically shifting from that model, their preferred free-agent targets would likely narrow between Joey Gallo and Adam Duvall. Neither is as gifted as Kiermaier, though few are, but they profile as above-average defenders and thrive in the power department.
If management is willing to surrender a considerable amount of defensive reliability and flexibility, turning to the services of Joc Pederson, Tommy Pham, or Robbie Grossman would likely reward them with additional slugging.
The same approach could be applied to the trade market, as well. Washington's Lane Thomas – a former Blue Jays farmhand – is an offensive-first outfielder with below-average defence in a corner spot. Then there's St. Louis' Tyler O'Neill, who's more effective in the field but wouldn't supply as much power to the lineup.
Both righties, however, would serve as impact bats in matchups against left-handed pitching – an area that has given Toronto's offence issues at times over the previous two seasons.
There aren't as many internal outfield candidates as third-base ones, although Biggio and Schneider could each fill in as needed at the corners. Barger also debuted in right field earlier this year and will likely continue gaining reps beyond the infield next season, highlighting the youngster's potential.
Speaking of outfield prospects, Alan Roden could factor into the equation at some point if the 23-year-old doesn't become a valuable trade chip this winter. It's also possible Cam Eden cracks the Blue Jays' roster as a late-game defensive replacement and pinch-running threat.
By the end, whichever path is chosen, the ultimate goal will be to construct a roster that commands a more appropriate balance between the club's offensive and defensive prowess, forming an equilibrium amongst the position player group.
---