Blue Jays Narratives From The First 100 Games: What's an overreaction and what isn't?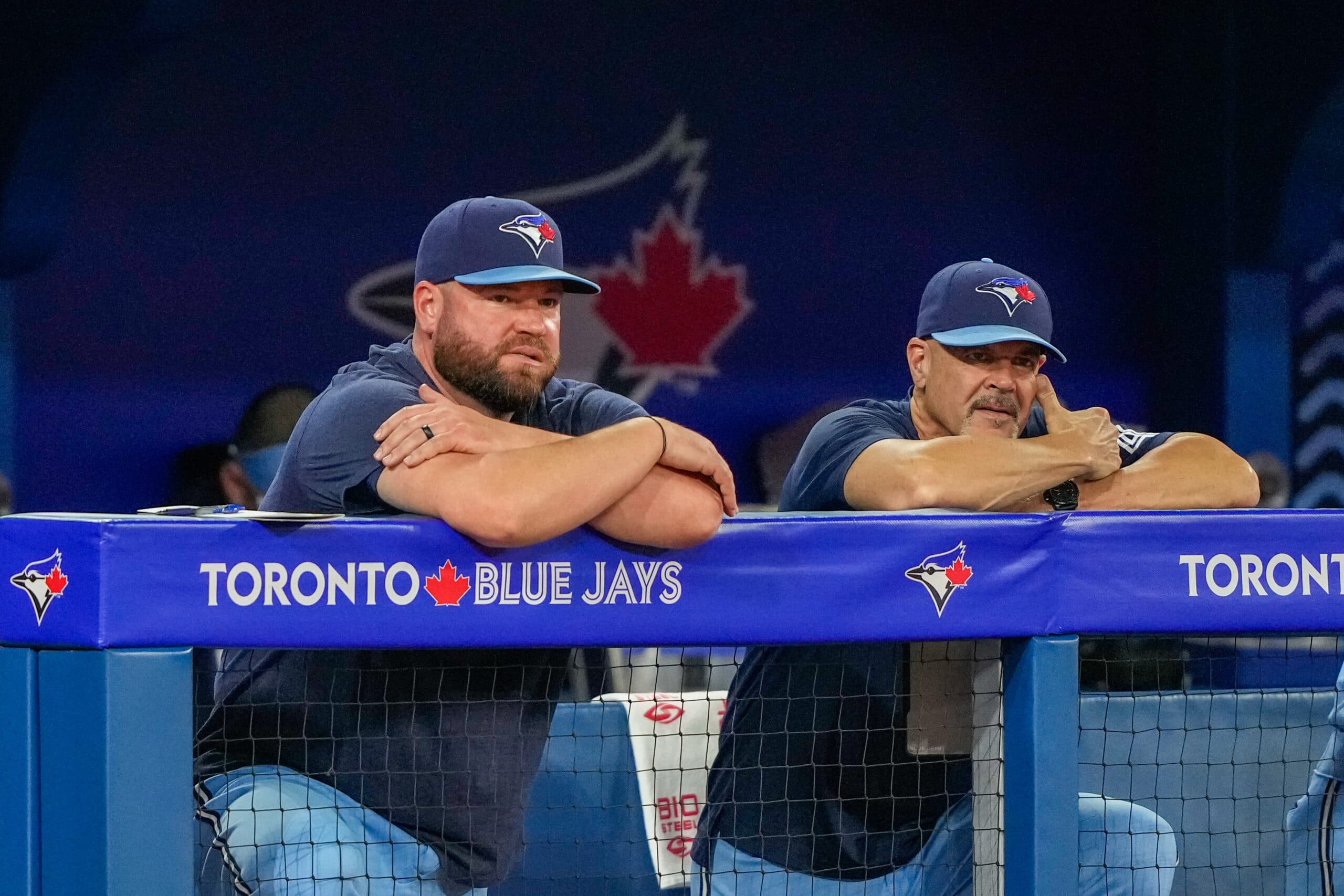 Photo credit:Kevin Sousa-USA TODAY Sports
The dog days of summer are almost over and we're just a matter of days away from August. That also means that we're a matter of days away from the trade deadline, and while we're hoping that the hot stove in Toronto is hot, the takes on this team are and will always be much hotter.
The Blue Jays will win the AL East
The verdict: Underreaction
I posed a "Blue Jays will miss the playoffs" take for the 50-game version of this article, and I said to come back and talk to me after the trade deadline. Well, we're only a few days away from that, and a lot has changed in the AL East since then. Tampa Bay no longer has a stranglehold on the division, the Orioles are now the leaders, and the Yankees are falling drastically behind with Aaron Judge out, and they're in danger of finishing 4th or 5th (more on that later in the article).
Going into Thursday, Toronto is only 5.5 games back of Baltimore. They have seven games remaining in the head-to-head season series, and while they haven't fared well against the O's this season, they still have the opportunities. Toronto has six games left against the Rays, and they unfortunately all fall during the last two weeks of the season. Again, they have opportunities, and this season has been weird for everyone.
Things could go the cookie-cutter way and the Orioles and Rays duel for the division crown. Or, perhaps the Orioles' youth comes back to haunt them and they run out of gas? Clearly, Tampa is capable of similar things considering the month of July they've had. Maybe the soft schedule in April was just Tampa taking care of business and nothing to read into. All I'm saying is that Toronto is not out of the division race, no matter how frustrating they can be at times. Don't be surprised if they win it.
Whit Merrifield should bat leadoff
The verdict: Proper reaction
Before this draws outrage from anyone, this take is more about Whit Merrifield than it is about George Springer.
Average-wise, Merrifield is in the territory of his elite Kansas City years. Through 94 games, he's batting .299/.350/.763 with seven home runs, 46 RBIs, and 18 doubles. He's mainly found himself in the middle-third of the order, which is fine, but his level of production warrants a higher spot in the batting order. Since the All-Star break, Merrifield is batting .395 (17-for-43). If he continues at this pace, I would hate to see that productivity bat sixth every night.
Again, this is not as much about Springer as it is Merrifield, but there is clearly a better hitter here. I wouldn't throw Springer in the bottom of the order, but maybe bat him third or fourth. We're at the time of year when every decision, at-bat, etc. are magnified. It wouldn't be an easy decision to make a move like this, but there is such a thing as rewards for taking risks.
Jay Jackson has earned a solidified spot in the bullpen
The verdict: Underreaction
An overreaction would be me saying this after three outings or so. Now that he's made 11 outings, there's something to be said about how good this guy has been. During those 11 games, Jackson has a 0.57 ERA, 0.57 WHIP, and a K/BB ratio of 4.0. If those stats sound like he's only given up one run on the season, it's because he has literally given up one run on the season. It was a controversial one, as it was the solo home run Aaron Judge hit moments after he was caught side-eyeing something from the Yankees dugout.
Despite spending a lot of time pitching in mop-up duty and being a guy with plenty of roster options, Jackson has pitched in some important situations this season. On June 5th against Houston, Jackson pitched 2.2 innings of scoreless relief after Alek Manoah recorded only one out. On Monday night, Jackson pitched two more innings of scoreless relief against the Dodgers, sitting down names like Mookie Betts, Freddie Freeman, Max Muncy, and Will Smith with the game tied in the 9th and 10th innings.
Jackson is a very humble and likable guy, as well as a quality follower on Twitter. During a time of year in which teams are dealing prospects for relievers, the Blue Jays might have found themselves a viable internal option for the home stretch. He deserves to be up with the major league team until he shows otherwise.
Gary A. Vasquez-USA TODAY Sports
The Blue Jays lost the Daulton Varsho trade
The verdict: Overreaction… still
I refuse to budge on this yet.
Varsho has certainly been underwhelming this year at the plate despite his defence and base running being irreplaceable. He's been a victim of a lot of hate from the fan base, but there's a good chance that these were the same fans begging for defensive upgrades during the past couple of years.
Nobody knows that Varsho needs to be better at the plate than himself. Does he need to swing the bat better? Absolutely. We've seen many games at this point in the season where he has been batting 7th, which is an ideal spot for him at the moment. You could argue that Kevin Kiermaier or Santiago Espinal could be hitting ahead of him, but it seems like Toronto prefers Kiermaier to bat 9th and Espinal wouldn't be too much of an offensive upgrade if he switched with Varsho.
On the season, Varsho is slashing .213/.276/.632 with 12 home runs and 34 RBIs. Lourdes Gurriel Jr. and Gabriel Moreno are having better statistical seasons, but it's not drastic enough to call Arizona the clear winner yet. Furthermore, Varsho has a 2.0 WAR, while Gurriel Jr. and Moreno sit at 1.4 and 2.1, respectively.
To play devil's advocate (and to get the people talking), we're not too late in the season when we could see a potential option. Perhaps a phantom IL stint as well. If you were promised 10 good days of Spencer Horwitz, but it meant Varsho had to go to Buffalo for a couple of weeks, would you take it? I think Toronto may explore this option, especially with an outfield bat potentially being acquired at the deadline.
Varsho is under team control for three more years, and he brings value to the team regardless of whether fans believe it or not. With that, I'm not calling him an MVP candidate, I'm just saying this trade hasn't been won or lost yet.
Vladimir Guerrero Jr. would've/could've/should've been included in an Ohtani trade
The verdict: Overreaction
Even if these were tongue-in-cheek comments, please stop with this.
Vladdy hasn't returned to his 2021 form, but he is a household name that sells tickets and is an established major-league player that has been a huge reason for Toronto's success since he entered the league. At his best, Guerrero Jr. has shown that he is neck-and-neck with Ohtani in an MVP race (see 2021). The biggest variable Guerrero Jr. is missing is that he obviously doesn't pitch. So, with that being said, had one made that trade involving Vladdy, that would mean that one or multiple really good pitching prospects would need to go with him (not to mention any other hitting prospects potentially involved). Would it have been worth losing the face of the franchise plus some of the future?
The other side to this is that Ohtani is a once-in-a-generation type of player, which I completely understand. I just couldn't make myself complete a trade like that. Sorry, not sorry.
The Blue Jays would be the best team in the National League this year
The verdict: Proper reaction
There's nothing to be done with this take and it's just silly conversation, but it's interesting to dive into.
The Blue Jays are 22-10 during interleague competition this season, and they've won all but two of the corresponding series. A 57-46 record would sit them third behind only the Braves and Dodgers in the National League, and the Blue Jays have a combined 5-1 record against those teams. Standings-wise, no they wouldn't be the best team, but the eye test certainly seems to favour Toronto for this take. The 57-46 record is mainly against AL foes, so Toronto's overall record might be better if they played more National League teams.
I'm glad that scheduling switched up where everybody plays everybody, and it's giving us a chance to see how well the Blue Jays do against clubs they don't play very often. They have a critical August series against the Reds that will be here before you know it – I'm particularly looking forward to that one.
Nick Turchiaro-USA TODAY Sports
The New York Yankees will finish in last place in the AL East
The verdict: Underreaction
Yes, the Yankees really could finish last in this division. That's not to say they'll end up with a terrible record; the trajectory of the AL East has shown every sign possible that whoever finishes in last place will still probably have a good record.
Entering Thursday, the Yankees are 54-48, 8 games back of the AL East lead. They're a game back of fourth place, and only 2.5 back of a Wild Card spot. The unfortunate part about their position is that every other team in the AL East is in a position to buy at the deadline. Even Boston, which has flirted with being a buyer and seller this year, is getting hot at the right time and might have put themselves in a position to contend.
Aaron Judge has missed several weeks with injury, and they've struggled to score runs without him in the lineup. Meaningful at-bats are being handed to the likes of Billy McKinney, Jake Bauers, and Franchy Cordero, and it's set them back quite a bit. Pitching-wise, they've recently gotten Carlos Rodon back, but Nestor Cortes and Frankie Montas are still out with injuries and Luis Severino has been very, very bad. Judge is on the mend, and Rodon has put together a couple of good starts now, but there are too many competitive teams ahead in the standings. Sorry, Yankees, enjoy the basement and we'll see you next year.
---