Blue Jays Nation 2022 Mid-Season Prospect Countdown: 60-51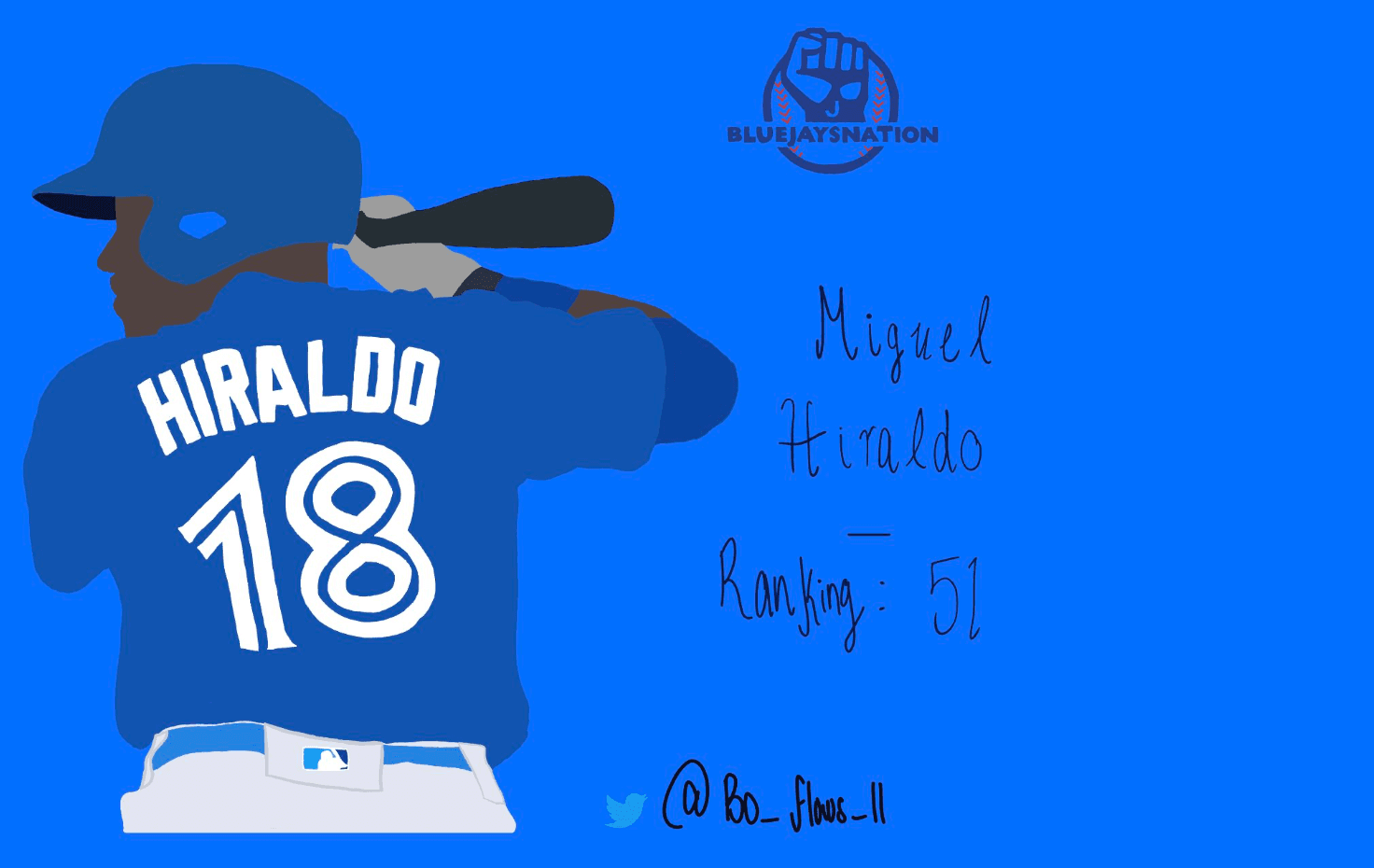 Photo credit:@Bo_Flows_11
We are way past the mid-season mark of the season, meaning it's time to look at the top 60 prospects in the Blue Jays organization.
Why 60? I have no idea, it's just the number I picked. Unlike the pre-season list, there won't be a full article for each player on my top 60 list. Meaning that each list will contain 10 players, as well as a quick overview of their stats and scouting report if they play in High A, Double A or Triple A.
For players in Low A, we will use statcast to look at exit velocities and pitching velocities, as well as clips from the three series on MiLB TV this season. As for players in the rookie leagues, we'll solely be looking at statistics, as it's currently the only metric available to me.
Lastly, here's what I value most when scouting minor league players: Statistics come first, as this is how someone measures how a player is putting his tools to use.A player's ceiling and floor rank second as there are some players on this list that haven't put up great numbers but still could become MLB players.
Another factor that some may not consider is proximity to the MLB. This is why there's only one player in this article who's above the High A level, with the majority of the guys being in Low A or the rookie leagues.
Without further ado, here are prospects 60 through 51.
#60 Sergio Caruci:
Like a few guys on this list, right-handed pitcher Sergio Caruci doesn't have a scouting report on this article.
Last season in the Dominican Summer League (DOSL), the then 18-year-old posted a 2.84 ERA and 3.30 FIP in 50.2 innings pitched. He had a 29.9 K% and a 7.4 BB%, very impressive numbers.
This season, he's hit a little bit of a road bump in the Florida Complex League (FCL). In 35.2 innings pitched, he has a 5.05 ERA and 5.26 FIP. To go along with this, his K% has dropped to 18.7 while his BB% increased to 11.
From June 20th to July 29th, he had a 2.30 ERA (and 5.00 FIP) in 27.1 innings pitched. While his 18.2 K% and 10.9 BB% weren't fantastic, he's shown to be a solid pitcher say for three games where he's struggled.
Throughout his two-year career, he has started 15 of 25 games he's appeared in. Even then, he has pitched mainly as a bulk reliever, as he's only gone less than two innings once in his career. Ironically, that was exactly a year ago as I write this.
Caruci is a solid prospect who's shown flashes of dominance in the past, so hopefully, he can return to form.
#59 Devonte Brown:
Devonte Brown was an undrafted free agent who was signed by the Blue Jays this past July. In fact, he is one of only seven draftees that made my top 60 list.
The 22-year-old centre fielder spent five seasons at North Carolina State University, posting a .281/.401/.524 slash line with 33 homers in 703 plate appearances. He had a 23.04 K% and 
15.65 BB% throughout his collegiate career.
He was assigned to Toronto's Low A Dunedin Blue jays, where he has posted a .318/.467/.500 slash line in 30 plate appearances. He has added a homer and has a 16.7 BB% and K% for a wRC+ of 179.
It's expected that the soon-to-be 23-year-old would dominate Low A, so why does he get a spot on this list? Well, recently I tracked exit velocity on every single batted ball for the Dunedin Blue Jays.
It's a small sample size, but Brown has been able to smack the ball, and that warrants a spot on this list.
#58 Sean Mellen:
The first reliever on this list, is the 24-year-old lefty, Sean Mellen. Drafted back in 2019 by the Dodgers, the 6'5 pitcher signed a minor league contract with the Jays last May.
He started 2022 with the High A Vancouver Canadians and posted a 1.64 ERA and 3.49 FIP in 11 innings pitched. Mellen also had a 39.6 K% and 10.4 BB% before getting promoted to Double A New Hampshire.
With the Fisher Cats, Mellen has posted a 3.49 ERA and 4.13 FIP in 49 innings pitched. He has a 24.2 K% and 10.4 BB%. This season against lefties, he has kept them to a slash line of .212/.306/.341 in 98 plate appearances.
Per a box score from Baseball Savant last August, Mellen throws a four-seam fastball in the low 90s, a changeup, and a slider. Interestingly, the lefty has a similar release point to former ace, Chris Sale.
He's an interesting lefty reliever to keep an eye on. Here are his grades according to me:
Fastball: 45
Changeup: 40
Slider: 45
Control: 40
Overall: 35
#57 Kelvin Perez:
Sticking with relievers, we have the 21-year-old righty pitching with the Dunedin Blue Jays. This season in Low A, he has posted a 2.13 ERA and 3.92 FIP in 25.1 innings pitched. His 17.4 K% is on the rather low side, while his 9.6 BB% is average.
According to Baseball Savant in his most recent game, he has a five-pitch mix, a changeup, a curveball, a slider, a four-seamer, and his most used fastball, the sinker. Perez's sinker averaged 89.3 mph (hitting about 91 mph.)
He doesn't particularly stand out, but that 2.13 ERA is enough to put him low on the Top 60 list.
#56 Endri Gacia:
Another low minor player that won't get a scouting report, Endri Garcia has torn up the rookie leagues the past two seasons.
In 2021, the then 18-year-old slashed .315/.419/.444 with two homers in 148 plate appearances. While DOSL numbers aren't completely accurate, he had a 19.6 K% and 10.1 BB%, and a wRC+ of 120, solid numbers for his first pro season.
Garcia got the promotion to the FCL in 2022 and has slashed .293/.370/.415 with a homer in 92 plate appearances with the stateside rookie team. The reason he's not higher on the list is due to an elevated 31.5 K% and an 8.7 BB%. There is still plenty of time for the 19-year-old corner outfielder to find his 2021 form.
#55 Robert Robertis:
Robert Robertis started his professional career in the DOSL in 2021, slashing .266/.333/.344 with a homer in 144 plate appearances. He had a 16.7 K% and an 8.3 BB% for a wRC+ of 95.
He started his 2022 in the FCL, slashing .284/.355/.389 with a 10.3 BB% and a 21.5 K% in 107 plate appearances. In fact, he earned a brief promotion to the Low A Dunedin Blue Jays.
The 19-year-old only had 20 plate appearances, registering three hits, striking out 25% of the time, and slashing just .150/.150/.150 for a wRC+ of -19.
However, there was some valuable information from his brief five-game stint. Rob x2 had 15 batted balls, with three considered "hard-hit" (95 mph +). He had an average exit velocity of 79.5, along with six balls being hit over 90 mph.
It's hard to predict how International Free Agents will transpire throughout their career, but there definitely could be something there when it comes to his exit velocities.
#54 Garret Farmer:
Back to relievers now, as we have the 25-year-old Garrett Farmer. Originally drafted by the Baltimore Orioles, he was signed by the Blue Jays this past off-season to a minor league deal.
This season, the righty has posted a 2.36 ERA and 4.34 FIP in 42 innings pitched with the Vancouver Canadians. He has a 17.3 K% and 6.7 BB%, but has been one of the most consistent relievers for the High A team. 
Here are his grades according to me:
Fastball: 50
Slider: 45
Changeup: 40
Curveball: 45
Control: 45
Overall: 35
#53 Yondrei Rojas:
The 19-year-old righty started his professional career with the DOSL Jays in 2021. He had a 2.95 ERA and 2.75 FIP in 21.1 innings pitched as a reliever. He had a 28.1 K% and a solid 9.4 BB% while having a ground ball percentage of 52.9%.
He started 2022 with the FCL Jays, posting a 4.60 ERA and 4.54 FIP in 29.1 innings pitched as mainly a starter. Interestingly he had a high 26.7 K% while his 5.2 BB% was on the low side. He earned a promotion to Low A Dunedin at the start of August.
From the one game with Baseball Savant statcast data, Rojas has a six-pitch mix, a four-seam fastball, a changeup, a slider, a curveball, a sinker, and a cutter. His most used pitch from that game was the four-seamer, which averaged 92.8 mph, but maxed out at 95.1 mph, a promising sign for a 19-year-old.
Rojas is definitely an interesting prospect to keep an eye on in the lower minors.
#52 Luis Meza:
Catcher Luis Meza was signed during the most recent International Free Agent period for $2,050,000 from Venezuela.
In 92 plate appearances with the DOSL Jays, he's slashing .239/.272/.307 with a 4.3 BB% and 18.5 K% for a wRC+ of 59.
While he is a toolsy player who the Jays could develop into
another
great catcher, his numbers in the DOSL drop him low on this list, at least for now.
#51 Miguel Hiraldo:
The Blue Jays signed Miguel Hiraldo in the 2017-18 IFA period for a $750,000 bonus.
This season in High A, he has posted a .232/.278/.364 slash line with 7 homers in 349 plate appearances. However, he has a 30.4 K% and 6 BB% for a wRC+ of 80. He's still young for the level, but there is a little cause for concern as his hit tool hasn't come around yet. Not just that, but seven homers is the most he's ever hit in a season.
The one bright spot with Hiraldo is his ability to steal bases. So far this season, he is 26/30 in attempts and was 29/34 in 2021. If he can improve his hitting, while still hitting for power, and stealing bases, he could be an MLB player despite his defense. 
At only 21 years old, the middle infielder has a few more years to figure it out before we write him off. However, for now, he ranks as the Jays' 51st best prospect.
Here are his grades according to me:
Hit: 35
Game Power: 45
Raw Power: 55
Speed: 55
Arm: 45
Field: 40
Overall: 35
What's next:
In the next article, we'll be covering players ranked 50-41 on my list, which covers older players in Double A and Triple A. That should be coming out in the next few days, so stay tuned!
As always, you can follow me on Twitter @Brennan_L_D. If you want to watch these players in action, give me a follow because I clip minor league games every night! For the cool art work, check out @Bo_flows_11 on Twitter!
---