Blue Jays' payroll flexibity could be utilized as leverage at trade deadline
Photo credit:Nick Turchiaro-USA TODAY Sports
Nearing the midway point of the season, it's almost time to start thinking about the upcoming trade deadline, which falls on Aug. 2 this year. For the Toronto Blue Jays, who'll surely be looking to upgrade their roster, there are a few different options they could use as trade chips.
Of course, the most obvious route would be to utilize the organization's talented farm system to help improve the big-league club. Not every prospect would be available, obviously, especially not Gabriel Moreno or Orelvis Martinez. Starter Ricky Tiedemann has now likely emerged into that category, as well.
Another resource the front office could turn to is the franchise's payroll flexibility. Entering the 2022 season, Toronto featured a CBT payroll of approximately $190.2 million, ranking
11th-highest in the majors
. But there still might be some additional room for spending if ownership agrees to increase the payroll slightly north of $200 million.
It's unlikely the team's finances would reach the first luxury tax threshold of $230 million. And they probably don't need to spend that much, anyway. Still, management could potentially reduce its acquisition costs at the trade deadline if they acquire expiring high-priced contracts along with its primary targets.
One franchise that's expected to sell off its assets this summer is the Colorado Rockies, who currently sit last in the NL West with a 30-37 record. While the Rockies handed out a lucrative seven-year, $182-million deal to Kris Bryant over the winter, they could benefit from shedding some salary ahead of the deadline and that's where the Blue Jays could factor in.
Outfielder Charlie Blackmon's career has tailed off significantly since he exited his prime years, which saw him win consecutive Silver Slugger Awards from 2016-17. And yet, the 35-year-old's six-year, $108-million contract remains on the books, earning him $21 million this season. He also features an $18.3 million player option for '23.
Credit: Ron Chenoy-USA TODAY Sports
At this stage of his career, there's a fairly strong chance Blackmon will ultimately exercise his option ahead of next season. That's a decision Colorado's front office likely isn't looking forward to. But as a left-handed hitter, who's slashing .270/.326/.471 with 11 home runs and a .201 ISO in 2022, the 6'3″ outfielder could provide some value to Toronto's bench.
Granted, after acquiring Raimel Tapia from the Rockies earlier this season, the Blue Jays may want to avoid pursuing another outfield from the Mile High City. If that's the case, general manager Ross Atkins and his staff could focus their efforts on starter Germán Márquez, who could help fill the void left by Hyun Jin Ryu.
Márquez is earning $11.3 million this season and is scheduled to make $15.3 million in '23. His deal also includes a $16 million club option with a $2.5 million buyout during the following campaign.
The 27-year-old righty is enduring the worst statistical performance of his career, however, performing to a miserable 6.16 ERA and a .295 OPP AVG over 73.0 innings in 13 starts. Having said that, his 4.87 xERA and 4.88 FIP suggest he's been unlucky at times throughout the first half.
No matter if it's Blackmon or Márquez included, attaching either player to a much larger trade would almost certainly improve Toronto's chances of landing one of Colorado's talented relievers. Among those who've shined this season, pitchers Daniel Bard and Tyler Kinley have stood out the most thus far. Though, Kinley would likely be more sought out of the two.
This season, the 6'4″ righty has posted a 0.75 ERA, 1.75 FIP, .226 OPP AVG, 27.0 per cent strikeout rate and a 6.0 per cent walk rate across 24.0 innings in 25 appearances. He's also yet to surrender a home run. Adding to his value, the 31-year-old features two additional seasons of team control and won't hit free agency until after the 2024 season.
Another seller that'll probably be interested in shedding its payroll is the Arizona Diamondbacks. While their roster is largely made up of pre-arb and arbitration players, it also consists of a few expensive veterans – including starters Madison Bumgarner, Merrill Kelly and outfielder David Peralta.
Unless the Diamondbacks, who're currently 6.5 games back of the final wild-card seed in the NL, make a sudden surge and climb into the playoff hunt, they're likely to receive plenty of interest involving all three players. The Blue Jays should be among the teams that inquire about them in the coming months.
Bumgarner would be the most expensive contract to acquire as he's under contract through 2024, paying him $21.8 million this season and during the following one, and $12.9 million in '24. Tying themselves to these amounts would be a major decision by the Blue Jays – one they'd have to seriously debate.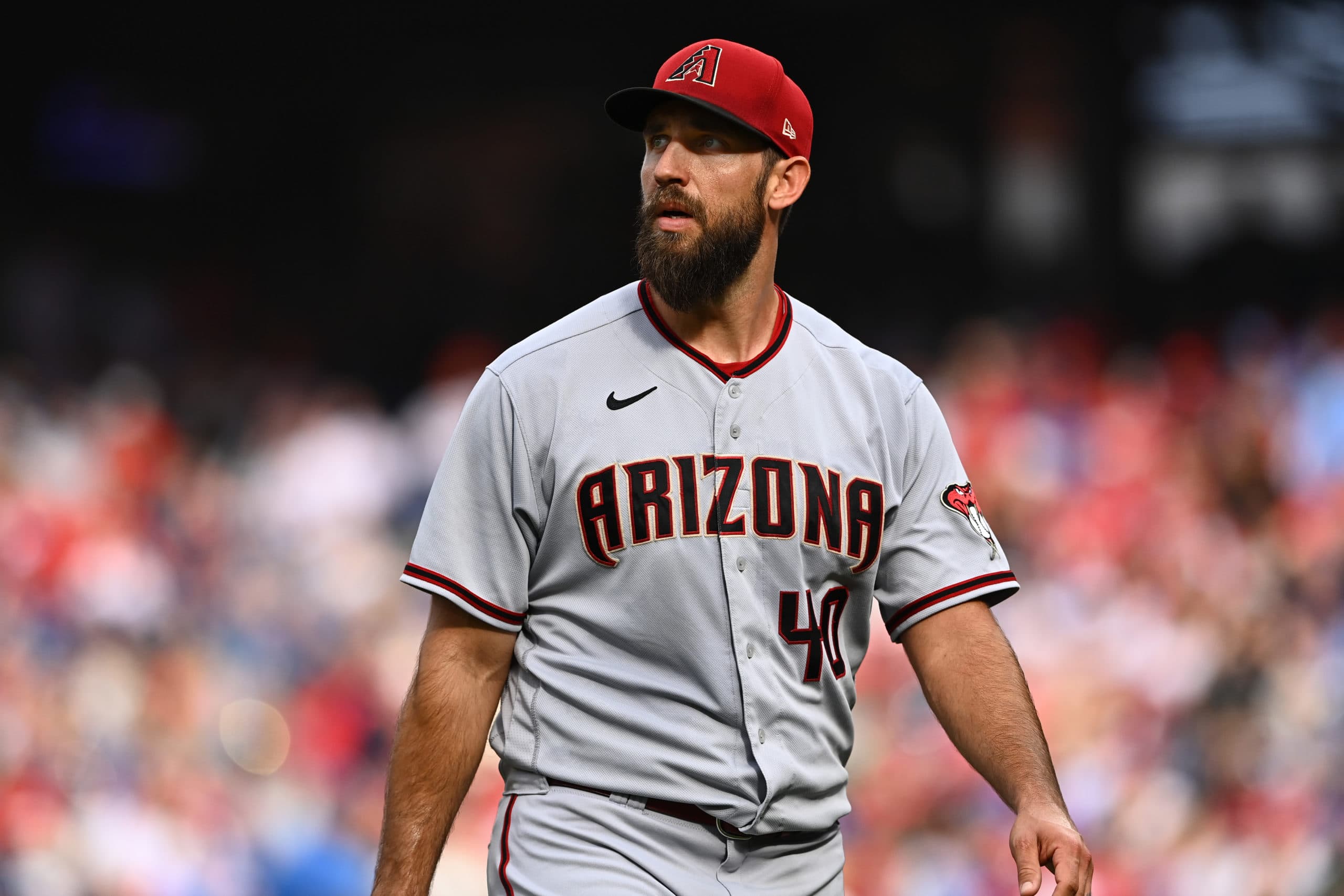 Credit: Kyle Ross-USA TODAY Sports
One of the factors the front office would have to take into account is that the 32-year-old's results haven't been very noteworthy in 2022. He currently owns a 3.45 ERA, however, his strikeout rate has dropped to a career-low 15.9 per cent, which looks even worse next to his 7.6 per cent walk rate. Moreover, his fWAR rating sits at just 0.1, meaning he's barely made much of an impact.
As for Kelly, including his contract in a trade would be far more reasonable for Toronto. The 33-year-old is signed through 2024, which would be a large commitment, although he's making $5.25 million in '22, $8.5 million in '23 and '24, and he possesses a $7 million club option with a $1 million buyout in '25. His results are much more appealing, too.
In his fourth season with Arizona, the right-hander carries a 3.46 ERA, a 3.57 ERA and a 3.26 FIP through 78.0 innings in 14 starts. He also owns a 20.3 per cent strikeout rate, an 8.9 per cent walk rate and a 1.6 fWAR rating.
If the Blue Jays wanted to improve their bench, though, it'd make more sense to assume Peralta's expiring three-year, $22-million contract. The 34-year-old is making $8 million this season and will be eligible for free agency this off-season, making him a pure rental.
As a left-handed outfielder, Peralta probably wouldn't be a game-changing acquisition as he's hitting just .234/.304/.433 over 224 plate appearances in 61 games this season. However, he does feature eight home runs and a .199 ISO – the highest of his career since 2018. That type of production could prove useful down the stretch, especially within Toronto's right-handed heavy lineup.
In the end, the amount of salary the Blue Jays are willing to take on will probably determine their chances of also landing a quality reliever from the Diamondbacks. Ideally, Joe Mantiply and Kyle Nelson would be the top two choices.
Both hurlers would come with several seasons of team control as neither is arbitration-eligible until 2024 at the earliest. They've each performed extremely well this season. With Mantiply posting an ERA below one, and Nelson below two. Neither pitcher has walked many batters and they're each capable of inducing a sizeable amount of swings and misses along with ground balls.
Since Mantiply and Nelson are both left-handed, either of them could help compliment Tim Mayza at the backend of Toronto's bullpen. The team would then possess two reliable lefties rather than just one, allowing them to attack well-balanced lineups like the New York Yankees' far more effectively.
Because as things currently stand, if the Blue Jays hope to enjoy a deep playoff run, it seems they'll first have to advance past the wild-card series and then through the Yankees in the divisional round. But by making a creative trade or two, they could dramatically improve their odds of surging past one of the premier teams in the AL.
The road to October remains in the distant future, however, the choices that are made over the next month will undoubtedly play a pivotal role in determining this franchise's post-season success.
---