Blue Jays pitch 10 scoreless innings before Danny Jansen walks off the Yankees with a three-run bomb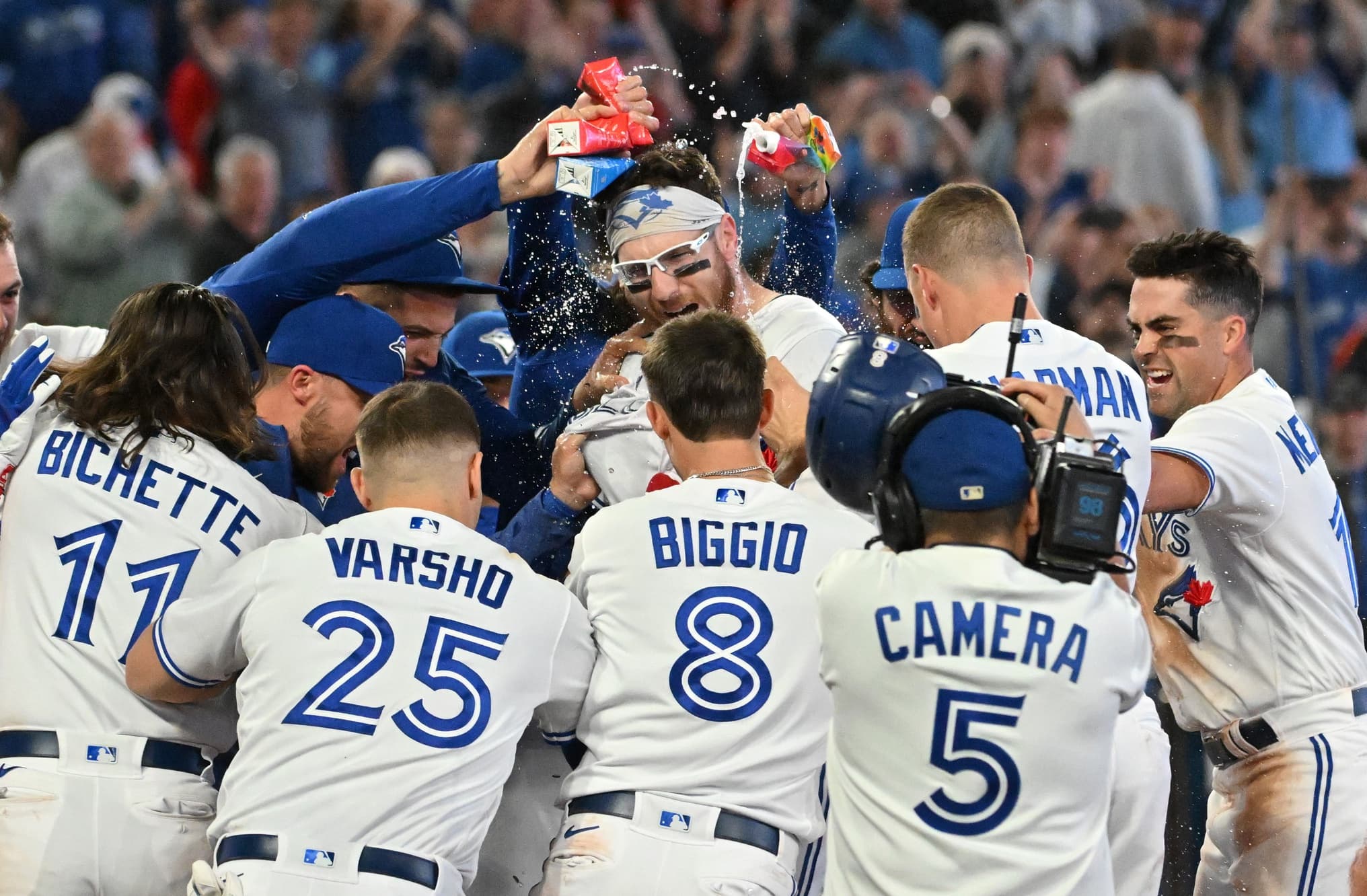 Photo credit:Dan Hamilton-USA TODAY Sports
Danny Jansen hit a walk-off, three-run home run in the 10th inning, his second walk-off hit in four days, and the Blue Jays defeated the Yankees 3-0 tonight to get back in the four-game series. As the score suggests, these two teams played a scoreless tie all the way until the end, with the Blue Jays leaving 14 runners on base and going 1-for-17 with RISP for the game.
Not only has Jansen had recent heroics, but he's also had the clutch gene against New York this season. Jansen had a two-run game-tying home run in the Bronx on April 22 against Wandy Peralta, the same guy who allowed his game-winner tonight.
Jansen's walk-off was undoubtedly the biggest play of the game, but Chris Bassitt deserves a tremendous amount of praise for his outing tonight and his elite numbers over his past four starts. Bassitt's been so good that he is starting to etch his name into Blue Jays' history books – let's see why below.
Blue Jays Nation's Player of the Game: Chris Bassitt
Bassitt threw seven scoreless innings tonight while allowing three hits, one walk, and striking out seven batters. If Bassitt having scoreless frames sounds familiar, it's because he has now thrown 27 consecutive scoreless innings. That ranks third all-time amongst Blue Jays pitchers, trailing only Dave Stieb (34, 1988-89) and Roger Clemens (33, 1998). I hate to continue to look back on his first start against the Cardinals, but it shows how far he has come in just a matter of weeks from his shaky Toronto debut.
Bassitt's last out that he recorded just about summed up how good he has been throughout the month of May. Jose Trevino blooped a ball to Brandon Belt at first base, but the spin that was on the ball made it a tough field. It ricocheted off the glove of Belt, but thankfully Bassitt was covering the bag. Bassitt reached to his right to pick up the ball, and then stretched as much as he could to his left to slightly tag Trevino for the out. It was quite the athletic play for the 34-year-old righty.
Things worth mentioning
Gerrit Cole kept the Blue Jays scoreless through six innings, but they still squandered several opportunities to score runs. During those six innings, Toronto was 0-for-7 with RISP and left a total of eight runners on base. Furthermore, the Yankees handed Toronto some of the opportunities with their own errors in the field; two New York misplays in the first inning put the first two runners of the game on, but Toronto was unable to do anything with it.
The Blue Jays also put many hard-hit balls into play with four balls hit over 100 mph resulting in outs against Cole.
Speaking of missed opportunities, one of the biggest ones in the game came from a base running mistake by Cavan Biggio. Belt led off the 8th inning with a single, so John Schneider decided to throw Biggio in the game as a pinch runner. Whit Merrifield reached on an infield hit shortly after, and things were looking up with two on and nobody out. Alejandro Kirk lined a ball up the middle to Anthony Volpe at short, but Biggio, for some reason, had strayed too far away from the bag at second. Volpe caught the line drive and flipped the ball to second, and Biggio (the lead runner) was out on the double play.
Buck Martinez emphasized that, as a base runner, you're taught to stay put on a line drive so that you don't get doubled off, but that's exactly what happened to Biggio. ESPN's win probability dropped from 75.2% to 55.5% on that one play.
Thankfully, the pitching was there to save the day. On top of Bassitt's outstanding outing, Yimi Garcia, Tim Mayza, and Jordan Romano tossed clean innings, although Mayza and Garcia's inning included walking and stranding the bases loaded. Romano struck out two and walked one in two innings of work, including stranding two runners on base in the 10th inning.
The vibes of this series completely shifted after Jansen's hit, and now the Blue Jays have a chance to even the set tomorrow night with Jose Berrios facing Nestor Cortes. Vladimir Guerrero Jr. (knee) was out of the lineup tonight, so hopefully he feels well enough to get back out there tomorrow.
---