Blue Jays' pitcher Mitch White has his best outing of 2023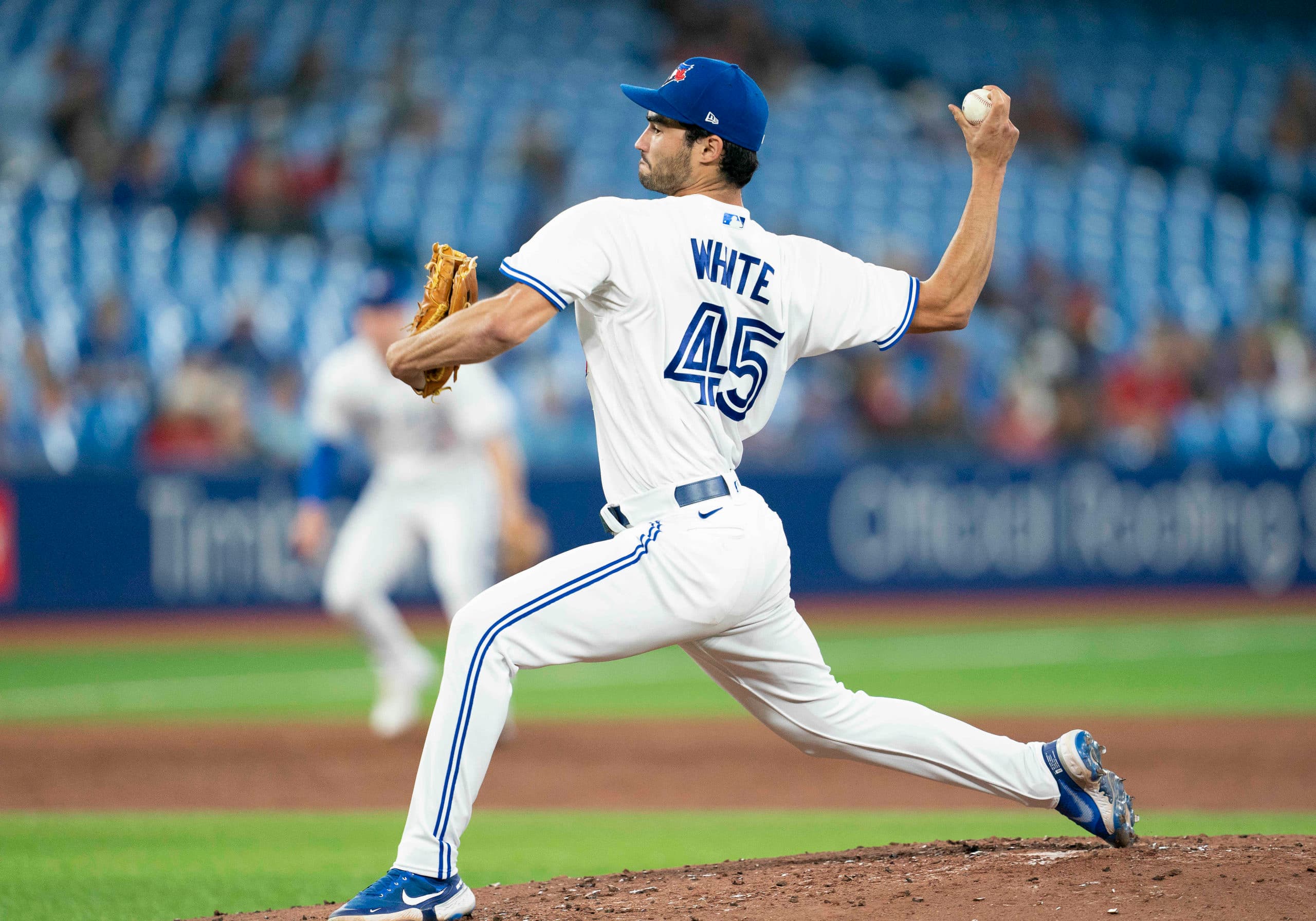 Photo credit:Nick Turchiaro-USA TODAY Sports
That's what we like to see, Mitch White.
The 28-year-old right-handed pitcher is still on a rehab assignment with the Buffalo Bisons, and today, he looked the part.
In his first start of the season with the Dunedin Blue Jays, he posted a line of
3.1 IP, 3 H, 1 R (0 ER), 0 BB, 2 K.
His second start, which came with the Triple-A Buffalo Bisons, wasn't nearly as good, posting a line of
2.2 IP, 3 H, 3 ER, 2 BB, 0 K, 1 HR.
Moreover, he didn't generate a lot of swing in misses in early games, nor was his velocity up to 2022 standards.
He was much more successful on Sunday afternoon with the Bisons. He pitched 4 innings, throwing 67 pitches and getting 47 strikes. His line for the afternoon was
4 IP, 6 H, 1 ER, 1 BB, 7 K.
Taking a deeper dive into the start, the first batter he faced hit a single and stole second. He then struck out Niko Goodrum on an 84.9 mph sweeper for the called strike.
The next batter he faced was former big leaguer Jorge Alfaro, who struck out on three pitches, the last being an 84.4 mph sweeper. Daniel Palka hit a soft liner which scored the only run against White, before the next batter grounded out.
Nick Sogard started off the second with a single, but Narciso Crook struck out looking on a 92.5 mph fastball, with Jamie Ritchie throwing out Sogard to complete the strikeout double play. Caleb Hamilton grounded out to end the second inning.
White struck out Marcus Wilson to start the third inning on a nasty 87.1 mph changeup. In my opinion, this could be the out pitch that he needs, as it has plenty of drop with some arm-side fade.
The 28-year-old then ran into a bit of trouble, as Allen doubles, and Niko Goodrum hit a single. Thankfully Cam Eden came up firing and threw out Allen for the second out. White then struck out Alfaro for the second time, this one with an 85.1 mph sweeper.
To start the fourth inning, White struck out Palka with another nasty changeup that generated a swing and miss. He then generated a pop up out for the second out of the inning.
White ran into a little bit more trouble with a Sogard double, while Crook drew the only walk of the game. However, White struck out Hamilton on an 84.6 mph sweeper for his seventh and final strikeout of the outing.
So, what did Mitch White do differently in this outing? For starters, his fastball velocity was up to nearly his 2022 standards.  It averaged 92.9 mph on Sunday afternoon, just 0.8 mph slower than last season's velocity. It also touched 94.6 mph.
Another positive was the fact he was generating swings and misses, something he lacked in the first two rehab assignments. Overall, he generated 11 whiffs on 34 total swings, for a 32 whiff%.
Unless White is reinjured, the Jays will have until May 26th to make a decision on the future of their bullpen. White is still on the 40-man roster, but he has no option years remaining, meaning that the team will either need to DFA him, or option a player currently in their bullpen.
It'll be a tough decision to make, especially once Adam Cimber and Zach Pop return. However, White has years of team control remaining, so I assume an optionable pitcher will get the demotion.
As always, you can follow me on Twitter and Instagram @Brennan_L_D.
---