Blue Jays slide into the second half of the season with a sweep of the Diamondbacks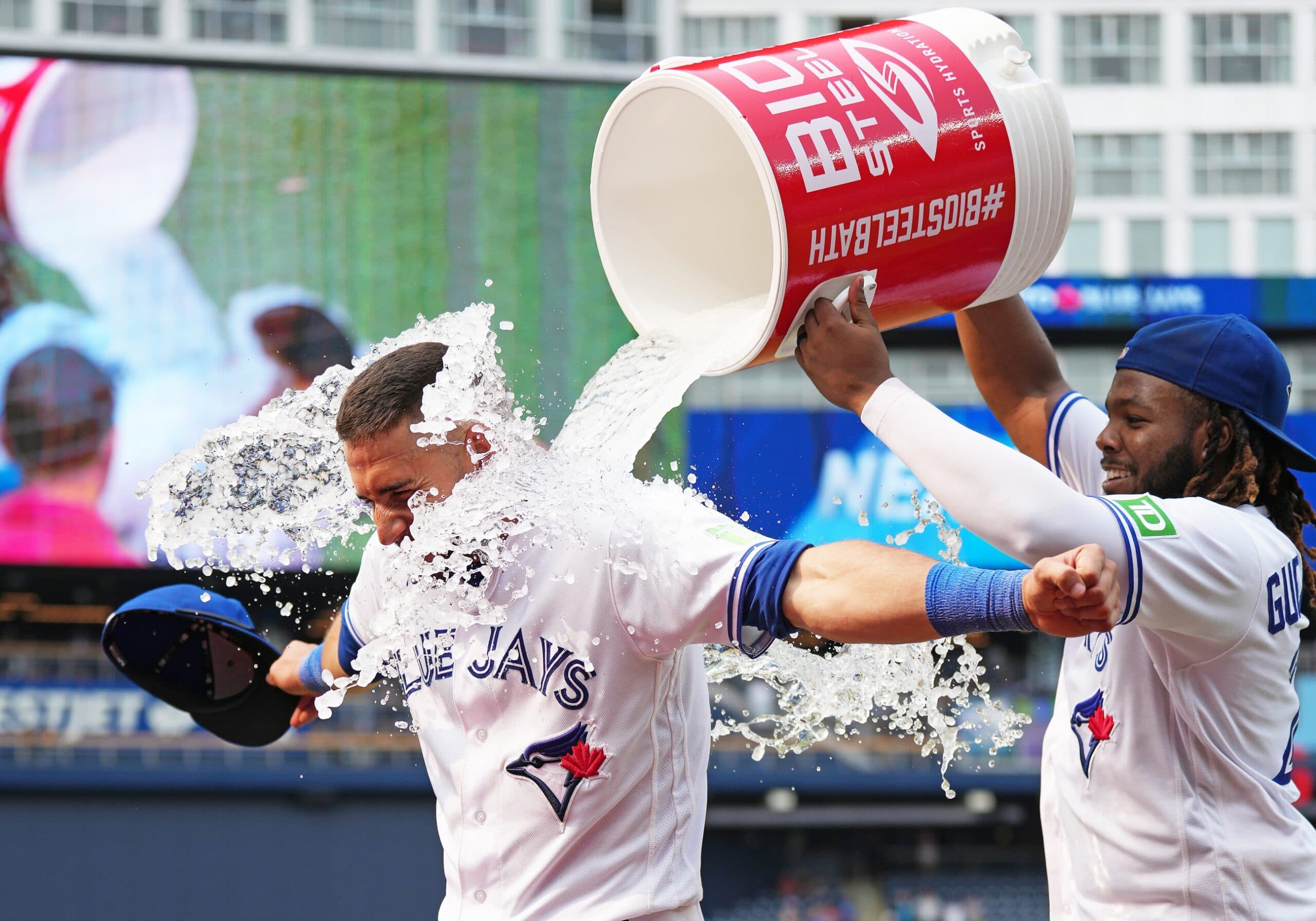 Photo credit:© Nick Turchiaro-USA TODAY Sports
The Blue Jays are second half merchants.
Every year after the All-Star break, the Blue Jays just figure everything out, no matter how the first half went. There's no better example of this than pulling off the sweep against the Arizona Diamondbacks the first series back. In the third game, they beat the desert team 7-5. You can say they slid into a good start in the second half.
Let's look at the Blue Jays Nation's Player of the Game, as well as things worth mentioning.
Blue Jays Nation's Player of the Game: Danny Jansen
Look, anytime you hit a bases clearing double when your team is up by just a run in the late innings, you're going to get the BJN Player of the Game award.
The 28-year-old catcher did just that, giving the Jays a 6-2 lead, enough to win the game. Overall, he went 2-3 with three RBIs and a strikeout, while also throwing out a runner.
For the season, Jansen is slashing .233/.286/.466 with 11 homers in 203 plate appearances for a 104 wRC+. The Jays have a great catching tandem, but more on that later.
Things worth mentioning:
George Springer
had a solid game, going 2-5 with two strikeouts in the afternoon. Both of his hits were singles, and he's slashing .274/.336/.427 with 13 homers on the season in 393 plate appearances, giving him a 114 wRC+. He hasn't been as good as he has been the last two seasons, but we're lucky to have Springer, especially in good health.
Whit Merrifield
has been one of the most consistent Blue Jays hitters this season. On Sunday afternoon, he went 1-3 with a walk and two runs scored. For the season, the 34-year-old utility player is slashing .292/.347/.404 with six homers (four of which coming since July 6th) in 343 plate appearances for a 157 wRC+. He has an $18,000,000 mutual option that will likely be declined, but I hope the Jays decide to bring him back.
Santiago Espinal
certainly hasn't had an All-Star calibre season like he did in 2022, but he's been much better since coming off the injured list. On Sunday, he went 2-3 with an RBI, with a double and a single. For the season, he's slashing .228/.307/.309 with a homer in 138 plate appearances. Since coming back from the injured list, he was slashing .234/.345/.319 with a 12.7 BB% and a 9.1 K% for a 94 wRC+ in 55 plate appearances.
Alejandro Kirk
has sucked with the bat this season, there's no sugar coating it. He's slashing .231/.312/.298 with three homers in 234 plate appearances for a 74 wRC+, and he's been awful since the start of May. However, he makes up for that by being one of the best defensive catchers in the game. I go into more detail in the thread below, but he's tied for the highest Defensive Runs Saved in the league, and is a great blocker and framer. If he can get his bat to turn around, watch out. More on this at some point in the future.
Kevin Kiermaier
could get a qualifying offer this season. It's unlikely, but he's been great with the bat (and defensively), as he went 2-3 with a walk and an RBI on Sunday. For the season, he's slashing .276/.335/.427 with four homers in 249 plate appearances for a 111 wRC+. To add to the bat, he had a 13 DRS and a 9 Outs Above Average in 583 innings in centre field.
Mitch White
could be on thin ice here. Coming into the game, he had a 3.72 ERA and a 3.28 FIP in 9.2 innings pitched. After he finished with a line of
0.2 IP, 0 H, 3 H, 3 BB, 1 K,
his ERA now stands at 6.10 with a FIP of 3.96
in 10.1 innings pitched. He came into the game with a 7-2 lead and just couldn't throw strikes. That's not something you want from your mop-up reliever. Sunk cost fallacy definitely plays a part in deciding whether or not they move on from White, but he has to pitch better in low-leverage opportunities.
Thankfully for the bullpen, the team has an off-day tomorrow as the San Diego Padres have to fly in. On Tuesday, that game will start at 7:07 PM EST. After the three-game set, they fly off to Seattle to play their west coast home game, before another three-game set, this time against the Dodgers. To wrap-up the month, they'll face the Los Angeles Angels at home, before welcoming the Baltimore Orioles.
---
As always, you can follow me on Twitter, Instagram, and Threads @Brennan_L_D.
---