Bo Bichette records two hits, headlines three Blue Jays in triple-A rehab appearance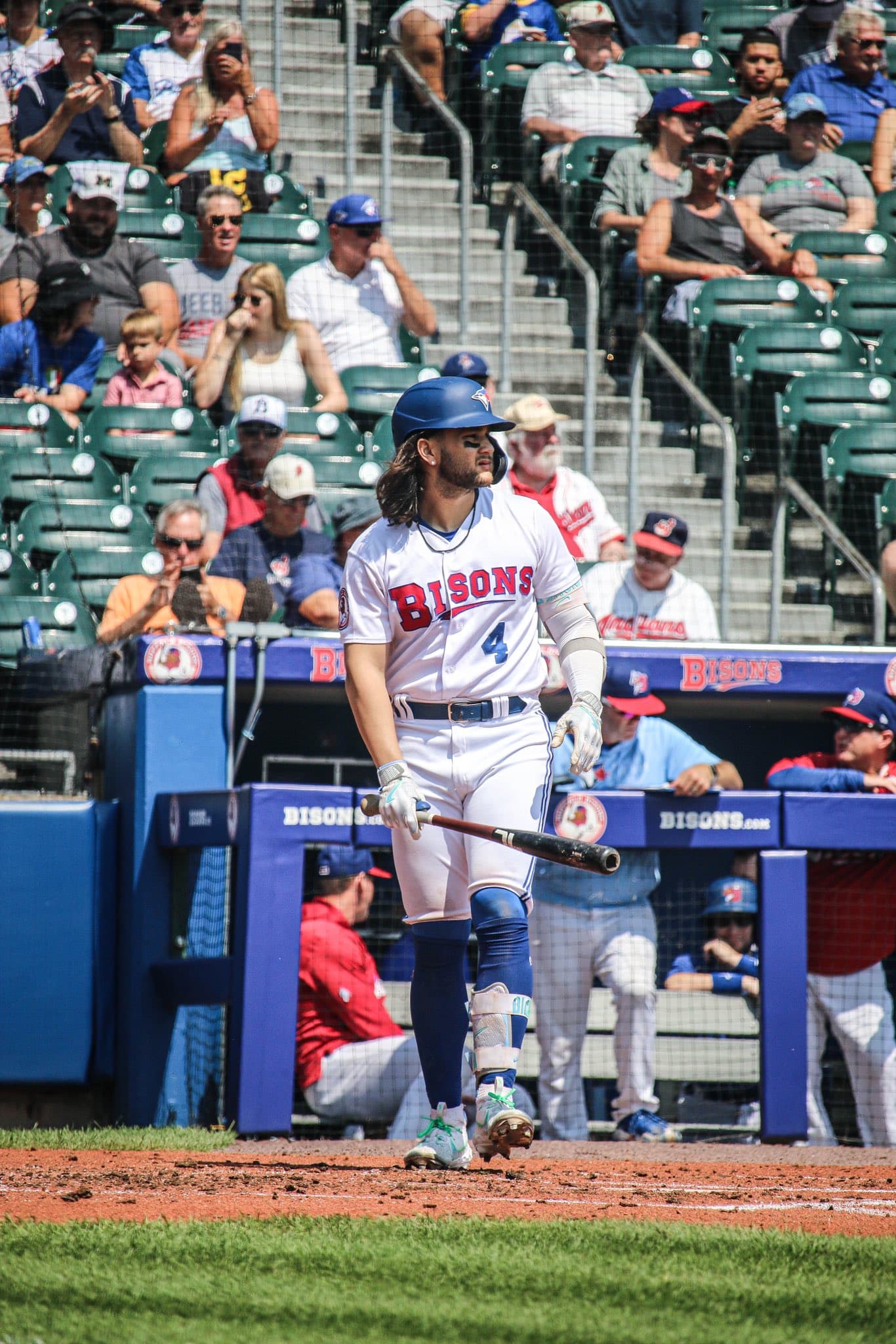 Photo credit:Bisons PR
Everyone's attention was on the Toronto Blue Jays' triple-A affiliate on Wednesday, as three rehabbing players took the field for the Buffalo Bisons, including shortstop Bo Bichette.
Bichette, sidelined since July 31 due to right patellar tendinitis, returned to game action as the designated hitter at Sahlen Field. He went 2-for-3 with a pair of opposite-field singles and a run scored in the third inning.
The 25-year-old righty grounded out to second base at 100.5 m.p.h. in his first at-bat. But upon returning to the plate in the third inning, he hit a 94.4 m.p.h. ground ball through the right side for his first of two hits on the afternoon, advancing prospect Spencer Horwitz to second base.
With no outs in the inning, Bichette also tested his right knee while flying around the bases to score from first on Ernie Clement's two-run double, and he looked pretty comfortable in doing so.
Bichette added another single in the fourth, unsurprisingly sending a 102.9 m.p.h. liner the other way to complete his two-hit performance.
After reaching his rep count for the day, the two-time All-Star was removed from the game for a pinch-hitter in the sixth, right-hander Luis De Los Santos. He was originally scheduled to DH on Tuesday and play shortstop on Wednesday, but the weather postponement delayed those plans.
Bichette confirmed post-game he will play short for Buffalo on Thursday – an off day for Toronto – before likely returning from the 10-day IL against the Cincinnati Reds this weekend. It remains unclear if a second start with the Bisons could push his big-league return to Saturday rather than Friday.
The superstar shortstop has hit 17 home runs, 59 RBIs and a .321/.352/.494 slash line in 106 games with the Blue Jays this season, worth 3.3 fWAR.
Bichette wasn't the only topic of conversation, as reliever Chad Green made his first relief appearance off the seven-day concussion IL, allowing two hits and his first run of the season while striking out three over 1.1 innings. He threw 18 pitches in the fifth inning and 12 in the sixth before exiting with a runner in scoring position.
Green struck out the side in his first inning of work, two via his curveball and the other on his fastball, which averaged 94.2 m.p.h. and maxed out at 95.3.
The 32-year-old righty has now made seven rehab outings, four with Buffalo and three at single-A Dunedin, surrendering six hits and one run while punching out 10 across eight innings. He still probably needs to test himself pitching on consecutive days before joining the Blue Jays' bullpen.
Since Green is currently on the 60-day IL, a 40-man roster spot must be cleared prior to his activation.
Trevor Richards, on the 15-day IL with neck inflammation, also appeared for the Bisons on Wednesday, throwing 12 pitches as part of a scoreless seventh inning. He gave up a walk, which was later neutralized on a stolen base attempt, and struck out a batter to end the frame.
The 30-year-old, featuring career-highs in ERA (2.98) and K-BB rate difference (26.7%) in 39 appearances this season, is expected to return from the IL when first eligible on Friday in Cincinnati.
Orelvis Martinez also made waves, blasting a game-tying two-run shot in the bottom half of the seventh – a 455-foot rocket that soared over the left-field wall for his fifth home run with the Bisons, his third in the last five games.
The Blue Jays' No. 2 top prospect, according to
MLB Pipeline
, entered Wednesday's contest slashing .256/.337/.476 with a 97 wRC+ in 22 games following his promotion to triple-A.
---