Chris Bassitt has a wild ride, Bo Bichette hits a clutch three-run homer, and more as the Blue Jays beat the Angels 4-3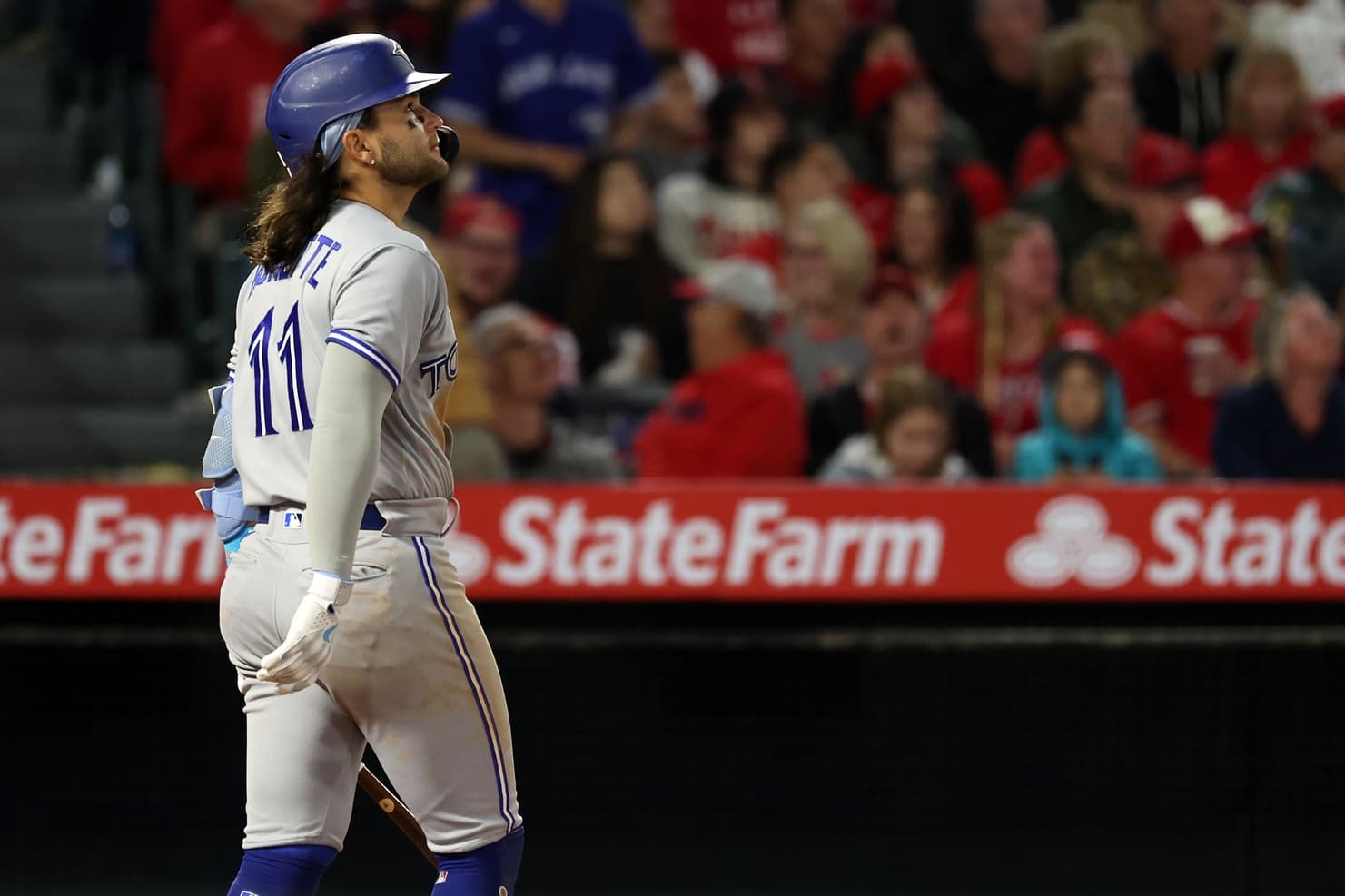 Photo credit:© Kiyoshi Mio-USA TODAY Sports
With the exception of the first inning, all signs pointed to the Blue Jays dominating this game. They got several guys on base and got a quality start from Chris Bassitt. The only problem was that, for most of the game, the Jays were playing from behind.
With the team being 0-for-5 with RISP, they just needed one big hit to get in front. They got that hit from Bo Bichette in the 7th inning, as his 3-run dinger put the Blue Jays in the lead for good en route to a 4-3 win on Friday night in Anaheim. The win is Toronto's fourth straight overall, and their fifth consecutive win at Angel Stadium.
Blue Jays Nation's Player of the Game: Bo Bichette
With as big a home run as Bo had, he is no doubt worthy of tonight's Player of the Game. Bichette was 2-for-4 with a double and the aforementioned home run, as he is becoming increasingly more dependent in big situations.
The Blue Jays outhit the Angels 9-3, with Bo's hits being the only two extra-base hits of the game for Toronto. The three RBIs from that home run put him in second on the team in that category.
Things worth mentioning
It would've been very difficult for Bassitt to do any worse than he did in his first start as a Blue Jay. He even admitted it of sorts, as he openly stated that that kind of start had never happened to him before.
Tonight's start, his second as a Blue Jay, was well on its way to being just as bad. I mentioned earlier that the first inning was the only inning that the Angels were in control. Before Bassitt even threw a pitch, he was assessed a time violation, putting him immediately behind in the count to Angels leadoff man Taylor Ward. He eventually walked Ward, and then proceeded to allow a mammoth two-run bomb to Mike Trout. It is the second consecutive game that Bassitt has given up a home run before recording an out.
It was after that home run that Bassitt flipped the switch, as he only allowed one more hit the rest of his outing. Bassitt threw six innings, gave up two hits, two runs, and struck out five. The biggest issue he faced tonight was the five walks he allowed, which ultimately cost him another run in the 4th inning.
They also drove up his pitch count, which ended up at 109, the most of any Blue Jays starter this year. Nonetheless, he battled, and kept his team in the game throughout the night. Bichette's home run put him in line for the win, and he also earned a quality start.
Without Matt Chapman and George Springer saying it, they are ready to be home in Toronto. Chapman, who has hit warning track fly balls ever since he put on a Blue Jays uniform, hit a ball 404 feet in the sixth inning that was caught by Mike Trout right at the center field wall. Springer hit a ball to the left-field corner in the first inning that travelled 352 feet. Even with the lowered walls in left field in Angel Stadium, the ball wound up being caught for an out.
Yimi Garcia and Erik Swanson came up with some critical outs in the late stages of the ball game tonight. Garcia pitched a clean seventh inning which included retiring Mike Trout for the third out. This prevented García from seeing Shohei Ohtani.
That would be Swanson's job, to which he allowed a leadoff double in the eighth inning. To his credit, though, Swanson stranded Ohtani and put a zero on the board, opening the door for Jordan Romano to enter the game in a save situation.
Romano retired the Angels in order to end the game, as he is now 4-for-4 in save opportunities so far this year. A little tip of the cap to John Schneider who elected to give Romano the day off yesterday in a particularly low-leverage 9th inning in Kansas City. With the Jays only leading by a run tonight, Romano was better-rested and ready to go.
The Blue Jays will look to take the series tomorrow night with Jose Berrios hoping to follow in Bassitt's footsteps and have a rebound outing. Berrios will be opposed by lefty Tyler Anderson, who was one of Anaheim's biggest free agent signings of the offseason.
---