David Phelps could play important role in Blue Jays' bullpen once again in 2022
Photo credit:Nathan Ray Seebeck-USA TODAY Sports
For most of the 2021 season, the Toronto Blue Jays were plagued by their inconsistent bullpen, although reliever David Phelps acted as one of the bright spots for this organization and could do so once again next season.
While teammates Jordan Romano and Tim Mayza – later joined by Adam Cimber and Trevor Richards as well – received most of the attention for their impressive performances, Phelps was also someone who stood out amongst the group last season. The unfortunate part for him, however, is that the 35-year-old couldn't stay healthy.
Coming off a miserable finish to the 2020 campaign, where he posted a forgettable 12.91 ERA and a -0.4 fWAR rating through 7 2/3 innings with the Philadelphia Phillies, the right-handed reliever entered last off-season at an inopportune time and ultimately agreed to a one-year, $1.75-million contract with Toronto.
Despite receiving a major league contract, Phelps' role in the bullpen had yet to be determined, but after a few weeks of spring training, it became evident he was still capable of making a strong impact. Doing just that out of the gate, the veteran arm registered a promising 0.87 ERA, 2.41 xERA, 1.72 FIP and a 0.4 fWAR rating over 10 1/3 innings before suffering a significant lat injury in May.
After undergoing a series of tests, it was determined the 6'2″ hurler would require surgery, putting an early end to his second tenure with the Blue Jays. Sadly, this wasn't the only serious arm injury he had suffered previously in his career, as a bone spur cost him the remainder of the 2017 season and he also underwent Tommy John surgery in 2018.
Safe to say, Phelps has spent plenty of time on the injured list over the last few campaigns.
Before the lockout commenced earlier this month, the former 14th-round selection was aiming to locate his next contract and did just that by returning to the Blue Jays on a minor league deal. In addition, he also received an invitation to next year's spring training, where he'll be tasked with competing for a roster spot.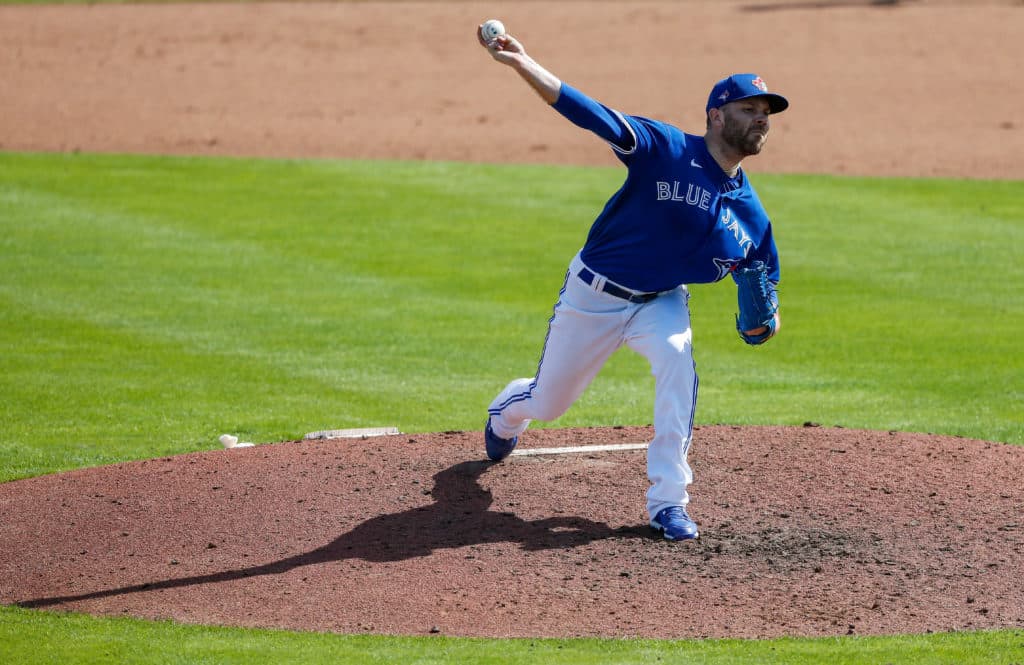 Credit: Nathan Ray Seebeck-USA TODAY Sports
Assuming Phelps remains healthy, which has become challenging ever since he crossed the age-30 threshold, there's a chance he could serve as a 'dark horse' of sorts when spring training arrives. Even after missing almost all of last season, it's difficult to ignore the fact that he was potentially on the verge of a very special season.
If not for his lat injury, the Missouri native would've likely enjoyed one of the top statistical performances of his career, if not the best, especially based on his outstanding strikeout (35.7 per cent) and whiff (31.6 per cent) rates.
Unsurprisingly, Phelps benefited significantly under the guidance of pitching coach Pete Walker and the rest of his staff, as they helped him refine his command – something that hindered his performance in 2020. In particular, he made the biggest adjustments to his low-80s curveball and low-90s cutter, which were two pitches that didn't perform up to their full potential prior to last season.
Starting with his primary breaking ball, the Notre Dame product utilized it 25.9 per cent of the time in 2021 – down 0.7 per cent from 2020 – but unlike during the COVID-shortened campaign, he located it much more effectively as a member of the Blue Jays organization.
This time around, Phelps' curveball was largely seen finishing on the edge of the strike zone, breaking away from right-handers and down at the knees to left-handers.
As a result, this improved command prevented opposing hitters from creating plenty of damage against Phelps' curveball, which had been the case in previous seasons. In turn, the majority of balls that were put in play remained on the ground, resulting in an 80 per cent ground ball rate.
In comparison, when it came to the 2020 season, the former Phillie struggled to keep his breaking ball away from the middle of the zone and paid dearly for it, as this offering surrendered a .440 xSLG percentage and a career-worst 50 per cent hard-hit rate against.
While this may have only been a subtle adjustment, for Phelps, it opened the door for his curveball to excel like never before, transforming it into one of his most reliable pitches. Though he compiled just 13 plate appearances against this offering before suffering his season-ending injury, still, it performed to a .083 AVG, .083 xAVG, .083 SLG and a .092 xSLG during that span.
Along with its stellar overall metrics, the right-hander's breaking ball also witnessed a major boost in the swing and miss department, especially outside the zone.
Even though its chase rate only increased by 2.1 per cent from 2020 (30% in '21), thanks to Phelps' refined pitch location, it became much more effective at missing bats this past season. With that in mind, its chase whiff rate climbed to a career-best 66.7 per cent clip – an increase of 16.7 per cent from 2020.
Taking this a step further, with his curveball inducing dramatically more swings and misses outside the zone, both its strikeout (53.8 per cent) and whiff (46.7 per cent) rates also witnessed massive increases as well compared to the previous campaign.
So while Phelps used both his cutter and four-seamer more often than his curveball last season, without question, his breaking ball was a crucial aspect of his craft as it generated the highest strikeout, whiff and chases rates among all of five of his pitches.
As for his cutting fastball, it also wasn't located consistently throughout the 2020 campaign, which saw its in-zone percentage drop to a career-worst 41.7 per cent. Unfortunately, this lack of command ultimately forced the veteran reliever to reduce its usage during the final month of the schedule, as it decreased from 35.6 per cent in August to just 15.5 per cent in September.
But with the Blue Jays last season, similar to his curveball's transformation, Phelps made some key adjustments to his command and was able to locate his cutter in the zone much more consistently. Rather than having it finish outside the zone nearly 60 per cent of the time, he improved that percentage closer to a 50-50 split.
With this refined location, also came an increased amount of swings and misses, particularly within the zone.
In 2020, his secondary fastball created a measly 12.8 per cent whiff rate and a 7.1 per cent in-zone whiff rate. But during this past season, he enhanced both of those metrics, generating the highest whiff (29.6 per cent) and in-zone whiff (23.8 per cent) rates of his career.
Presuming Phelps can replicate this effective command involving both his curveball and cutter, chances are he should be able to bounce back fairly strong from his season-ending surgery. That is, of course, if he's indeed fully recovered and doesn't sustain any lingering issues.
Set to enter his age-35 season in 2022, at this stage of his career, it'll be crucial for the right-hander to prove he can still perform at the highest level of competition, and remain on the field for more than just a month or so, too. But given how he fared last season, it seems like the ageing reliever still has some more gas left in the tank before he hangs up his cleats for good.
Surely, the Blue Jays will be poised to add another arm or two in the bullpen once a new Collective Bargaining Agreement is signed. In the meantime, however, they may not have to look very far to fill out the rest of their Opening Day roster.
Once spring training rolls around, if it begins on time, Phelps must hit the ground running in order to force his way back onto Toronto's 40-man squad.