Digging into Bo Bichette's up-and-down season at the plate
Photo credit:Dan Hamilton-USA TODAY Sports
Bo Bichette's 2021 season was nothing short of great. At only 23 years old, he put up 5.1 fWAR to go along with a 122 wRC+. Though his defence at short was certainly questionable at times, he more than made up for it with his hitting. MLB Network ranked him as the 7th best shortstop in baseball coming into the 2022 season.
However, coming off the All-Star Break, Bichette sits 15th among shortstops in fWAR, despite more plate appearances than anyone else at the position. He's only a league average hitter, at 100 wRC+. Though Bo is much improved defensively, his OAA is still -1. Other than being a player who you can plug in every day, Bichette has provided nothing above average in 2022. What has caused this sudden downturn?
To start, Bo's batted ball data does not look help. His fly ball and line drive rates have both declined marginally in 2022, both by about 1%, while his groundball rate has remained just about consistent. Liners and fly balls are the best types of batted balls a hitter can enter, and Bo is doing so less in 2022. However, while this is certainly not helping Bo, it's also likely a standard deviation, and it is not likely that such minor changes will have long term impacts. What does have long term impacts, however, is fastball hitting.
Nearly every single hitter in baseball will see more fastballs than any other pitch. Among the 464 hitters who have recorded at least 50 PA's in 2022, only 8 have been thrown fastballs less than 40% of the time. They are by far the most commonly thrown pitch in baseball, and so it follows that success against the fastball correlates hugely with overall success at the plate. Herein lies Bo Bichette's biggest problem. In 2021, he slashed .305/.365/.470 against the heater. In 2022, he's slashing .260/.302/.349. But why?
Bo Bichette has seen a very sudden and very drastic uptick in fastballs down and away in 2022. These images display where fastballs are most often located when thrown to Bichette. As you can see, pitchers have really shied away from giving him heaters up, and instead have made it a priority to put them on the outside corner.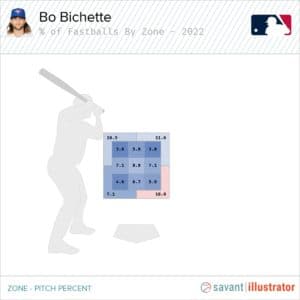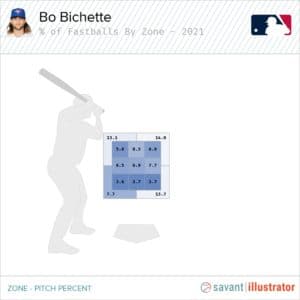 This has been HIGHLY effective thus far. The next two images display Bichette's wOBA and AVG respectively against fastballs. Bo hasn't just struggled against low fastballs, he's been absolutely putrid against them.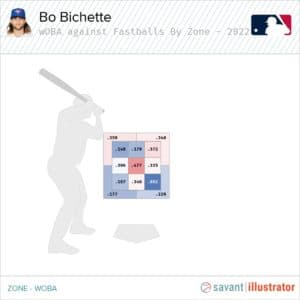 The reason for this is launch angle. As previously discussed, line drives are the most productive batted balls for hitters. However, when Bo gets low and away fastballs, he's been unable to get the bat around, and is smashing them into the ground. By contrast, when he's thrown offspeed pitches in similar spots, he is most often able to hit liners. *Note: gaps in graph represent zones in which Bichette has not entered a batted ball.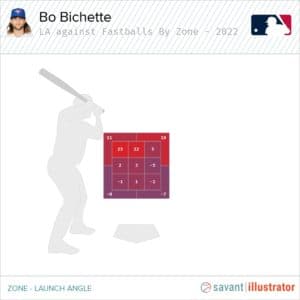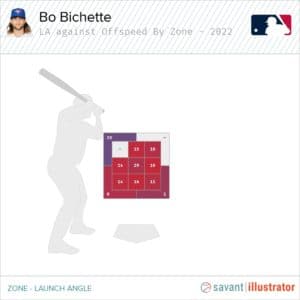 Bo had a very similar issue in 2021, as you can see by this chart. However, it's become more serious in 2022, as pitchers are throwing more fastballs down and away, exacerbating a pre-existing hole in Bo's swing/approach.
Here's the correlation for Bo.
Left: % of fastballs thrown down and away  / Right: wOBA against all pitches
April: 27%/.236
May: 20%/.376
June: 25%/.317
July: 24%/.314
As pitchers throw Bichette more down and away fastballs, his performance changes accordingly. The more fastballs at the bottom of the zone, the worse Bichette hits in general. So it's established that Bichette is having issues with these pitches. How can he fix them?
Much of the issues that people have had with Bichette throughout his career are concerning his swing tendencies. Among all qualified hitters in 2022, only 5 of them swing the bat more often than Bichette, and only 12 chase more often. It's been a huge problem for Bichette since the minute he entered the league, and it likely will continue to be. However, in this case he especially needs to limit how aggressive he is. When Bo swings at the aforementioned down and away fastballs, he's produced a Run Value of -4.3 (-0.086 per swing). When he takes them, he's produced a Run Value of 2.3 (0.014 per take). While it is true that all players generally produce a negative RV on swings, and a positive RV on takes, this is even more of an extreme case. On average, a player produces 0.044 more RV when they take a pitch as opposed to swinging at it. However, on these specific pitches, Bo produces an average of 0.100 more RV when he chooses not to swing. He is significantly more effective when he does not swing. By limiting his swings, he can turn a weakness into a strength.
Of course, there are questions over Bichette's future with the Blue Jays. Many fans believe that the team has a chance to land a player like Soto or Ohtani if either were to be dealt before the deadline (or during the offseason). It is a near certainty that Bichette would be on his way out of town if either of the stars were headed to Toronto. With that being said, Bo's success is crucial to how far this iteration of the Blue Jays can go. This is made especially true when the team insists on hitting him so high in the lineup (despite having the 9th highest wRC+ among all Jays players with 100+ PA's). But that's an issue for another day. If Bo can fix his issues with fastballs, which starts with those down and away ones, his position in the lineup will be justified. Until then, even his trade status is in question.
---