Digging into Vladimir Guerrero Jr.'s struggles with timing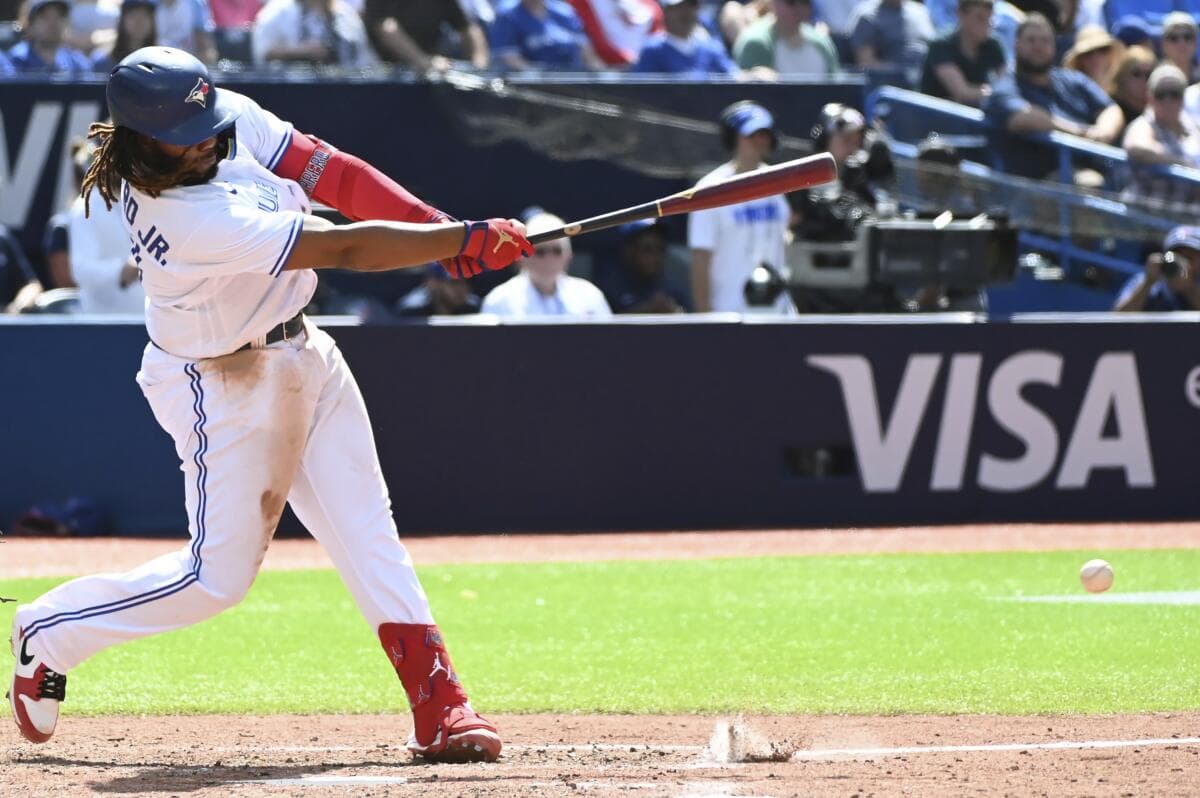 Photo credit:Jon Blacker / Associated Press
The discourse around Vladimir Guerrero Jr. and his struggles at the plate have gone on nearly all season, but it has started to boil over here in September as Toronto's star first baseman has really struggled down the stretch, hitting .225/.333/.388 for a .721 OPS on the month.  
I talked with a former player who really broke down Vlad's swing from a mechanical standpoint and I'll do my best to articulate that here and explain what exactly has gone wrong for the slugger. 
Here are three screen grabs, the first from 2021, the second from 2022, and the third from 2023. These are all taken at the point when Vlad gets his front foot down.
What we're looking for is the coil, as you get your foot down your bat should be starting to come down so that when you shift your weight you can catch the ball out in front of the plate and explode through it. In the first two images he looks to be already starting his movement and the twist to swing, a much more athletic stance ready to attack the ball. In the last one, his hands are tight to his body and he hasn't quite started that coil yet.  
This tweet from Joe Siddal displays this point perfectly. 
Here is a perfect visual of where the problem lies. On the left, you can see when the foot is down the hands are already moving and you can see the barrel of the bat starting to turn. On the right, the foot is down and the bat has hardly moved. This causes him to be late and catch the ball deeper in the zone which ultimately leads to him either rolling over on the ball or missing it entirely. 
Buck Martinez had a really great discussion about this on the broadcast the other night. 
"He's carrying his hands forward, when the foot goes forward the hands should go back."
Buck is bang-on with this quote. This is what the former player describes as turning the barrel. You see hitters like Aaron Judge or Albert Pujols do this to perfection. Their hands don't go from point A up high to point B the ball. They get their foot down and as this happens bring the barrel of the bat down so that when the weight transfer comes you can have the barrel of the bat in the zone as long as possible. Kerry Carpenter on MLB Network did a really nice job explaining his mechanics and really emphasized the turning of the body to create that sort of elastic band effect.  
Originally I thought that Vlad's wrist injury might still be affecting him. He started the season hot with a .920 OPS through May 5th but since taking a few days off to rest that wrist he's had just a .725 OPS from May 9th on. However, I don't think that is the issue here. This swing path as Carpenter discusses is more about your back and core and getting that rotation, not really as much to do with your hands and wrists. Also if the wrist was bothering Vlad to the point where it was affecting his swing we wouldn't have seen him in the Home Run Derby this year. 
The thing with Vlad though is even if something is bothering him or he's late with his rotation, he still has some of the quickest hands in the league. So he still manages to get to the ball and hit it hard. He trails only Ronald Acuña Jr. for most hard-hit balls this season. 
That in and of itself can explain, as Travis Sawchik wrote in the following, why Vlad has some of the best contact and strikeout numbers of his career, yet struggles consistently with fastballs and fastballs right down the middle. 
If the timing is off everything is off, he can't catch up to fastballs and when he does he catches them so much deeper than he should, the result is a bunch of centre-cut fastballs ending up as hard ground balls to shortstop rather than ending up in the seats. 
With that, I think it explains why his expected metrics on Statcast still look promising, and why when he hits the ball it's not travelling as far as it has in years past. As Mike Petriello noted in his piece "11 theories explaining Vlad's confusing 2023 season." He's not able to get his hands extended and drive balls like he used to which ends up with a lot of loud contact ending up as routine fly balls. 
Personally, I don't think any of his struggles have to do with the renovated Rogers Centre, or with his groundball rate, or launch angle, or anything to do with his approach. He simply needs to get those mechanics sorted out. And until that gets sorted out as Nick Ashbourne says "believing in a big finish from him at this point would be based on faith alone"
Unfortunately, for the Blue Jays, this doesn't look like something that can be fixed overnight. This is going to take a lot of work from Vladdy and the hitting coaches this offseason to get him back on track. 
Or maybe it won't… it just might be a little too late for the Blue Jays and their struggling offence. 
---