End of season comparison: Kevin Gausman and Robbie Ray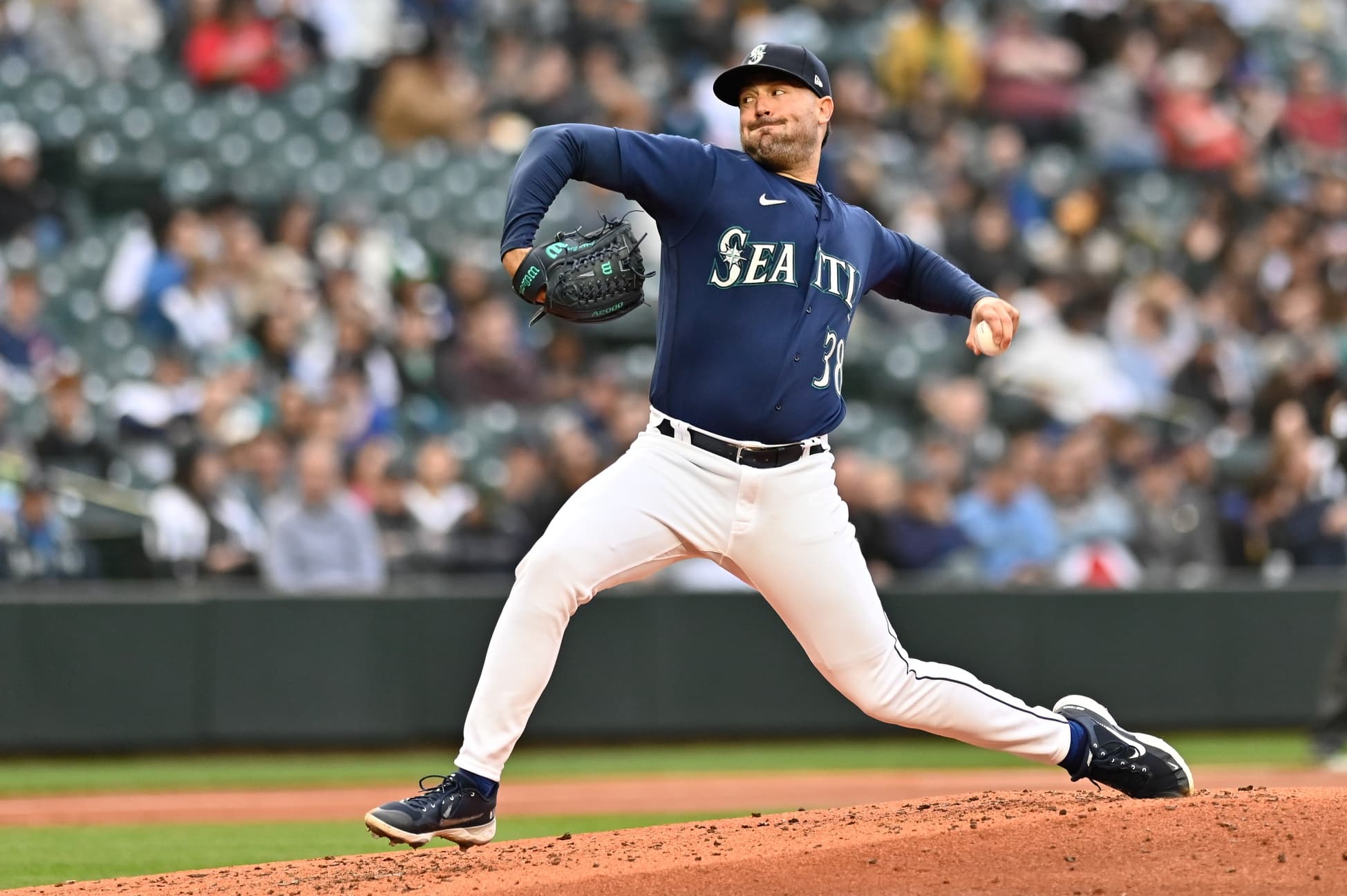 Photo credit:© Steven Bisig-USA TODAY Sports
As we're approaching the end of the season, let's look at how the new acquisitions stack up to the players they replaced.
This will be a four-part series, comparing Kevin Gausman to Robbie Ray, Matt Chapman to Marcus Semien, Yusei Kikuchi to Steven Matz, and Raimel Tapia to Randal Grichuk. We'll also look at how all the prospects involved in the trades/signings did in 2022.
Background:
On November 29th, 2021, it was announced that the Seattle Mariners were signing Robbie Ray to a five-year deal, worth $115 million.
Now, losing the reigning, defending, undisputed, American League Cy Young winner is definitely tough. However, the Jays got a shot in the arm the day prior when they signed 2021 all-star Kevin Gausman to a five-year deal worth $110 million.
As soon as the two pitchers had their contracts announced, comparisons began, especially from the Blue Jays faithful. We'll start with their 2021 seasons because they actually put up quite similar numbers.
Robbie Ray's 2021:
In 2021, Ray posted a 2.84 ERA and 3.69 FIP in 193.1 innings pitched. He had a 32.1 K% and a 6.7 BB% (the lowest in his career). He gave up his fair share of solo home runs, but overall, it was a great season for the then 30-year-old left-handed flame thrower. 
His numbers are even better if you remove his last start against the New York Yankees, where he allowed five earned runs on four homers in 5.1 innings pitched. The Jays needed their ace to step up against a team ahead of them in the standings, but he failed to do so. We'll come back to this trend.
I noticed something interesting about Ray's 2021. Out of any pitchers with 150 innings pitched in one season,  Ray had the highest Left on Base Percentage (LOB%). It was 90.1%, which means 90.1% of runners that got on base were stranded. No wonder why he won the AL Cy young!
The Jays offered a qualifying offer to the reigning Cy Young winner, but he declined to go join the Mariners. The Jays received the 78th overall pick in the 2022 MLB draft as compensation.
Kevin Gausman's 2021:
Gausman posted a 2.81 ERA and a 3 FIP in 192 innings with the Giants. The then 30-year-old right had a lesser K% of 29.3% and a slightly lower 6.5 BB%.  The reason the two player's FIP had such a discrepancy is because Gausman allowed only 15 home runs to Robbie Ray's 33 homers.
How Gausman only finished sixth in the National League Cy Young voting beats me. Unlike Ray, Gausman was given no qualifying offer as he had received one after the 2020 season, thus excluding him from ever getting another one.
Let's compare their numbers this season.
Robbie Ray's 2022:
Although the Mariners made the playoffs for the first time since 2001 (I was three, by the way), Robbie Ray was not the catalyst. This season, he had a 3.71 ERA and a 4.17 FIP in 189 innings pitched. While his BB% stayed relatively low at 8%, his K% also dropped to 27.4%.
Just like in 2021, Ray's last start didn't end so well, getting touched up for five earned runs in 5.2 innings pitched. He also allowed three homers and walked three. While the Mariners had already clinched a playoff spot (unlike the 2021 Blue Jays), this loss realistically hindered Seattle's opportunity for home-field advantage in the 2022 playoffs.
Kevin Gausman's 2022:
On the other hand, Kevin Gausman has solidified himself as the #2 in the rotation. In 2022, he had a 3.35 ERA and 2.38 FIP, along with a 28.3 K% and a 3.9 BB% in 174.2 innings pitched
Why is there such a large difference between the FIP and the ERA?  The FIP can be explained, as FIP is calculated by taking a look at just strikeouts, walks (+hit by pitches), and homers, aspects of the game pitchers can control. Gausman had a fantastic walk rate and avoided giving up a lot of homers this season.
As for his higher ERA, well, quite frankly, I have no idea. I'll speculate though!
This may stir some people up, but I don't think Gausman was as unlucky as he's perceived to be. Yes, he had the second highest Batting Average on Balls in Play (BABIP) ever in a season with 150 innings or more pitched (yes, the same criteria for Robbie Ray's LOB% in 2021).
However, he also had the highest Line Drive percentage (LD%) in the league for qualified pitchers, which also ranked as the 47th highest in Major League history. As you may know, a batter's batting average on line drives is significantly higher than with ground balls or with fly balls. So that may explain the increase in BABIP. 
In case you were wondering, he faced 319 batters in a shift (or a combined 62.1 innings) and had a slash line of .390/.387/.498. Without the shift, Gausman faced 157 batters (or 33 combined innings) and had a slash line of .323/.318/.381. The remaining innings pitched came from his strikeouts and walks, as you can see in the Tweet below.
I really don't know what to make of this. I think it's a mixture of batters' game planning against him appropriately, a high line drive percentage, the shift screwing him over, and defense letting him down. Below shows the Outs Above Average of the defenders when he pitched.
A 3.35 ERA is good, but not fantastic, while a 2.38 FIP is the second lowest amongst qualified starters. Really, really confusing stuff. However, he was easily better than Ray in 2022 and 2021.
The compensation pick:
Now, what about that 78th overall pick. How'd he turn out?
The Jays selected Cade Doughty, an infielder from Louisiana State University, who was projected to go in the second round.
The 21-year-old had the best short season out of any Blue Jays draft pick, slashing .272/.370/.495 in 119 plate appearances with the Dunedin Blue Jays. He also added six regular season homers, as well as a homer in their playoff series. Doughty finished the season with an 8.4 BB% and a 24.4 K%.
We can also look at Exit Vel'O'Clock time, a database I made that tracks every single batted ball from a Dunedin Blue Jay. The hardest hit ball Doughty hit came in at 105.7 mph. 
He also had a hard hit percentage of 21.43%, which ranks as the 13th highest out of 28 batters (not including released players or rehabbing players). Furthermore, he had an average exit velocity of 83.65 mph, which ranked 12th out of the same 28 players.
Due to his ability to hit home runs, as well as his ceiling, he ranked as Blue Jays Nation's 13th best prospect.
To recap:
The Jays traded Travis Bergen for a Cy Young winner in Robbie Ray (and also got Bergen back). Robbie Ray walked after the Jays signed the better Kevin Gausman, This wasn't before they extended a qualifying offer to Ray, which meant they were able to draft Cade Doughty, Toronto's best performing draftee from the 2022 class.
The Jays got a better pitcher and a pretty good-looking prospect while losing a guy that wouldn't get his vaccine in order to remain a part of the team. That's a good bit of business by the front office if you ask me.
Next up in this series will compare Matt Chapman and Marcus Semien, and that'll be a doozy! So stay tuned.
As always, you can follow me on Twitter @Brennan_L_D. This will be a four-part series, so I hope you enjoy it!
---