For the nostalgic Blue Jays fan, Vol. 2: Juan Francisco
Juan Francisco was a Toronto Blue Jay during the 2014 season, serving as a key contributor to their push for a Wild Card spot that year. While he didn't make it with the team past 2014, his "lightning in a bottle" stretch of production blended in nicely with the sluggers that the Blue Jays had in their lineup.
Francisco played in 106 games with the Blue Jays, slashing 16 home runs and 43 RBIs.
His professional career started in 2004, as he was signed by the Cincinnati Reds a free agent. Francisco's primary playing positions were first base and third base, but with the Reds using Joey Votto and Todd Frazier at those respective positions as everyday players, as well as the National League not having a DH at the time, his playing time in Cincinnati was bound to be limited. In 169 at-bats with the Reds, Francisco batted .284 with 5 home runs and 29 RBIs.
He also logged an at-bat during the 2010 NLDS against the Phillies, however, it resulted in a groundout.
In 2012, Francisco was traded to the Atlanta Braves in exchange for JJ Hoover. Francisco showed a little more pop in his bat with the Braves, but his batting average dipped down. He hit 14 home runs with 48 RBIs across 320 plate appearances with Atlanta, and he was dealt to the Milwaukee Brewers in 2013 for a minor league pitcher named Thomas Keeling, who never pitched in the major leagues.
Francisco was released from Milwaukee during spring training in 2014, prompting the Blue Jays to meander across his name and sign him to a minor league deal in early April of that year.
Francisco seemed to fit the mold of a Blue Jays batter at the time: a low batting average guy with plenty of power. Considering the 2014 Toronto Blue Jays were third in the MLB in home runs that season, Francisco would work his way into the heart of the order. Furthermore, the career renaissances of José Bautista and Edwin Encarnación (two guys who couldn't hit their strides at multiple other organizations) surely had Toronto licking their chops, hoping that Francisco would be the next guy on that list.
On April 19th, Francisco was called up to replace an injured Adam Lind, who was the Blue Jays first baseman/DH at the time. As I mentioned earlier, Francisco immediately proved himself as a slugger in the middle of the Blue Jays lineup, who were pacing the AL East in the early stages of the season. Through April and May, Francisco had hit 9 home runs with 24 RBIs, filling in nicely for Lind.
Lind would return from the injured list in early June. Rather than sending Francisco back down to Buffalo, Toronto kept him in the majors, realizing his impact. They used him at first and third base, as well as occasionally getting a day to DH. Brett Lawrie, who played most of his innings at third, was relegated to second base for several games just to keep Francisco's bat in the lineup.
Francisco joined the list of Dominican-born players on the Blue Jays roster, alongside Jose Reyes, Melky Cabrera, the aforementioned Bautista and Encarnacion, and a few others. This group and their heritage-rooted bond was highlighted in a USA Today article, featuring Francisco in the main image.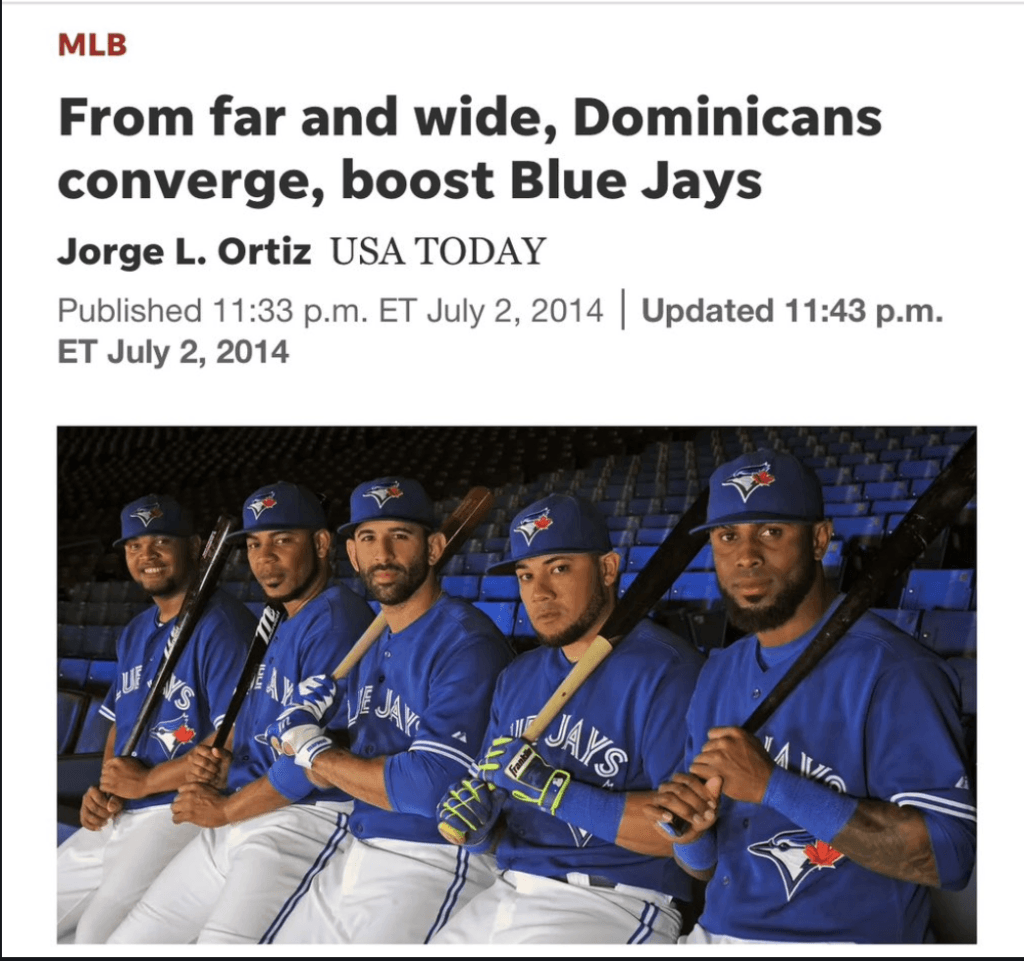 Although he never had a signature Blue Jays moment, Francisco did have a couple of highlight-worthy home runs. His first home run was a 434-foot bomb off of Jake Peavy during an April 25th game against the Red Sox.
Francisco also hit an opposite-field 2-run home run against the Reds on June 20th, a game in which the Jays trailed 8-0 and came back to win 14-9. Francisco's home run brought the score to 9-8 in the 7th inning. That home run was also a "Welcome to the Show" homer for Jumbo Diaz, who was making his major league debut that night.
As the season winded down, much like the Blue Jays as a whole, Francisco's production slowed down. He was only batting .130 in August, and only had five at-bats in September. Francisco was also becoming a deterrent in the field, committing 9 errors at third base with a .933 fielding percentage. That sounds really high, but it ranked in the middle of the pack amongst all third basemen in 2014. Francisco's strikeout numbers were also increasing, and his inability to hit left-handed pitching was not trending in his favor.
Even Sid Seixeiro on Sportsbet's Tim and Sid would voice his opinions on Francisco's play after receiving an email from the Blue Jays in August of 2014 about the possibility of postseason play. Seixeiro said, "Any team with Juan Francisco on it does not send me another one of those."
The Boston Red Sox would claim Francisco off of waivers in November of 2014, ending his time as a Blue Jay.
Although he signed with the Red Sox, Rays, and Orioles between 2015 and 2017, Francisco would not see any more MLB action. He has most recently been playing for Gigantes del Cibao, a member of the Dominican Winter League.
---