Getting Danny Jansen signed should be a priority for the Blue Jays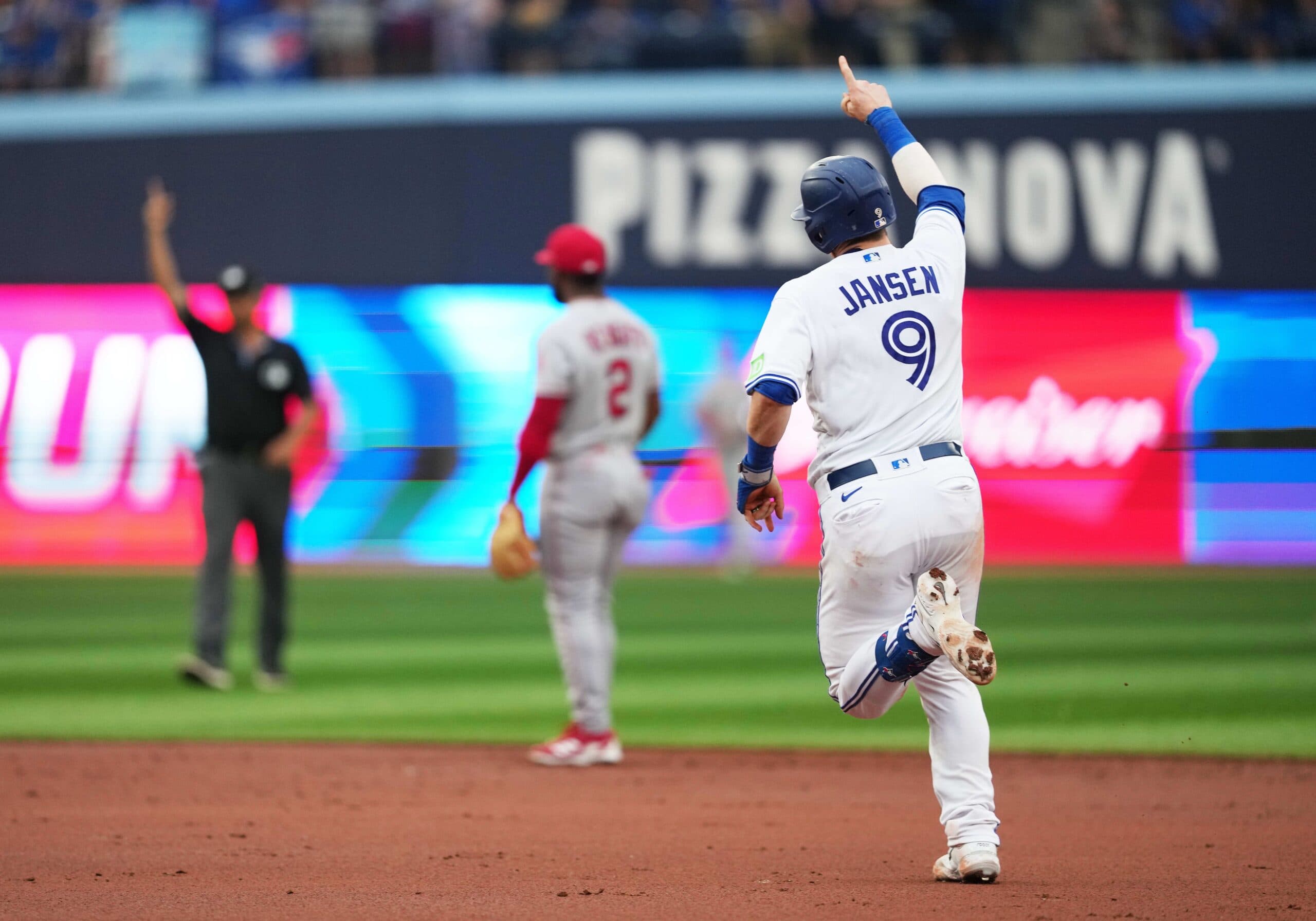 Photo credit:© Nick Turchiaro-USA TODAY Sports
We're in an age where franchises are locking up their stars for long periods of time. Not just that, they're handing out the paper like there is nothing to it.
Although signing a few of their guys to "longer" deals, the Blue Jays haven't joined that proverbial party just yet. Bo Bichette got a three-year deal, Kevin Gausman got a 5-year deal, Jose Berrios got a 7-year deal, and Vladimir Guerrero Jr. seems like he may be next in line (that's a whole different story in itself). But there's another guy on Toronto's roster who is due about with free agency relatively soon, and it's someone that you might not be thinking about when it comes to his next contract.
Enter Danny Jansen, or "Jano" as he's also known, who was called up to the big leagues in the late summer of 2018. Mostly a lost season for Toronto, Jansen entered the MLB around the same time as some of his batterymates in Ryan Borucki and Sean Reid-Foley as well.
It really seems like that was just yesterday, but now, Jansen is nearing the end of his arb years and the Blue Jays will have a decision to make on the goggle-donning catcher from Elmhurst, Illinois. It was brought up during the 8th inning of the series finale against the Dodgers on the Sportsnet broadcast a couple of weeks ago that Jansen will be a free agent following the conclusion of the 2024 season, and conversations should probably be underway for keeping him around.
Dan Shulman: "Danny Jansen's contract or service time never seems to be a topic at all  … wouldn't it be nice if maybe one day we woke up to the news that Danny Jansen has signed, whatever, a three-year deal or something to remain a Blue Jay a little bit longer? I mean, he is so important to this team."

Buck Martinez: "Yeah he really is, and it's a position where they don't have an awful lot of depth and he's rock solid for the Blue Jays in many aspects."
During the six seasons he has spent with the Blue Jays, Jansen is slashing .224/.304/.434/.738 with 63 home runs, 192 RBIs, and a wRC+ of 108. Though serving as Toronto's steady presence behind the plate, Jansen has fought a handful of injuries in recent years, serving IL stints with oblique, hamstring, and groin issues amongst others.
The offensive numbers don't warrant the $350 million payday, but Jansen has shown immense monthly power spurts – see his 1.072 OPS in 63 Sept./Oct. ABs of 2021 and his 1.007 OPS in 91 Sept./Oct. ABs in 2022. In one way or another, this has led to his recent promotion to batting cleanup in Toronto's struggling lineup. Furthermore, Jansen has shown his ability to hit some timely home runs for a team that has yearned for clutch hitting this season. In 2023, 10 of his 15 home runs have either tied the game or given the Blue Jays the lead. He's also had a week this year in which he walked off the Braves and Yankees within the span of a couple of days.
His bat is a legitimate weapon in Toronto's lineup, but arguably Jansen's best quality is his presence in the pitcher's room. While there isn't a stat that can be put on that, it's no secret that Jansen is well-respected amongst his pitching staff.
It's worth noting that Jansen has been through the gauntlet of learning pitching repertoires. Seasons like '18 and '19 when Toronto seemingly had a revolving door of pitching staffs — whether due to injury, trade, or call-up — forced Jansen to get acclimated to calling a game for those respective pitchers. Fast forward to today, and he's now a trusted catcher for some of the game's most established pitchers in Gausman, Berrios, and Hyun-Jin Ryu just to name a few.
There's also a business side to this, and upon looking at the current catchers market, there are clearly tiers to the payroll amongst MLB catchers. Only three catchers make over $18 million per year: JT Realmuto, Salvador Perez, and Yasmani Grandal, all established veterans. After that, it's a pretty substantial gap down to James McCann at $12 million (the Mets still being on the hook for a lot of this), and Willson Contreras and Christian Vazquez at $10 million.
The next wave of elite catchers — Adley Rutschman, Sean Murphy, Will Smith — will probably be due a large chunk of money soon. You could even throw the likes of William Contreras and Jonah Heim in there given their offensive improvements and status.
After a few years of making $500K or so per year, Jansen has seen a steady increase in his yearly salary since 2021. He's gone from making $601K to $1.9 million to $3.5 million this year, and it will probably go up even more at the conclusion of this season considering he's bound to set a career-high in home runs. While Jansen's power numbers are nothing to scoff at, he is prone to striking out way more than he walks, and he does have some cold streaks for every hot streak. His batting average has never been higher than .260, a mark he set last year in 72 games.
I'm not a contract expert, and who knows what the catcher market will demand in the coming months/years, but whatever Jansen is owed should be a worthwhile financial commitment for the Blue Jays. The catcher is one of the most important positions to play in all of sports, and if you've got a good game-caller that is respected by his pitchers, don't mess up a good thing. It's clear Jano loves Toronto, and Toronto should love Jano back.
---