Getting to know Hagen Danner, a catcher the Blue Jays have converted into a pitching prospect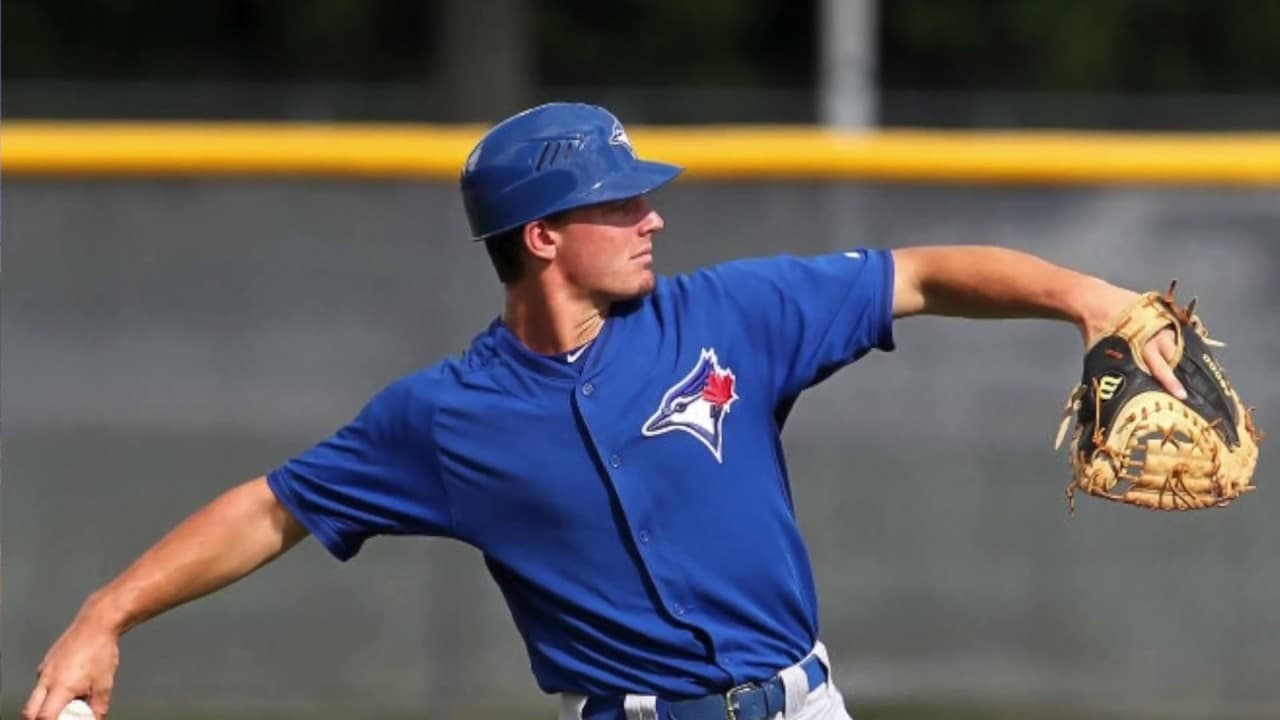 The Blue Jays may not make the playoffs this season. In fact, with each passing day, Blue Jays fans are getting the Julius Caesar treatment. All these winnable games that have turned into losses are the equivalent to Caesar getting poked 23 times at the steps of the Pompey Theatre. It's been a slow and painful season to watch a team underperform.
It's not all bad, however, as the one thing I find enjoyable with the Blue Jays at the moment is writing articles about current prospects, which is what this article will be about.
With the 61st pick in the 2017 draft:
I've mentioned this player before in an article. In fact, Hagen Danner's name came up in my last article about Chavez Young.  The Toronto Blue Jays drafted a 18-year-old catcher/pitcher Hagen Danner out of Hunting Beach High School. According to Pipeline's top 200 draft picks, these are Hagen Danner's grades and there are a lot of them as a 2-way player.
Grades:
Hit: 50
Power: 45
Run: 30
Arm: 60
Field: 55
Overall: 50
Fastball: 60
Curveball: 50
Changeup: 50
Control: 55
Overall: 50
Hagen Danner ranked as the 41st best draftable prospect in 2017, so how did he do in his first three professional seasons?
Hagen Danner as a catcher:
Although Danner had the makeup to be a great defensive catcher, in his 580 plate appearances, he could never quite figure it out with the bat. In all fairness, next to the pitcher, the catcher is the position that will provide you the least amount of offense. In his first rookie league season, he hit .160/.207/.455 in 136 plate appearances. He followed the 2017 season with his best season as a professional. He batted .279/.409/.841 in 2018 with a 14.6% BB% in rookie ball.
He was promoted for the 2019 season, and while there were some positive aspects, such as hitting 12 homers (he had only hit 4 in his previous two seasons), all in all he struggled. Danner hit .170/.254/.623 with a 31.3 K%. Furthermore, he struggled defensively in 2019 as he allowed 9 passed balls. This eventually led to him playing nearly as many innings at first base as he did at catcher.
Sometimes prospects don't pan out the way you want them too. For whatever reason, Hagen's catching ability didn't translate to the MiLB.
Pitching is more fun anyway:
According to his Baseball America scouting report, scouts profiled him more as a pitcher, yet Danner spent his first three seasons in professional baseball as a catcher. I asked Danner what intrigued him about catching, his paraphrased response:
"I didn't know what I wanted to do more going into the draft. I told teams I'd be happy doing either. After falling out of the first round, I thought it'd be more fun to keep hitting and fall back on pitching if I ever needed to". Danner made the decision to transition into a pitcher and quite frankly, he's transitioned quite well. He says it's "Kinda like riding a bike".
Arsenal and videos:
Four-seamer, slider, curveball. If you ever want to know what a reliever throws, there is a good chance that it's a combination of the three pitches listed above. In high school, Danner threw his fastball for 95 mph. After hopping back on the bike this season, Danner has sat at an average of 97-98.
I've complained ad nauseam about how both High A and Low A need to be broadcasted on MiLB TV.  Both Vancouver and Dunedin do not have televised broadcast options which is quite annoying. However, in Danner's last appearance, he faced the Hillsboro Hops, a team that has its games on. So I went back and recorded all of his outs. 
Even though he allowed a hit and a walk, every batted ball was hit weakly. He also struck out two batters, making them look quite foolish in the process.
Stats in 2021:
I've given you his batting stats from 2017-2019, however, I have yet to list his pitching stats. In 28 innings pitched, he has a 2.25 ERA while owning a K/9 rate of 10.61 and a BB/9 rate of 3.86. Batters this season have been held to a .168 batting average, lower than his average in 2019.
While his xFIP is on the high side of 4.61, this can be explained because he doesn't allow home runs (he's only given up one this season). At the end of the day, expected stats only mean so much when there's only a month left in the season. His FIP is at a good level for a reliever, sitting at 3.68.
I believe it's a high possibility that if there is a reliever spot open for the Fisher Cats, he'll get the call first. If an opportunity does not present itself, expect him to start in Double-A next season.
Other interesting tidbits:
This past Wednesday was my 23rd birthday. Even though Hagan Danner has been in the Blue Jays organization for over 4 years, the young pitcher doesn't celebrate his 23rd birthday until the 30th of September. Even still, Danner is -1.3 years younger than the average pitcher in High A and it's important to remember that he only started pitching again this season.
Speaking of which, I asked Hagen what the plan is for him. Whether the Jays see him as a high-leverage reliever or a starter. He told me that he isn't quite sure, but they seemingly want him to be a relief pitcher. Here's the thing though: Danner hasn't pitched in over four years. That's to say he isn't stretched out. Who knows what the Blue Jays have planned for him.
Conclusion:
Prospects rarely get a second chance. While Hagen Danner wasn't able to make it to the big leagues as a catcher, he's well on his way to making it as a reliever. His fastball has clocked in at 99 mph, he has the repitoire for it and most importantly he has the mentality to make it to the bigs. Keep an eye on Hagen Danner.
Finally, I'll leave you with one last quote. I asked him my final question: Wouldn't you rather be a starter? His response?
"Whatever gets me to the big leagues man!"
As always, follow me on Twitter @Brennan_L_D. Also give Hagen Danner a follow at @HagenDanner. Definitely one of the nicest guys I've spoken to in baseball.