He'd cost a lot to acquire, but Juan Soto would be an incredible fit on the Blue Jays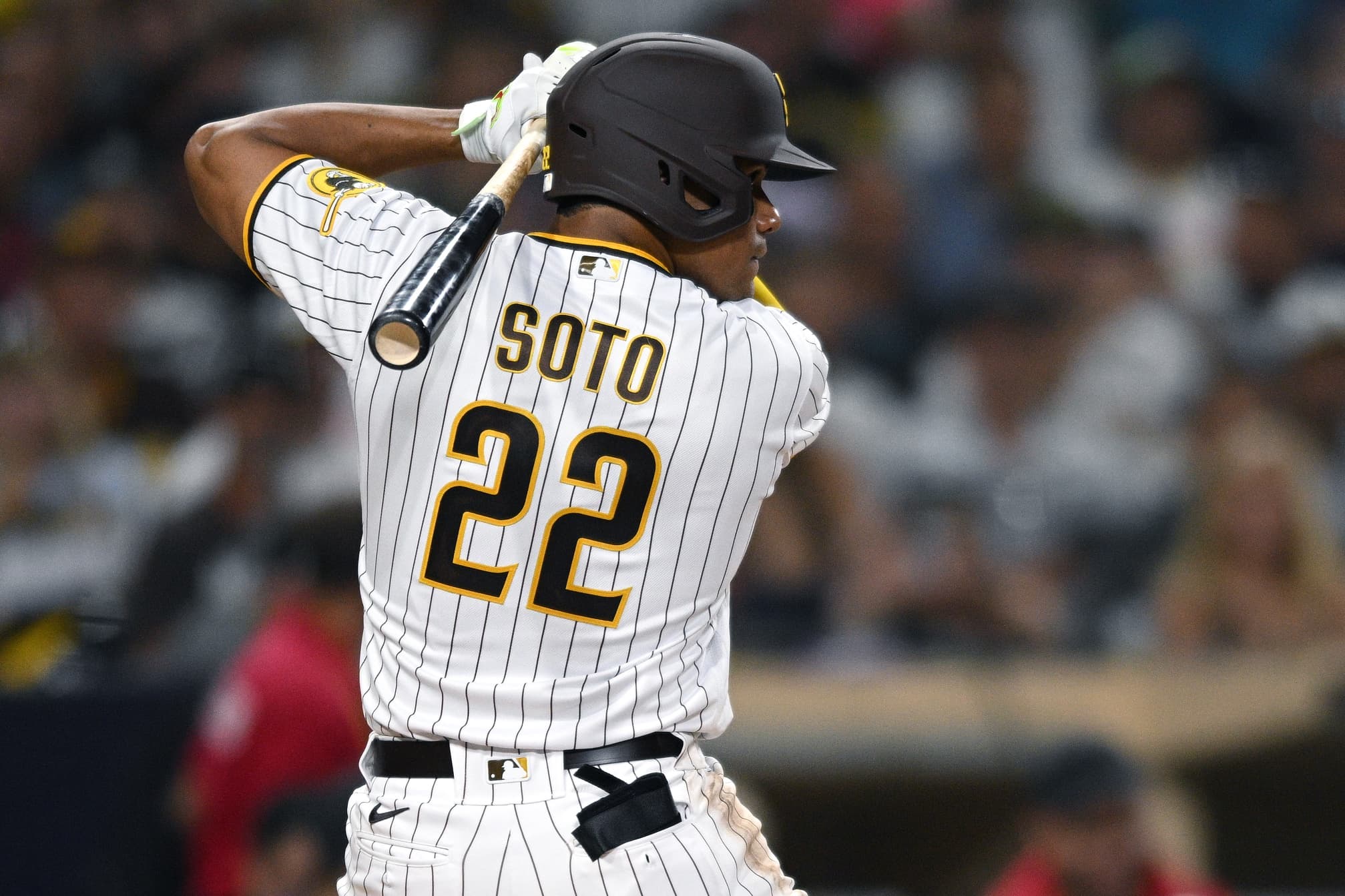 Photo credit:© Orlando Ramirez-USA TODAY Sports
The San Diego Padres are in a rough spot. 
On Wednesday afternoon, Evan Drellich, Ken Rosenthal, and Dennis Lin reported for The Athletic that the Padres took out a loan for $50 million. It's not unusual for organizations and even businesses to take out loans even if they are established, but some in the organization are worried about that loan, as it was taken out to pay payroll.
As you may know, the Padres
really
like to spend money, signing former Boston Red Sox Xander Bogaerts to an 11-year, $280 million deal the previous off-season. To start the 2023 season, the Padres had a payroll of $250 million, but reached $265,328,004 by the end of the season. For context, that was the third-highest payroll in the league behind the two New York-based teams.
The Padres will have a few players coming off the books for the 2024 season, including likely National League Cy Young winner Blake Snell, as well as closer Josh Hader. However, Juan Soto made $23 million in 2023, and that's expected to jump to around $33 million during his final go-around at arbitration. 
Without Soto's contract, the 2024 Padres have a luxury tax payroll of $193,863,678, so they have very little room before hitting the $237,000,000 tax threshold. So how could they remove some salary to be able to pay players without needing to take out a loan?
Well, they could trade Soto to the Blue Jays.
The 25-year-old outfielder is one of the best hitters in the league and just finished his sixth year in the major leagues. He slashed .275/.410/.519 with a career-high 35 homers in 708 plate appearances. Moreover, he had a higher BB% (18.6%) than K% (18.2%) in 2023, posting a 5.5 fWAR.
For his career, he's slashing .284/.421/.524 with 160 homers in 3375 plate appearances, with a 19 BB% and a 17.1 K%. In six years, he's accumulated 28.4 fWAR.
Now, of course, the cost for Soto would be insane and there's a risk that whoever trades for him might wind up losing him for nothing in free agency this winter. However, he fits the Blue Jays really well, as he hits for power and the team needs a left fielder for the upcoming season. 
Toronto could also afford Soto's contract, as they have numerous players coming off the books. This includes Matt Chapman's $12 million, Hyun Jin Ryu's $20 million, Kevin Kiermaier's $9 million, Brandon Belt's $9.3 million, and Whit Merrifield's $6.75 million. They have an estimated $197,780,952 in luxury tax payroll, so there's plenty of room before they hit the $237,000,000 threshold, which they passed last season for the first time in team history. 
The cost would be immense for Soto, but it'd be well worth it as they'd have their first serious left-handed-hitting power-threat batter since Adam Lind was around. Not just that, despite already being one of the best hitters in the game, he's still young and there's certainly a reason to believe we haven't seen the best of Soto just yet. 
---
As always, you can follow me on Twitter, Instagram, and Threads @Brennan_L_D.
---