How should Blue Jays utilize José Berríos in the wild-card series?
Photo credit:John E. Sokolowski-USA TODAY Sports
After clinching home-field advantage in the wild-card round, the Toronto Blue Jays can begin preparing for Friday's opener at the Rogers Centre. As part of that, they must determine how to align their starting rotation after Wednesday's regular-season finale.
The series opener against the Seattle Mariners or Tampa Bay Rays is likely to be started by Alek Manoah, who'd be pitching on two extra days of rest. As for Game 2, the team could potentially make its decision based on the outcome of Game 1. If victorious, they could save Kevin Gausman for a potential Game 3 or position him to start Game 1 of the ALDS. But that might be getting a little too cute.
In all likelihood, Gausman will be scheduled to pitch in Game 2 of the wild-card series, leaving a potential winner-takes-all Game 3 up for grabs between Ross Stripling and José Berríos. And whoever doesn't start that contest will head to the bullpen to serve in relief.
Should the Blue Jays roll with Berríos? Or would it make more sense to call upon Stripling, who's fared better this season? That debate is likely being discussed throughout the organization right now.
It won't be an easy decision to make. The franchise signed Berríos to a seven-year, $131-million contract last off-season for exactly these moments. And yet, they'd be running a pretty large risk by starting the 28-year-old with their season on the line in the post-season.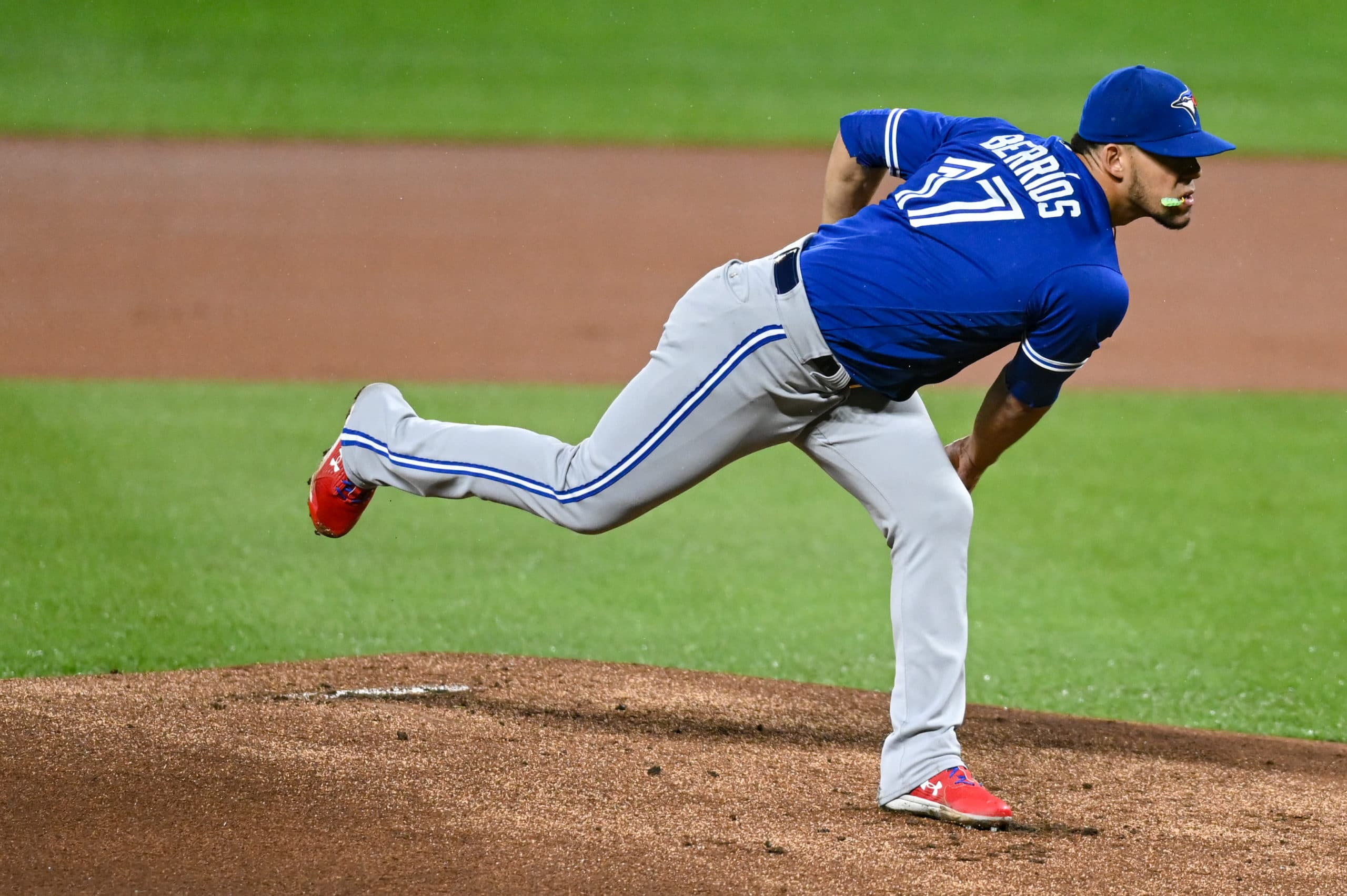 Credit: Tommy Gilligan-USA TODAY Sports
The regular season wasn't kind to the right-hander, who proved inconsistent across 32 starts, resulting in a career-worst 5.23 ERA –
highest among qualified big-league starters
– over 172.0 innings. He also earned a miserable 5.10 xERA and 4.55 FIP, with opponents hitting .286 AVG and .328 BABIP against him.
A lack of swing and miss was a constant theme for Berríos all season, as his strikeout (26.1 per cent in 2021, 19.8 per cent in 2022) and whiff rates (23.7 per cent in '21, 21.2 per cent in '22) both endured significant declines. The 6-foot righty finished with fewer than 150 punchouts for just the second time over the last five seasons, with the other impacted by the COVID-shortened 2020 campaign.
Berríos also failed to avoid hard contact, producing the third-highest barrel rate against (9.5 per cent) and the fourth-highest hard-hit rate against (43.4 per cent) in the majors. That was less than ideal for someone who was already struggling to induce swings and misses.
Stripling, on the other hand, enjoyed a breakout performance during the regular season. The 32-year-old opened as a reliever, performing effectively in that role, and has dominated as a starter since taking over for the injured Hyun Jin Ryu.
In 19 starts since June 6, the right-hander has registered a remarkable 2.64 ERA and 3.06 FIP across 102.1 innings. He also carries a .219 OPP AVG, .256 OPP BABIP, 20.6 per cent strikeout rate and a 3.0 per cent walk rate. His 2.6 fWAR rating is tied for eighth among qualified AL starters during this span.
If the Blue Jays were strictly basing their decision on this season's results, Stripling would undoubtedly possess an edge over Berríos, but other factors are likely at play. One of them will surely be previous post-season performances, which is an area that should favour Berríos.
The former Minnesota Twin has made the playoffs three separate times in his career, logging 12.0 innings over two starts and one relief appearance. His most recent outing went fairly well, as he allowed just one run on two hits and two walks while recording four strikeouts through five innings versus the Houston Astros in Game 2 of the 2020 Wild Card.
Berríos' first career post-season start wasn't as notable, although he still proved effective against New York at Yankee Stadium in Game 1 of the 2019 ALDS. The right-hander tossed four innings, surrendering three runs, one earned, four hits and three walks. He also struck out a playoff-high six batters before departing.
Game 1 of the 2017 Wild Card, which also took place in the Bronx, is the only instance when the two-time All-Star has struggled in the playoffs. In his first post-season appearance, the first-round selection from 2012 debuted as a reliever and provided three innings of relief, allowing three earned runs on five hits, including a two-run blast from outfielder Aaron Judge.
So while Berríos has struggled for much of this season, he's been accustomed to pitching under the bright lights of the post-season. That could help him perform well this time around. As for Stripling, though he features four seasons of playoff experience, all have been as a reliever.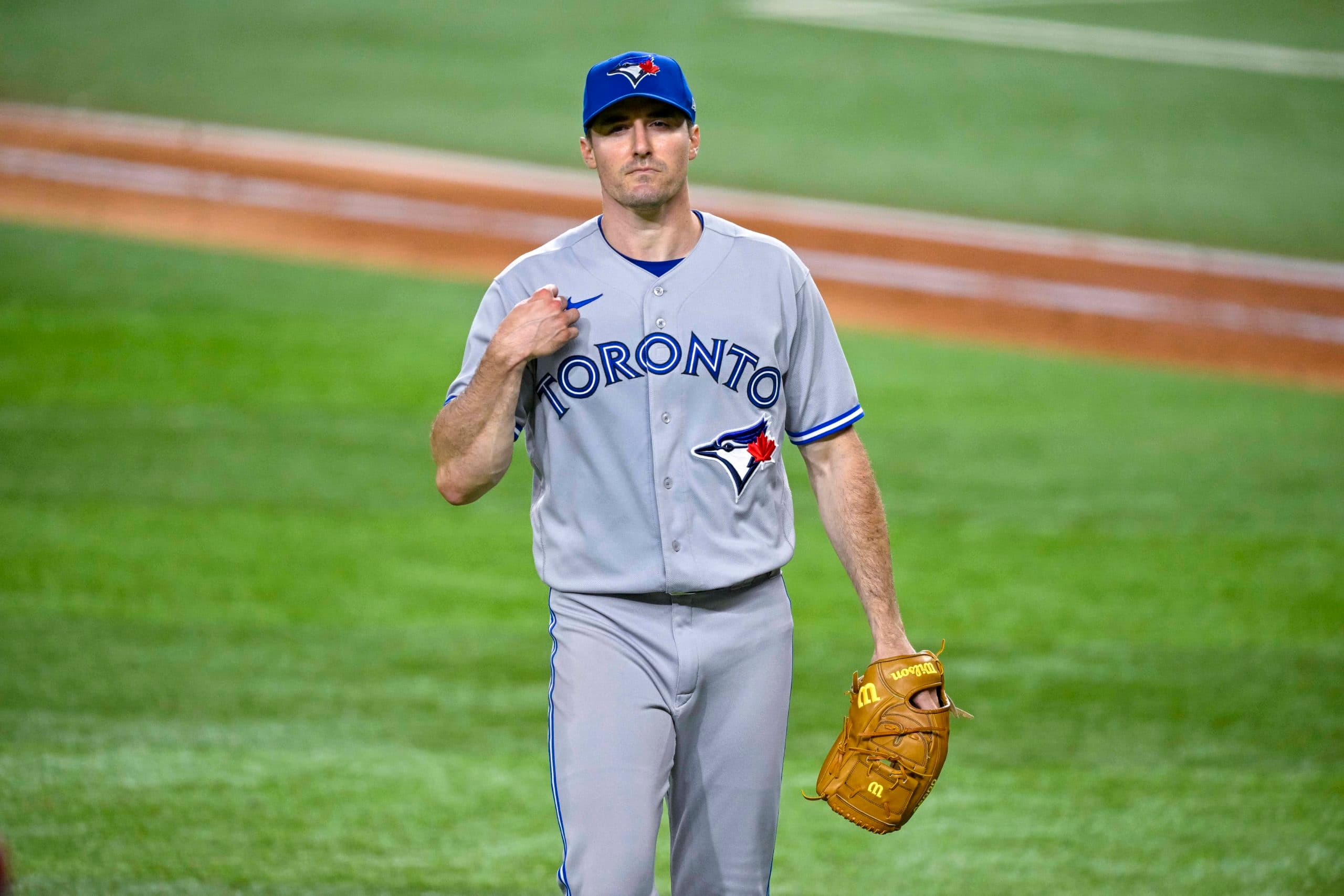 Credit: Jerome Miron-USA TODAY Sports
With the Los Angeles Dodgers, Stripling made 11 relief appearances, completing 8.1 innings through three post-season trips. But the versatile hurler didn't enjoy much success, performing to a 5.40 ERA, .344 OPP AVG and .367 OPP BABIP. He did deserve a better fate, however, as he registered a 2.92 FIP.
His only playoff appearance with the Blue Jays came in 2020, though he allowed one run on three hits and struck out one hitter over 1.1 innings against the Tampa Bay Rays in Game 2 of the Wild Card. But he's also improved his craft since then, incorporating his enhanced changeup much more than before, which has elevated his performance in 2022.
Still, it might make more sense to lean towards Berríos, especially if Toronto's opponent ends up being the Seattle Mariners. The native of Puerto Rico has fared pretty well against them, registering a 3.27 ERA and 2.92 FIP over seven career starts. He also owns a 25.3 per cent strikeout rate, 5.1 per cent walk rate and .266 OPP AVG.
This season, in particular, Berríos produced one of his best starts of the season at home versus the Mariners, where he tossed seven shutout innings, surrendering just six hits and two walks while posting four punchouts. And since the Rogers Centre will host all three games of the wild-card series, that could prove to be a recipe for success.
Another encouraging factor is that aside from rookie sensation Julio Rodriguez, who leads all Seattle hitters in hard-hit rate (50.7 per cent), their offence doesn't create an alarming amount of hard contact. They generate plenty of barrels (8.1 per cent), tying them for 11th in the majors, but they rank 23rd in hard-hit rate (36.4 per cent). So most of their balls are hit below 95 m.p.h., which bodes well for Berríos.
Berríos is also coming off a promising end to his regular season, holding the Baltimore Orioles to just one run on three hits and three walks over six innings in Monday's 5-1 victory. He also struck out at least five batters for a second consecutive outing, punching out 12 combined over his last two starts.
The veteran righty's first full season with the Blue Jays hasn't gone as planned. Given his playoff experience and prior success against the Mariners, though, it probably makes the most sense to start him in Game 3 of the wild-card if the series extends that far. Stripling, meanwhile, could return to his familiar role in the bullpen for what'll almost certainly emerge into an all-hands-on-deck approach.
It wouldn't be ideal for the Blue Jays to use both Berríos and Stripling, especially with just one day separating Game 3 of the wild-card and Game 1 of the ALDS, though if that's what it takes to advance to the second round, interim manager John Schneider will surely make that sacrifice.
Because, after all, it doesn't matter how you win the post-season, just as long as you win.
---