'It's all hands on deck' as Blue Jays construct Chapman-Bichette-less infield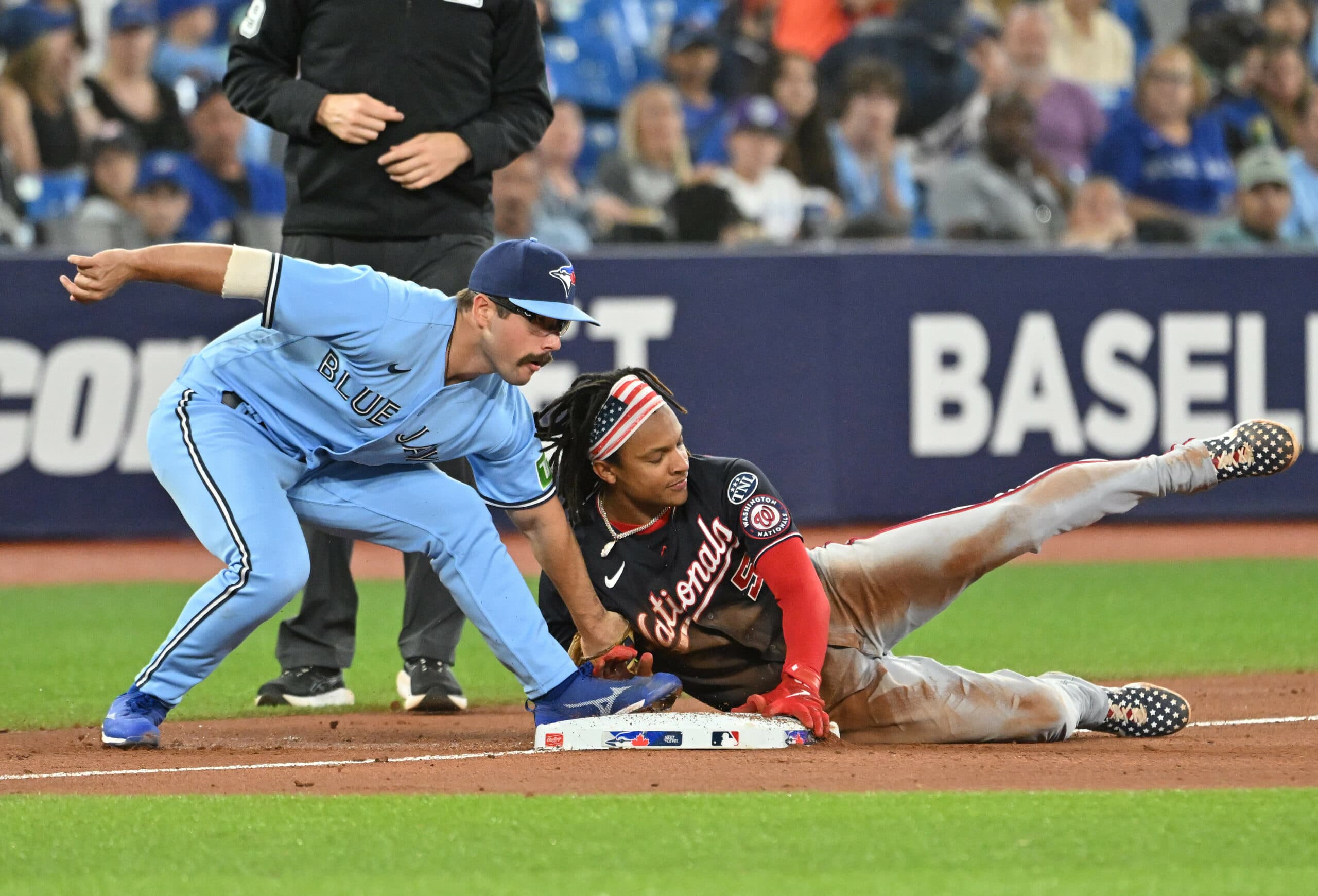 Photo credit:Dan Hamilton-USA TODAY Sports
There is no replacing Matt Chapman at the hot corner. And the same goes for Bo Bichette's offensive prowess. That is pretty obvious. But until they each return from injury, the Toronto Blue Jays must find a way to piece things together in their absences.
That process began Monday night at Rogers Centre as the streaking Washington Nationals – winners of 11 of their previous 15 heading into the series opener – arrived north of the border.
With Chapman (right middle finger) landing on the 10-day IL prior to first pitch, the club recalled infielder Ernie Clement – who's hit .339/.394/.533 with 11 home runs and 55 RBIs in 69 triple-A contests with Buffalo this season. Not only that, but the 27-year-old also received the nod at shortstop as the ailing Bichette sat out due to right quad tightness.
Davis Schneider, meanwhile, made his first career big-league start at third base alongside Clement, forming an unfamiliar duo on the left side of the infield. While that was undoubtedly shocking for most, it will probably be the first of several short-term combinations.
Bichette could make up half of that pairing depending on the status of MRI results. If he misses more time, though, the list of potential replacements should be easy to locate: Clement and Santiago Espinal.
Toronto's rookie sensation is expected to receive his fair share of opportunities to roam the hot corner, and understandably so, considering he's slashed .425/.521/.875 with three doubles and five home runs across his first 12 MLB games. It will be crucial to insert his red-hot stroke into the lineup as much as possible, especially with Bichette's presence missing atop the order.
The 24-year-old righty hasn't played much third base in recent years, logging most of his reps with the Bisons at second and left field. He has, however, compiled 914.1 innings at third in his professional career since joining the Blue Jays organization as a 28th-round selection in 2017.
If Schneider runs with the opportunity, it could be his for the taking until Chapman – a free agent after this season – returns from the IL. But there should be additional playing time for others, too, as the entire roster will need to pitch in while two of the club's most important pieces remain sidelined.
"It's all hands on deck," the Blue Jays skipper told reporters prior to Monday's 6-3 victory over the Nationals, including
Sportsnet's David Singh
. "You try to take positives out of it, right? It's opportunities for guys to play who haven't been playing as much. It's opportunities for guys to play in spots that they're maybe not as comfortable with, but it's going to be grimy, it's going to be dirty, it's going to be hard. It's going to be different than what we're used to, running out the same guys out for basically five months.
"So, you got to look at it as an opportunity for guys to step up and you get creative when you have to."
Part of getting creative with the roster could involve using Whit Merrifield at third base – a position he owns just 31 career innings at and hasn't played since 2017. Nevertheless, the 34-year-old's defensive versatility could have him lined up at his sixth different position, not including pitcher, since being acquired via trade from the Kansas City Royals last season.
Cavan Biggio could also be a potential option at third, where he's played nine innings over four appearances this season. It probably wouldn't be an ideal match, mainly because of his previous woes at that position, though it'd allow his lefty bat to remain in the lineup more consistently.
One of the more eyebrow-raising scenarios up for discussion, at least on the surface, is Vladimir Guerrero Jr. possibly returning to third base. For now, though, he'd only move off first in late-game situations if there were no other alternatives.
As displeasing as that may sound, it does make the most sense. Of Guerrero's 3,441 defensive innings since 2020, only four have occurred at the hot corner – two in 2021 and two in '22. And it's also not like his defence at first (-7 DRS, -15 OAA) has been Gold Glove-calibre this season.
Still, the Blue Jays must be flexible in this brief window without Chapman – whose
10 DRS lead all AL third basemen in 2023
– and Bichette to ensure their most productive nine hitters receive sufficient at-bats amid this pivotal stretch versus sub-.500 competition.
---