It's far from a guarantee that the Yankees will repeat as AL East champs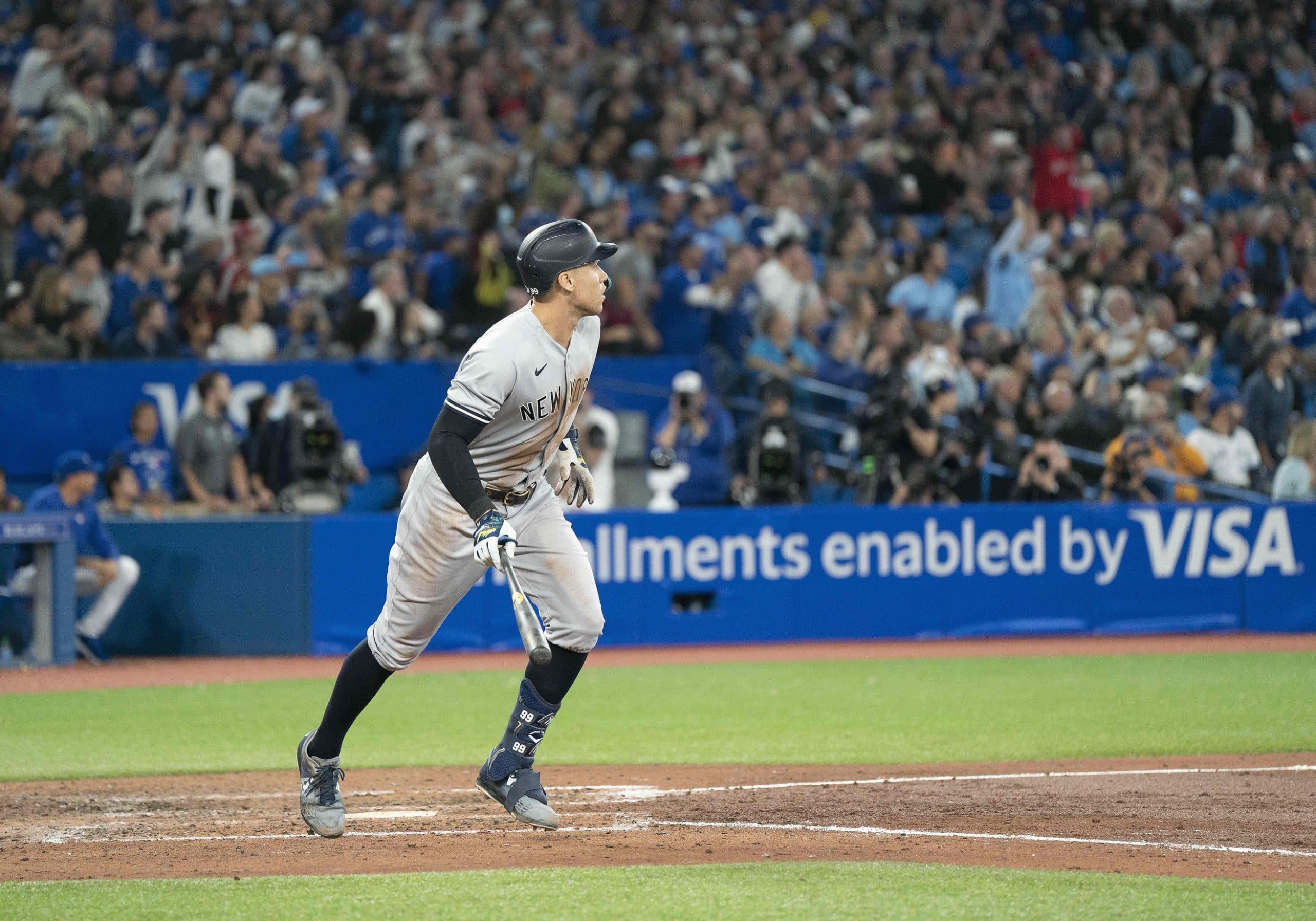 Photo credit:© Nick Turchiaro-USA TODAY Sports
Each team has expectations for the start of a season; sometimes, they don't live up to them.
Look no further than the 2022 Toronto Blue Jays. Although the team made the playoffs and had home field advantage in the wildcard round, they were promptly swept. What's more, they were expected to contend at least for the American League East division title, which didn't end up happening.
Juxtaposed to this is what the New York Yankees managed to do in 2022. I went so far as to rank their offense as the fourth-best in the AL East. While overall, the bats were pretty weak, I don't think anyone expected Aaron Judge to have one of the best seasons in baseball – ever. The Evil Empire went on to win the division, and were swept in the American League Championship Series.
Heading into the 2023 season, the roles are reversed. The Yankees are expected to win the division, while the Jays are expected to finish in a wildcard position at best. Let's look at what went wrong for the Jays in 2022, and why the Yankees aren't a lock to win the division in 2023.
What went wrong for the Blue Jays in 2022:
There were several factors that led to the Jays not hitting their expectations. The big two issues were pitching and regression. We'll do this section by section, starting with regression.
Regression of their stars:
The most noticeable factor is the play of their young guns – Bo Bichette and Vladimir Guerrero Jr. Guerrero still had an impressive season, as he slashed .274/.339/.480 with 32 homers in 706 plate appearances. He also won a gold glove at first base, which is quite the turnaround. He finished the season with a 132 wRC+.
However, Guerrero played at an MVP level in 2021 and would have won it in any other season. He slashed .311/401/.601 with 48 homers in 698 plate appearances. He also had a career-high 12.3 BB% (dropped to 8.2% in 2022). In 2021, Guerrero had a 166 wRC+, and was only beaten by Shohei Ohtani's even more impressive season.
On paper, Bo Bichette had his best full season in terms of offensive production, even better than the 2021 season. In 2022, he slashed .290/.333/.469 with 24 homers in 697 plate appearances, finishing with a 129 wRC+ (he had a 122 wRC+ in 2021).
However, that's not the whole story. From the start of the season to August 20th, the 24-year-old shortstop slashed .256/.295/.420 with 17 homers in 511 plate appearances for a 103 wRC+. So he was slightly above average offensively and well below average defensively for the majority of the season.
If not for one of the most spectacular September's in history (.406/.444/.662, seven homers, 217 wRC+), Bichette's numbers would have taken a sharp decline. It begs the question, is it more important to look at the overall sample size of the season while neglecting the fact that Bichette didn't play up to his standards for the majority of the season?
While both Guerrero Jr. and Bichette regressed some, offence was found in other players. Both Alejandro Kirk and Danny Jansen were well above-average hitters, and George Springer was
relatively
healthy, at least compared to 2021. It also helped that from June 1st to the end of the season,
Teoscar Hernández was arguably their best hitter with a 146 wRC+.
If Bichette and Guerrero Jr. played to their 2021 standards and didn't regress, there was a solid chance that they would have been able to win the title. Especially if their pitching was better.
Pitching:
Unlike in 2021, the Blue Jays' bullpen was actually quite good for the majority of the season. With the addition of Anthony Bass and Zach Pop at the trade deadline, it was one of the stronger bullpens in the league in terms of earned run average. While there was a desire for swing and miss in high-leverage, the bullpen wasn't the issue.
Starting pitching, on the other hand, was not so great. Alek Manoah pitched like an ace, posting a 2.24 ERA and a 3.35 FIP in 196.2 innings pitched. His K% dropped from 27.7% to 22.9%, but he limited contact to the soft variety and earned a Cy Young nomination. 
Kevin Gausman was also excellent, posting a 3.35 ERA and a 2.38 FIP in 174.2 innings pitched. He had a 28.3 K% and a 3.9 BB% for a 24.4%. His season would have been even better if not for a sky-high line drive percentage, as well as the highest recorded BABIP in history.
Heck, even Ross Stripling had a tremendous season. He had a 3.01 ERA and a 3.11 FIP in 134.1 innings pitched. Although he didn't register a ton of strikeouts (20.7 K%), he had a fantastic 3.7 BB%, and limited contact to the soft variety as well. His biggest issue was not being stretched out for a large portion of the season.
After that, the starters were uh, not great. Between 2017 and 2021, José Berríos had a 3.74 ERA and a 3.79 FIP in 793.1 innings pitched, along with a 24.4 K% and a 7 BB%. He was the model of consistency. The 2022 season was a different story for the 28-year-old. He had a 5.23 ERA and a 4.55 FIP in 172 innings pitched. Moreover, his K% dropped to 19.8% (down from 26.1% in 2021), while his 6 BB% was still solid.
There was also the issue of the fifth spot in the rotation. Yusei Kikuchi had a 5.19 ERA and a 5.62 FIP in 100.2 innings pitched (5.25 ERA, 5.94 FIP, 82.1 innings as a starter). Hyun-Jin Ryu, who went down with a UCL injury midway through the season had a 5.67 ERA and 4.78 FIP in 27 innings pitched. Furthermore, their trade deadline acquisition, Mitch White, posted a 7.74 ERA and a 3.76 FIP (which isn't too bad) in 43 innings pitched with the Jays.
So the Jays had two borderline aces in Alek Manoah and Kevin Gausman. A surprising number 3 in the rotation in Ross Stripling, but lacked a ton of innings pitched. That left four pitchers who had rough seasons to fill in the final two spots in the rotation.
In fact, this could be a lingering problem in the 2023 season for the Blue Jays. If Berríos continues to struggle, and one of Kikuchi or White can't figure it out, starting pitching could end up being a need at the 2023 trade deadline.
It also didn't help that the Yankees exceeded expectations. Speaking of which…
What could go wrong for the New York Yankees in 2023:
By signing one of the best pitchers in the league, Carlos Rodón, in the off-season, the Yankees have improved. Let's look at their offense and pitching, and how they aren't a lock to win the division, much like the Jays in 2022. Spoiler alert: The team is old.
Offense:
The Yankees' bats are the most questionable part of their hopes of winning a second consecutive AL East title.
For starters, will Aaron Judge repeat his amazing 2022, when he slashed .311/.425/.686 with 62 homers in 696 plate appearances for a 207 wRC+? Probably not, although he'll still have a fantastic season.
The rest of their project offense is alright, but not one of the best lineups in the league. Gleyber Torres, Anthony Rizzo, and Giancarlo Stanton all had a wRC+ above 115 last season. However, both Rizzo and Stanton are 33 years old, which means that they could start to decline soon. The same could be said for DJ LeMahieu, who finished with a 116 wRC+ in 2022, but is going to be 34 years old to start the season.
Former MVP Josh Donaldson has already started his decline, as the former Blue Jay posted a .222/.308/.374 slash line in 546 plate appearances in 2022 for a 97 wRC+. Switch-hitting outfielder Aaron Hicks hasn't had a wRC+ above 100 since the plague year and has spent the past few seasons injured as well.
Jose Trevino is the best defensive catcher in the league with no argument, but his bat has always been below average. The bad bat/good defence also goes for Isiah Kiner-Falefa.
The Yankees do have a litany of good position player prospects on the precipice of making the team, such as Oswaldo Cabrera, Oswald Peraza, and Anthony Volpe. If they can play well, it could be a boost in the arm for the Yankees offense which doesn't look great on paper.
Pitching:
Then we come to their pitching. The aforementioned Rodón is fantastic, as he posted a 2.88 ERA and a 2.25 FIP in 178 innings pitched. There are some injury concerns with Rodón, but he's been healthy the past two seasons, pitching 310.2 innings.
Their number two in the rotation, Gerrit Cole, has regressed quite a bit since the sticky-tack ban. Since the ban occurred on June 21st, 2021, Cole has posted a 3.69 ERA and a 3.44 FIP in 292.1 innings pitched. While his K% of 32.4% remains elite, and his 6.7 BB% is on the low side, Cole hasn't done a great job of keeping the ball in the park since becoming a Yankee. He allowed 33 homers this season alone, and it's a notable issue. It appears that his time as a Cy Young contender has come to an end.
Luis Severino had his first relatively healthy season in a while in 2022, posting a 3.18 ERA and a 3.70 FIP in 102 innings pitched. This saw him record a 27.7 K% and a 7.4 BB%, solid numbers for a number three in the rotation. Like Rodón, health remains a big question mark for Severino.
Left-handed pitcher Nestor Cortés was the Yankees' best pitcher in the 2022 season. He posted a 2.44 ERA and a 3.13 FIP in 158.1 innings pitched, along with a 26.5 K% and a 6.2 BB%. Despite not throwing hard at all (averaging 91.7 mph on the fastball), Cortés has been rather impressive the past two seasons. Will he continue his success? I think there's a good chance he will.
The last spot should've been held by Frankie Montas, but there's a chance he missed the season due to shoulder surgery.
That would leave Domingo Germán as their fifth starter, and he posted a 3.61 ERA and a 4.44 FIP in 72.1 innings pitched in 2022. Not awful, but they could run into the same issues as the Jays with the fifth spot in the rotation.
Their bullpen is also pretty solid, with Clay Holmes, Wandy Peralta, and Ron Marinaccio all posting sub-3.00 ERAs. If Michael King can return to full health, it's a solid bullpen. However,  I would argue that the Jays' bullpen is actually better.
What to make of these expectations:
The great thing about baseball is that it isn't played on paper. The Jays had expectations that they'd be the best team in the American League East in 2022, but everything had to be perfect. The same can be said for the Yankees' expectations heading into 2023. While they currently look like the best team on paper, a lot will have to go right for them to win their second straight AL East title.
Who knows what the 2023 season will bring, but don't write off the Jays winning the AL East division just yet!
As always, you can follow me on Twitter and Instagram @Brennan_L_D
---