It's time to talk about a Danny Jansen contract extension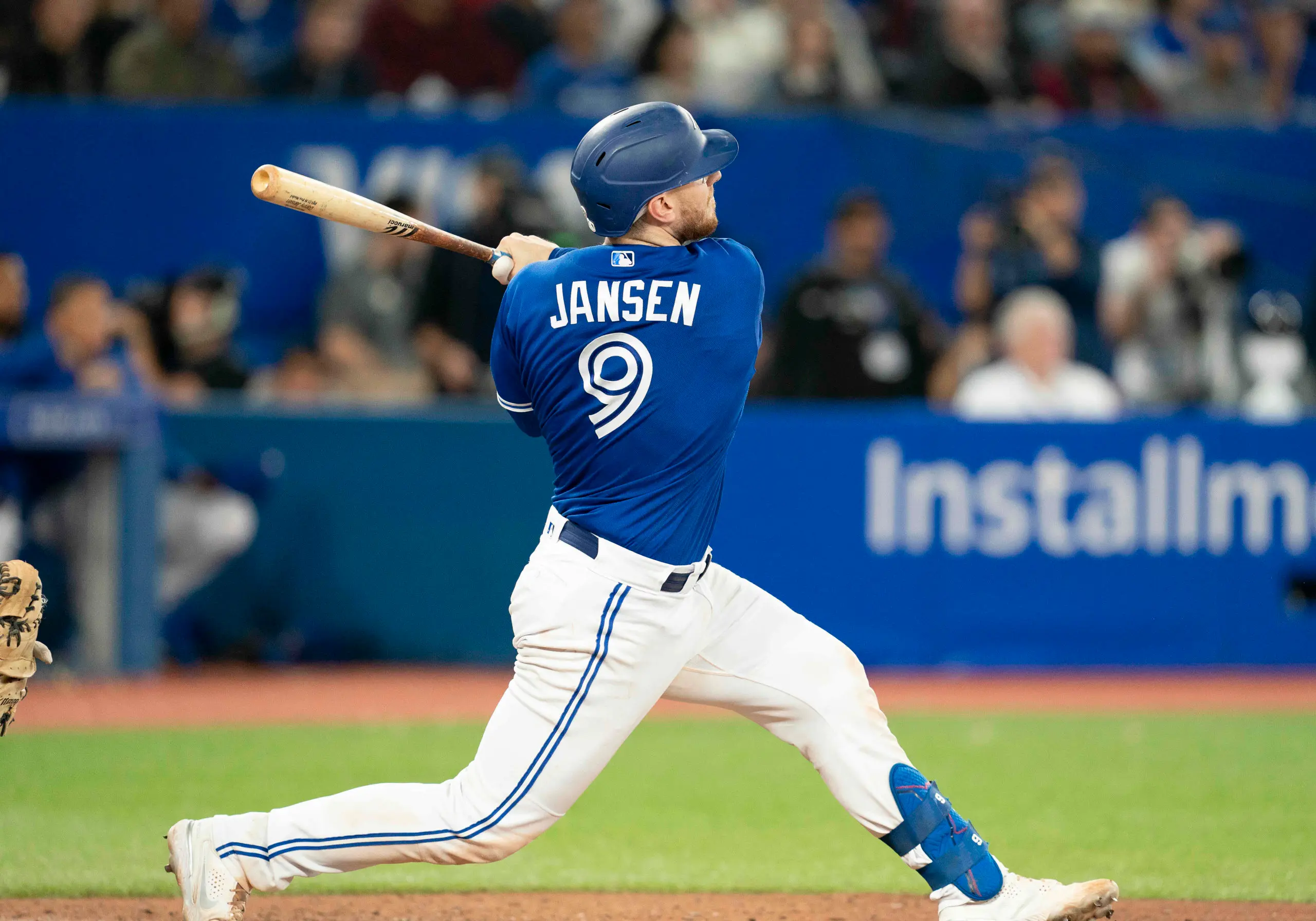 Photo credit:Nick Turchiaro-USA TODAY Sports
Something I recently noted in a short (for me) Twitter thread had to do with the priorities that are dictated by the realities of how much control the Blue Jays have over their core, high-value, players.
That was part of the thought process as I was framing up the
Matt Chapman column that went up last week
. At the time I expected that to be a one-off because he's the only key player who's set for free agency next winter.
He's not alone, of course. Ryu, Keirmaier, Merrifield, Bass, and Garcia will also be on the market (along with the money they still owe Grichuk, that's a touch over $60 million dollars off the payroll) and there are a few other guys who are currently arbitration eligible that likely won't be held over to 2024 even if they somehow make it through 2023). Basically all those guys the team can tolerate losing, as they aren't integral core players. But a certain recent event prompted me to go a step further.
Beyond those six mentioned players who are in their last year of control, this is how the rest of the projected 2023 roster looks:
Free after 2024: Jansen, Kikuchi, Cimber, Richards
After 2025: Guerrero, Bichette, Romero, Swanson, Biggio, Bassitt, Mayza
2026: Gausman, Springer, Varsho, Espinal, Kirk, Pearson
2027: Manoah, White, Pop
These assume continuous service from now on. For example, if Pearson were to pitch in Buffalo until June, his free agency would fall back a year, but really he's the only one here that's likely to spend that much time off of the major league roster. But I digress. Tell me what's the big takeaway here.
Or I'll tell you… There's also only one core player who's set to walk after 2024: Danny Jansen.
Now, to be honest, I hadn't given a massive amount of thought about the potential of extending Jansen, virtually none at all until Christmas weekend because before the Varsho trade we didn't even know if he was going to be on the team next year, let alone two more. Even after, I was focused on Chapman and Jano was at best the guy I should get around to thinking about later at some point. Then Alex Anthopoulos forced the issue. As you probably know, last week AA signed newly acquired catcher Sean Murphy to a six-year, $73 million contract extension before he ever put the gear on for Atlanta.
This triggered me to ask the obvious question — what does this deal say about what a theoretical Jansen extension would look like?
As it turns out,
Shaun Doyle at JFTC
had a similar thought process, but I'm just going to write it anyway because what else am I going to write about right now? I'll preface this by saying that I don't intend to spend any significant words on explaining why he SHOULD be extended, I'll simply offer as a predicate for the discussion of valuation that Ross Atkins cast his lot when he dealt Moreno. There's no "next big thing" in the catching pipeline. Zach Britton may eventually contribute in the majors but he's on the fringes of the Top 40 right now. That's a chicken you very much shouldn't be counting. Anyone else interesting was in short-season ball last year. If you don't re-sign Jansen, then you're going to spend money on
SOME
guy and it seems better to keep the guy you already have and clearly like a lot than to go digging in the market for someone who may well be worse and cost similar cash.
So the central point here is not "will there be, or should there be, an extension for Danny Jansen?" but "what kind of dollars are we looking at?" To arrive at that answer, the Murphy deal is amazingly instructive. Notwithstanding Alex is a ninja. Also, spoiler: Jansen is not (currently) a Boras client.
Unlike Jansen, Murphy has three years of service time as opposed to four. So his new contract bought his three arbitration years for 4 – 9 – 15, and then $15 million more each year for three years that would have been free agent years. So if I'm proposing a five-year deal for Jansen, it would cover two arbitration years and three years of his potential free agency. Murphy had been projected to get 3.5 million in his first trip through arbitration eligibility, and Jansen 3.7 in his second time. This similarity makes the front end of a potential Jansen deal really easy to project. Similar players of very similar age and similar value working off of a base projected arbitration salary also being very similar leads one to suppose that Murphy's first two contract years ($4 mil and $9 mil). You could massage it to $3mm and $10mm or something similar, equaling around $13 million in all and or maybe a little more for the win, so to speak.
What the balance of the deal would look like is where we spend some time looking into just HOW similar they are between the lines (and insofar as the front office knows, in the clubhouse). Jansen is several months younger than Murphy but both will be in their age 28 season next year. Murphy has 330 career games, and 1260 plate appearances while Jansen has 323 games and 1072 plate appearances. Other than their status vis-a-vi arbitration before Murphy's contract, it would be a challenge to find two more similar players at the same position in terms of age and experience.
So what about performance? The following advanced stats are from Fangraphs. To even out the sample size, the one-year stats are pro-rated to 150 games, and the two-year stats to 267 games (Murphy's total):
| | | | | | | |
| --- | --- | --- | --- | --- | --- | --- |
| 2022 | WAR | oWAR | dWAR | wRC+ | wOBA | BABIP |
| Jansen | 5.4 | 25 | 10 | 140 | 0.364 | 0.255 |
| Murphy | 5.1 | 13.8 | 15 | 122 | 0.331 | 0.29 |
| 2021-2022 | | | | | | |
| Jansen | 7.5 | 23.9 | 20.9 | 124 | 0.348 | 0.245 |
| Murphy | 8.4 | 12.9 | 34.1 | 113 | 0.322 | 0.277 |
The obvious distinction here is that Murphy grades out noticeably better on defense, and Jansen notably better at the plate. Even though Jano seems to be incapable of approaching a league-average BABIP. But the accumulated overall value is quite similar. The next chart is the standard counting stats (except for BR's OPS+) with Jansen's counting stats in 2022 doubled to approximate Murphy's playing time (144 games to 148) and the combined '21/'22 stats are the "per 162 games" calculation found on BR:
| | | | | | | | | | | |
| --- | --- | --- | --- | --- | --- | --- | --- | --- | --- | --- |
| | BA | OBP | SLG | OPS | OPS+ | 2B | HR | RBI | BB | SO |
| Jansen | 0.26 | 0.339 | 0.516 | 0.855 | 141 | 20 | 30 | 88 | 50 | 88 |
| Murphy | 0.25 | 0.332 | 0.426 | 0.759 | 120 | 37 | 18 | 66 | 56 | 124 |
| 21-22 (162) | | | | | | | | | | |
| Jansen | 0.243 | 0.321 | 0.496 | 0.817 | 124 | 26 | 30 | 82 | 48 | 100 |
| Murphy | 0.236 | 0.321 | 0.417 | 0.738 | 111 | 36 | 21 | 76 | 58 | 144 |
The clear upshot here is that Jano showed more power. However, taking Murphy out of Oakland will likely see some of his doubles turn into homers. Yes, I'm aware there are sources out there in which a knowledgeable person could use to estimate how his results would play out in Atlanta and other NL East parks. No, I don't know what they are or how to use them. But I have a pretty good hunch they would confirm my assumption here. Still, these guys remain very much alike which leads me to conclude that their contracts should be very much alike.
If I were in Atkins' place, and with the caveat that I only know the publicly facing stuff, maybe he knows something I don't – I'd be having a conversation about whether Jansen would be open to more-or-less the same contract Murphy signed. As I said before, the ideal deal is probably five years, but if you have to add a sixth to get it done, that's not awful. Also, the same structure doesn't mean identical. You could, for example, make it 4/10/16/16/15/12 under the assumption that like most catchers the production might slip as he gets into his 30's. For me, the ideal structure would have that last year be an option with a million dollar or so buyout, but all that is into the weeds.
The point of all this remains: the Murphy deal is a blueprint for extending Jansen, and while the Chapman situation is more urgent, there's little reason not to commit to both before April. It might be reasonable to gather more data about Jansen's health and try next winter, but with Moreno gone the die is cast and the alternatives aren't likely to be both as good and as affordable.
---