Keep or Walk: Assuming the Blue Jays decline his $18 million option, Whit Merrifield will become a free agent for the first time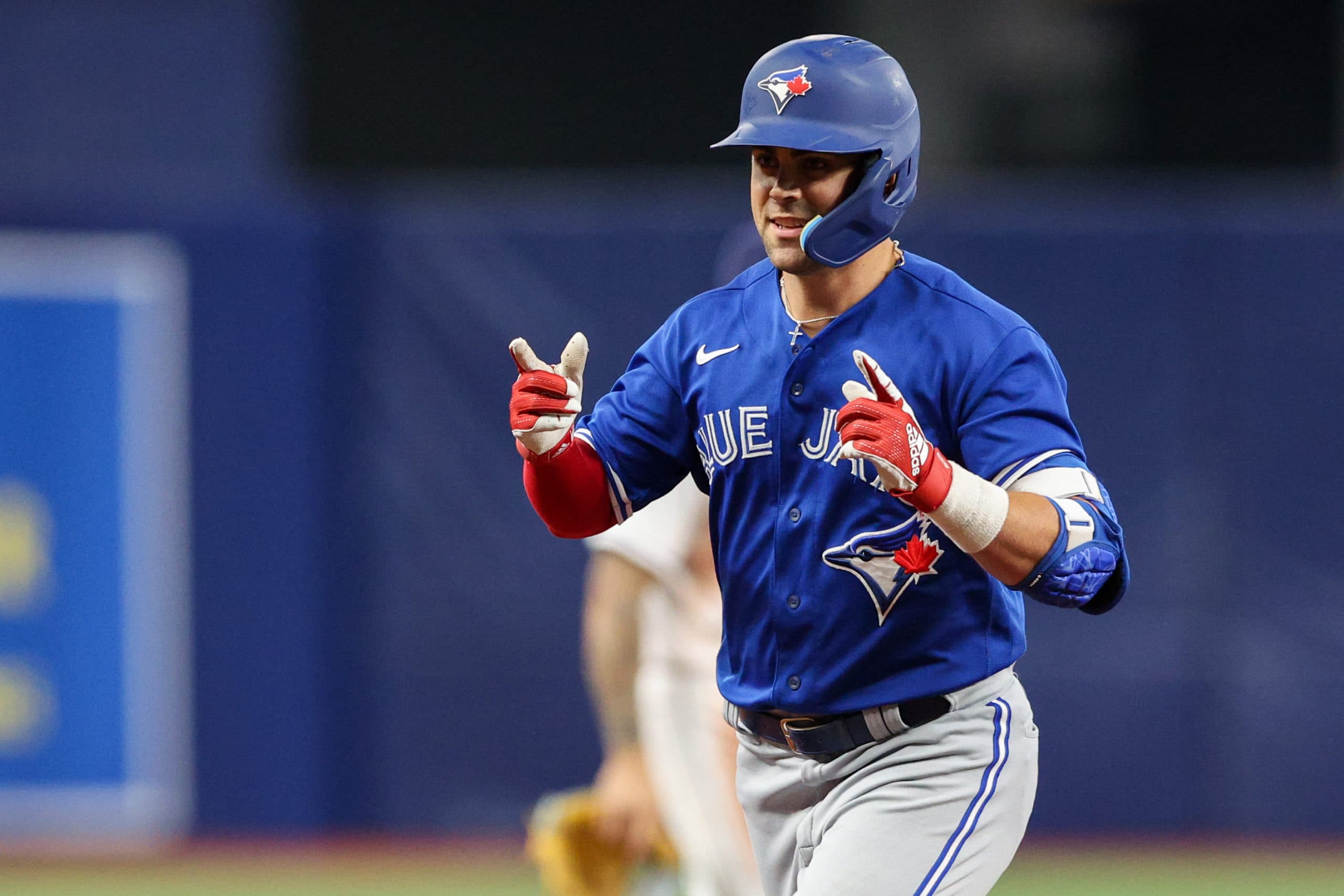 Photo credit:Nathan Ray Seebeck-USA TODAY Sports
When Whit Merrifield was acquired in 2022, it was an interesting add given that he didn't fit the team's main needs at that time.
Another starting pitcher, a legitimate swing-and-miss out of the bullpen, and a lefty bat were on Toronto's checklist, but there was some intrigue in adding Merrifield given his lengthy track record of prosperity in Kansas City.
After one and a half seasons repping the Blue Jays uniform, Merrifield has a compelling offseason coming up. He has a mutual option for the 2024 season on his current contract, but there are certainly pros and cons to bringing him back.
The case to keep Merrifield
In his age-34 season, Merrifield was actually one of Toronto's more productive bats on the season. Merrifield slashed .272/.318/.382 for the year with 11 home runs, 67 RBIs, 27 doubles, and 26 stolen bases, but his final two months of the season were inferior to what he did through the first four months. Between April and July, Merrifield posted a .303 batting average with a .781 OPS, 9 homers, and 50 RBIs, all contributing to his third career All-Star appearance.
Ingrained in that hot stretch to start the season was a 22-game on-base streak to begin the season that included six two-hit games for "Two-hit Whit". On July 28th, Merrifield was hitting so well that he was moved to the leadoff spot in the order in the wake of a George Springer slump. Merrifield would hold that position for 26 consecutive games before his numbers dropped off, and he was relegated back to his normal spot in the middle-to-bottom of the order.
Merrifield has a track record of success that has unfortunately been overshadowed by the shortcomings of the Kansas City Royals, Merrifield's first MLB team. He's led the MLB in hits twice while also leading the AL in stolen bases three times. He led the MLB in doubles in 2021 and also tripled in 2019. He also represented the Cal Ripken Jr. "Iron Man" mentality during his time in Kansas City, playing 100% of his team's games during the 2019, 2020, and 2021 seasons.
Merrifield played both second base and left field for Toronto last season, so there was room to move him around if the Blue Jays wanted to implement pinch hitters, etc. Furthermore, if he started a game in left field, John Schneider would move Merrifield to second base to finish the game, utilizing Daulton Varsho in left field and Kevin Kiermaier in center field, providing the best defensive lineup for the Jays to finish a game.
While Merrifield will turn 35 in January, he has yet to have an outlier season in which he has shown that his career is on the decline. He finished 2022 with a batting average of .250 and an OPS of .673, but that has been the only time in his eight-year career that his average has finished below .270 and his OPS below .700.
The case to let Merrifield walk
Merrifield was one of several second basemen on last year's team, but he was able to log plenty of playing time due to his positional flexibility in playing left field. Cavan Biggio, Santiago Espinal, and Davis Schneider are younger second basemen who look to all be in Toronto's 2024 plans (as of now), so keeping Merrifield would complicate that logjam further.
The twist with Merrifield's free agency is that he has a mutual option worth $18 million. Looking at Toronto's payroll breakdown, an AAV of $18 million would rank Merrifield sixth on the team, shortly behind Jose Berrios. On the other hand, that would put him ahead of Bo Bichette, Vladimir Guerrero Jr., and Matt Chapman (using 2023's figures so that placement could look different next year).
Two years ago, the $18 million tag would arguably be appropriate for Merrifield's value. Just go back and read the accomplishments I listed a few paragraphs ago; surely a team out there would toss him that bag, maybe more. Now that he is turning 35, especially given how little Ross Atkins elects to re-sign players in their 30s, that amount of money might be an overpay for another year of Merrifield.
There's always a possibility that the team and Merrifield could rearrange the dollar value and restructure the contract, but that would almost have to coincide with moving on from one of the younger guys, be it Biggio, Espinal, or Schneider. The Blue Jays should be actively pursuing power bats in the free-agent market, so the $18 million saved from this contract could be smartly used elsewhere.
Finally, realizing that there was a chance he wouldn't be returning to the Blue Jays next season, Merrifield did not hold back when it came to his thoughts on Jose Berrios getting pulled early in Toronto's ALWC Game 2 loss to the Twins. "I hated it, frankly…it's not what cost us the game, but it's the kind of baseball decisions that are taking away from managers and baseball, at this stage of the game." He also added that the team he wants to represent next has to be "focused on winning and understand baseball" and that he is "looking forward to having conversations with different teams."
The verdict
We don't quite know how the trade turned out for Kansas City and Toronto as the jury is still out on Max Castillo and Samad Taylor. However, unless one or both of them become key cogs in the Royals' rebuild, the Blue Jays look to have won this trade for now.
I'm trying not to read too much into the comments that Merrifield offered at the conclusion of the season because a lot of people internally may have had an issue with how things were handled, and Merrifield was one of the few to speak his mind to the fullest. However, it does support the idea that a split at this point may be beneficial for both sides logistically and financially.
There have been some recent rumblings that the Chicago White Sox may be interested in Merrifield as well as Royals catcher Salvador Perez, a couple of interesting names to go along with a solid base of young talent.
---
Previously…
---