Keep or Walk: Hyun Jin Ryu came back from Tommy John surgery and finished his contract on a positive note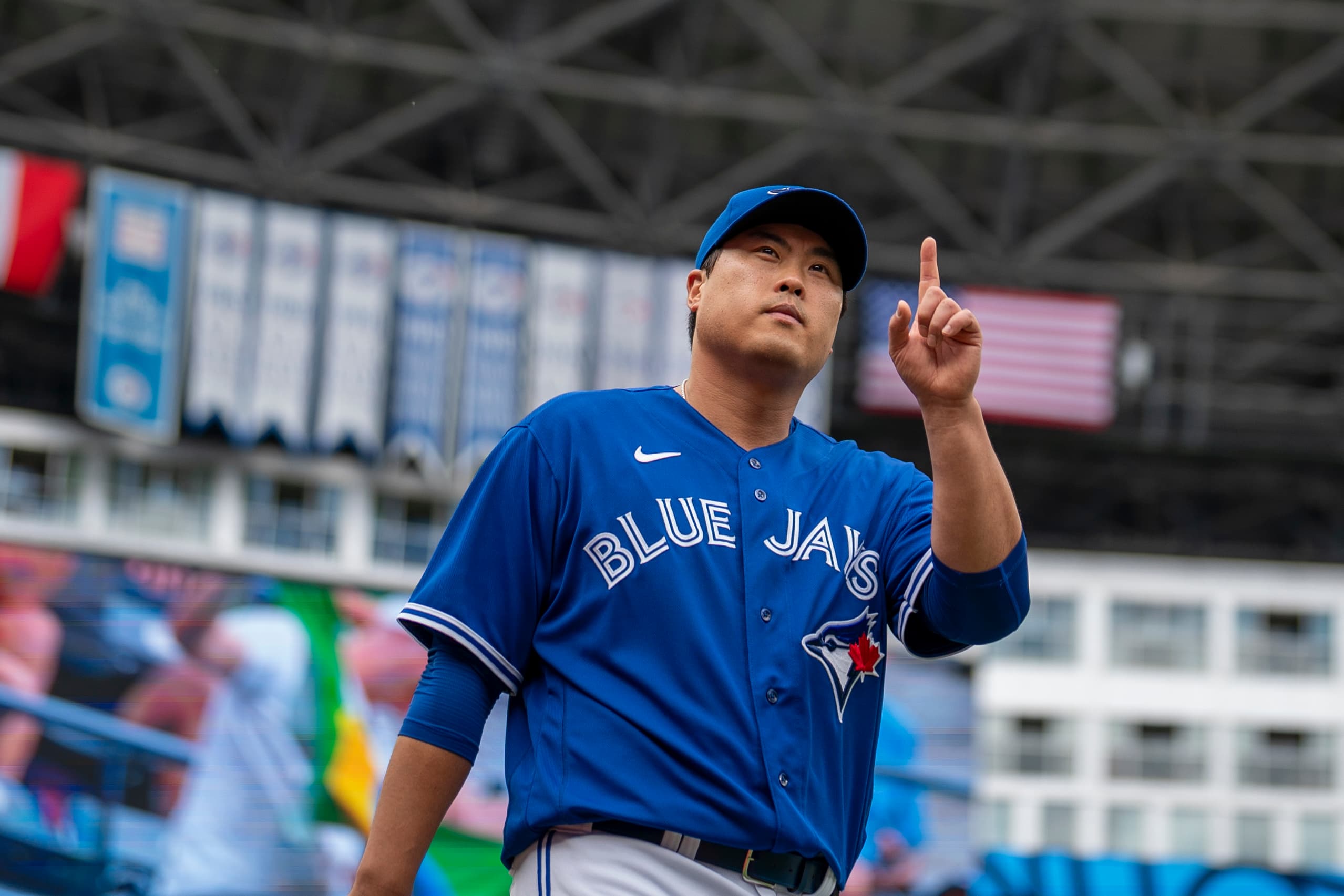 Photo credit:Kevin Sousa-USA TODAY Sports
December 22nd, 2019 – a true "Where were you when…?" day in history.
Okay, not really. But, it was a day that served some significance for Toronto Blue Jays baseball. That day marked the first step in the Blue Jays opening their next contention window as they signed Hyun-Jin Ryu to a four-year, $80 million contract. Ryu had just concluded a six-year run with the Los Angeles Dodgers and had just finished second in Cy Young voting during the 2019 season.
Using 2019 as a somewhat MLB introduction for guys like Vladimir Guerrero Jr., Bo Bichette, and Cavan Biggio, Toronto's front office felt like Ryu would be the right pitcher to spearhead a young pitching staff; we can't forget that Toronto's leader in innings pitched in 2019 was Trent Thornton.
The Blue Jays built off the Ryu signing by adding Tanner Roark and naming Nate Pearson the #5 starter for the 2020 season, and although the latter two didn't pan out very well, Ryu did his fair share of the lifting in carrying the Blue Jays to the 2020 postseason. He finished the COVID-shortened season with a 5-2 record and a 2.69 ERA, finishing third in AL Cy Young voting and 13th in the AL MVP race.
Between 2021 and 2023, Ryu battled through multiple injuries, making only 48 starts between those three seasons. Following the 2023 season, Ryu enters free agency as a respected Blue Jays player during his time in Toronto (and Dunedin and Buffalo), and while he will be 37 years old by the time next season starts, the topic of bringing him back to the Blue Jays is worth at least some consideration.
The case to keep Ryu
It's important to consider the role that Ryu would be serving if he were to come back to Toronto in 2024. The Blue Jays already have four starting pitchers under contract that, unless one of them gets traded, will begin in the rotation next season. Those guys are, of course, Jose Berrios, Kevin Gausman, Chris Bassitt, and Yusei Kikuchi, who all finished last year with at least 31 starts and ERAs under 3.90.
Alek Manoah is likely the frontrunner for the fifth and final spot in the rotation, and if Bowden Francis is viewed as a starter in the long run, then he may also have a fair audition. However, there is a lot of time between now and Spring Training, so if moves are made and the final vacancy in the rotation becomes a point of concern, Ryu would be an option.
Ryu missed the first four months of the 2023 season recovering from Tommy John surgery, and he joined the team during their playoff push for the final two months of the season. He wasn't a Cy Young candidate, but he showed little to no rust in the eleven starts he made between August and September. Ryu posted a 3.46 ERA in those starts with a 1.29 WHIP, with those and many other stats not falling too far from his career averages. If anything, it showed that he was/is a competent option for a team in a competitive window.
Finally, this may be a personal opinion of mine, but Ryu's style really complements the rest of the rotation. Ryu is a finesse pitcher; his fastball averages 88 mph, and he does an excellent job mixing his pitches and working with deception, which is a major name to his game.
Toronto's rotation features a lot of calling cards, whether it be Kikuchi's velocity, Gausman's splitter, or Bassitt's deep pitch mix. Ryu is just another pitching style thrown in the melting pot.
The case to let Ryu walk
The case against Ryu features a lot of the stereotypical reasons why you wouldn't re-sign a veteran player. Health is a huge factor with Ryu, and it's worth revisiting that he's only averaged 16 starts in each of the last three seasons. 2020 was the last time that he had gone an entire season without a stint on the IL, and you could argue the shortened season assisted with that feat.
As I mentioned earlier, Ryu will enter the 2024 season at age 37, and the Blue Jays, under Ross Atkins, have not re-signed many players above the age of 30. It's also worth noting that Ryu didn't even make the postseason roster for Toronto's Wild Card series against the Twins, as the Jays had a lot of their postseason pitching stock invested in the other four starters. I'd expect it to be the same way going forward.
Toronto also has a sufficient amount of internal depth for that fifth spot in the rotation. Again, it seems like Manoah's job to lose at this point, but Francis and maybe even Ricky Tiedemann might be at the forefront of Toronto's mind for the backend of the rotation. Why go spend money on something you already have?
The verdict
Ryu has had an accomplished career and Blue Jays fans should be grateful that part of that was spent in Toronto. Despite Ryu's contract expiring, he is not eligible for the qualifying offer since he already received and exercised one back in 2019 from the Dodgers.
There is definitely demand for pitchers like Ryu, so it'll only be a matter of time before he finds a new home. Ryu loves Toronto, and I think Toronto should love him back. However, I think it's safe to say Ryu won't be back in Toronto next season.
---