Looking back at Teoscar Hernández' best moments as a Blue Jay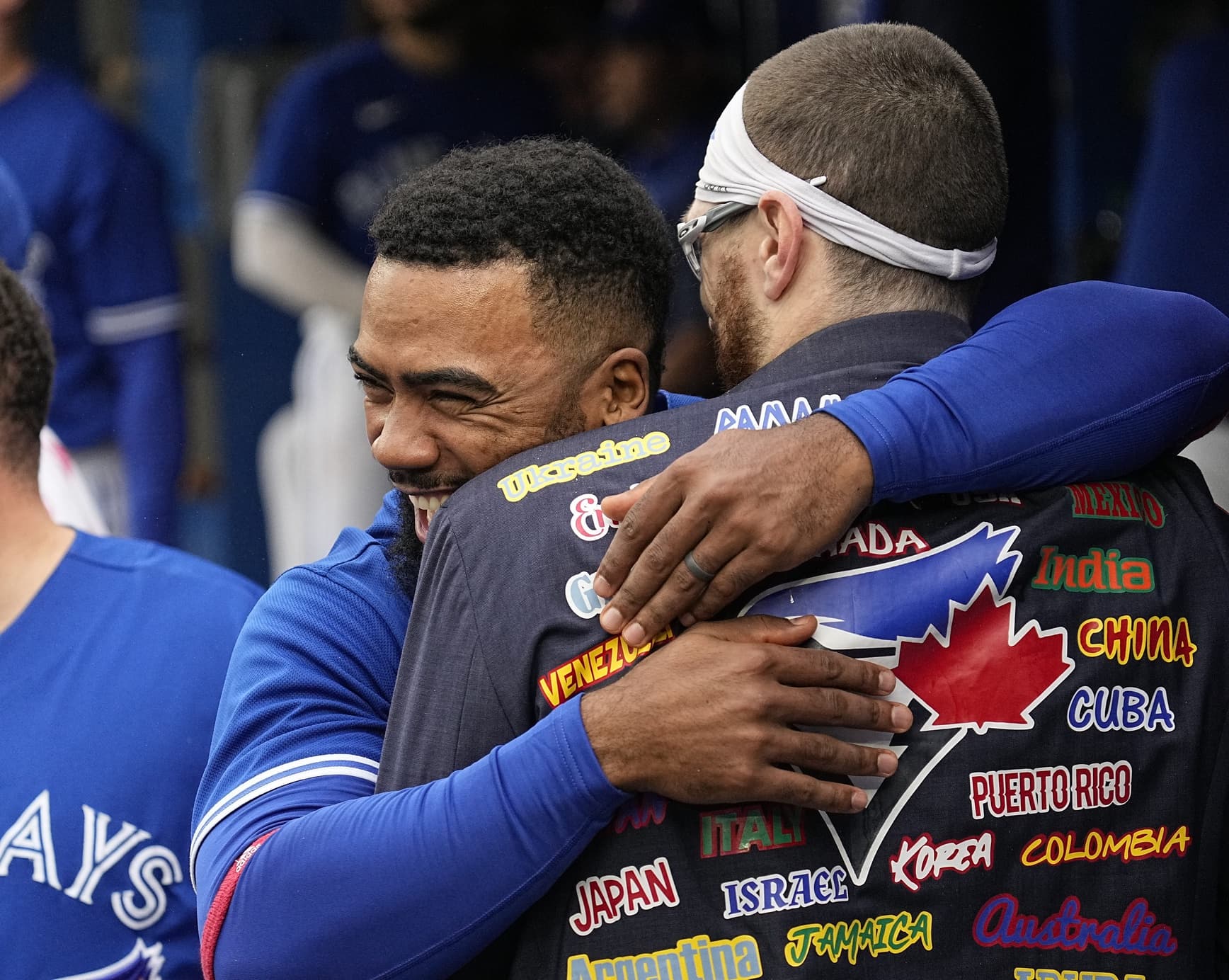 Photo credit:© John E. Sokolowski-USA TODAY Sports
Friday is going to be an emotional night at The Dome.
The Seattle Mariners are coming to town, so Teoscar Hernández will play his former team for the first time since being traded during the off-season.
A player with a lovable vibe who often came up clutch with huge hits for the Blue Jays, let's look back at some of Teoscar's best moments in Toronto…
Early glimpses of a star
One of Hernández' best strengths always has been and always will be his power. In late September of 2017, Hernández showed Blue Jays fans what all the hype was about, as he hit six home runs within a six-day span. They weren't cheap ones either, as pitching victims included Chris Sale, Masahiro Tanaka, and Sonny Gray.
With his power came high strikeout numbers, as Hernández averaged more than one strikeout per game in each of his six seasons with the club. Hernández moved around in the Blue Jays lineup through the 2017-19 seasons, as John Gibbons and Charlie Montoyo both tried to place him where he'd be most effective.
There were ups and downs, including a demotion to Buffalo in 2019. Once he was called back up that season, his career began to take off. Among the rest of that season's hits, his biggest hit was his first career walk-off home run against the Tampa Bay Rays on July 27, 2019, a game that the Blue Jays once trailed 9-2.
2020: Breakout season
Many Blue Jays fans were hoping that Vladimir Guerrero Jr. and/or Bo Bichette would take a leap into their sophomore seasons and break out onto the scene, but they were upstaged by a stellar season from Hernández. Despite the season only consisting of 60 games, Hernández played well enough to earn him his first Silver Slugger award, as well as stay within the top 5 in the AL in multiple categories for most of the season.
In the second series of the season, Hernández smoked four home runs against the Washington Nationals throughout the series, setting the tone for his breakout campaign. Hernández suffered an oblique injury in September of 2020, forcing him to miss some time, but who knows what his numbers would have looked like if that never happened. Better yet, how good would his numbers have been through a standard 162-game season?
For the season, he hit 16 home runs and 34 RBIs, while batting .289 with a .919 OPS. He won an aforementioned Silver Slugger award, as well as an 11th place finish in MVP voting.
Stringing together solid seasons
Hernández took a bigger step in 2021, becoming a more complete hitter while still owning the home run prowess that he always had. He was poised to prove that 2020 was no short-season fluke, as he hit this nuke off of Gerrit Cole on Opening Day at Yankee Stadium.
That season, Hernández played in 143 games, batting .296 with an OPS of .870. He hit 32 home runs and 116 RBIs as well, earning him his second Silver Slugger aware and his first All-Star nod. Not only that, but Hernández was named the starting left fielder in the mid-summer classic.
A fond memory that some Jays fans may have of Hernández was his home run on July 30, 2021 against the Kansas City Royals. That home run was the first hit at Rogers Center since the 2019 season. This, of course, was significant since Toronto spent all of 2020 and half of the 2021 season playing home games between Dunedin and Buffalo.
Amongst other accomplishments, 2021 featured Hernández hitting his 100th career home run and his first career five-hit game.
Hernández couldn't reciprocate the same kind of season in 2022, as another oblique injury kept him out for almost a month, and it led to an early-season slump at the plate. However, he rebounded in the latter half of the season, aiding the Blue Jays in their playoff push.
He still provided several big time home runs, including this game-tying three-run home run against the Texas Rangers on Opening Day, a game in which Toronto once trailed 7-0.
Just as important of a home run was this three-run shot he hit against the Yankees on June 19th, putting the Blue Jays ahead 10-8. At the heels of a weekend sweep, the Blue Jays rallied from an 8-3 deficit to take down the first-half MLB champs. It also featured a classic Teoscar bat drop and stare down, a home run celebration he featured quite a bit.
To cap off his Blue Jays career, he tagged Robbie Ray with two home runs in Game 2 of the AL Wild Card series. Before Mariners fans chime in with "wHo wON tHat SeRiES, hUh?", those home runs brought Rogers Center to life, showing all of baseball why that is one of the most special places to play when playoff baseball is played there.
Interesting Notes…
Hernández hit seven career home runs off of Ryan Yarbrough, which should be grounds for retiring his jersey number at Rogers Center. Considering Toronto's struggled with Yarbrough, no other Blue Jay may hit that many home runs against him again.
Hernández first career home run came when he was a member of the Houston Astros in 2016. That home run was hit at the Rogers Center against Francisco Liriano, whom he was traded for one year later.
Hernández hit a solo home run against Bryan Baker on September 5, 2022. Baker, for some reason, had beef with multiple Blue Jays players this season, with Hernández being one of them. Baker will now be able to hold that home run with him for the rest of his career.
Hernández hit at least one home run at every spot in the batting order while he was a Blue Jay, 1 through 9.
Hernández ranks 11th in all-time home runs among Blue Jays with 129 over 609 games, sandwiched in between Fred McGriff, who hit 125 homers, and Ernie Whitt, who hit 131.
Thanks for the memories, Teo.
---
Discover Betano.ca
– a premium Sports Betting and Online Casino experience. Offering numerous unique and dynamic betting options along with diverse digital and live casino games, Betano is where The Game Starts Now. 19+. Please play responsibly.