Looking Back, Looking Forward: Gabriel Moreno's breakout further complicates the Blue Jays' catching logjam
Photo credit:© Kim Klement-USA TODAY Sports
The Blue Jays have quite the roster puzzle to sort out this off-season.
One position where that's especially the case is at catcher, as the team has four backstops on the 40-man roster.
Danny Jansen, Reese McGuire, Alejandro Kirk, and Riley Adams, who was traded away mid-season, all saw time with the Blue Jays during the 2021 season, and Gabriel Moreno, who's perhaps the best of them all, will be pushing hard for an opportunity come 2022.
Let's look back at what the Blue Jays catchers did in 2021 and speculate about what might happen as we move into the winter.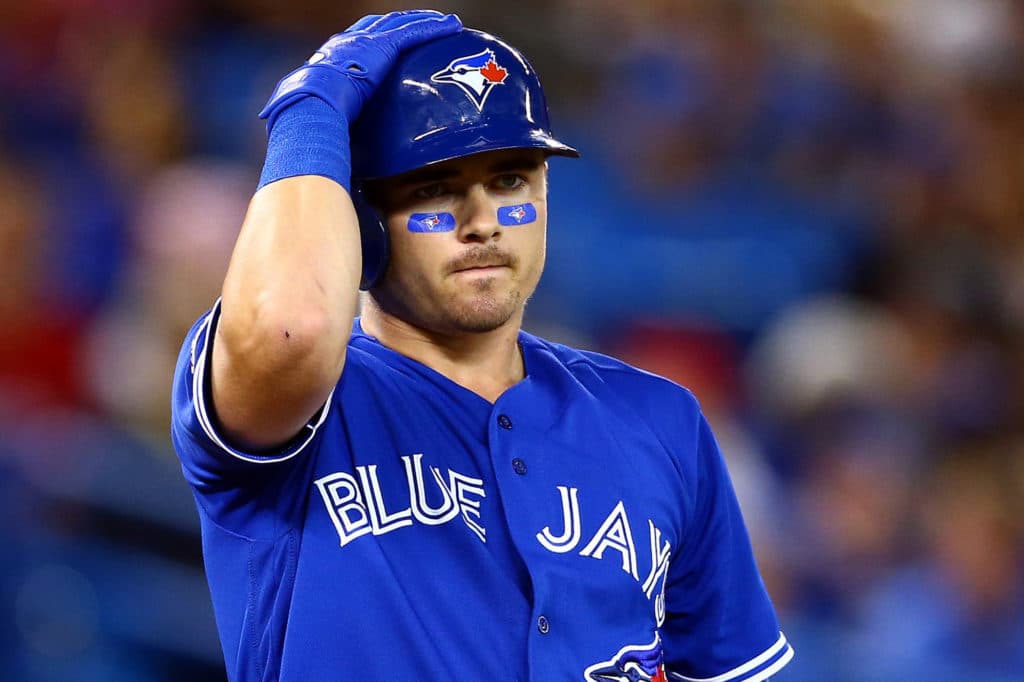 Looking back…
The Blue Jays came into spring training with three catchers vying for gigs on the team.
Danny Jansen, the veteran of the trio, was always going to be one of them, while Alejandro Kirk, who impressed in a short stint as a rookie in 2020, and Reese McGuire, who, to put it lightly, didn't impress in 2020, competed for the other spot.
The Blue Jays wound up choosing Kirk over McGuire, which represented an organizational shift from prioritizing asset management to a win now, roll with the better player approach. Kirk could be optioned to Triple-A, while McGuire, who was out of options, would have to clear through waivers to be sent down.
McGuire got through waivers, which was fortunate because the Blue Jays needed him shortly after.
Kirk suffered a hip injury in early May and wound up missing nearly two months of play. This was an unfortunate break because Kirk, who had gotten off to a slow start offensively in April, was just starting to heat up, as he had a two-homer game a couple of days before he got injured.
McGuire took the opportunity and ran with it. In the month of June, McGuire played in 21 games and slashed a .344/.385/.492 line. There was obviously some BABIP luck here, but, still, getting that kind of a stretch from McGuire, who went 3-for-41 in 2020, was a very pleasant surprise.
A few days after Kirk went on the shelf, Danny Jansen suffered a hamstring strain and was also placed on the 10-day Injured List.
While many wanted Gabriel Moreno, who had produced a 1.022 OPS in Double-A during his first month-and-a-bit of play, to be the next catcher called up, it wound up being Riley Adams, who was mashing in Triple-A. Adams was with the Blue Jays for a few weeks, went 3-for-28, was sent back to Triple-A when Jansen returned, and was later traded to the Washington Nationals in exchange for Brad Hand.
When September rolled around and rosters expanded, the Blue Jays ultimately rolled with a three-man catching tandem the rest of the way.
McGuire cooled off after his huge June and was used in September and October either as a defensive replacement or to get a lefty in the lineup. Kirk appeared in 19 games in the final month, getting quite a few chances as a pinch-hitter, and produced a .749 OPS, which is pretty much in line with his season number. And then there was Jansen, who went nuclear, putting up a 1.072 OPS over 20 games in September and October.
So, all told, the Blue Jays got 210 plate appearances from McGuire, 201 from Jansen, 150 from Kirk, and 26 from Adams.
According to Baseball-Reference
, they broke even and produced 0.0 wins above replacement.
Another thing to note is that Moreno didn't get a cup of coffee with the team in September. This was because he suffered a broken thumb back in late June and didn't return to action until late in the season, where he would finish off by playing in a few games with Triple-A Buffalo.
It's unfortunate that Moreno's season wound up getting cut short because he was absolutely killing it down in Double-A and might have forced his way onto the big league roster had he stayed healthy.
Over 32 games for the Fisher Cats, Moreno slashed a .373/.441/.651 line with eight homers, nine doubles, 22 strikeouts, and 14 walks. As I write this, Moreno has gone 16-for-43 with six strikeouts and 10 walks in the Arizona Fall League, so he's certainly picked up where he left off when he got injured.
Looking forward…
Moreno's breakout season in the minors and the subsequent success he's having in the Arizona Fall League makes Toronto's catcher situation a very interesting one to think about.
Moreno broke his thumb in mid-June, which might be the only thing stopping his ascent to the majors right now, as he hit .373/.441/.651 in 32 games in Double A as a 21-year-old before the injury, while showing plus defensive skills across the board for the Fisher Cats. Moreno has quick hands and excellent bat control, with a short swing that should produce average power but a ton of hard contact, while he's made substantial progress as a receiver. His hand strength may not be all the way back until next year due to the injury but it's not a factor for the long term. He's a future star.
Though the sample size was unfortunately small, what Moreno did this season in Double-A (a .373/.441/.651 line in 32 games) was incredible.
For context, when Bo Bichette played in Double-A for the Fisher Cats, he was 20 years old, one year younger than Moreno was at the level this year, and he slashed a .286/.343/.453 line. Adley Rutschman, the No. 1 overall pick by the Orioles from the 2019 draft, was 23 years old in Double-A this season, and he slashed a .271/.391/.508 line over 80 games before moving up to Triple-A.
So, what the Blue Jays have in the mix right now is… Jansen, a quality catcher who seems to have some hidden upside with his bat, McGuire, a capable Major League level backup who's good defensively, Kirk, a young catcher who has already proved he can be a good hitter at the big league level, and, of course, Moreno, a hotshot prospect who could very likely wind up being the best of all of them sooner rather than later.
Given the logjam here, it appears inevitable that one of these catchers is going to be moved during the off-season.
If the Blue Jays pull the trigger on a big trade, like, say, for a pair of players from the Oakland A's or for Jose Ramirez from Cleveland, catcher would be a position of strength than they deal from.
Who might that be? It's difficult to say.
McGuire cleared through waivers last year but I doubt he would do so again given his decent season in 2021. Would he move the needle in a trade, though? Probably not. Jansen has more trade value than McGuire but he might have more value to the Blue Jays than he does in a trade, given, again, he's the veteran of the group and the team has spoken highly about how well he works with the pitchers.
Moreno would obviously be the most valuable player the Blue Jays could offer in a trade, but one would assume he's pretty high up the organization's untouchable list. Kirk burst onto the scene in 2020 with a wildly impressive debut and his injury-riddled season cooled his hype, but his body of work at the big league level is very solid, especially given his age.
If I had to venture a guess, I would assume Kirk is the one who winds up as part of a trade in the off-season. He doesn't have the upside that Moreno does and he isn't as established as Jansen but he's a quality player that a team like Oakland or Cleveland would certainly love to add in return for a veteran because he's under control for a long time and he can step in and play immediately.
It's impossible to predict what happens, but it's hard to imagine all four of the catchers currently on the Blue Jays 40-man roster are here when spring training rolls around.