Looking for a long man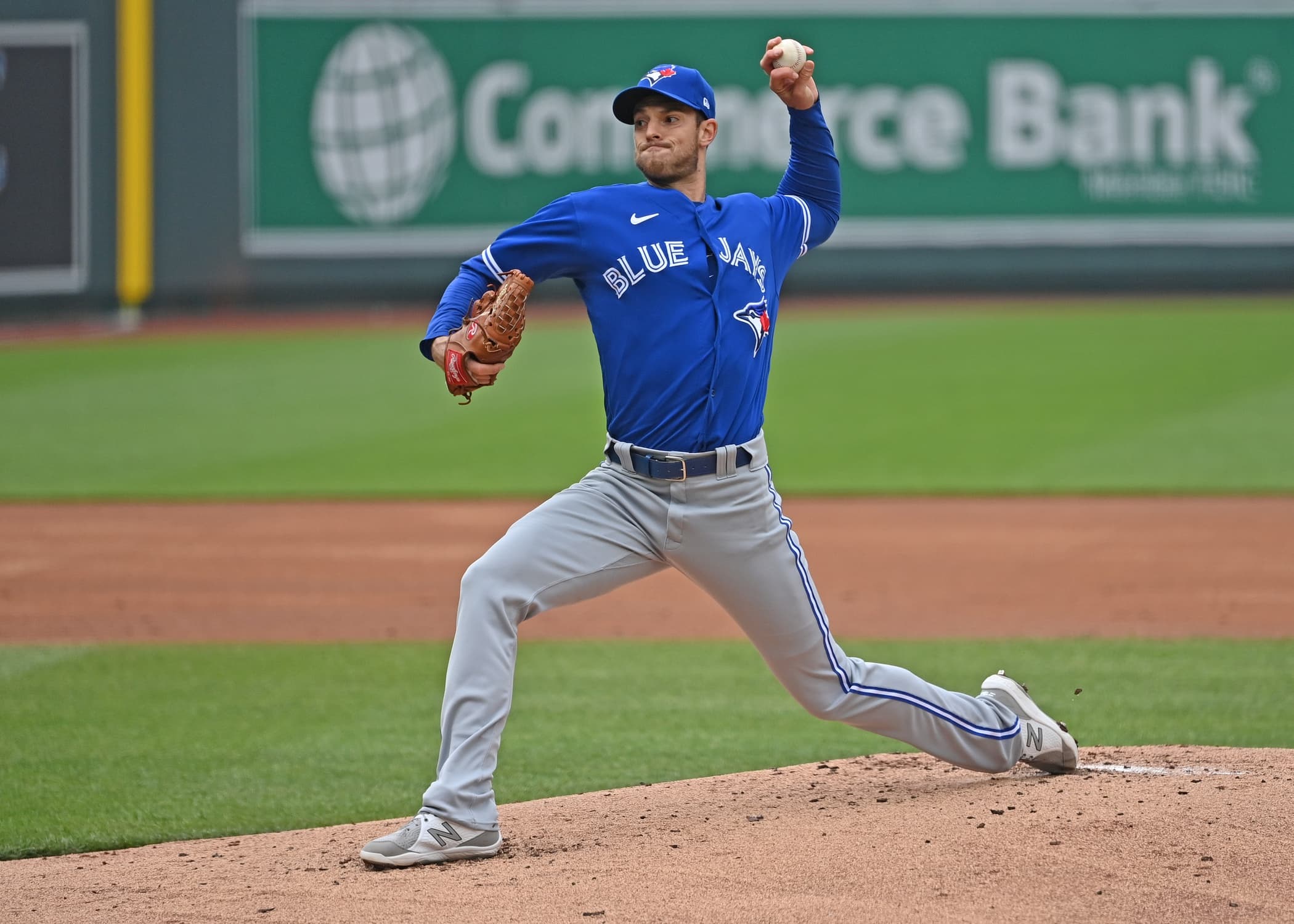 Photo credit:© Peter Aiken-USA TODAY Sports
The Jays starting pitching is pretty damn good.
Robbie Ray is an ace, as I've been saying since mid-June. Ryu has had his issues such as his change-up, but overall he's been solid this season. Manoah? He's been so good that I wonder why he wasn't with the Jays from the start of the season. Now with the addition of Jose Berrios, the Jays have four starting pitchers with an ERA under 3.31.
That begs the question, who'll be the fifth starter and who'll be the long man?
Steven Matz:
This has been a weird season for Steven Matz. He started the season off incredibly hot allowing only 6 earned runs in 23.1 IP. This was good for a 2.31 ERA. At this point, he was also striking out a lot of batters as he had a K/9 of 9.64 during this span. Furthermore, his opponent's BABIP was incredibly low at 2.14.
His next five wasn't the same result. In those five games, he pitched 24.2 innings, allowing 19 runs. That is a 6.93 ERA. While his K/9 dropped slightly, so too did his BB/9. What's more shocking is that his opponents BABIP increased by
.200
. If a batter hit the ball, there was a 41.6% chance that it would result in a hit. This is reflected in his peripheral stats as his FIP was 4.86 and his xFIP was 3.74.
It gets even weirder. In his next four games, he had an ERA of 3.32 with a FIP of 3.16 and an xFIP of 3.69. His K/9 increased to 10.38 while his BB/9 dropped all the way to 2.49. His opponent's BABIP was still on the side at .339.
He contracted COVID and has struggled upon his return, registering a 5.66 ERA with a 4.71 FIP and 4.26 xFIP. His K/9 dropped all the way to 6.97 in this time as well.
The case for the bullpen:
I truly believe that Ross Stripling has been the better of the two pitchers. With that being said, I believe Matz is good enough to be on the big league team. Perhaps a move to the pen will help with his consistency? Another idea could be that he and Stripling piggyback and pitch on the same day.
The case for the #5 starter role:
Matz isn't as bad as his 4.58 ERA suggests. This is reflected in his peripherals as he has a 4.01 FIP and an xFIP of 3.84 along with a 1.2 fWAR (0.6 bWAR). These are solid numbers for a number five starter.
Furthermore, he struggled with consistency after his first four games but found his start of the season form. Then he contracted COVID, which has impacted his game. Another argument is that he's never been a bullpen pitcher save for five games earlier in his career.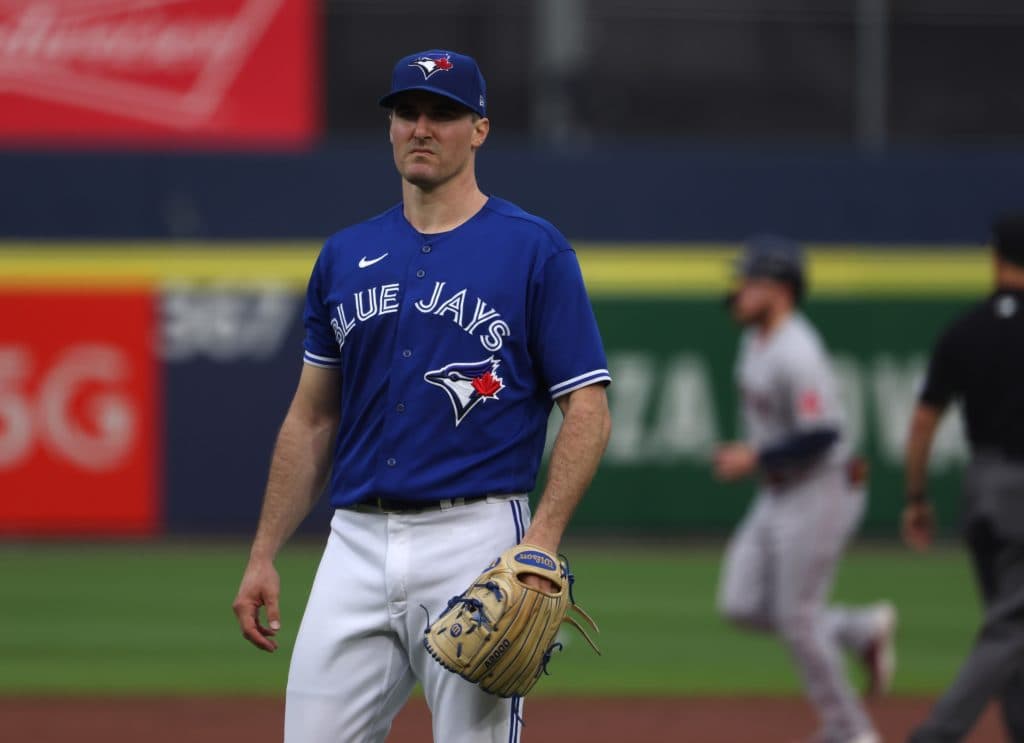 Jul 19, 2021; Buffalo, New York, USA; Toronto Blue Jays starting pitcher Ross Stripling (48) reacts after giving up a grand slam during the first inning against the Boston Red Sox at Sahlen Field. Mandatory Credit: Timothy T. Ludwig-USA TODAY Sports
Ross Stripling:
Ross Stripling has experience coming out of the pen. In his first 11 games in the 2018 season, Stripling had a fantastic stretch coming out of the pen. In 14.1 innings pitched, he allowed only 1 run for an 0.63 ERA. He only pitched 15.2 innings out of the pen in 2018, but he only allowed a single run.
In 2019, he started the season as a starter posting a 2.65 ERA in 34 IP. He was moved to the bullpen for 14 games where he posted a 4.02 ERA in 15.2 IP. This ERA drops to 2.35 in 15.1 IP if you remove his first game in the pen where he allowed three runs in 0.1 IP. Upon returning as a starter, he posted a 4.20 ERA in 30 IP. For the last month of the season, he alternated between the pen and as a starter.
The case for the bullpen:
Ross was strictly a starting pitcher for the Dodgers in the 2020 season before coming to the Jays through trade. He struggled before being traded and struggled further before coming to the Jays. He also struggled to start the 2021 season before turning his season around after May 24. He has the experience in the pen, meaning that I could see him going back there as the Jays long man.
Not necessarily important to the article, but I was surprised by the Berrios trade, read the thread below to figure out why.
The case for the #5 starter role:
As you can tell, I don't really want Stripling in the pen. Since May 24th, he has a 3.73 ERA in 60.1 IP. He has a low BB/9 rate as well, as it's at 2.69. Nice. Removing the Red Sox (who I believe have a tell on his pitching) his ERA gets even better.  Since May 24th, he's pitched 54.1 innings allowing only 15 runs against teams not from Boston. That's good for a 2.48 ERA. 
The replacement for Alek Manoah:
Wait, what? Alek Manoah has been fantastic all season, why would you ever take him out of the starting rotation? Well dear viewer, we have to look at the 2020 MiLB season, in which there wasn't one.
The idea that Manoah is on an inning limit for this season has been tossed around quite a lot. While he was at the alternate site in 2020, where there is smoke, there is fire. So an inning limit may well be the case.
So if Manoah is shut down, who replaces him? I have to think they role with Matz and Stripling on the back end of their rotation, but now they're left with the issue of the long man. Here are some ideas.
Thomas Hatch:
Don't let his 3.2 IP in the majors this season fool you. Hatch is a good pitcher. This is evident by his 2020 season where he pitched 26.1 innings in relief with a 2.73 ERA. While his xFIP hated him (5.06), this was mainly because his HR/FB% (basically how many fly balls go for homers) was on the low side at 7.7%.
In 29.1 IP in the minors this season, he has been successful with a 2.15 ERA with a FIP of 4.45 and xFIP of 4.87. While the peripherals aren't glowing, Hatch had the ability to pitch in the big leagues last season and he's stretched out, so he's my pick for the long man role if Manoah is shut down.
Anthony Kay:
I find that baseball fans are rather reactionary. I'm not safe from this label either as you can look at my Twitter feed after the Berrios trade. With all that being said, Anthony Kay is another choice for a long man. Yes, he hasn't looked convincing in the minor leagues this season. Yes, he got rocked last time he pitched in the bigs, giving up 5 runs in 1.1 IP, however, in his previous 22.2 IP in the majors, he allowed only 4 ER in that time frame. 
That is good enough for a 2.20 ERA. While his FIP was on the high side at 4.63, it's because his HR/FB% was abnormally high at 33.3%. His xFIP in this time frame reflects this as it's a respectable 3.22.
The team is very high on Kay as he's the last remaining player from the Marcus Stroman trade, so expect either him or Hatch to be the long man.
Nate Pearson:
I'll be honest, this is the least likely of the scenarios. He's on track to come back and likely pitch out of the bullpen as he's not stretched out anymore. Personally, as time goes one, it's more likely that Pearson pitches out of the pen. I don't think this is necessarily bad as he fits the role for a closer, but it's possible they try him as the long man first.
The aces of the 2019 staff:
Now to the astronomically unlikely selections for the long man role, they were the 2019 aces of the Blue Jays and their names are Trent Thornton and Jacob Waguespack. 
Starting with Thornton, he's struggled to be successful in the big leagues since I released my Thornton article in late May. When that article was released he had an ERA of 2.49. Two months later, that ERA has jumped over two and is now at 4.58. While his xFIP is lower at 4.27, his FIP is at 5.62, making me think that he'll even struggle to break into the bullpen again this season.
Next, Jacob Waguespack. Remember him? I honestly could write an entire article on him, but we'll keep this brief. In 2019 he pitched 78 innings and had a 4.38 ERA with a 4.91 FIP and 5.20 xFIP. He struggled in the 2020 season, putting up a 8.15 ERA in 17.2 IP with peripherals near what he had the season previous.
He was outrighted to Buffalo at the start of this season where he's enjoyed quite a lot of success. In 53.1 IP for Buffalo, he has a 2.87 ERA, 2.59 FIP and an xFIP of 3.41. I'll be honest, there is no chance he'll be called up as he's not on the forty man roster, but if he were, I think he'd get a shot. He'll pitch again in the majors, it may not be for Toronto, but the ace of 2019 will be back.
Conclusion:
The Jays long man will depend on what they decide to do with Manoah. If he's not shut down, I say the long man role comes down to a coin flip between Matz and Stripling. Hell, they may surprise us and go with a six man rotation as they did in 2016.
If Manoah is shut down, likely candidates are Hatch or Kay. Pearson and Thornton are unlikely while Waguespack is just a name thrown out there because he's been successful this season.
This is a good problem to have.
As always, follow me on Twitter @Brennan_L_D. I'm hopefully going to release an article about Nick Fraze, a High A starter. Stay tuned!