Looking at free agents to fill in as a fourth outfielder for the Blue Jays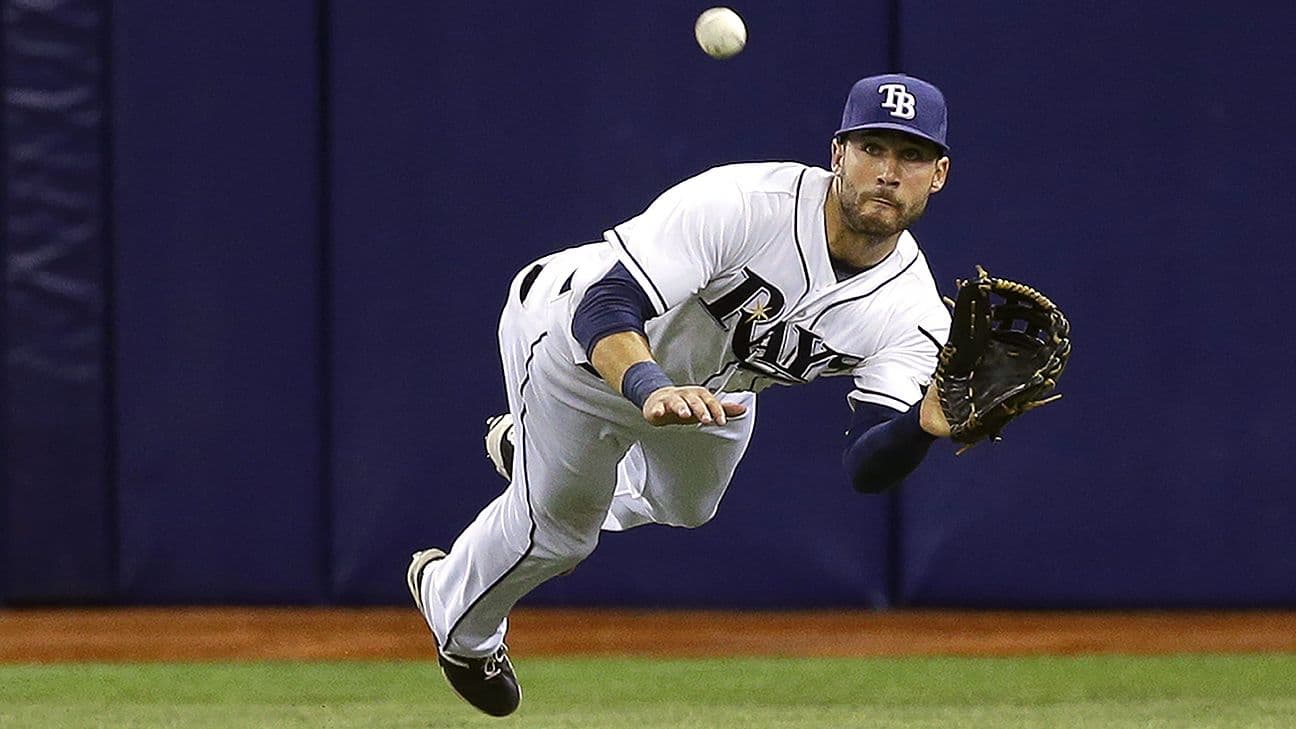 Photo credit:ESPN
With the Blue Jays trading away
Teoscar Hernández
earlier this offseason, the outfield core is left with just George Springer and Lourdes Gurriel Jr heading into next season. The club lost Bradley Zimmer and Raimel Tapia when both players were DFA'd earlier this winter while
Jackie Bradley Jr.
became a free agent, leaving the options behind Gurriel Jr. and Springer limited when it comes to experience.
On the depth charts, the Jays have
Cavan Biggio
and
Whit Merrifield
on the roster, with the two players boasting 332 games combined in the outfield, with 75.7% of those reps coming in one of the corner outfield spots. Nathan Lukes is also an option, as he was recently added to the 40-man roster, and while he is a career outfielder in the minors with some solid reps in centre field, he also has zero experience in the big leagues and I also would argue that his roster spot isn't secure this offseason and he could be DFA'd if the front office make some free agent moves later this winter.
While the Blue Jays would obviously benefit from a bonafide starting outfielder, whether it be a free agent signing such as Brandon Nimmo or a trade for Lars Nootbar (amongst other options), I would also argue that having another veteran outfielder on the bench could benefit the Blue Jays heading into the 2023 campaign.
At the end of the day, adding a fourth outfielder into the mix is not high on the priority list compared to adding a starting pitcher (or two), a starting centre fielder, and potentially another bullpen arm but preferably, you'd like the Jays to have an experienced outfielder as a bench option should injuries arise or additional rest days be needed for Springer and Gurriel Jr. this year.
With the Blue Jays lacking experienced depth in the outfield after earlier offseason moves, here are three free agent options to consider signing for bench depth for the 2023 campaign…
Kevin Kiermaier – High Level
If you can get past the "Kirk dropping the play card" scenario, former Tampa Bay Rays outfielder
Kevin Kiermaier
could be a solid option on the Jays' bench. After ten years with the Rays, Kiermaier's club option was declined and he became a free agent this offseason.
Kiermaier has the most experience in centre field out of a majority of free agent options and has the hardware to back it up in the form of three Gold Glove Awards as well as a career 147 bDRS through 827 games. Since 2016, he has earned a 71 Outs Above Average (OAA) ranking and also has a strong arm, sitting above the 90th percentile in arm strength over the past three seasons. At the plate, the lefty-batter owns a career.248/.308/.407 slash line with 82 home runs, 316 RBI, 112 stolen bases and a .715 OPS to go with a 31.8 bWAR. Through 47 games at the Rogers Centre with the Rays, the Indiana product owns a .287 batting average and a .833 OPS as well.
At 32 years old, Kiermaier is looking for a new squad and is likely looking for a full-time opportunity, which could see him try and sign elsewhere other than Toronto (especially if the club signs a centre fielder like Nimmo). However, after missing most of last season with a hip injury, he might be more suited to take on a role as the OF/DH with a club like the Jays, where he can still factor into the lineup on a somewhat regular basis while staying healthy and likely looking for a short term bounce back type of deal.
There are a few drawbacks with Kiermaier, mostly pertaining to injury history and that he will likely cost more than other bench outfielder options out on the market right now (Spotrac market value at
$6.6 million
), but it should also be noted that he doesn't have a lot of experience in the outfield apart from centre field (just 540.1 innings). One could argue that a bench outfielder should likely be a little more versatile but with Kiermaier you are getting a defensive-minded centre fielder who can also hit from the left side, which bodes well for the Blue Jays and their right-handed heavy lineup.
Adam Engel – Mid Level
The Chicago White Sox decided to non-tender
Adam Engel
this offseason, making him a free agent after spending the past six seasons with the Sox.
Another centre fielder by trade, Engel owns a career 19 bDRS in centre and has amassed a handful of innings in right field as well. Last season, he ranked in the 92nd percentile in sprint speed while sitting in the 82nd percentile in OAA, owning a career value of 54 (most of which he earned through his first two seasons in the big league).
The righty-batter doesn't possess the strongest bat, with a career-high seven knocks coming via the 2021 campaign, but he can get extra-base hits because of his plus speed (top 8% in the league last season in sprint speed). Engel didn't have the best season at the plate last year (.224 average and a .579 OPS) but his previous two campaigns were strong (120 and 125 wRC+ respectively) given the small sample size due to the COVID-shortened season and injuries limiting him in 2021.
There is some risk involved that the former White Sox outfielder is unable to shake the rough campaign he had last year but with a contract sitting lower than what the club would have paid Tapia, having a speedy outfielder who can play centre field like Engel can is a depth move that could help the roster through the course of a full season.
We have seen him produce in smaller sample sizes and having him off the bench could provide similar results, as Engel's Steamer projections currently have him shooting for a 82 wRC+ through 53 games (which is an improvement over his 63 wRC+ through more games last year). This risk wouldn't be too high on taking a flyer on Engel in the long run but there are better options if the Jays are willing to spend a bit more.
Jackie Bradley Jr. – Low Level
Ross Atkins and co. attempted to acquire Jackie Bradley Jr. from the Brewers last offseason before he was dealt to the Red Sox, with the Jays sending Randal Grichuk to the Colorado Rockies in exchange for Tapia and prospect Adrian Pinto. With Bradley Jr., you're getting a defensive-minded outfielder who can hit from the left side. A Gold Glove winner back in 2018, Bradley Jr. owns a career 57 bDRS in centre field and a 17 bDRS through just 117 games in right field.
He also
finished
in the 91st percentile in Outs Above Average and sits above the 90th percentile in outfielder jump (94th) and arm strength (92nd), adding seven assists last year compared to two errors and also earning a Gold Glove nomination for his play in right field. His playing days in centre field have slowly regressed over time but if the Blue Jays truly do acquire a starting centre field this offseason and push Springer to right field, this could bode well for both the Jays and Bradley Jr.
The former Red Sox outfielder posted a 10 bDRS in right field last season and actually experienced a -3 bDRS in centre (split between the Red Sox and Blue Jays). If the Jays want to get Springer some more at-bats in the DH spot to limit injury risk moving forward, Bradley Jr. adds the lefty bat aspect to the lineup while also not compromising defensive ability.
The downside to this signing however is that his bat could arguably fall behind someone like Biggio or Merrifield on the roster, as Bradley Jr. struggled last season to a .203/.255/.311 slash line with a .566 OPS. One would obviously hope that this is just a down season but taking a risk on a veteran bench outfielder with defensive upside was a move the Jays did last offseason by acquiring Zimmer, who amassed an even worse slash line than Bradley Jr.
At the end of the day, adding a player of Bradley Jr. likely won't impact the salary cap too much given the down 2022 campaign but there are a handful of other viable options who fit the bill and had a better track record last year. The Jays would be banking that Bradley Jr. finds a way to shake off the rust that impacted him in 2022 but similar to Engel, taking a flyer deal on an experienced player in the AL East could be a smart depth option that could have positive impacts later in the season.
---