Meet the Sellers: Detroit's rebuild has gone disastrously wrong and they're in trade mode once again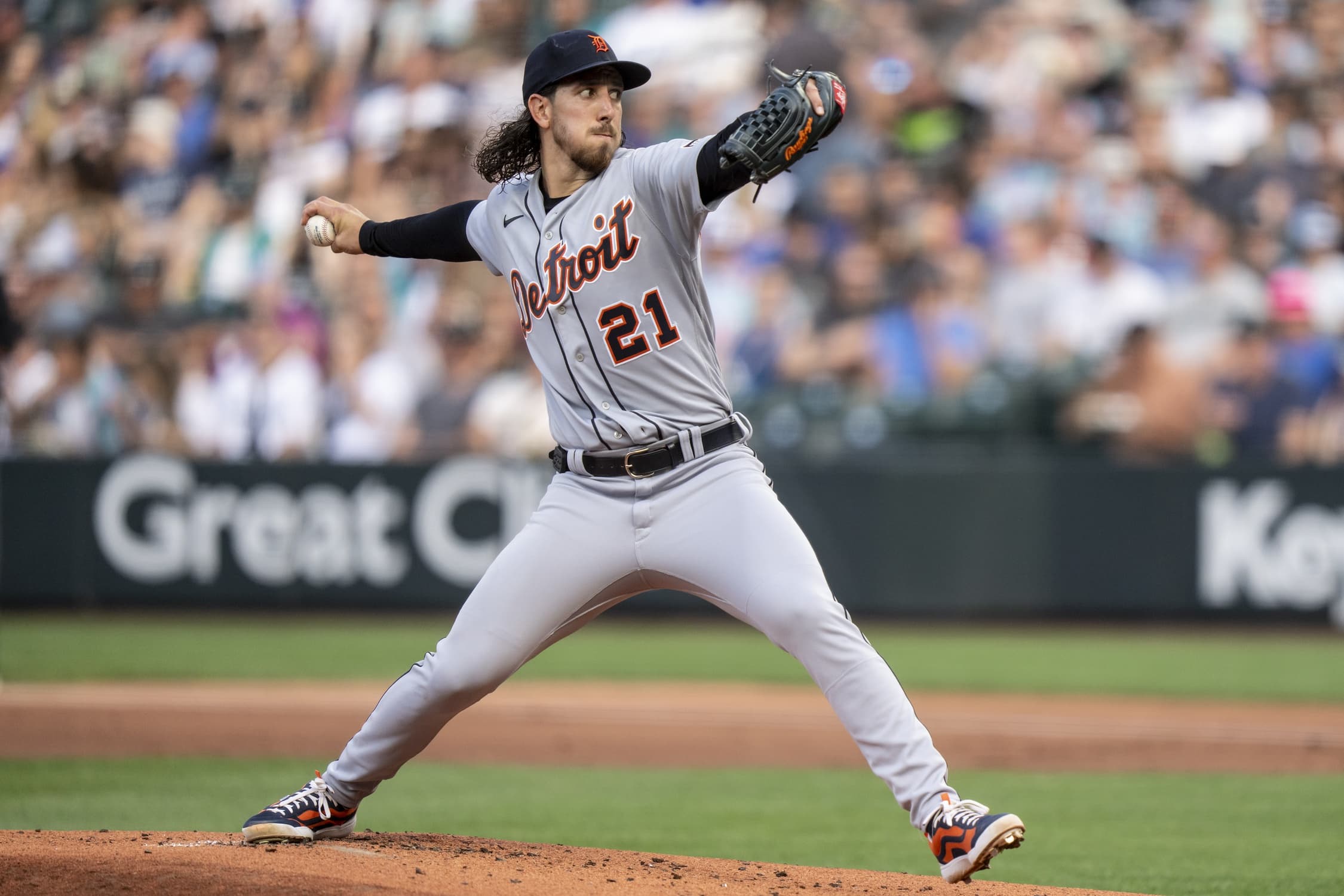 Photo credit:Stephen Brashear-USA TODAY Sports
Entering the 2023 season, the Detroit Tigers were tied with the Los Angeles Angels for the longest active postseason drought in the MLB. At least to me, this didn't seem plausible, but with teams like the Marlins and Mariners recently breaking their streaks, the spotlight now partly shines on the Tigers.
Detroit had two of the most intriguing young players in the game last season in Spencer Torkelson and Riley Greene, and they peppered in a few high-dollar signings in Eduardo Rodriguez and Javier Baez. Sadly, none of those players moved the needle in 2022, and they're singing the same song this year, save for Rodriguez.
Greene has missed a little under half of the season due to a left fibula stress fracture, but in the games that he has played, he's shown tremendous improvement from his rookie season. Rodriguez just needs four more starts to eclipse the amount he had last year, and he boasts a 2.70 ERA and 1.00 WHIP as well. Torkelson still hasn't found it at the plate, and Baez has left a lot to be desired. Their complementary pieces haven't been very good either, and it's culminated in them entering the week ranking 28th in runs per game.
Last year, Detroit had several quality bullpen pieces to deal at the trade deadline; Gregory Soto, Joe Jimenez, and Michael Fulmer were all quality arms that paced the deadline discourse. Although Fulmer was the only one of those three to move at the deadline, Soto and Jimenez were eventually traded in the offseason. Now, the Tigers find themselves in selling territory still, but their best assets may need to stay a part of their future. Toronto may not find themselves in a position to deal with Detroit, but let's take a look at what they offer just in case…
Notable trade history with the Tigers
November 13, 2014: Traded Devon Travis to Toronto in exchange for Anthony Gose.
July 30, 2015: Traded David Price to Toronto in exchange for Daniel Norris, Jairo Labourt, and Matt Boyd.
Potential Acquisitions
Michael Lorenzen
A pitcher having a career season and sitting on a one-year deal – Lorenzen checks all the boxes when it comes to trading for a rental player. Pitching in his 9th MLB season, Lorenzen has a 3.75 ERA and a 1.13 WHIP through 16 starts, and he's on track to set a personal record for innings pitched and starts in one season. His Baseball Reference page lists the first award of his career, as Lorenzen represented Detroit last week in Seattle for his first-ever All-Star appearance.
Lorenzen spent most of his career out of the bullpen as a long-time reliever with the Reds, but he's found success as a starter in each of the past two seasons. Taking a deeper look at his stats, nothing really jumps off of the page, but he's proven to be a very steady starter for the Tigers with a skilled repertoire. One of his strengths this season is his ability to limit baserunners, particularly with the walks. His BB/9 of 2.4 is his lowest since 2016, and it is reflected in his WHIP, which is also the lowest since his '16 campaign.
With the Blue Jays finding themselves with maybe one starter too many, they're moving more and more away from acquiring a starter at the trade deadline. It's still a possibility, though, and Lorenzen would figure to be a cheap and solid deal for the Blue Jays down the stretch.
Jose Cisnero
Blue Jays fans last saw Cisnero last week during Toronto's series in Detroit. He made two appearances against the Blue Jays, giving up five runs and not recording an out in one of them. Well, if you can't beat 'em, join 'em!
That one outing for Cisnero inflated his ERA, especially since he had a month of June in which he didn't allow a single run in 11 outings. On the season, Cisnero has a 3.34 ERA, 1.31 WHIP, a 9.5 K/9, and a 3.6 BB/9. Like Lorenzen, he will be a free agent at the conclusion of this season, easily making him another movable piece. Cisnero has better numbers against lefties than he does righties; the former is only batting .163 with a .499 OPS against him this season.
Cisnero relies heavily on his 4-seam fastball that averages 96 mph, and he complements it with a sinker, cutter, slider, and occasional changeup.
Chasen Shreve
Shreve is in his 10th MLB season and his first with the Tigers. He has experience in the AL East, as he pitched for the Yankees for four seasons, however, he has not made a postseason outing in his career. This season, Shreve is pitching to the tune of a 4.54 ERA across 38 outings with a 1.34 WHIP, 9.1 K/9, and 2.9 BB/9. His most-thrown pitch is his splitter which has a 32.6 whiff% and a .206 BAA. Shreve may not be the most popular name on the market, but this veteran lefty could fly under the radar.
Matt Vierling
With Detroit's offensive struggles, the amount of potentially helpful bats are very limited. Vierling has been one of their more consistent hitters this season, and he's worth at least a look. Acquired in the Soto deal with the Phillies, Vierling is batting .271 with a .336 OBP, 7 homers, and 26 RBIs this season.
He spent some time on the injured list to start the month of June, but he swung a hot bat at to end the month and at the beginning of July. Between June 12th and July 7th, Vierling hit .328 with three home runs, nine RBIs, a pair of doubles, and nine walks. He's cooled off a bit since that time span, but he would be a solid bench bat on a team like the Blue Jays. He also offers defensive flexibility, seeing action in all three outfield spots, second base, and third base this year.
Vierling is only 26 and won't be a free agent until 2028, so it will ultimately depend on how much Detroit values him as a member of their rebuild. Toronto may not want him, but he's good enough to help somebody.
Alex Lange
The next two names are the better parts of Detroit's bullpen. Lange has taken over as Detroit's closer and is ninth in the AL with 15 saves. Lange has an 11.6 K/9, but has a BB/9 near 6.0, exposing one of the few rough areas of his game. One of the biggest walks of the season he surrendered was with two outs in the 9th inning to Matt Chapman on July 9th, paving the way for Danny Jansen to hit a game-tying 2-run home run off of Lange.
Lange's pitch mix is legit; his best pitch is his curveball which has a 51% whiff% (part of the reason that he is in the 99th percentile in whiff% overall). He also features a sinker averaging at 96 mph, and a changeup that has a 58% whiff rate (he should throw that more). If Lange can fix the walks issue, there's an All-Star level late-game option here, if he's not already there.
He's 27 years of age, and won't be a free agent until 2028, so Lange's potential acquisition should be expensive.
Jason Foley
Foley has had an exceptional season out of the bullpen this season. He has appeared in 40 games and owns a 2.23 ERA, 1.07 WHIP, and 16 holds. He hasn't given up a single home run this year and has only walked seven batters.  More than anything, Foley throws an effective sinker averaging 97 mph. He ranks in the 95th percentile in walk percentage and 93rd percentile in fastball velocity. He has also proven effective against right-handed batters this season, only allowing a .207 batting average and .479 OPS against such hitters.
There's a lot to like with Foley, and the Tigers hopefully see that as well. He's only 27 years old and won't be a free agent until 2028, so he will come at a high price. However, if his first three seasons in the majors suggest anything, he may be worth it.
Jonathan Schoop (DFA)
Schoop was DFA'd a matter of days ago by the Tigers, so I'd think this would be a Sergio Romo-esque move if the Blue Jays wanted to take a flyer on him. Simply put, it didn't work out in Detroit for Schoop. Since signing a two-year deal with the Tigers before the 2022 season, Schoop hit .204 with 11 home runs and 45 RBIs over 186 games. I don't expect the Blue Jays to pursue Schoop, nor do I want them to, but his release is more of a newsworthy note for now.
---
Previously in this series…
---