Meet the Sellers: The Nationals have more veteran depth to sell after last year's blow-up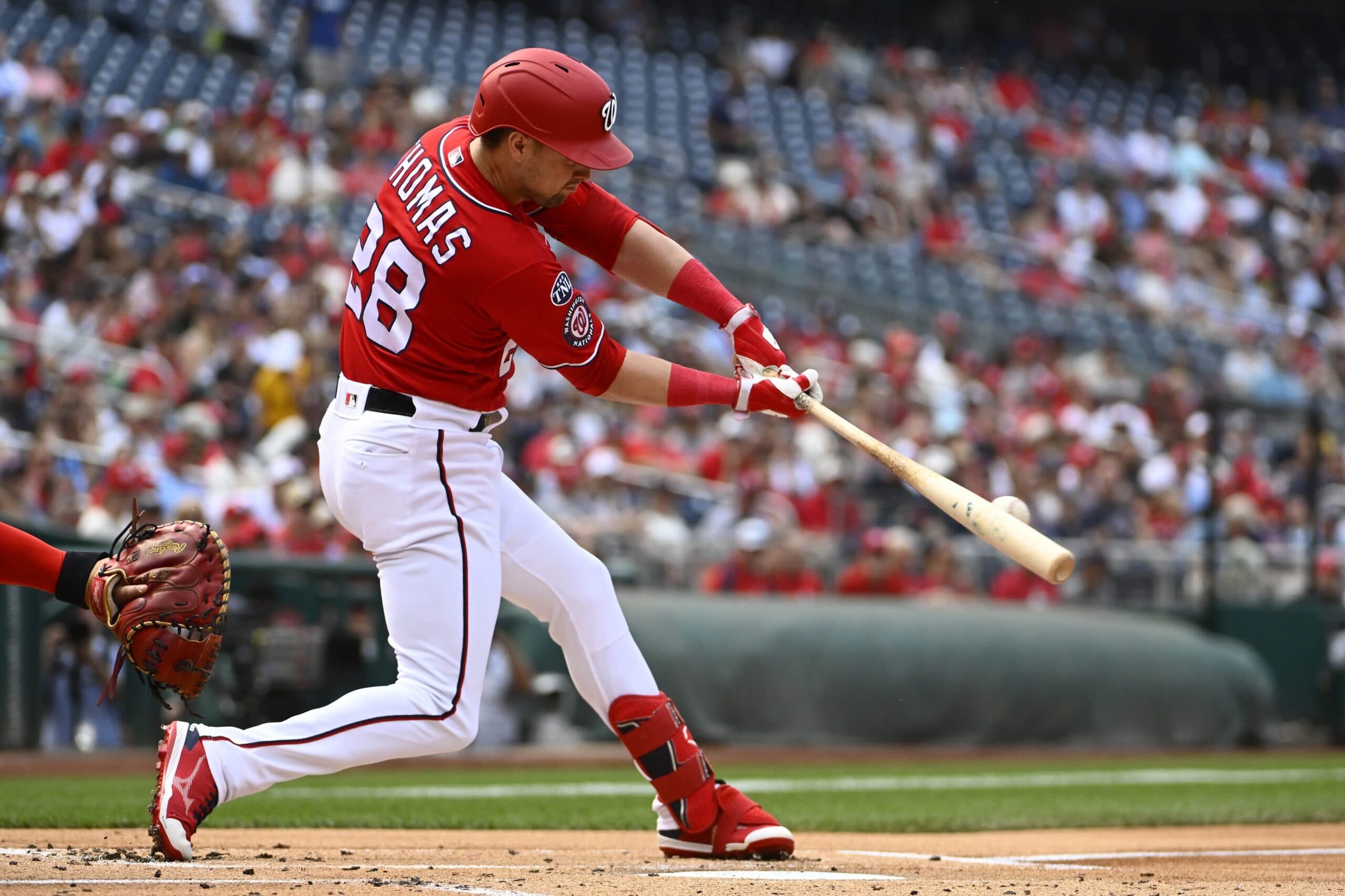 Photo credit:© Brad Mills-USA TODAY Sports
I don't know about you, but it feels like forever ago that the Nationals upset the Houston Astros in the 2019 World Series. The cause of that feeling might be the three consecutive last-place finishes in the NL East since then, and it has put them in a position to be sellers this year once again.
The Nationals have not been shy in recent years in selling off their best players. Juan Soto, Max Scherzer, and Trea Turner have all been deadline deals over the last two years, however, Washington doesn't have those kinds of luxuries now.
The Nationals are stuck paying the hefty tabs of two starting pitchers in Patrick Corbin and Stephen Strasburg. The former has had an ERA under 4.66 only once since signing his 6-year, $140 million contract after the 2018 campaign. The latter, on the other hand, has only pitched in eight games since signing a 7-year, $245 million deal after the 2019 season. With only a year and a half left on his contract, Corbin might've been a hot commodity on the trade market had his performance been better, but with the way it is now, he and Strasburg are probably staying put.
Washington has a young core of players – Josiah Gray, CJ Abrams, Keibert Ruiz, amongst others – that figure to be untouchable, but there are some that are stuck in the grey area of being young and talented, but also near free agency.
Notable trade history with the Nationals
January 8, 2016: Traded Drew Storen and cash considerations to Toronto in exchange for Ben Revere.
July 31, 2019: Traded Kyle Johnston to Toronto in exchange for Daniel Hudson.
July 29, 2021: Traded Brad Hand to Toronto in exchange for Riley Adams.
Potential Acquisitions
Trevor Williams – SP
Williams is in his 8th MLB season and his first with Washington. This year, Williams has made 15 starts and owns a 4.14 ERA, 1.37 WHIP, and a 6.9 K/9. Williams by no means turns the Blue Jays unbeatable, but he provides the organization with some starting pitching depth. He's currently in the first year of a two-year, $13 million deal, so the Jays wouldn't be on the hook for an unreasonable amount of money either.
Alek Manoah's stint in the minors doesn't have an exact timetable on when it will be complete, and while the bullpen games haven't gone terribly, the team might want to save as many arms as they can for the interim. Even if Manoah comes back and thrives, Williams would provide Toronto with a starting pitching option, something they don't have a lot of right now.
Williams has a Chris Bassitt-esque arsenal of six different pitches, but he throws his fastball close to 50% of the time. His most effective pitch this season has been his slider which has generated a 31.7% whiff rate and an opponent's batting average of .167.
Kyle Finnegan – RP
Finnegan represents one thing over his first four years in the MLB: consistency. His numbers this season are par for the course of his career numbers to this point. Finnegan has become a late-game option for the Nationals over the past few seasons, logging 11 saves in 2021, 2022, and this year so far. He has a 3.90 ERA, 1.47 WHIP, and a 9.6 K/9. One of the most concerning things with Finnegan is his performance in high-leverage situations. In said instances, his opponent's batting average and OPS is .279 and .828, respectively.
Finnegan relies heavily on his fastball, which averages around 97 mph. He is under team control through the 2025 season, so Toronto would be able to retain him past this season, but it may also raise his price.
Hunter Harvey – RP
Harvey started his career in Baltimore appearing in 26 games between 2019 and 2021. After a couple of trips through the waiver wire, Harvey has found himself a nice home in Washington. He fought through injuries throughout the 2022 season, but still put up productive numbers that primed him for a breakout 2023. In 32 games, Harvey has a 3.55 ERA, 1.06 WHIP, and a 9.8 K/9. He features a fastball that averages 98 mph and a splitter that boasts a 37% whiff rate.
Like Finnegan, Harvey is under team control until 2026.
Carl Edwards Jr. – RP
You're a true Jays fan if you remember the six-game stint this guy had with the Blue Jays in 2021. It wasn't a good run with the Jays, but his two seasons in Washington have suggested that Edwards has found something that works. Through 32 games this year, Edwards has a 3.69 ERA, 1.52 WHIP, and a 6.8 K/9. Whether it be walks or hits, Edwards has allowed a bunch of baserunners this year and lives with traffic on the bases, but his ERA suggests that he keeps the damage to a minimum.
Edwards throws his fastball over 60% of the time, but his best pitches have been his changeup and curveball; they both register a 32% whiff percentage. His contract is up after this season, so this would be a very cheap option for Toronto.
Lane Thomas – OF
Yet another 2026 free agent, Thomas was actually drafted by the Blue Jays in 2014 before being dealt to the Cardinals in exchange for international bonus slot money. Whether Thomas is part of Washington's long-term plans or not is yet to be seen, but he's having a career season that the Nationals may want to take advantage of on the market.
Through 76 games, Thomas is batting .295/.344/.847 with 13 home runs and 39 RBIs. His career high for home runs is 17, so he is well on his way to eclipsing that this season. He also has impressive numbers against lefty pitching – 7 home runs and a 1.099 OPS. Again, Thomas is under team control until 2026, but he would be an above-average bench bat. The Blue Jays may also be able to make a move for the future here; Kevin Kiermaier may not be back with the team next season, opening up a spot in the outfield. That replacement-in-waiting could be made with this kind of move.
Victor Robles – CF
Corey Dickerson was on this list, but I don't think the Jays would acquire him once again. Instead, I've turned to another outfield bat in Robles, who is signed through this season and has a team option for 2024. Robles is a former top prospect in Washington's system that is off to a really good start this season. Through 36 games, Robles is slashing .299/.385/.750 with five doubles and eight RBIs. He's been limited this season due to back spasms, so this may keep teams away from him.
He would make a valuable bench bat, and he has preferred numbers against left-handed pitching. In 40 plate appearances against lefties, Robles is batting .364/.447/.872 with a pair of doubles. With only 31 home runs through seven MLB seasons, Robles has never been much of a power bat. But that may be exactly the kind of bat Toronto needs. Robles also stands in the 98th percentile in arm strength, which would complement the exemplary outfield defence that the Blue Jays currently have.
---
Previously:
---