Meet the Sellers: The Oakland A's have nothing left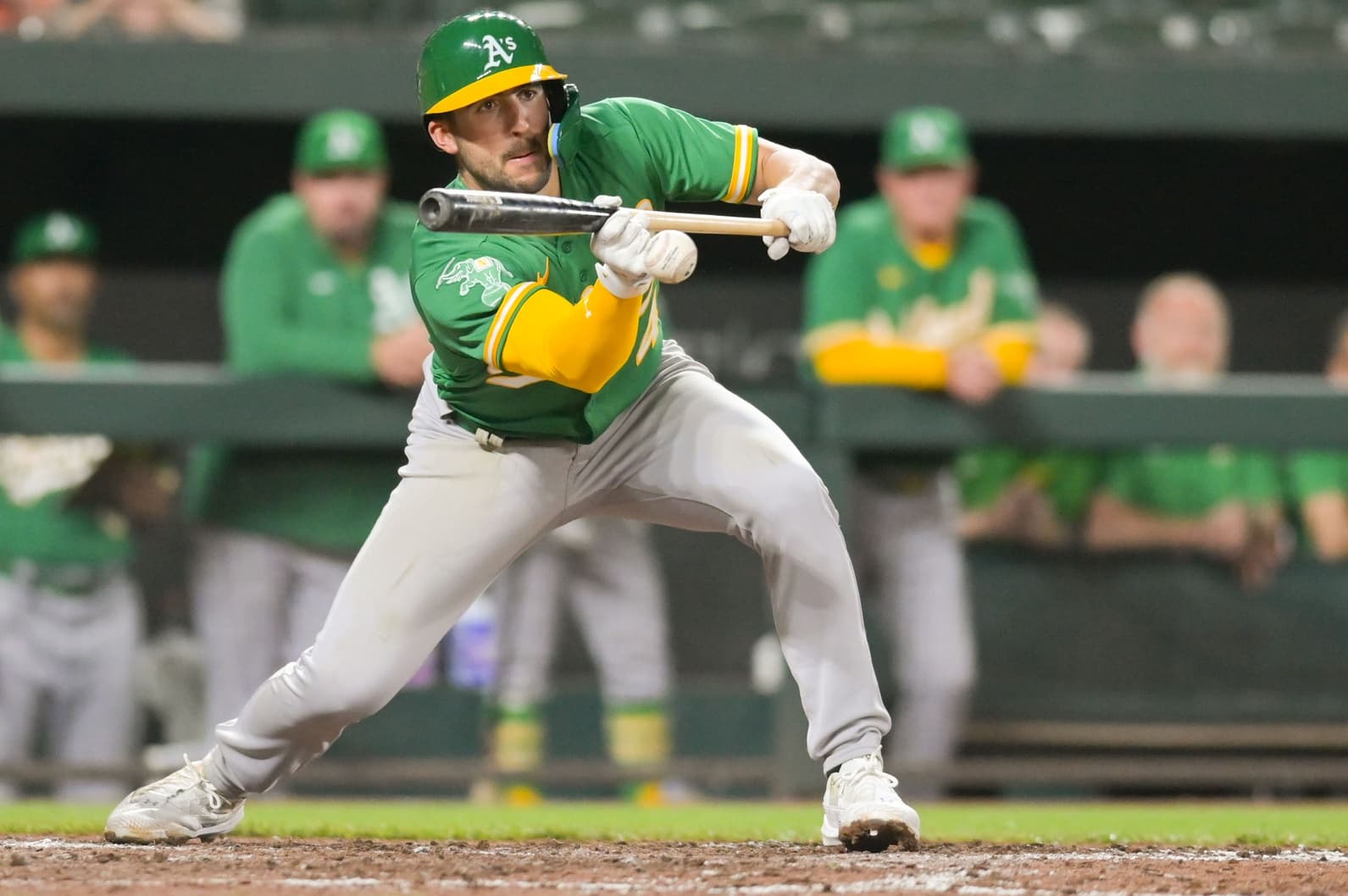 Photo credit:Tommy Gilligan-USA TODAY Sports
I would love to sit here and tell you that the Oakland Athletics are an underperforming team that has several players who would be better off helping a team win a championship. Unfortunately, that would be a lie.
Oakland is only one of two MLB teams that aren't within 10 games of a playoff spot, but the numbers are fascinating. As of today, the A's are 14-50 and 27.5 games back of the AL West. Their run differential is -200 and their longest winning streak is two, which they have achieved three times. So, with that being said, the A's are in sell mode.
The funny thing is, Oakland's been in sell mode for a couple of years now. So much so that their major league roster doesn't possess competitive talent anymore. The Oakland squads of the late-2010s have been dealt to other teams or the front office has simply let them walk in free agency; Matt Olson, Matt Chapman, Frankie Montas, Marcus Semien, Sean Murphy…the list goes on and on.
Now, their pitching rotation is littered with ERAs over 6.00, and they don't have a hitter that possesses a batting average over .270. To be fair, Estuery Ruiz leads the MLB with 29 stolen bases, so their roster isn't completely overrun with poor play. Even their veterans are performing at a subpar level. Jesus Aguilar has already been DFA'd, and former Blue Jay Aledmys Diaz had the potential to be a sought-after utility man, but his .193 batting average and .495 OPS are nothing to throw prospects at.
Notable trade history with the A's
November 28, 2014: Traded Josh Donaldson to Toronto for Sean Nolin, Franklin Barreto, Kendall Graveman, and Brett Lawrie.
November 20, 2015: Traded Jesse Chavez to Toronto for Liam Hendriks.
March 27, 2019: Traded Jesus Lopez and international bonus pool money to Toronto for Kendrys Morales.
March 16, 2022: Traded Matt Chapman to Toronto for Gunnar Hoglund, Zach Logue, Kirby Snead, and Kevin Smith.
Kevin Sousa-USA TODAY Sports
Potential acquisitions
With a team this bad, are there any players that would benefit the Blue Jays this season? The almost-certain answer to that question is no, but there are a couple of long shots that Toronto could end up pursuing – hopefully for a low price.
Brent Rooker – OF/DH
Of the few bright spots in Oakland's lineup, Rooker is probably the brightest. Rooker has bounced around through his first four seasons in the league, with Oakland being the fourth team that he has played for.
He's having a career year with the A's, already surpassing his previous career highs of home runs, RBIs, walks, and hits. Rooker is slashing .263/.363/.868 on the year with 12 home runs, 36 RBIs, and 10 doubles. One of his best values is his performance against lefty pitching; he has a 1.055 OPS against Southpaws this year.
Rooker's price was notably high back in April, as he smoked nine homers through the month. While he's cooled off some, he is still the best hitter in Oakland's lineup. Rooker doesn't totally move the needle for Toronto offensively, but if he is acquired, he would be a sufficient "low risk, high reward" player. One thing we know about Ross Atkins is that he loves team control, and Rooker won't become a free agent until 2028.
A fourth outfielder who can mash lefties – this is probably the best that Oakland has to offer.
Ramon Laureano – OF
Laureano is one of the few long-tenured A's, as he is currently in his sixth season with the organization. Laureano drew the attention of some Jays fans this offseason during Toronto's pursuit of another outfielder, but it was reported that the A's insisted on retaining him. At his best, he has proven power (24 home runs in 2019, 14 homers in only 88 games in 2021). Unfortunately for Oakland, his value has gone down considerably with his performance this year, especially after he was suspended for 80 games toward the end of the 2021 season for a PED violation.
Through 46 games, Laureano is batting .225/.284/.675 with 5 home runs and 15 RBIs. It's not impressive by any means and you may be wondering why he's even being included in this article, but this could be a "change of scenery" and a "fresh breath of air" with Laureano being dealt to another team.
Zach Jackson – RP
Numbers-wise, Jackson is Oakland's best reliever. He's 2-1 with a 2.50 ERA through 19 games with an 11.5 K/9. He's primarily a two-pitch pitcher with a fastball and a slider, and he's been really effective with the former only averaging 93 mph. Jackson has been elite this year at limiting hard contact; he ranks in the top 9% of the league in hard-hit percentage and exit velocity. The concerning part about Jackson's game is the walks. He ranks in the 13th percentile in BB% and allows five walks per nine innings.
Jackson was actually drafted by the Blue Jays in 2016 and spent a few years in their minor-league ranks. He was ultimately selected by the A's in the 2020 Rule 5 Draft, but there is some familiarity with Jackson's game. He doesn't have the power out of the bullpen as many would probably prefer the Blue Jays to have, but he's a good option nonetheless.
Trevor May – RP
Like Laureano, the numbers aren't pretty, but May is a more-than-established veteran with a track record of consistently solid results. Unfortunately, this season has not been the same for him. Through 15 games, May has a 5.93 ERA (a career high) and a 5.9 K/9 (a career low). May is on a one-year, $7 million deal with Oakland, so being on an expiring deal would ideally make this a very easy and cheap deal for the Blue Jays.
Like I said earlier, the odds of Toronto plucking from Oakland's roster at the trade deadline is extremely low, but these are the ideal options that fit Toronto's needs. Rooker would be the most ideal candidate, and with the way Toronto has fleeced Oakland in the past, I wouldn't be surprised if they dealt him for cash considerations or a PTBNL.
To conclude, don't anticipate Ross Atkins to be on the phone with the A's very much.
---