Minor League Review: The Florida Complex League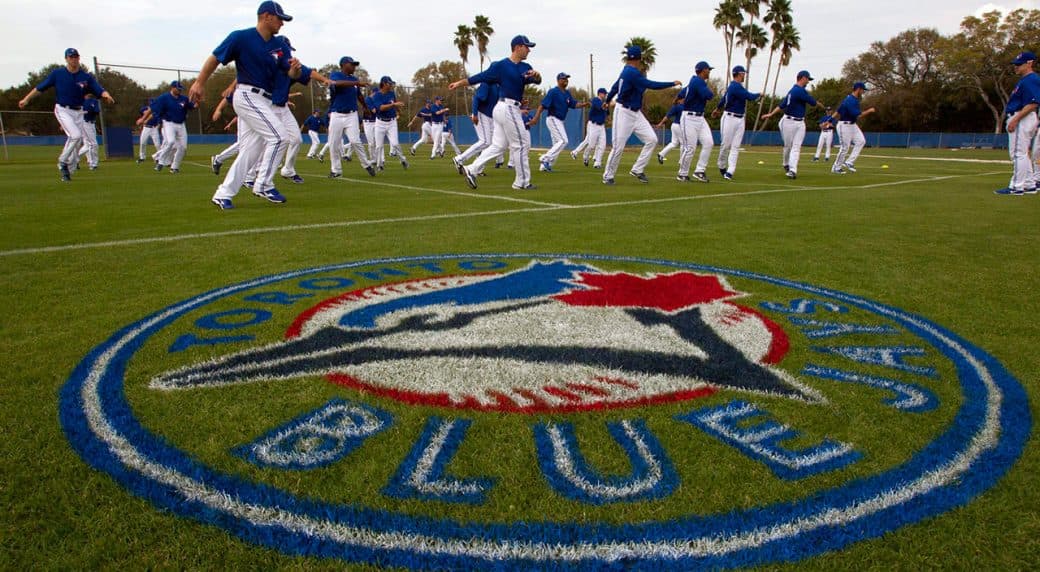 While I absolutely love the Toronto Blue Jays, I've always been interested in the sustainability of a sports team. One championship isn't enough, give me six in a span of ten years. In baseball, sustainability comes from an organization's ability to scout. The Blue Jays have been able to do just that.
In a series of five articles, I'll be covering prospects from all the minor league affiliates of the Toronto Blue Jays, including the summer league teams, which is the topic of this article. I will be using both MLB Pipeline and Baseball America's list of top prospects, however, a lot of the players mentioned in these articles will not be ranked. With that being said, I believe these are prospects that Blue Jays fans should keep an eye on.
Unlike every other article in this series, this article will cover both the "embryo" Blue Jays in Florida as well as the Dominican Republic.
Florida Complex League's top prospects:
Starting with the Florida Complex League Blue Jays, let's look at the players on Pipeline's top 30 that played for their rookie team in Florida.
Estiven Machado:
18-year-old Estiven Machado is the Blue Jays 8th rated prospect according to MLB Pipeline (11th by BA). Unfortunately for all parties involved, he only had one at bat before a hamstring injury sidelined him for the duration of the FCL season. He's 18, so there's no worries he'll bounce back, but his stock may drop a little bit.
Rikelvin De Castro:
On August 5th, the 18-year-old shortstop was hitting .152/.289/.564, not what you'd expect from your 14th ranked prospect (or 27th according to BA). However, over his last 21 games, he hit .333 including two home runs, two triples and four doubles. He also walked 15 times in 77 plate appearances. This should also be noted, but he was also thrown out five times in six steal attempts. 
With all that being said, it will be interesting to potentially see him play for the Low A affiliate next season.
Eric Pardinho:
Despite his injury issues in his career, I am still quite high on the 20-year-old right hander from Brazil. After receiving Tommy John just before COVID, I was optimistic that Pardinho would stay healthy. Unfortunately, that was not the case as on July 8th, he was shut down for what would be the entire season with elbow soreness. 
He has a minor league ERA of 2.48 which included a stint for the Jays A ball team in 2019. He has 103 strikeouts in 90.2 innings, so the stuff is there. He'll be turning 21 in January and thus far despite showing potential, he has been unable to stay on the field. Here's to him staying healthy.
Not top prospects… yet:
Pipeline rarely includes very young players signed from the international free agency period unless they were top signings. You needn't look further than the Blue Jays 2016 period. They were able to sign Gabriel Moreno, Alejandro Kirk and Otto Lopez, none of which broke into the Blue Jays top 30 until 2019. I believe the Blue Jays signed some pretty darn good players that may break into the top 30 in a few seasons.
Kendry Rojas:
One big thing that I look for in determining potential top 30s in a few years is age matched with performance. Rojas is a 18-year-old pitcher (19 in November) who fits the definition. In 23.2 innings pitched for the FCL team, he posted a 2.28 ERA. Most impressive to me, however, was his ability to strike out batters without walking a lot.
I'm going to tell you two numbers that'll make your jaw drop. Rojas' strikeout per nine was
14.83
while his base on balls per nine was
1.90
. That's also a 7.40 K/BB (strikeout to walk ratio), he also didn't throw a wild pitch in his 23.2 IP.
It's hard to evaluate rookie league players as the skill of the league fluctuates between batters, however those numbers are damn impressive. If he can even come close to those statistics for the Low A team next season, expect him to break into the Top 30.
Damiano Palmegiani:
Drafted in the 14th round in 2021, the 422nd pick was assigned to the FCL Jays and put up good numbers. The 21-year-old third baseman had a slash line of .333/.458/.997 in 48 at bats which included two home runs.
While he is a little bit old for the league, it will be interesting to see how he performs at a higher level.
Angel Del Rosario:

Kachow! Angel Del Rosario is a base stealer. In 29 attempts, he successfully stole 27 of them. The 18-year-old third baseman hit .241/.355/.640 in 138 plate appearances. Out of his 28 hits, he only had 3 extra base hits, but his power may well develop in the future.
Amell Brazoban:
In my opinion, Brazoban was the Jays' FCL top performer. I think he could be a top 30 prospect next season, let's see why.
The 19-year-old outfielder had 120 plate appearances and posted a slash line of .317/.407/.951. That's good enough for a 149 wRC+. Half of his 32 hits were for extra bases, including 11 doubles Although his K% was 23.3%, he had a solid BB% of 11.7% as well. He stole 8 bases and had a success rate of 61.5%. 
There is definitely cause for optimism with Brazoban; with added power and more discipline in the strike zone, he could climb the ranks of the Blue Jays minor league system quickly.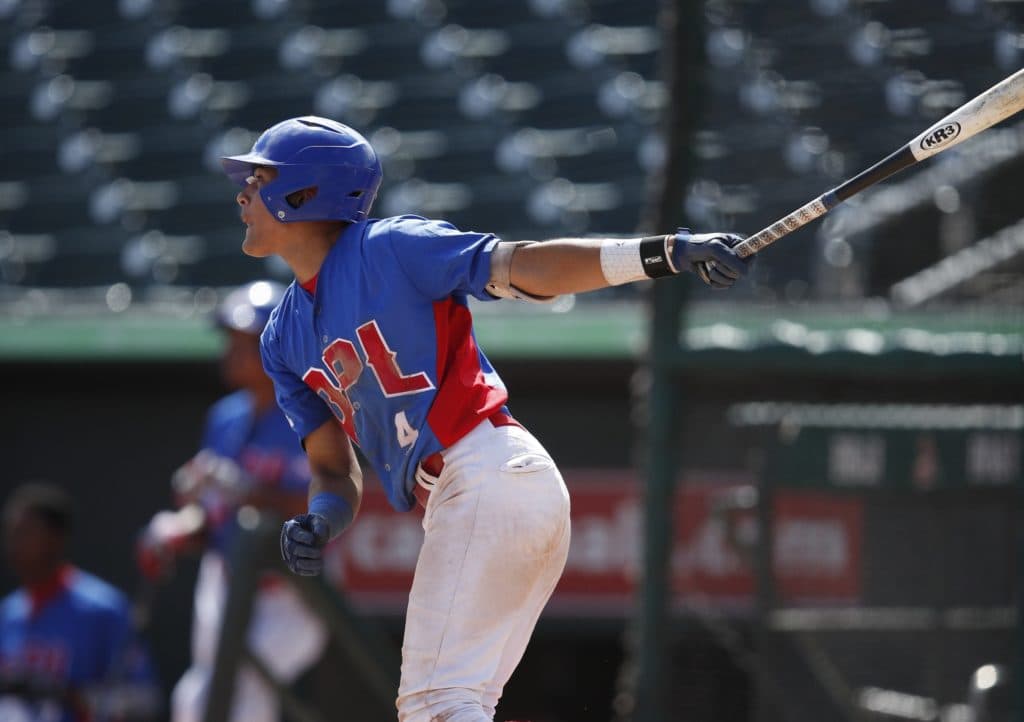 Manuel Beltre
Dominican Summer League Blue Jays:
Unlike every other level of the minor leagues, there are two separate summer league teams. There are multiple teams with more than one team in each league as well. Thankfully for me, the Blue Jays only have one team in each.
With that being said, let's look at the players ranked in the top 30 that played in the Dominican League.
As I'm writing this, the DSL Jays' season is ongoing until October 2nd. As I wrote this, there was an ongoing game, so anything that happened in that game is not accounted for in this article.
Manuel Beltre:
What were you doing when you were 17? Personally I was in high school slacking off and with no direction in my life. What is Manuel Beltre doing? Well Manuel Beltre is a great prospect in a good farm system.
Don't let his slash line of .220/.338/.727 fool you, Beltre had a fantastic season. His statistics were hindered by a slow start to his first professional season as he only hit .130 in the month of July. 
That changed in August as he hit .317 with 20 walks in 85 appearances. In August he also had seven extra base hits. He cooled in September as he has a .194 average, but as a 17 year old, you can bet that Manuel Beltre has some potential.
Sergio Caruci:
Caruci has a 2.63 ERA in 48 innings pitched this season. Another thing that piques my interest about pitchers in the minor leagues is their ability to strike out batters while limiting their walks. Curci is one of those pitchers.
He's walked 13 batters for a BB/9 of 2.43. He's struck out 57 batters for an impressive K/9 of 10.69. Nice.
Sergio is another prospect to keep an eye on as he climbs the minor league ladder.
Keiner Leon:
Leon is another interesting pitching prospect. The 17-year-old pitcher owns a  2.97 ERA in 30.1 innings pitched this season. While his BB/9 (2.97) and K/9 (10.09)  aren't as good as Caruci's, it's important to keep in mind that Leon is quite young for the league. 
Furthermore, he's pitched all of his games out of the bullpen this season.
My guess is he'll be pitching for the FCL team for the 2022 season.
Eliander Alcalde:
I'm in a tough spot when writing about Alcalde. As I'm writing this, he finished his outing with 5 innings pitched, 4 hits, no runs and five strikeouts. However, I'll be using his pre-game statistics, as well as every other player, in this article.
The 18-year-old pitcher has a 3.40 ERA in 53 innings pitched. He has 50 strikeouts for a 8.49 K/9 and 30 walks for a BB/9 of 5.09. While this isn't fantastic, he is a player to keep an eye on.
Jonathan Perguero:
If I ask you what do the Blue Jays look for when drafting or signing players on the international free agency, you may come up with two answers:
Firstly, they like to draft large adult sons, Manoah, Pearson, Zeuch, etc. Most important to this article however, is that they are fantastic at finding catchers through the international free agency. Moreno and Kirk come to mind as their top prospects, but you can also look to Perguero.
Signed in the 2021 free agent period, Jonathan Perguero has had a successful season in the DSL. In 104 plate appearances this season, the 17 year old catcher owns a slash line of .273/.385/.760. Furthermore, he has 15 walks and 18 strikeouts. On the defensive end, he's thrown out runners at a 30.9% clip while allowing 3 passed balls.
He's one to keep an eye on and will likely be a top 30 prospect in a few seasons.
Luis Garcia:
In my opinion, Luis Garcia has been the most impressive position player on the DSL Jays. In 152 at bats this season, he is slashing .307/.380/.755. He has walked 13 times while striking out 20 times and he's stolen 12 bases for a success rate of 80%.
Although his power is lacking, it is important to remember that the shortstop just recently celebrated his 18th birthday. While he doesn't rank on Pipeline's top 30, he does rank 14th on Baseball America's top 30 Jays prospects.
Per Baseball America's bio on him:
"The Blue Jays signed Garcia out of Venezuela in January [2021]. He had shown slick defensive skills as an amateur with plus speed and a strong arm from a frame that lacked strength, but his offensive game has been impressive early on as well."
I can tell you with 100% confidence that Luis Garcia will be a top 15 prospect for the Blue Jays within two seasons.
Yhoangel Aponte:
If you had to ask where the Jays were lacking in terms of their prospect depth, one could easily point to the outfield. I've written about how Chavez Young will likely be the Jays fourth outfielder in a year or two, but other than him, the outfield position is quite barren.
That is until you take a gander at 17-year-old Yhoangel Aponte's ceiling. Just like Garcia, Aponte doesn't rank on MLB Pipeline's top 30 but does on Baseball America's top 30. 
Here is his bio:
"Aponte has a chance for five average or better tools that play up because of his instincts, especially in center field. With solid-average speed and arm strength, Aponte is a diligent, focused worker when it comes to his defensive craft and it shows in games. He's not a burner, but he reads the ball well off the bat, has a quick first step and glides to balls in both gaps with efficient routes and diving catches. He has performed well against live pitching too, making frequent contact with good strike-zone judgement, a lot of line drives and surprising power from his 5'11" frame"
How is his numbers this season though? In 163 plate appearances, he's batting .240/.393/.749.  He has a BB% of 15.3%, however his K% is a fairly high 27%. In terms of wRC+, he has an impressive 121 as a 17-year-old in rookie ball. He has yet to hit a home run, but 12 of his 31 hits have been for extra bases.
The ceiling is there and even though there are some worries in his game such as K%, it is important to remember that he's a very young player and will continue to develop as he grows older.
Conclusion:
After 2,000+ words, I am fairly excited about the growth of the Blue Jays' farm system. Even though many of these players (as well as players that play for Dunedin) aren't ranked as top 30 prospects by MLB Pipeline, that doesn't mean that in the future they don't have the potential to become MLB players or even all-stars. Also who knows, maybe one develops into a generational talent.
As always, follow me on Twitter @Brennan_L_D.