More fastballs, more strikes, more success for Robbie Ray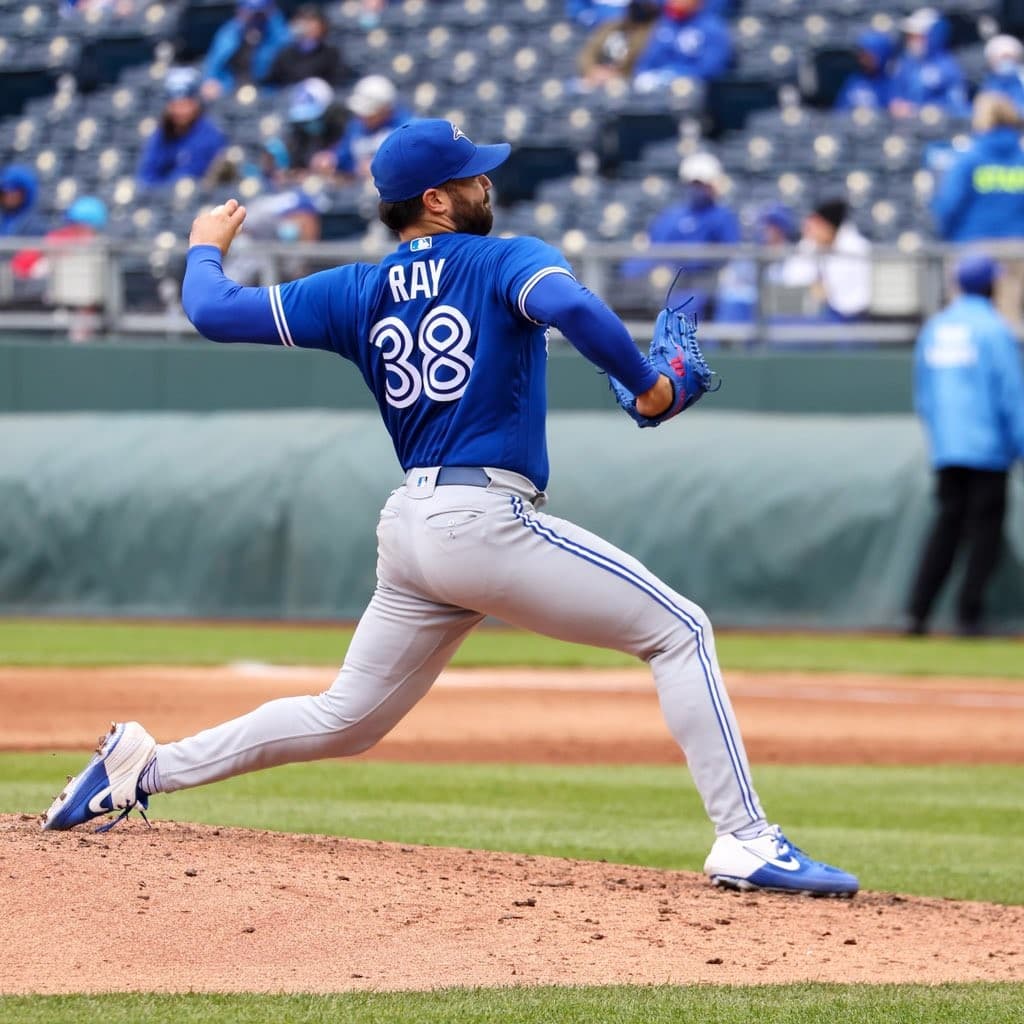 Photo credit:@RobbieRay
Robbie Ray has had a strong start to the season for the Blue Jays. His first two starts were very Robbie Ray-esque. Ray allowed two runs in 10 innings against the Yankees and Royals, with nine walks versus just six strikeouts. Ray limited the damage as he only allowed one home run in those two starts, even though the Blue Jays lost both of those games; they could have been much worse.
In his next two starts the home run was back, Ray allowed three homers accounting for all five of the runs he allowed. But he struck out 14 batters, didn't walk anyone and pitched deeper into the games, throwing 12.2 innings. You total everything together and Ray has a sparkling 2.78 ERA but with a 4.73 expected ERA, a 4.83 FIP and 4.33 xFIP. Indicating Ray hasn't pitched as well as his ERA suggests and that regression is coming.
Regression is certainly coming soon for Ray. A 93.5% left on base rate and a .237 batting average on balls in play is not sustainable over a full season. Ray however is doing certain things differently this year, which will help him continue to succeed even as certain things regress.
For Ray everything starts with the fastball. His velocity on his four-seamer is averaging 95.3 miles per hour, an increase of 1.5mph from 2020. If this holds all season this would be the fastest average velocity of his career. Ray has touched 98 three times already this season per
Baseball Savant
, something he has only done eight times prior to this year, all back in 2016. As with most pitchers, the harder you throw the more success you have, and Ray is no exception to that. Look at the success he has when pitching in different velocity bands.
| | | | |
| --- | --- | --- | --- |
| Fastball Velocity | Pitches | K% | wOBA against |
| 92-93 | 1282 | 22.2 | .340 |
| 93-94 | 1682 | 22.8 | .342 |
| 94-95 | 1820 | 24.0 | .307 |
| 95-96 | 1365 | 32.7 | .293 |
| 96-97 | 712 | 41.6 | .243 |
| 97+ | 173 | 46.4 | .232 |
The more velocity Ray can throw with the better he is. The sweet spot for him is keeping his fastball above 94 mph.
| | | | |
| --- | --- | --- | --- |
| Fastball Velocity | Pitches | K% | wOBA against |
| <94 | 3960 | 19.2 | .374 |
| 94+ | 3772 | 31.2 | .280 |
He's thrown a similar number of fastballs above 94 and below 94 and the results are striking. When his four-seamer is thrown below 94 mph, hitters turn into 2019 Marcus Semien. When he's throwing harder than 94, hitters become 2019 Derek Fisher.
What do you do with a fastball this good? You throw it, a lot.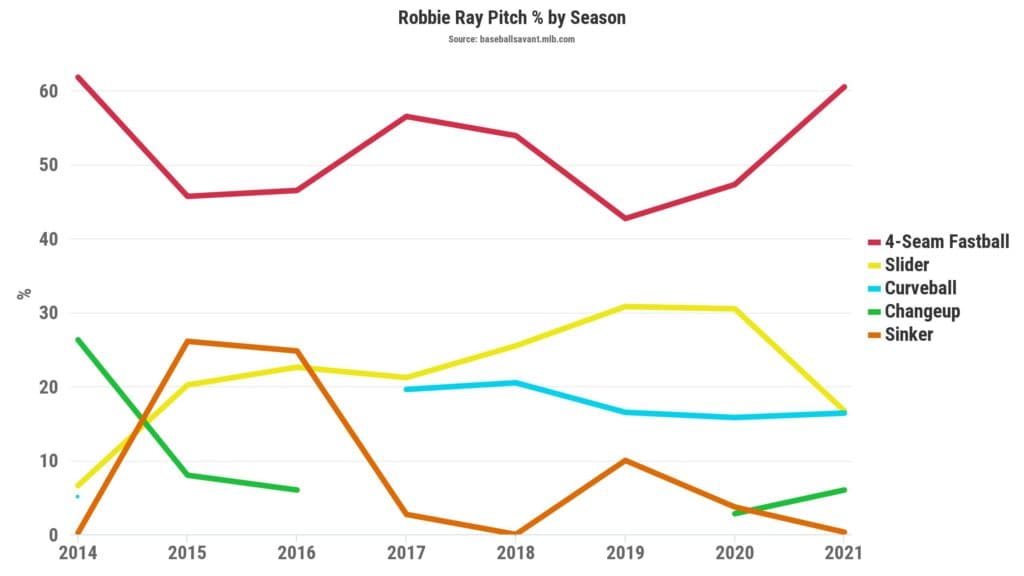 Ray is throwing his fastball 60.5% this season. A massive 13.2% increase over last season. Ray hasn't thrown his fastball this often since he was a rookie in 2014. Most of the fastballs Ray is throwing are right over the heart of the plate.
The increased fastball velocity has allowed Ray to challenge hitters in the strike zone. When throwing 92 mph the location needs to be perfect and pitches in that location end up over the fence.  At 95 mph you get swings and misses and weak contact. Ray is throwing his fastball in the strike zone 38.4% of the time. This is the highest rate of his career, and a significant increase over the previous two seasons. This has fueled a 67.8% first pitch strike rate. Once again the highest rate of his career, and the
seventh largest increase in the league
.
As we can see in the image above, all these extra fastballs Ray is throwing is coming at the expense of his slider. For the first time he is throwing as many curveballs as sliders. The slider which has been Ray's primary strikeout weapon for his career was reshaped a little bit by the Blue Jays this off-season. When Ray changed his arm slot with the Diamondbacks in 2020, it gave him a slider with a higher spin rate, more velocity and less drop than he had before. With the Blue Jays this season, the slider, much like the fastball has seen a velocity increase. The slider has even less drop, an inch more of break, but at lower spin rate. Giving him a slider that looks like this:
This slider to Yandy Díaz is the only slider Ray has recorded a strikeout on this season, if you can believe it. This is a pitch that had a 21.9% swinging strike rate last season, and a pitch Ray leaned on for 34 of his 68 strikeouts. Ray is only striking out 7.94 batters per nine innings this season, and that slider is the reason why. Ray has been leaving the slider out over the plate and its getting hit.
Batters have hit .357 with a .643 slugging against Ray's slider this year. Per
FanGraphs
, Ray's slider has a 53.8% groundball rate this year, which has helped Ray to a 44.4% groundball rate for the season. But you are playing with fire leaving a slider out over the heart of the plate like this. It's only been 61 pitches so this is likely a small sample size issue, than anything Ray is doing intentionally.
Getting that slider down in the zone and more of a strikeout pitch will be key for Ray's success. Hits are going to start falling and the BABIP will rise, but being able to get a big strikeout will help limit the damage and get out of jams. Ray with his fastball has been able to get ahead of batters and limit walks. He's been stranding almost everyone on base, and while that won't continue, being able to get double plays and keeping the ball on the ground will keep the ball in the park and avoid those big blow up innings.