Nobody Can Contain Vladdy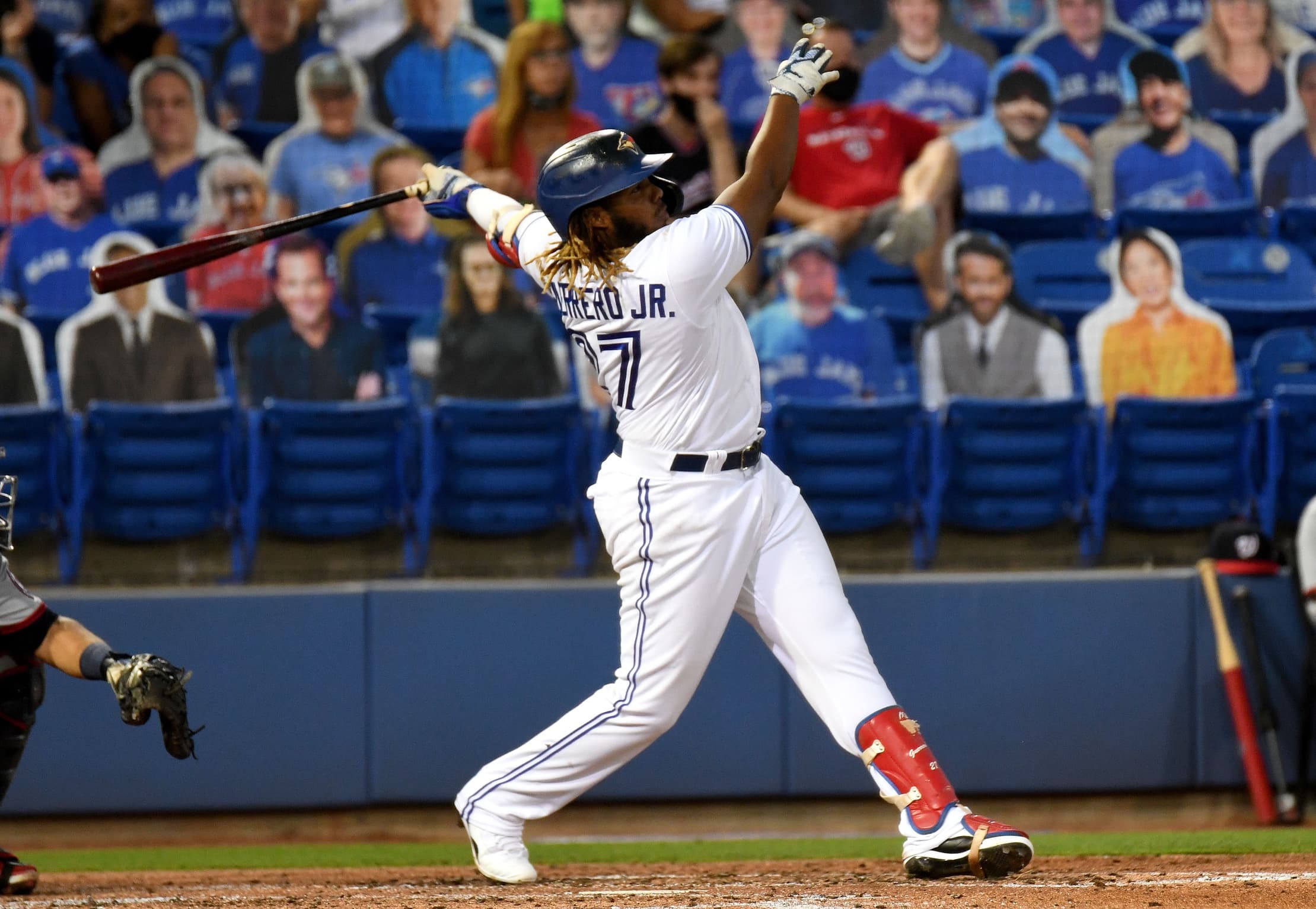 Photo credit:© Jonathan Dyer-USA TODAY Sports
Jeff Kent won the 2000 NL MVP solely because he hit behind Barry Bonds.
Jeff Kent was not better than Barry Bonds, however, he got plenty of opportunities to drive in runners as Barry Bonds got the intentional free pass 688 times in his career, including
120 times
in 2004. Now, Kent was in Houston at this time, but between 1997 until 2002, Barry Bonds was intentionally walked 197 times, which was a big win for Kent batting behind him. 
What am I getting at here you may be asking yourself? It's quite simple, Vladimir Guerrero Jr. should not be pitched to. Vlad Jr. isn't Barry Bonds, but, in this article, I will try to convince you that he is such.
A third of the way into the season, Vlad leads the MLB in a plethora of stats, including homers, RBI, OBP, Slugging, OPS and WAR for position players. Not just that, but he also leads the AL in batting average with a mind-blowing .344 average. Vlad is insane.
Another stat that proves he's a good hitter is that he's walked 40 times while striking out 41 times. In percentages, he walks 15.2% while only striking out 15.5% of the time. This is to say that Guerrero has knowledge of what to hit and will force you to come into the strike zone or you end up walking him.
Let's look at his batted ball percentages now. 20.7% of balls hit are line drives, 45.8% are ground balls which are essentially miniature bullets and 33.5% are fly balls. Only 10.1% of these balls batted are considered "soft". 49.7% are considered medium hit while 40.2% of which are considered hard hit. Vlad's exit velocity average is 95.2mph, second behind Aaron Judge.
While he hits nearly half his batted balls for ground balls, the average exit velocity for those is 93.2 mph, second to Judge's 95mph. This gives infielders little time to react. To add to exit velocity, he is tied with Bichette and Perez for the most balls batted over 95 mph with 102.
That's all outstanding, but here's the real kicker. HR/FB is a metric that shows the number of fly balls that end with a home run. Although it's more used for pitchers, I think using it for Vlad here is quite justified.
Out of the 33.5% fly balls that Vlad has hit, 33.3% of them have gone for dingers. The figure below is what percentages are considered Awful to Excellent. 20.0% is considered excellent.
I've been told before that if I bold my key points, it'll take away from what I am trying to convey, but if you take one thing away from this article, it should be this:
VLAD'S HR/FB PERCENTAGE IS 13.3% BETTER THAN WHAT IS CONSIDERED EXCELLENT
Let's bring back the comparison of Barry Bonds from the start of the article. The HR/FB stat only started getting tracked in 2002, which was when Barry Bonds was in his second prime. His HR/FB in 2002 was 27.2%, 2003 was 29.6%, 2004 was 28.8% and 2005 was 26.3%. Vlad has hit 33.3% of his fly balls out of the park.
Is Vlad better than Barry Bonds right now? I'd wager no. Barry Bonds had a hall of fame career even without the three meals a day with good sleep. However, just like Barry Bonds, it is wise for a pitcher to not pitch to Vlad as he is having one of the best seasons in the modern era for anyone. Period.
If you try and strike him out, the chances of you walking him are basically identical. If he gets it in the air, 33.3% of the time it's out of the park and that shows in his league-leading 21 homers. His exit velocity is so fast that if it hits the chest of the infielder, it may literally put a hole in it.
In 2021, Vlad cannot be contained. Pitch around him or cut to the chase and intentionally walk him, even if you have a two-run lead in the 9th while the Jays have the bases loaded on their last out.
Follow me @Brennan_L_D on twitter to see me argue with Biggio fans as well as owning Yankee fans on a regular basis.